After getting engaged in Italy, it was important to Amanda & Josh that they incorporate their experience there into their wedding. Infusing Tuscan elegance but with her own flare they had an al fresco wedding in California. The couple wanted a destination wedding; one that was outdoors, intimate, and somewhere guests could make a vacation out of. After looking at thousands of pictures and reviews of venues throughout the U.S.A, Bahamas, and Mexico they decided on LAKE OAK MEADOWS. "It's beyond breathtaking - the lake, lighting, entry through the vineyard, its intimacy, the style of the venue, and most importantly the staff. The staff was so incredibly attentive when we contacted them. Truly class acts compared to other venues we spoke with- and trust me, we spoke to a lot! We knew this was the place for us... we never even saw the venue in person until months after we booked it!" These beautiful images by Southern California wedding photographer LUCY MUNOZ will take you on the journey of their day.
HOW DID YOU MEET? We met in the operating room at a paediatric hospital. Josh was a resident physician and Amanda was an operating room nurse.
TELL US ABOUT YOUR PROPOSAL: Josh planned a vacation for us to Italy which I believed was for his birthday. Our first stop on the vacation was Venice, Italy. He hired a photographer which took our photos around the city. At the end of the photo session, Josh suggested we go on a gondola ride for the last of the photos and I agreed. I remember it was insanely hot out, but after all, this was the one thing I wanted to do in Venice! Super stressed because there weren't any gondolas available, Josh and the photographer frantically ran around the city looking for an available gondola. I suggested to make the best of it, have a glass of wine and wait, but he wouldn't take that as an answer hahaha. As I sat, waiting for a waitress to order a glass of wine, Josh ran through the streets on a mission and found a gondola! It was amazing- I dreamt of riding the waterways since I was a little girl. It was almost the end of the ride and overcome with nerves, Josh got down on one knee and pulled a candy ring pop from his pocket. (Before we officially began dating, Josh jokingly bought a ring pop from a drug store when we were cashing out and told me he would one day marry me and the ring pop was an IOU. Little did I know, he truly meant what he said and would actually propose to me with that same exact ring pop!) After speaking heartfelt and sincere words about our relationship, Josh pulled out my beautiful engagement ring and asked me to spend forever with him. Bystanders walking on the streets and eating on patios that were watching the proposal clapped and cheered while our gondola driver sang in the background. It was the sweetest thing!
TELL US ABOUT FINDING YOUR WEDDING DRESS: I got my dress at Bliss Bridal in Hamburg, NY. It was my second dress appointment and I had a few other appointments to follow. At my first appointment at a different salon, I got stuck in a wedding dress because the worker zipped the dress wrong. I was totally disappointed and wasn't too optimistic I would find my dress in Buffalo. But I was wrong! I had such an amazing experience at Bliss Bridal- the staff was amazing, and my bridesmaids, mother, and aunt were all really helpful while letting me decide on my own. I'm very indecisive at times and so it was a difficult decision choosing a dress. For years, I thought I knew the style of the dress I wanted; but once I started trying on dresses I realised I actually didn't like how I looked in that style. Honestly, I was a bit disappointed because this entire time I had a vision, but there I was in love with different styles and not the one I planned for. Ironically, I never envisioned wearing a beaded dress, let alone champagne coloured! I went back and forth with a few dresses because I wanted to make the "right choice" and didn't want the search to end. I waited my whole life for this moment- I wanted it to be perfect! I remember walking down the hall in my dress to head back to the changing room and catching a quick view of myself in the mirror. I then knew it was the one! Funny enough, a bridesmaid picked out my wedding dress and I picked out her wedding dress when I was her bridesmaid. It's pretty memorable because we'll always have that between us.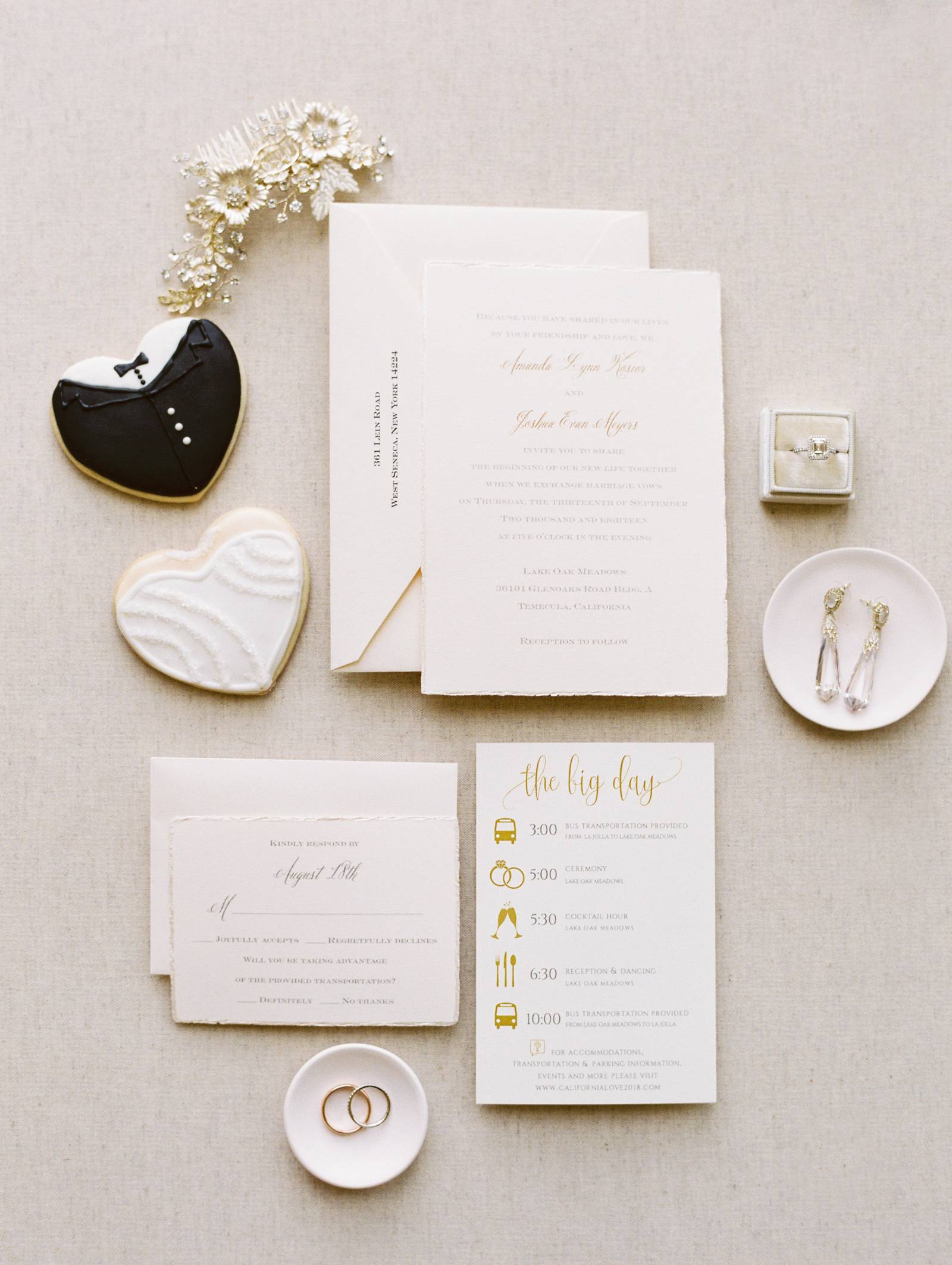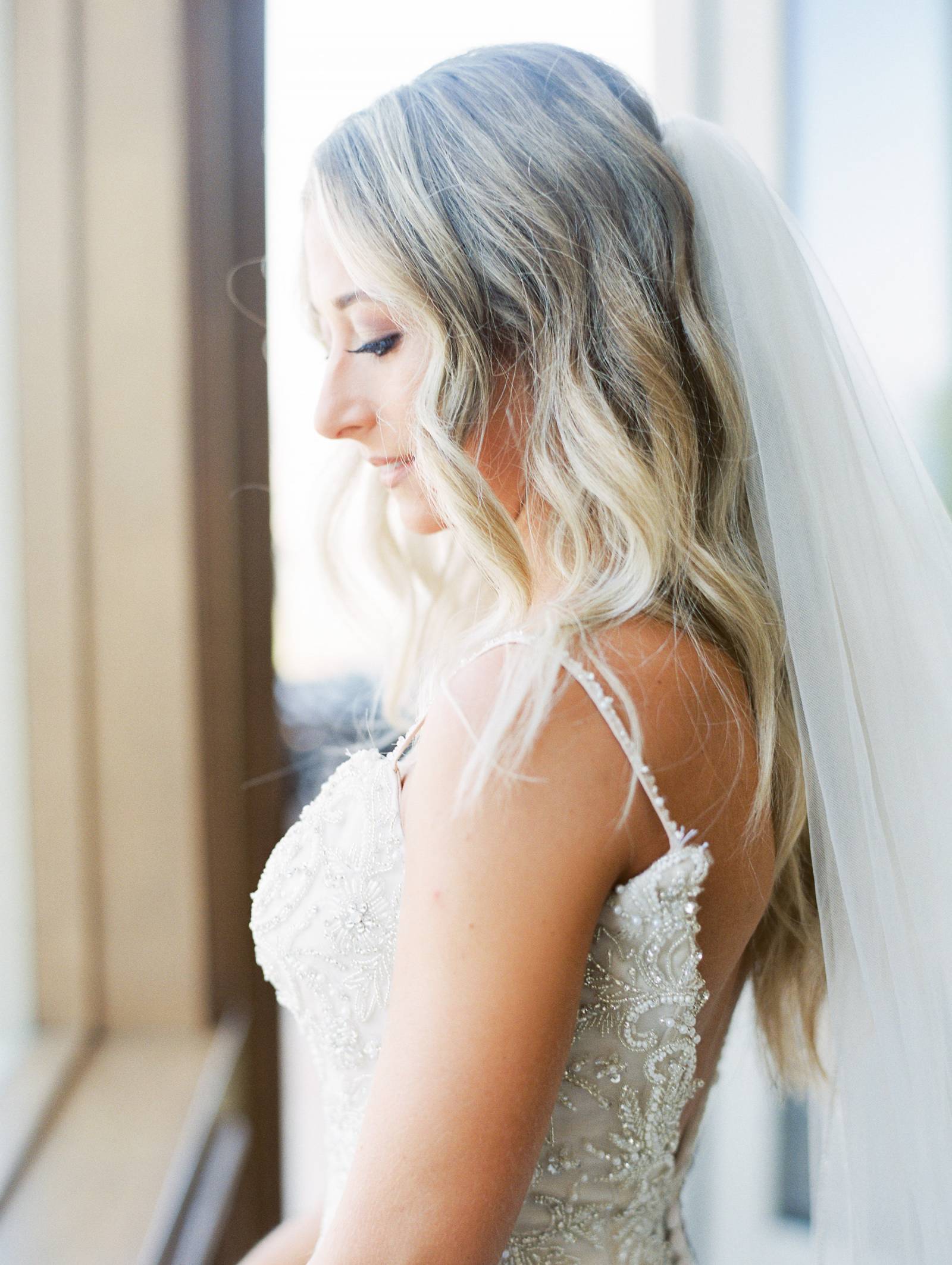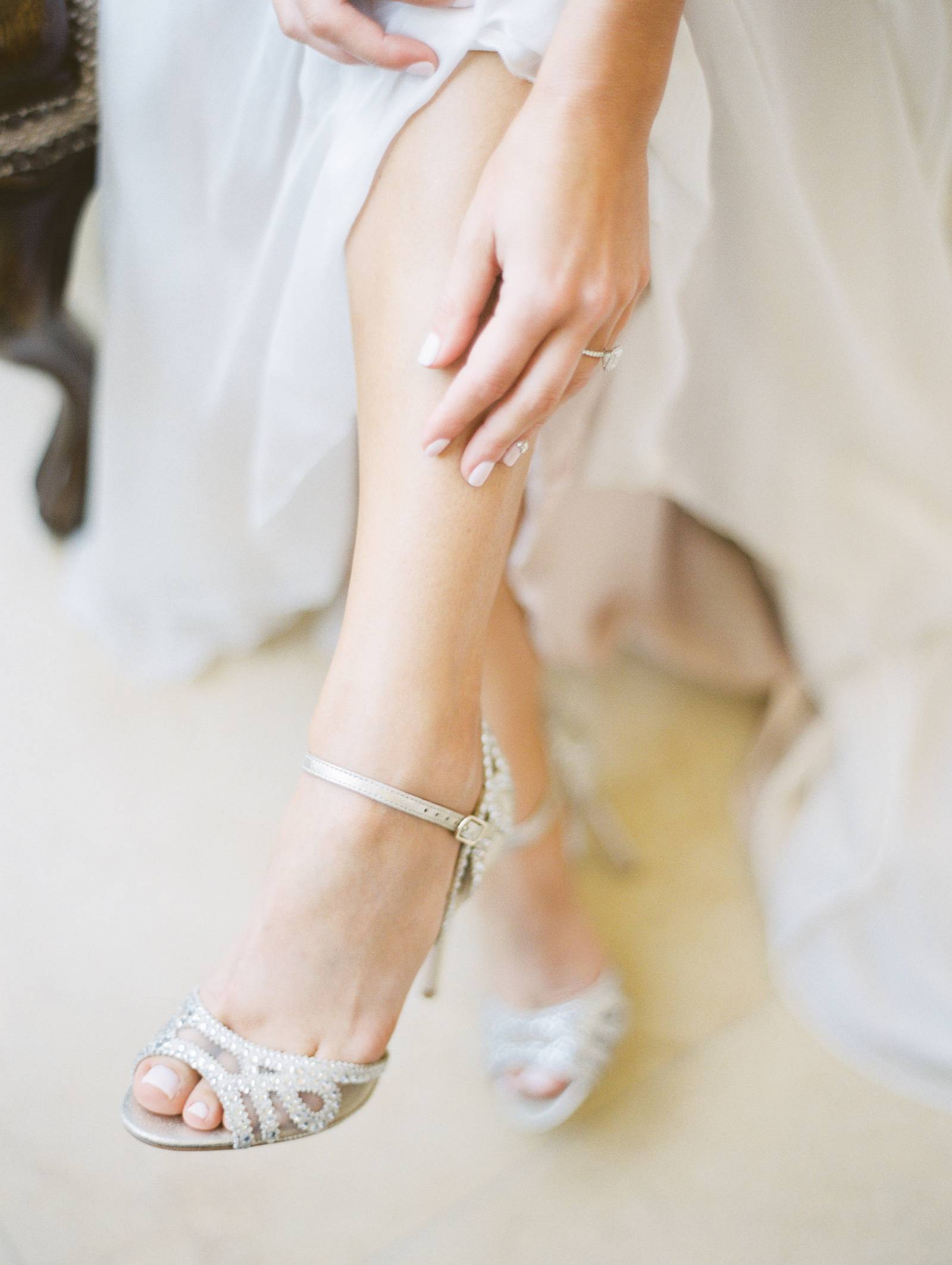 DESCRIBE YOUR WEDDING FLOWERS: I wanted simple, Tuscan, elegance for the flowers to help set a tone of romance. Light pinks, white, ivory and greenery.

FAVOURITE DETAIL OF THE DAY: The intimacy of the ceremony and reception. The final wedding count was 52 guests who predominantly all traveled from the east coast. We wanted an intimate vibe and for every single guest to know how important they are to us. I think the ceremony and reception embodied just that. The weather, Love sign lit on the hill behind our sweetheart table, the family style reception seating (which was probably my favourite detail) -- all under the beautiful moonlight, stars and venue lighting was just breathtaking. I'll never forget that evening... it was magical.
WHAT ADVICE WOULD YOU GIVE OUT TO A COUPLE PLANNING THEIR WEDDING? It's never too early to plan. Know your options and read reviews as much as possible. If doing a destination wedding, opt for a wedding planner and definitely choose vendors you trust. Communication is key! Also, the day of the wedding is going to be a blur and go by in the blink of an eye. There are going to moments you can't control- so learn to take a deep breath, let it go, and cherish the reason you're getting married.
MOST MEMORABLE MOMENT? Groom: When Amanda surprised everyone, and appeared from afar walking down these stone steps with the sun shining and tons of grape vines surrounding her. I never cry. But when I saw her, I tried choking back the tears, but I couldn't help it.
Bride: Walking down the stairs to my guests and Josh. I remember standing at the top of the stairs- overlooking the entire venue and seeing my guests looking back at me, sun shining and the lake sparkling, hearing "A Thousand Years" by Christina Perri being played by the violinist and guitarist, and just taking the moment in. As I stood there and began walking down the stairs I remember thinking, "Does my hair look okay?", "How is my veil?", "Amanda don't fall down the stairs!", but wanting to look up and cherish the moment. I was filled with so much emotion and couldn't help but cry tears of joy and smile. I never felt so excited, but nervous in my life.
My mom was waiting on the bottom of the stairs to walk me down the aisle. I remember when I finally reached her: grabbing her hand tight, taking a deep breath, and again taking in the moment. The day I dreamt of my entire life was here. We began walking and my guests were smiling back at me. I saw my closest friends and family who traveled across the country to share in our day, and it made my heart melt. I saw Josh standing at the end of the aisle. Knowing I was walking down the aisle to begin my life with my best friend. It was surreal. I truly wish I could relive this day, especially this moment, over and over again.
ANY OTHER DETAILS THAT HELP TELL THE STORY OF YOUR DAY? Even though it didn't 100% go according to plan, our day was simply amazing. From the morning with my glam squad who were the sweetest and most talented women, who made us all feel so beautiful, to the vendors: Diana Ross, all of Lake Oak Meadows staff, Temecula Catering, Soiree Florist, Madam Palooza, DJ Mike, our officiant David Cutler, Lucy Munoz, and the videography team at Ashley Bee. I couldn't have done it without them. I remember rushing and trying to get photos of Josh and I because we were so incredibly late due to transportation issues and missed photo/video opportunities. I was so annoyed and devastated by this. Even with the disappointment, I couldn't stop smiling because the venue and effort by my vendors left me speechless and we made the best of it. Lucy, our photographer, was determined to capture the "golden hour" photos I wanted so badly, the bridal party and family were all enjoying the party and my feet were killing me. The videography team was so sweet and remarkable: helping me with my heels, fixing my dress, holding my bouquet as I scurried around for photo ops. My wedding planner, Diana Ross drove speedily in a golf cart throughout the venue and was on her walkie-talkie with Lake Oak Meadow staff (it reminded me of the Wedding Planner haha) and patiently waited to transport Josh and I for our grand entrance, while Lake Oak Meadows staff handed us champagne, water and appetisers because we missed our cocktail hour. The amount of teamwork by my vendors was beyond touching... I couldn't have had such a memorable day without their dedication, support, and vision. I can't rave enough about them and just want to say Thank You!
TELL US A LITTLE ABOUT YOUR HONEYMOON: Unfortunately given our careers we did not have time for a honeymoon immediately following our wedding, but are planning on going to Greece in June 2019 once we graduate. After 7 years of residency and 3 years of graduate school, we cannot wait to relax as husband and wife.
IS THERE ANYTHING YOU WOULD CHANGE OR DO DIFFERENTLY? I wouldn't change our first look location or the venue, but I wish we would have had more time for photos and to actually enjoy the venue and vendors such as the violinist at the cocktail hour. Unfortunately, we had issues with our transportation which totally disrupted our schedule. So definitely inquire about all your vendors, especially if it's a destination wedding and you're unsure of things.
Southern California wedding photographer LUCY MUNOZ is a valued - and super talented - member of our VENDOR GUIDE. "From the moment I arrive at your wedding until the moment I leave, my goal is to capture your day so that you have an amazing mixture of candids, traditional poses, family formals and everything in between - all whilst delivering an incredible experience." Be sure to check out this Golden California Sunset bridal shoot.