Inspired by their love of Italy; for it's beautiful architecture, culture and food, Michelle & Anthony held their wedding at the FAIRMONT GRAND DEL MAR due to the fact that it reminded them of Italy with it's lush lawn, cypress trees and exquisite European style design. "We wanted our guests to feel like they were in Italy and it captured our wedding day vision perfectly." These images by Southern California wedding photographer AMY GOLDING capture their day beautifully.
HOW DID YOU MEET? We both swiped right on Tinder about five years ago. We went on our first date at a restaurant called Monello in Little Italy, San Diego. Right from the start Anthony stole my heart.
TELL US ABOUT YOUR PROPOSAL: Anthony proposed on Christmas Day in 2017. Holidays are always a busy time for us because both of our families live in San Diego so we have multiple families to visit. Our last stop of the night was my grandparents house. It is a tradition that we play the white elephant game. We had just finished playing the game when Anthony started to talk about us being together and then all of a sudden he got down on one knee to propose. He caught me completely off guard with the proposal. I was so shocked I kept saying "omg omg omg." It meant so much to me that Anthony included my family on this special day. Not only was I shocked so was my family (my dad and uncle were the only ones who knew). Their reaction was priceless.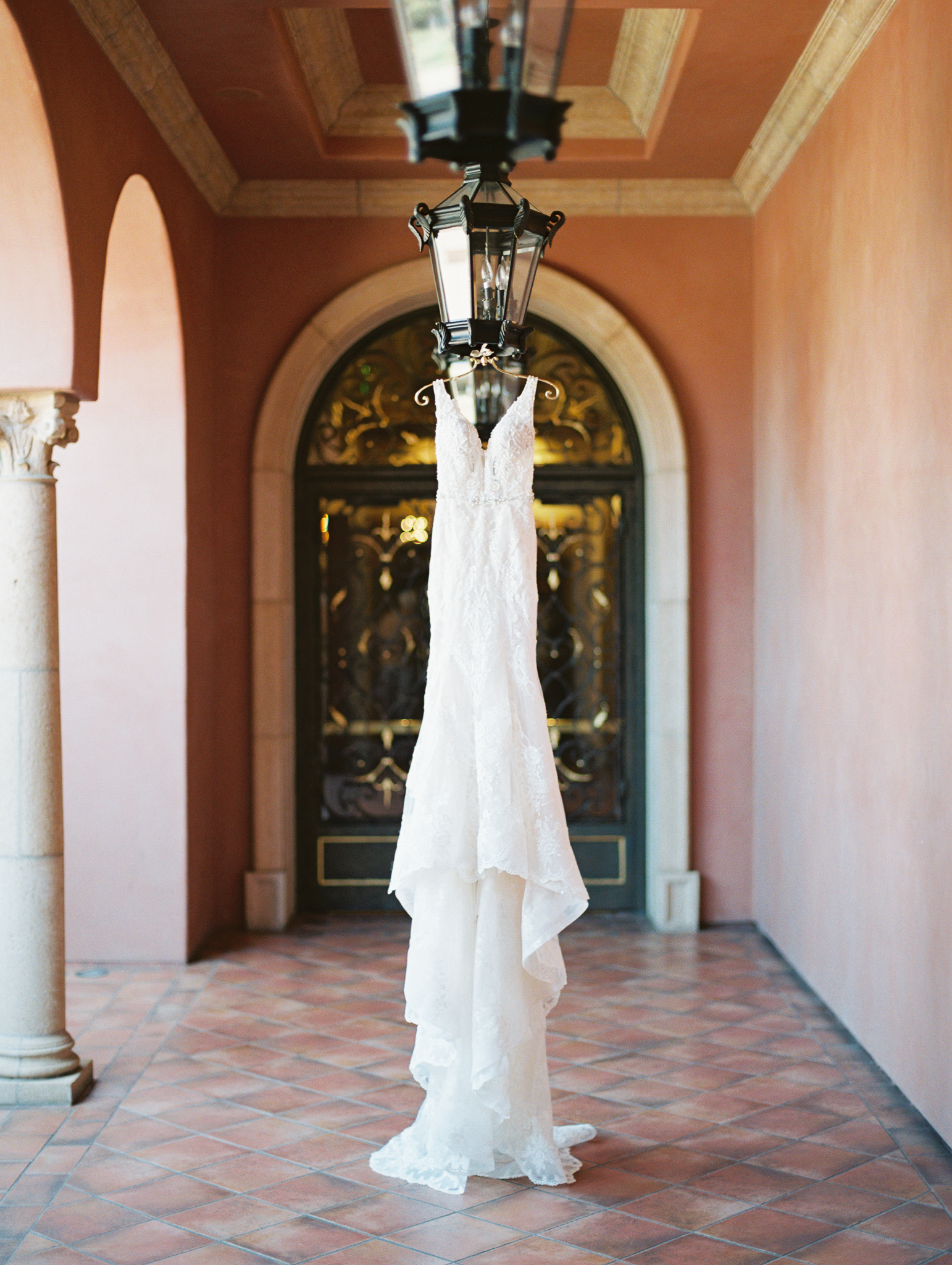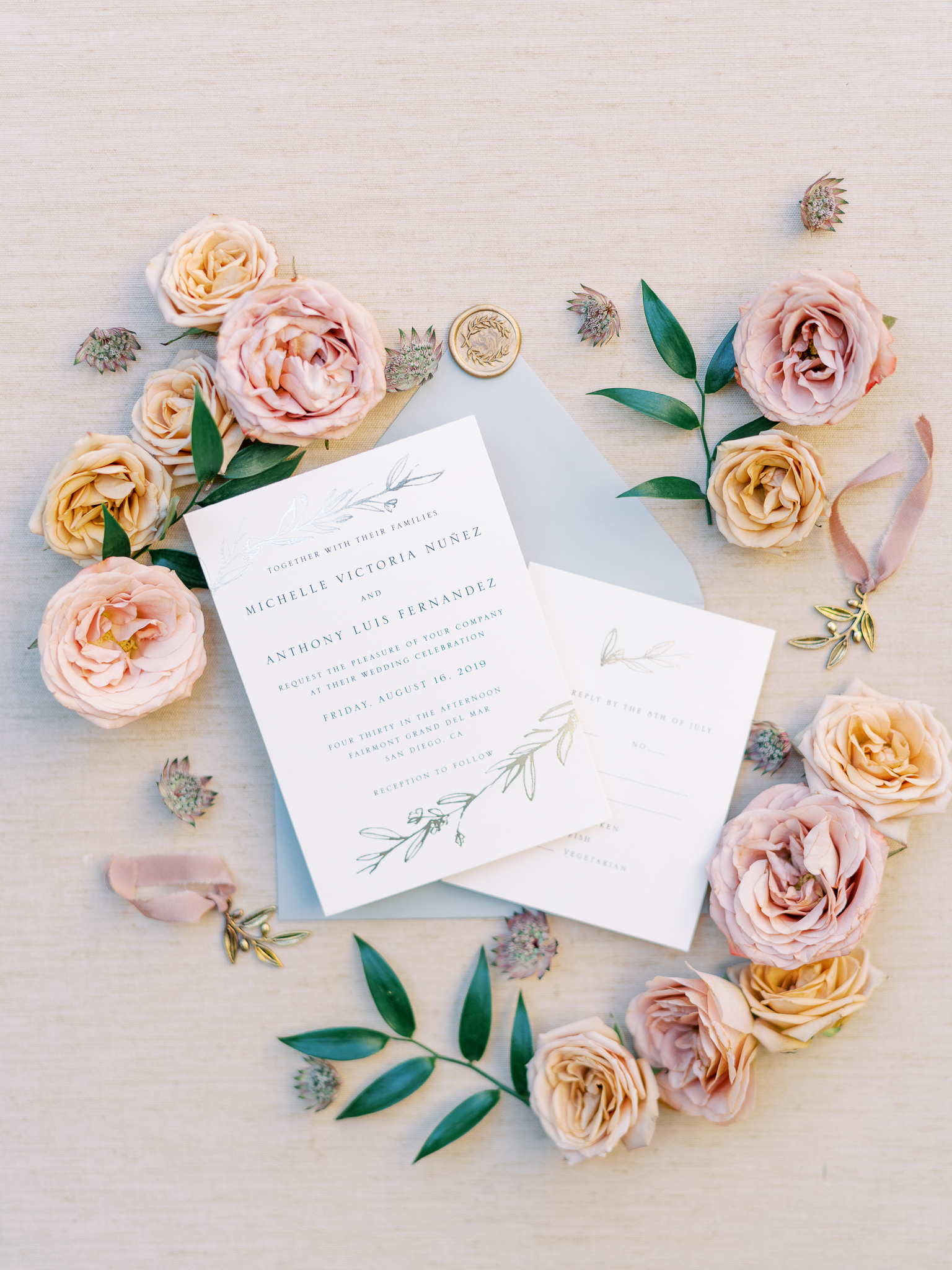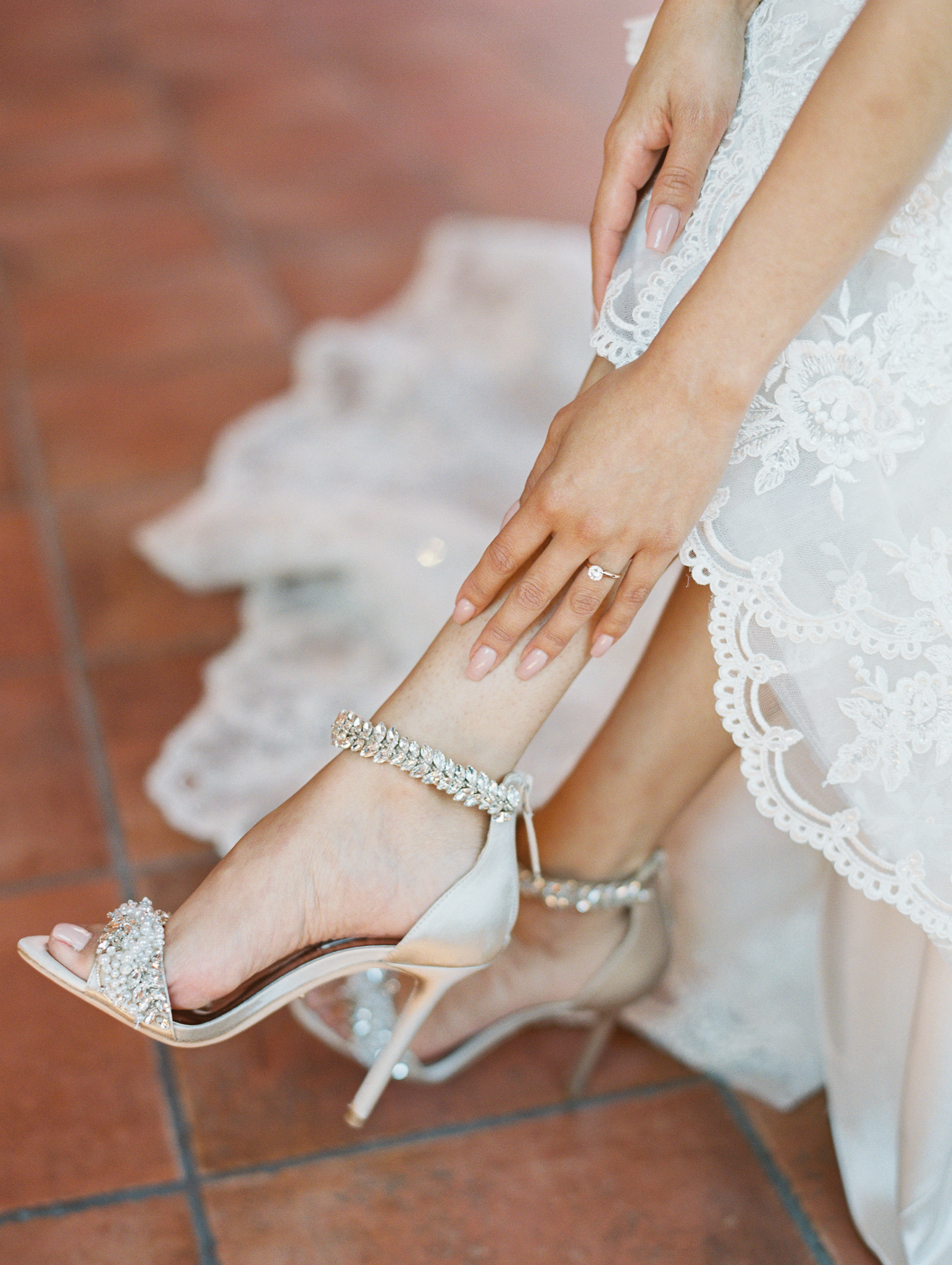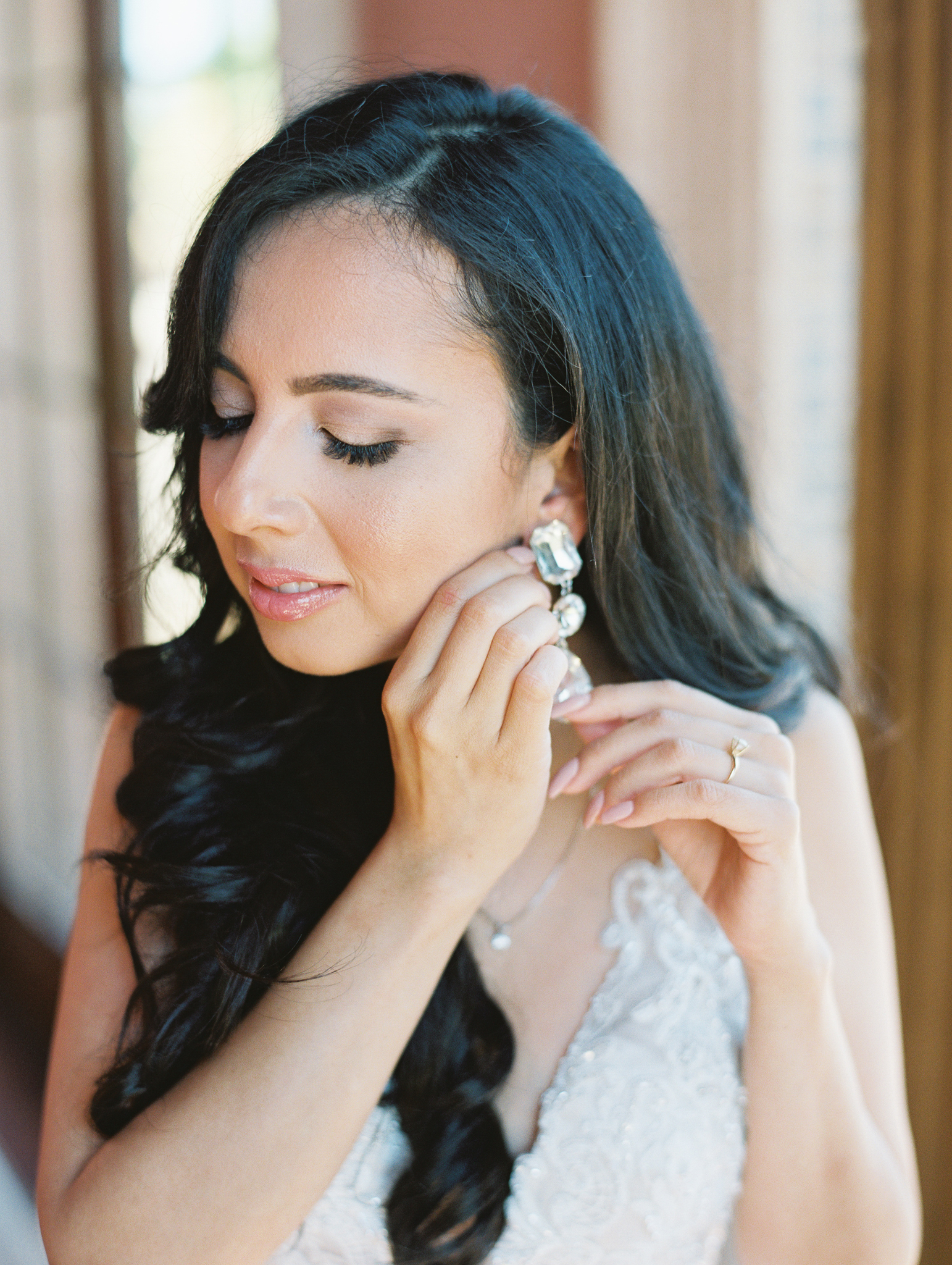 TELL US ABOUT FINDING YOUR WEDDING DRESS: Just after a month of being engaged I started looking for my wedding dress. I am very particular when it comes to clothes so I knew I needed to start shopping early. My weekends consisted of shopping for wedding gowns all over San Diego and Los Angeles County with the help of my very patient mom who accompanied me to every bridal shop. Every dress I tried I did not love until April 14, 2018. This was such a special day not only because I found the perfect dress but because it was the first time my grandmother was able to come with me to try on dresses. As soon as I tried on the dress at the White Flower Bridal Boutique I knew it was the one. The lace and Swarovski beading detail on the dress was just breathtaking. Out of all the dresses I had tried nothing compared to this one. After three months of searching for the perfect dress I finally found it. My grandmother was my lucky charm that day. It was so special to have her there to see the dress that I choose for my wedding day. A month later my grandmother passed away. Finding my wedding dress is a moment that I cherish forever. I am so grateful my grandmother was able to see me in my wedding dress.
DID YOU HAVE ANY DIY ELEMENTS? Yes, All of our DIY elements were a family effort. I wanted to have elements that were unique. Most of the items we made were because I could not find what I was looking for so we decided to make our own. We made escort cards using Tono & Co.'s beautiful silk ribbon for meal indicators. We had flower girl pouches made by my aunt and mom and a cake stand made by my uncle.
DESCRIBE YOUR WEDDING FLOWERS: My wedding flowers were so beautiful! Our florist incorporated soft hues of pink, hints of peach and mauve, and greenery. One of my favourite flowers were the garden roses she used from a specialty rose farm. My bouquet was just what I had imagined romantic and elegant. I added an extra touch to my bouquet by including a locket with my grandmothers picture and a borrowed cameo pin that belonged to my other grandmother. Both of my grandmothers played an important part in my life that's why I wanted to include something special in my bouquet in remembrance of them. The highlight of the florals was the simple yet elegant arch filled with greenery and roses. It was a beautiful focal point for our ceremony and it completed our look for the reception. We were able to repurpose the arch behind the cake table and it fit perfectly.
FAVOURITE DETAIL OF THE DAY: When we walked into the Capella room for our reception it truly took my breath away! The room had a soft romantic glow with all the candles lit and the beautiful candelabras that adorned the room. The flowers brought everything together so beautifully. Our florist did such a lovely job capturing our vision. The beauty of the flowers were definitely my favourite detail.
WHAT ADVICE WOULD YOU GIVE OUT TO A COUPLE PLANNING THEIR WEDDING? Enjoy each step of the of this new journey as a couple from the wedding planning to the wedding day. These are all memories that you will remember forever. Try not to stress out because in the end it will all work out.
MOST MEMORABLE MOMENT? Anthony and I both agree our most memorable moment was the ceremony. From walking down the aisle with my dad, Anthony walking with his parents to seeing Anthony for the first time and exchanging our vows were such special moments. Before we started the ceremony our officiant had us turn to face our family and friends. It was so nice to take a moment to see all our loved ones together.
ANY OTHER DETAILS THAT HELP TELL THE STORY OF YOUR DAY? My mother-in-law had wedding favours made in Greece. The favour was a bag filled with "confetti" - candy coated almonds. This is an Italian tradition that signifies five wishes for the bride and groom: health, wealth, happiness, fertility and longevity. She also added a set of gold leaf spoons that tied in our subtle leaf detail that was featured throughout the wedding.
The music for our wedding was so important to us. We are blessed to personally know a group of talented individuals who were able to play amazing music for our family and Friends. My cousin's husbands band (Big Band 4 U) sang our first dance song. Our close friends Frankie V from iheartradio was our MC and Dj Scene closed out the night playing our favourite dance music.
IS THERE ANYTHING YOU WOULD CHANGE OR DO DIFFERENTLY? We would not change anything. Even though we had one set back it all worked out and it was such a memorable day that we will remember forever.
A huge thanks to Southern California wedding photographer AMY GOLDING for sharing this beautiful wedding with us. Amy is passionate about documenting love in the most raw of forms and collecting beautiful moments. Authenticity and kindness are her jam. She chases posing that is authentic and connective, and deeply believes that every wedding deserves to be beautifully and elegantly captured. You can see more from this Southern California wedding photographer in our vendor guide and you should also check out this Malibu Engagement shoot in moody winter tones.