Inspired by the intimacy of the most grandest spaces in the South of France, this creative team headed to Avignon in Provence and endeavoured to create inspiration for the Fine Art Couple at the prestigious and exclusive CHATEAU DE TOURREAU. Planned and designed by Toronto wedding planner NÓBL EVENTS the shoot is elegance personified and these images by KRISTIN SAUTTER PHOTOGRAPHY leave us wanting more.
Kirsten from NÓBL EVENTS explains; "CHATEAU DE TOURREAU is a timeless backdrop to a shoot designed to be achingly sweet. We worked to create a shoot that invoked wistfulness, nostalgia and inspired couples to yearn for the tender moments of their wedding day. For the tablescape we wanted to play with floral forward design, something modern yet gloriously timeless. Our florist ML VÉGÉTAL played with soft blooms that boasted romantic texture and gentle yet playful lines. Our hope is that couples will be inspired by these colours and textures in their own wedding day design, and yearn for something similar.`
The gown is dream like bringing together hand-sewn details etched into illusion lace by the Israeli designer NETA DOVER. Paired with bridal shoes by BELLA BELLE and bespoke accessories by the incomparable LENA ROM we hoped to showcase a look that spoke to the bride striving for modern modesty and classically feminine detailing. Of course our groom could wear nothing else but a classic tux to complete the pairing."
Wedding Stationery designer STUDIO WREN & CO created an elegant paper suite with an ornate green logo and a soft floral envelope liner with a painterly feel to it... fitting for a Chateau wedding.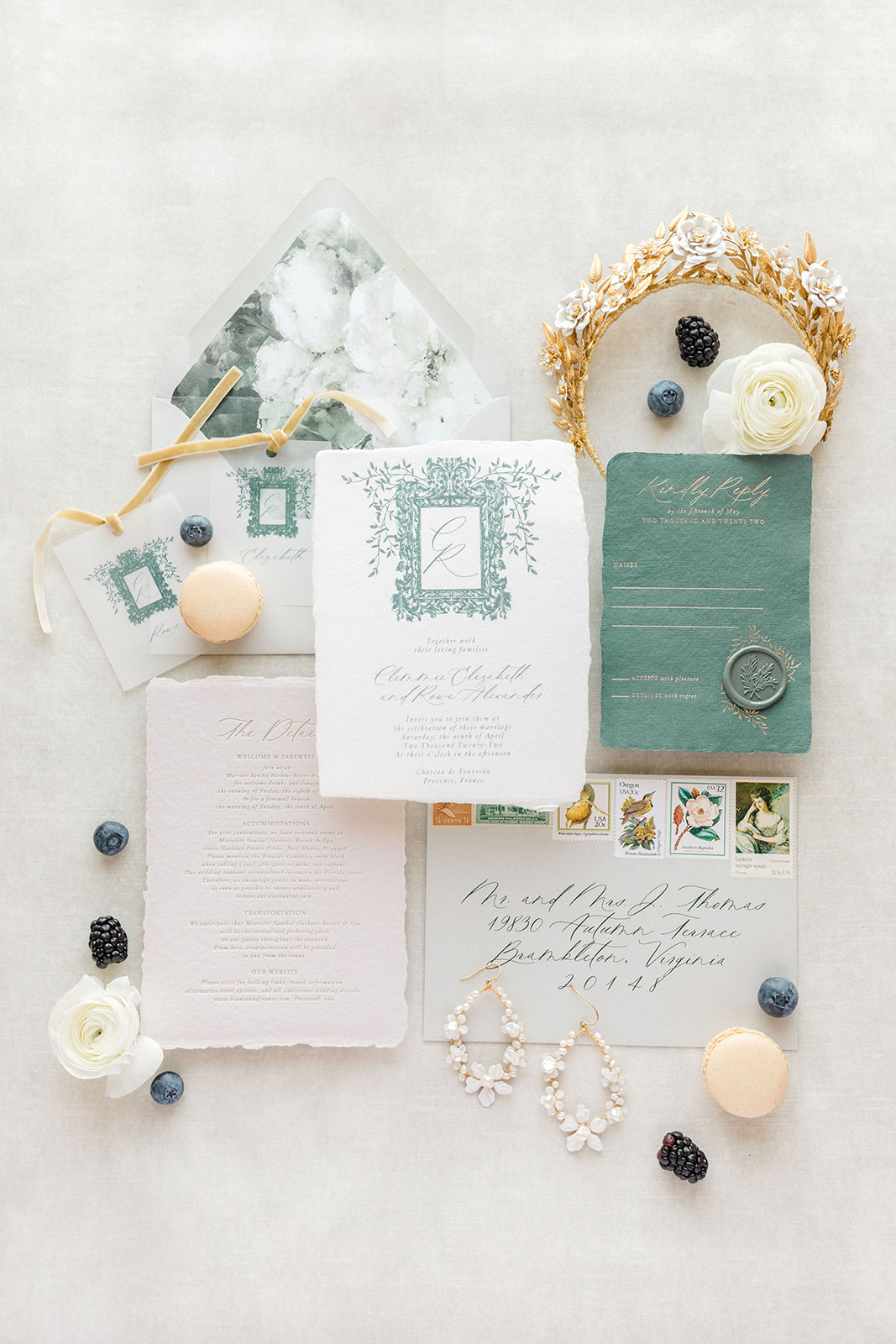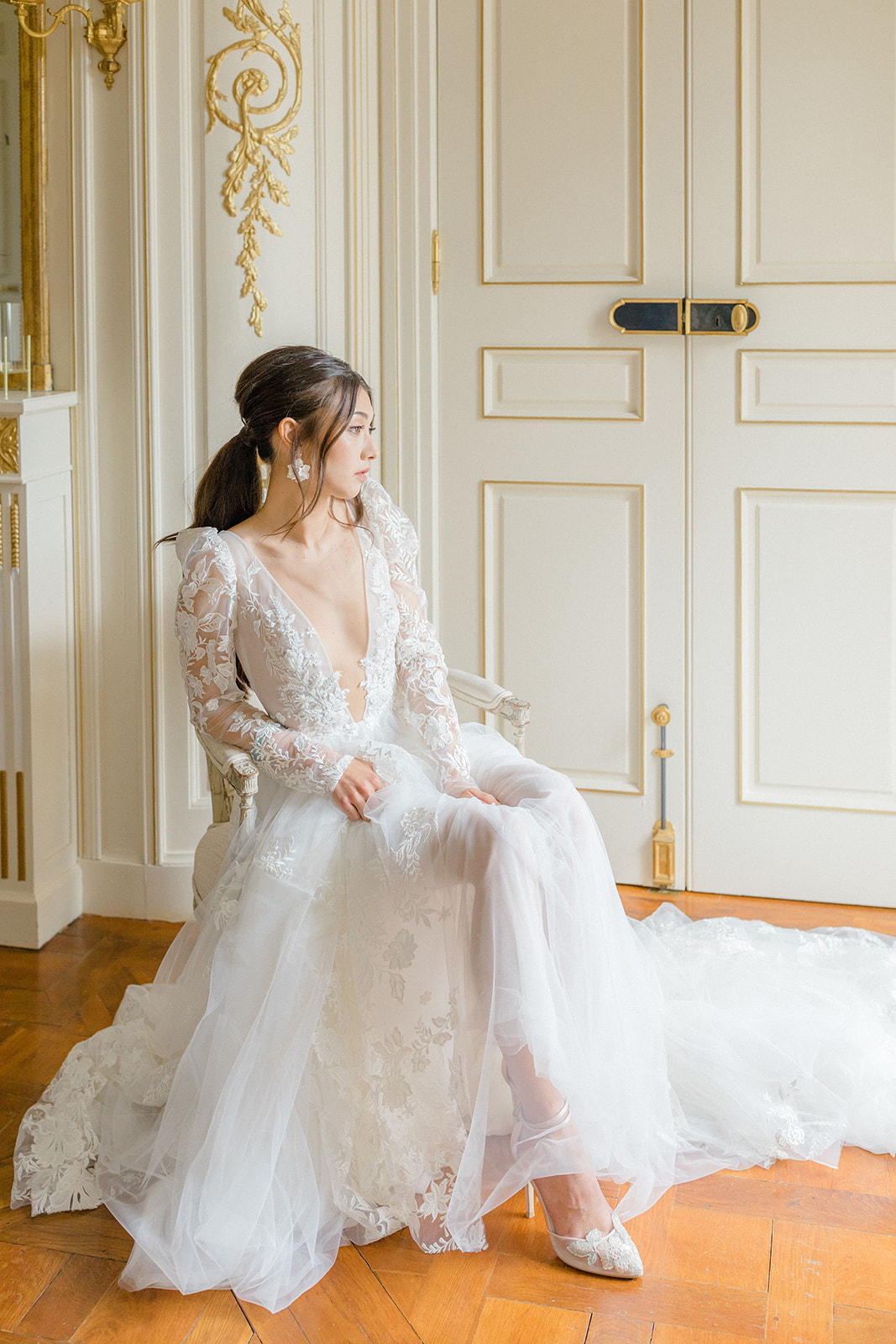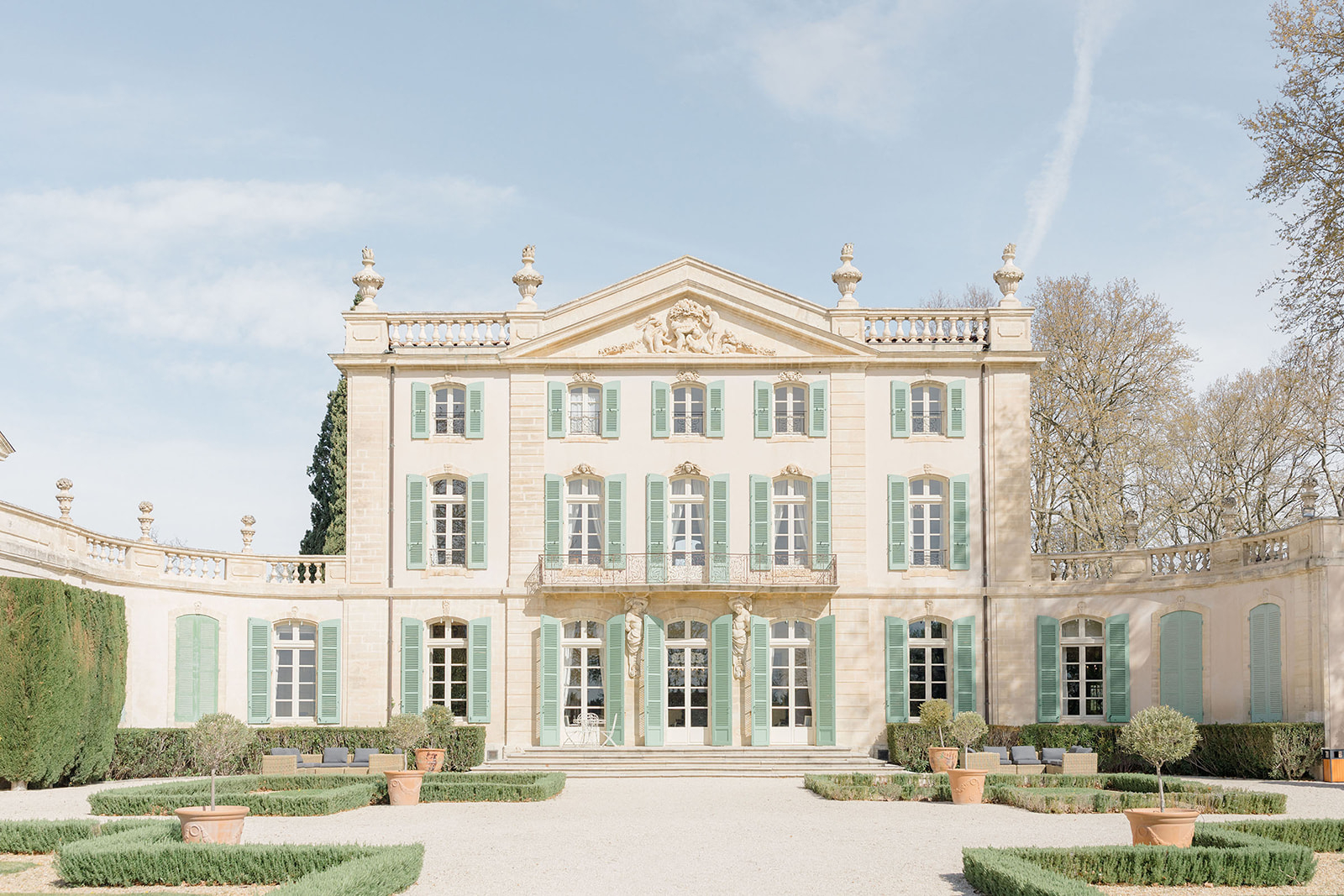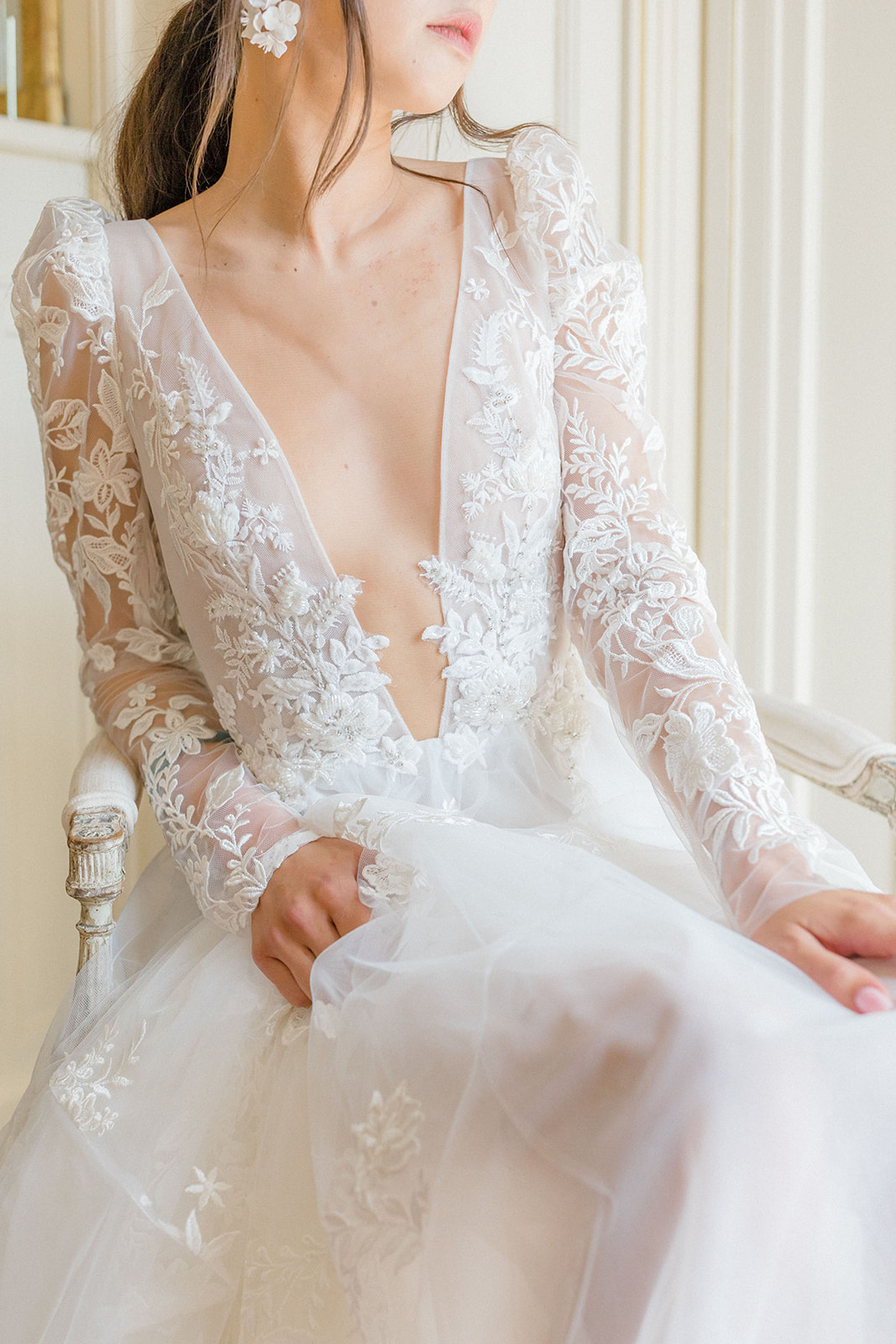 A huge thank you to Toronto wedding planner NÓBL EVENTS for sharing this beauty with us. Owner Kirsten is inspired by fine art and the loose organic aesthetics of nature. "We love things to feel open, free and oh-so-Nóbl while catering to your specific vision. We use the tools that innovation affords. With this approach you will see the fruits of our labour daily. Every family has its own distinct qualities. We pride ourselves in being sensitive to your needs as we get to know you. We believe that good communication is essential in all kinds of relationships. So once we are on the same page we willI work hard to be your budget supervisor, vendor liaison, fee advisor, value finder, design innovator and etiquette advisor. We'll always be there to advocate for you to accomplish your goals. You can see more of their work in their portfolio here.
Wedding Stationery designer STUDIO WREN & CO. is a valued member of our vendor guide. This fine art stationery studio is currently located in the Washington D.C area and works with couples all over the world. "Our signature aesthetic is timeless and abundantly romantic with a modern, editorial edge." Jen is passionate about creating stylish fine paper pieces with an emphasis on textures and materiality and is known for her attention to the small and meaningful details. You can see more of her portfolio here.