Shontelle & Brad imagined a very elegant yet relaxed wedding celebration and with the help of Auckland wedding planner OH! SUCH STYLE, they created just that. For Auckland wedding photographers BUBBLEROCK the day was effortless and working with such a relaxed couple made things easy for them.
HOW DID YOU MEET? Brad and I met at a Christmas Eve party in 2012. We didn't know each other before this which seems strange considering we went to the same school for a while and had a lot of mutual friends. We went on a dinner date the following May, where we talked about anything and everything for so long that the restaurant eventually asked us to leave so they could close.
TELL US ABOUT YOUR PROPOSAL: Brad and I work together so I didn't think he would be able to keep a proposal secret. We were in the Marlborough Sounds for a long weekend with our friends Drew and Nicole when Brad popped the question. As we trialed the many local wineries in the area on the first day, Nicole and I we were joking to the boys about how they would never be able to surprise us. The next morning was so stunning that Nicole and I decided to go for a walk to the lookout and watch the ferry come into Picton. We were so busy taking everything in that we didn't realise the guys had been trying to get hold of us, until a slightly flustered Brad and Drew turned up at the lookout point. They hurried us into the car, claiming that they had managed to get us a booking for brunch at an exclusive lodge that was only accessible by boat but that we had to be there in 20 minutes, and it was a 15 minute boat trip away. The brunch date was to show us that they were romantic and could surprise us - well played! The guys had the boat all prepped and ready to go by the time we got down to the boat shed and it was full throttle ahead to get to the lodge on time. Nicole and I were so busy chatting and taking in the view that we didn't notice the guys looking up at the sky most of the trip.
When we arrived, we quickly raced up the hill and by the time we realised that the guys had led us past the lodge, we heard a helicopter above us. Nicole and I both looked at each other and jumped up and down in excitement, we knew exactly what was going on - they were proving us wrong and taking us on the most amazing surprise date ever!
I called shotgun and jumped in the front seat, feeling ridiculously excited and grateful to be flying over the Marlborough Sounds. After 30 minutes of flying, we landed on a big rock just off the coast of New Zealand and jumped out to take in the scenery. Before I really knew what was happening, Nicole had shuffled me around to the other side of the helicopter and Brad was down on one knee.
After some words that I can't remember, a muffled yes and lots of hugging, I turned around to see Drew with a bottle of champagne and some glasses. We spent the next 20 minutes taking photos, drinking champagne and trying to remember what had just happened before flying back to the lodge for lunch and an afternoon on the boat.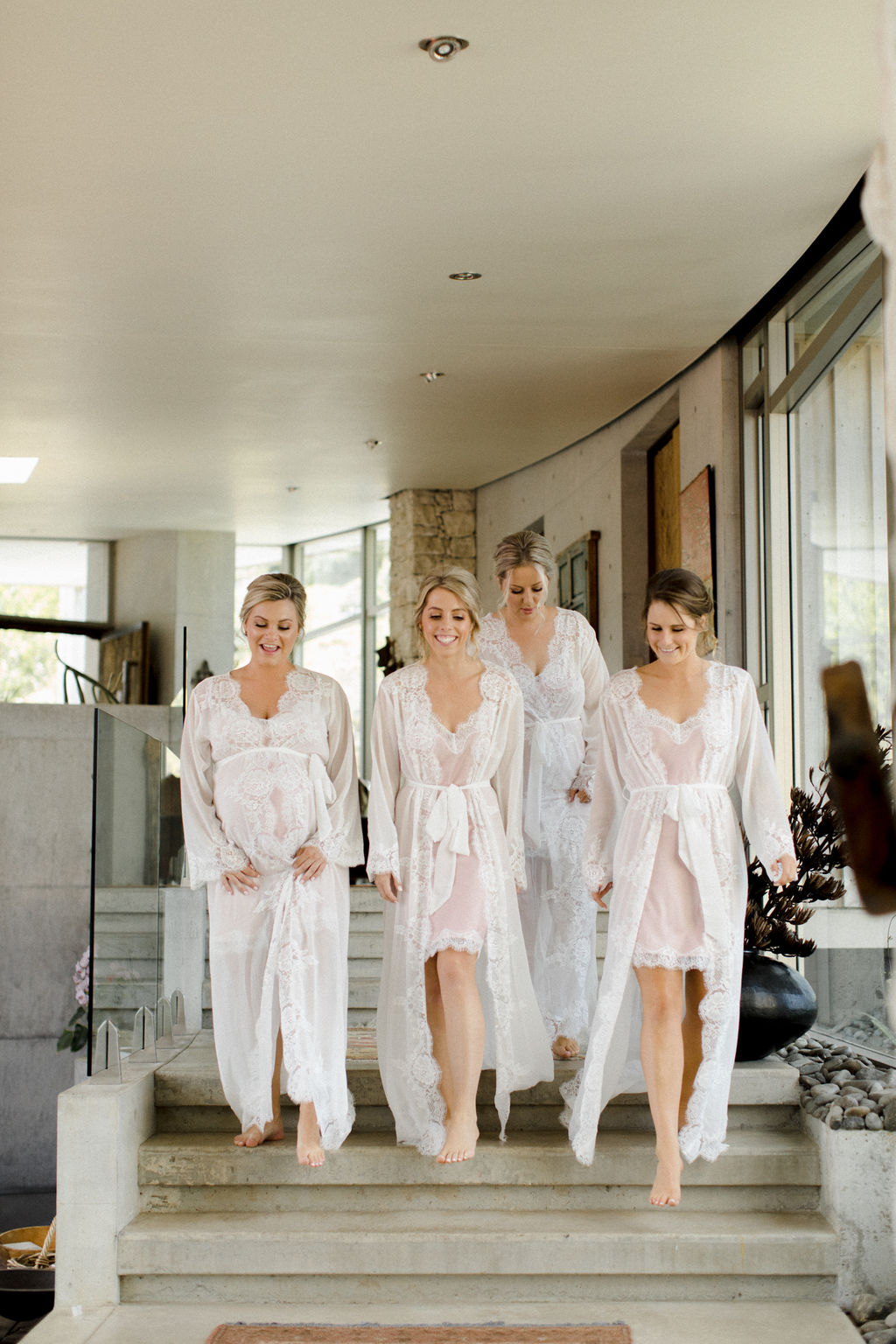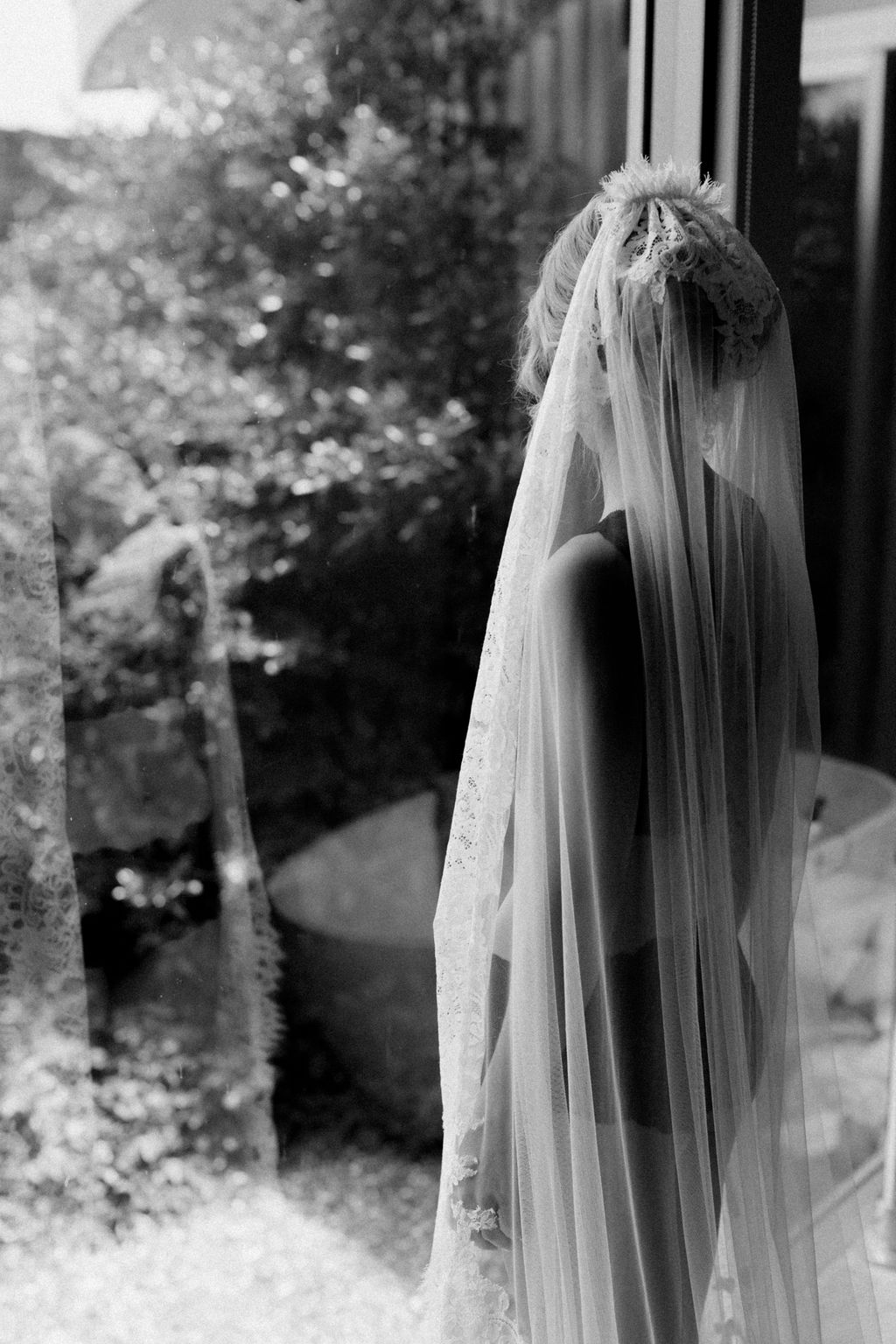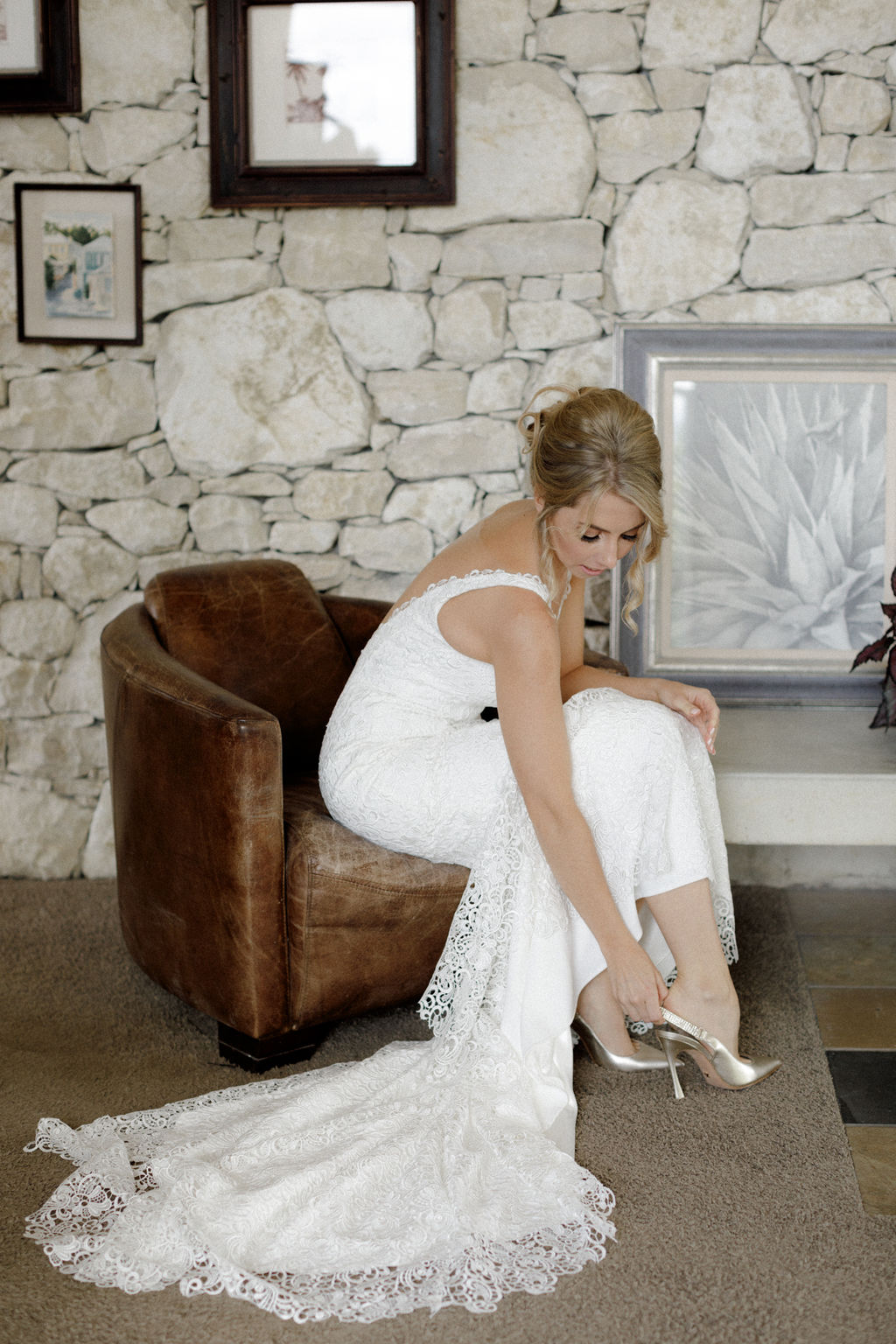 TELL US ABOUT FINDING YOUR WEDDING DRESS: My dress was designed by the lovely ANNA SCHIMMEL. When mum and I went to visit Anna in Auckland, all I knew was that I really wanted a dress with a low back. I tried on a few different styles but when I tried 'the' dress, it felt great, and mum and Anna both said "wow, that's the one" as I walked out of the fitting room.

FAVOURITE DETAIL OF THE DAY: There are honestly too many to choose. Shontelle says the dress, the shoes, the flowers, the stationery, the veil. Brad says the groom and groomsman's outfits, the mustangs, the pool area and the chapel set-up. Also, the stone wall that was the backdrop for our first look photos and stole our photographer's heart.
WHAT ADVICE WOULD YOU GIVE OUT TO A COUPLE PLANNING THEIR WEDDING? The planning process can become very busy, especially if you're juggling other commitments. I'd recommend having a clear vision of what you and your fiancé's dream day would look like and what best represents you as a couple. There are a lot of different suppliers wanting your business, and several decisions to make along the way, so it can be easy to get caught up or distracted by certain styles, looks and products. If you both have a clear idea of what you want your day to look like, you will be able to make decisions that align with your end goal and ultimately lead you to your dream day. Know what you both want.
Another piece of advice would be to select a couple of aspects that are the most important to your special day, and to allocate a larger portion of your budget toward those things, as opposed to the other parts of the wedding that may not be as significant to you (e.g. photography and flowers / dress and venue / food and music).
Above all, have fun and take in every moment because it goes so fast!
MOST MEMORABLE MOMENT? Shontelle: Walking down the aisle - seeing Brad, gripping my dad's arm as he walked with me, the guests watching and smiling, the soft music, finally seeing the chapel setup and the beautiful flowers. So much to take in but the best moment. Brad: First Looks, seeing Shontelle in her dress for the first time.
ANY OTHER DETAILS THAT HELP TELL THE STORY OF YOUR DAY? The girls stayed together the night before the wedding at the stunning Koru House in Tawharanui Peninsula. After hair, makeup and the bridesmaid reveal the next morning, the guys arrived, and we had our 'first look' and photos in front of a gorgeous stone wall. We all stayed there the night of the wedding and hosted a recovery pool party the next day. As the wedding day itself goes so fast, this was a great opportunity to catch up with people and recap on the day before.
TELL US A LITTLE ABOUT YOUR HONEYMOON: We spent the first week of our honeymoon relaxing and enjoying cocktails in the sun at Hamilton Island, Australia. The highlights would have been spending Valentine's Day visiting the Heart Reef at The Great Barrier Reef, followed by a picnic on Whitehaven Beach. Getting to cuddle a koala for the first time was also up there, along with a sunset cruise around the island. We spent the second week road tripping around the South Island of New Zealand, finishing our honeymoon off by climbing Roys Peak in Wanaka. We are so lucky to live in such a beautiful country.
IS THERE ANYTHING YOU WOULD CHANGE OR DO DIFFERENTLY? We were strict with our guest list due to limited numbers at the venue, but quite a few people pulled out last minute due to unforeseen circumstances. If I were to change one thing or do something differently, I would love to include more friends and family. There is nothing else I would change, all the laughs and little quirks throughout the day made it 'ours'. We had the best time.
Thank you to Auckland wedding photographers BUBBLEROCK for sharing this beautiful New Zealand wedding with us. With a passion for life, for people and for capturing beautiful moments, BUBBLEROCK operate both out of New Zealand and France, and bonus - can not only photograph your day but film it as well. You'll also want to check out this Destination wedding in a 13th century castle in Florence.
Auckland wedding planner OH! SUCH STYLE thrives in being able to create beauty for her clients whilst also creating an unforgettable experience. "We believe that an honest connection will allow us to serve you well through your wedding planning and grant us the insight to infuse your true selves into an entirely personal design." If you're an Auckland bride looking for an Auckland wedding planner you can check out more of their portfolio here.