This gorgeous wedding by A. THOMAS PHOTOGRAPHY was brimming with so many special details. Brady & Carey grew up in Georgia and knew that VINEWOOD PLANTATION would be the perfect venue for them. Filled with southern charm, it features a pecan tree which offered the perfect setting for the ceremony. Aiming for a simple style they took their inspiration from Tuscany.
Abigail from A. THOMAS PHOTOGRAPHY tells us, "Brady & Carey warned me before their wedding that they were sentimental, but that is a photographer's favourite word. The details that they included throughout the day included handmade pens crafted by the bride's grandfather for the guest book, place settings from her grandmother's house, a personal note from the groom's brother (who is serving in the United States Military) - the list goes on & on. However, none of those details could outshine the couple themselves-they were full of excitement, emotion, & lots of love for one another. I have never experienced such intimacy with a couple I have photographed, & the images prove their connection is real. Carey's vision came to life with organic greenery, minimal ceremony decoration full of charm, & romantic touches throughout their reception."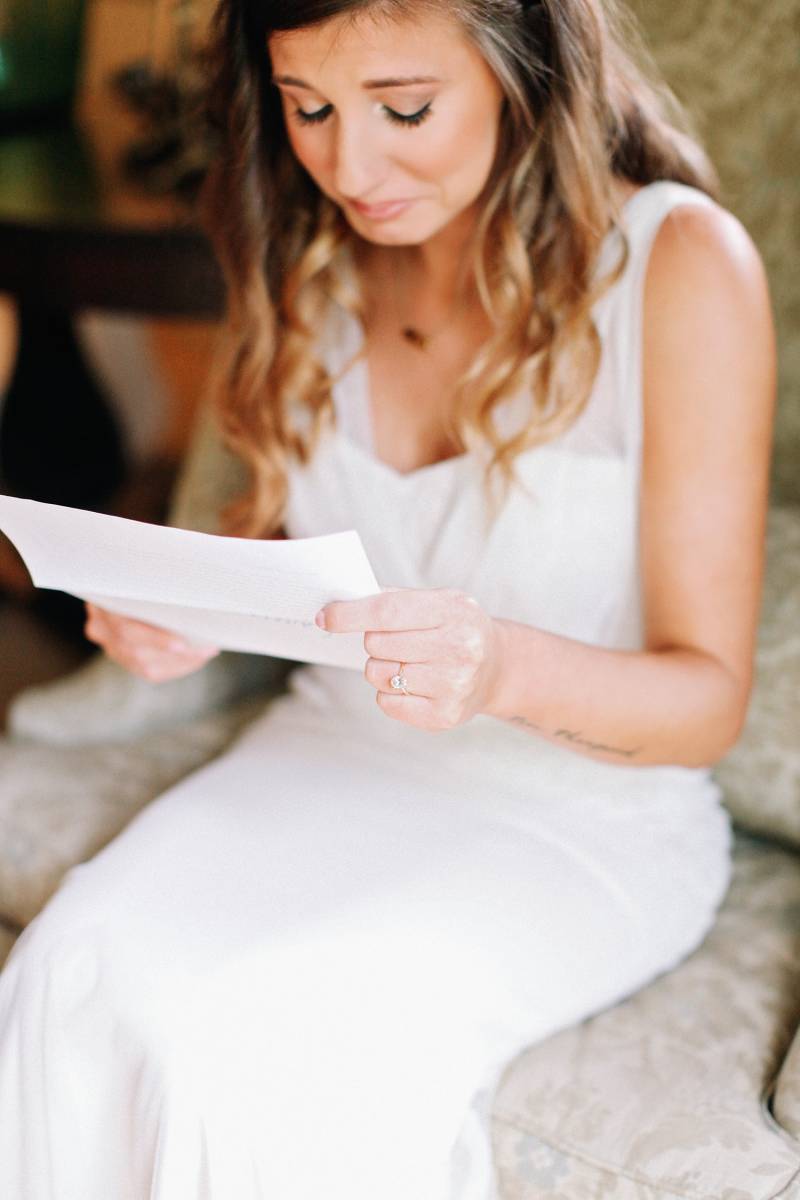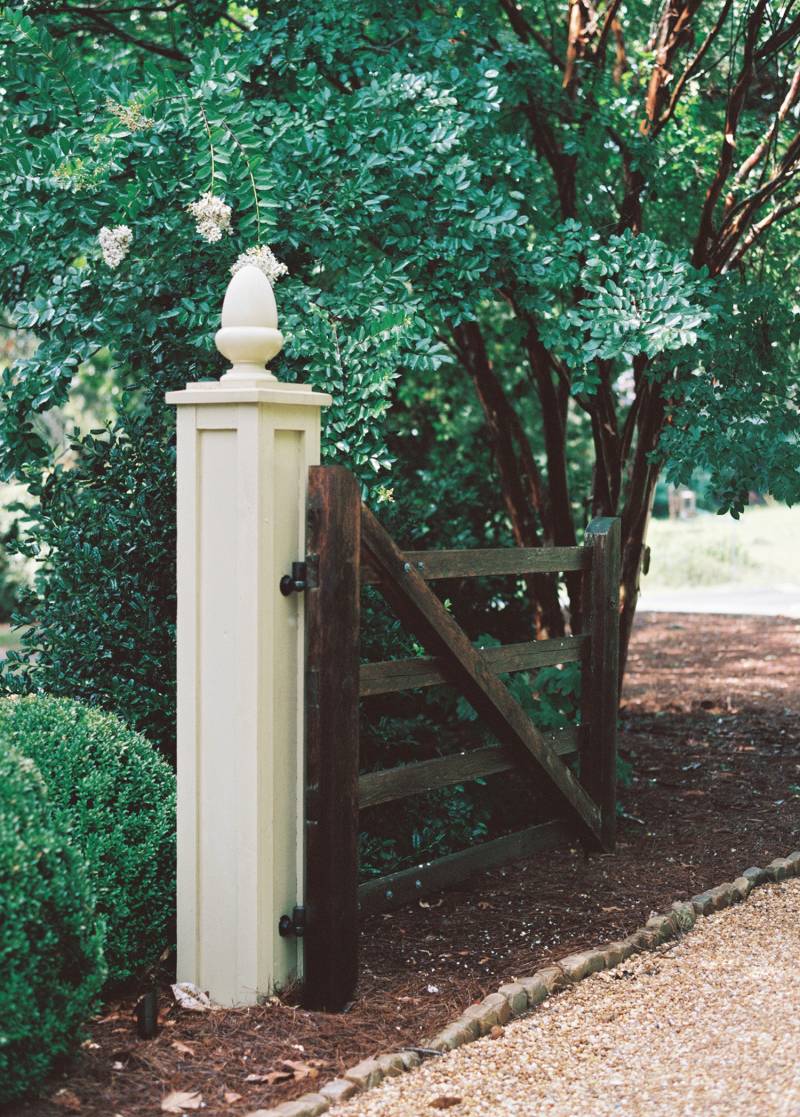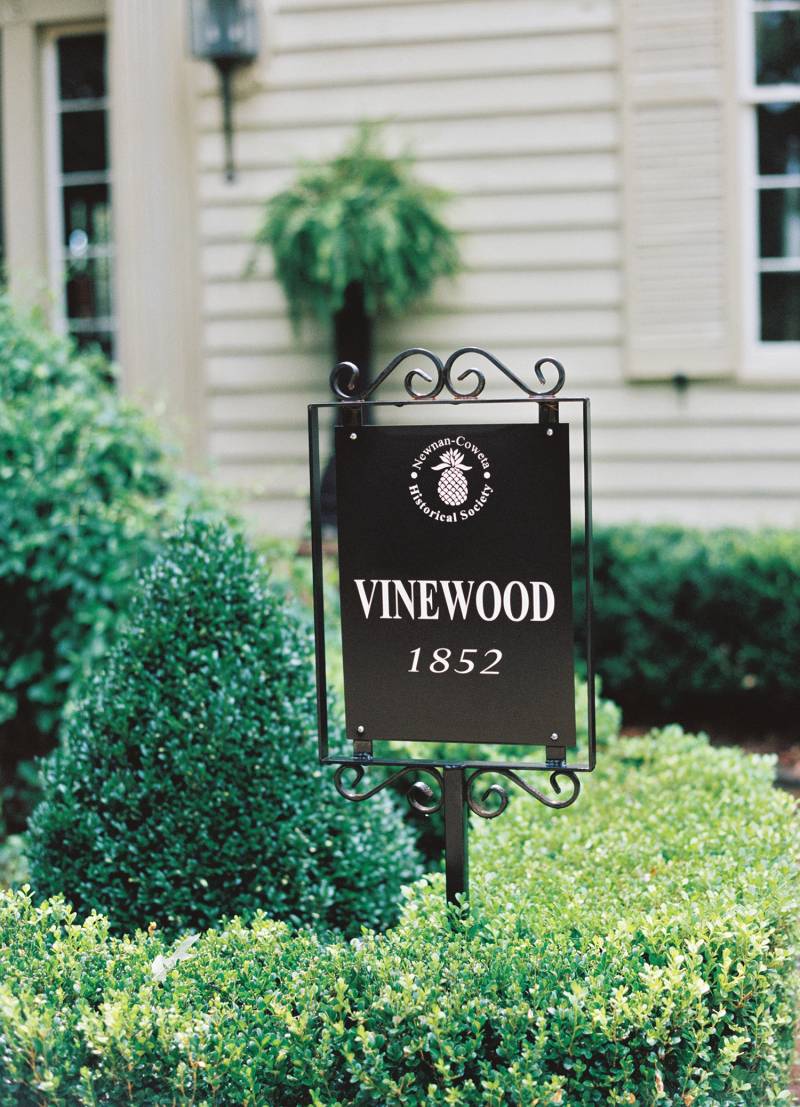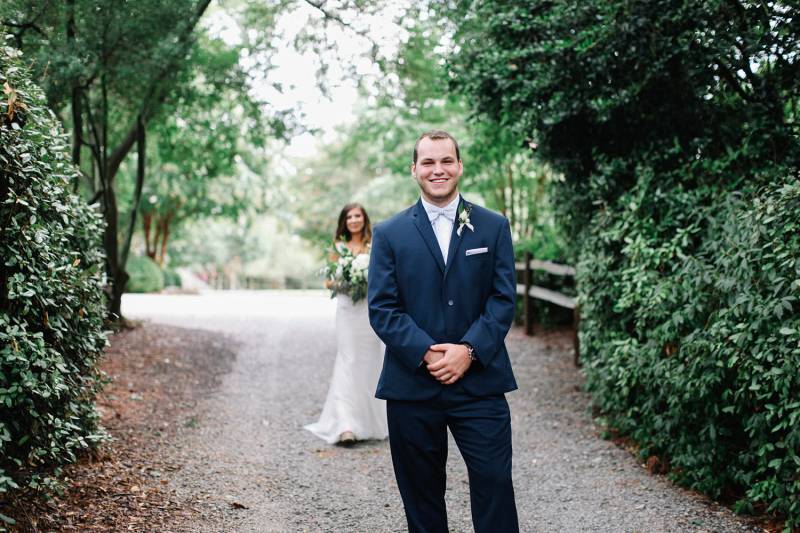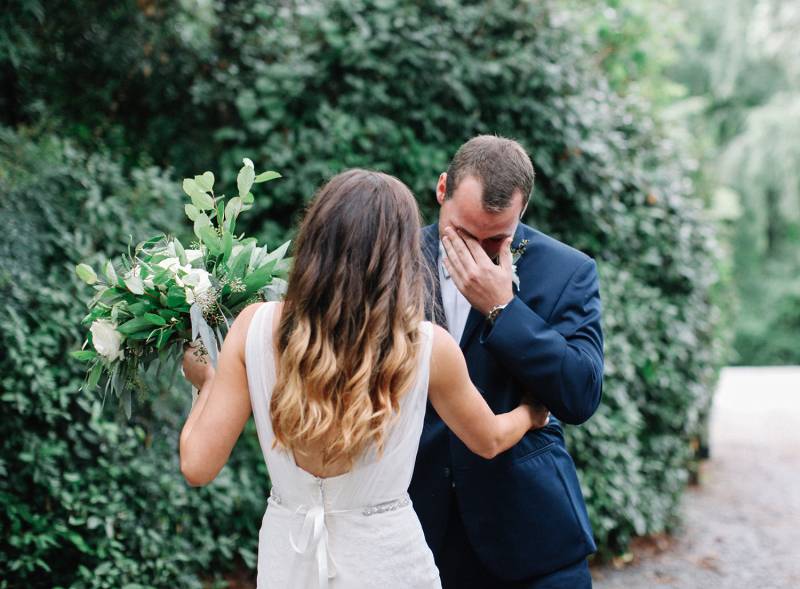 HOW DID YOU MEET? We first became friends + crushes in middle school and then began dating in our junior year of high school and then continued dating through college.
TELL US ABOUT YOUR PROPOSAL: Brady and I had both camped at the Vogel State Park in North Georgia all through our childhood, where we had made many fond memories with our families and with each other. We started the day with a walk by the lake reminiscing on these memories and walking along the bricks until we found the one my family had placed in honor of my grandparents. Since we had hiked the trails in Vogel State Park many times, we decided to hike the nearby Blood Mountain. When we finally reached the top, we sat overlooking the view and adding things to our bucket list. Brady made the comment "I could do this forever." As we began to stand up, our dog Avett had pulled me in the other direction distracting me from what Brady was doing. When I turned back around, I found Brady on his knee. He asked "Do you want to do this forever?" Total heart melt.
TELL US ABOUT FINDING YOUR WEDDING DRESS: My mom and I took a girls day and went to Fabulous Frocks of Atlanta, which was our first stop! I knew that I wanted a low back, a tighter fit, and some lace elements, but I wanted to keep an open mind. I picked out about 7 styles of dresses, and only found one that I liked, but I still wasn't convinced it was the one. The woman in the shop then went and picked out one, which I had sopicked out one, which I had somehow missed. From the illusion straps, to the lower back, to the simple, yet unique lace details, I knew this dress was the one!
DESCRIBE YOUR WEDDING FLOWERS: The wedding flowers were predominantly greenery with hints of neutrals and earth tones. My bridal bouquet was overflowing with leafy greens and whites!
FAVOURITE DETAIL OF THE DAY: From a heartfelt letter written by Brady's brother (a U.S. Marine recruit away at boot camp) to an heirloom ring pouch, our favourite details were the sentimental ones. It was so special to have my grandmother's china on our sweetheart table and for my other grandmother to surprise me with my great-grandmother's handkerchief to hold during the ceremony. We were also honoured to have my great-uncle, who had officiated my grandparents wedding and my parents wedding, say an opening prayer.
WHAT ADVICE WOULD YOU GIVE OUT TO A COUPLE PLANNING THEIR WEDDING? My mom had advised me from the beginning to not feel stressed out because this was meant to be the happiest day of your life. I truly am so grateful for that advice. I took joy in planning each and every detail and I never let myself get stressed. When the day comes and goes, the only thing that matters was the moments you have with each other and what that day means! Try to keep your focus on each other instead of every little detail that could possibly go wrong!
MOST MEMORABLE MOMENT? Brady and I decided to do a first look so instead of writing our own vows and reading them during the ceremony, we just decided to write our vows to each other in a letter and read them right before our first look. Having that first moment to ourselves, (except our photographers, of course) was such an intimate and memorable moment that I think a lot of couples miss out on. The moments during the ceremony flew by, but time seemed to stand still when it was just the two of us. Brady's first reaction to me will always be something I cherish! It was so natural and I was grateful for a moment of peace with my best friend in the middle of all the craziness!
ANY OTHER DETAILS THAT HELP TELL THE STORY OF YOUR DAY? On any given July day in Georgia, you can expect it to rain for about an hour. On our wedding day it began to rain around three in the afternoon. We chose to believe the theory that rain on your wedding day is good luck. The sun peaked out to create the most magical light just as the ceremony began!
IS THERE ANYTHING YOU WOULD CHANGE OR DO DIFFERENTLY? We wouldn't change a single thing! Our wedding day will always be so special to us and we felt so overwhelmingly loved by our family and friends! Every single one of our vendors went above and beyond and made our day an absolute dream! We felt so blessed to have them be a part of our day!