After meeting in Medical school at The University of Southern California, it took awhile for the Nancy & Nick to realise they had some true chemistry. Nevertheless, their love found it's way and their friendship blossomed into a relationship after all. With this in mind, it was SO fitting that their unity ceremony was a real chemistry experiment that turned bright pink when two clear liquids were mixed into a unity beaker.
The couple chose to get married at THE LANGHAM HUNTINGTON PASADENA after being sold on its elegant vibe with a beautiful ceremony and reception space. "The Viennese Ballroom where we hosted our reception has an arching ceiling with gold accents that reminds me of old European luxury. Also, we liked that they had a 10 course Chinese banquet to honour our heritage." bride Nancy tells us. Preferring a clean and elegant look with modern touches, they went with a fresh green & white colour palette with touches of gold. They also added in a few surprising elements to incorporate their personalities.
Southern California wedding photographer MANDY FORD captured their beautiful day and tells us; "Nancy and Nick are the sweetest couple, and I'm so thankful they chose me for their wedding day! Not only are they absolutely gorgeous on the outside, they both have kind hearts and truly care for their guests. This was apparent throughout every facet of their Pasadena wedding. They chose signature drinks to go with their chemistry theme - a Code Blue and a Stemi - both pertaining to their particular specialties within the medical field.
My favourite ceremony site at The Langham Huntington Pasadena wedding venue is the Horseshoe Garden. I was so happy to learn that Nancy and Nick had chosen such a breathtaking location. The gardens have a beautiful view of the open garden with the Langham architecture in the background. Twin staircases encompassed the scene."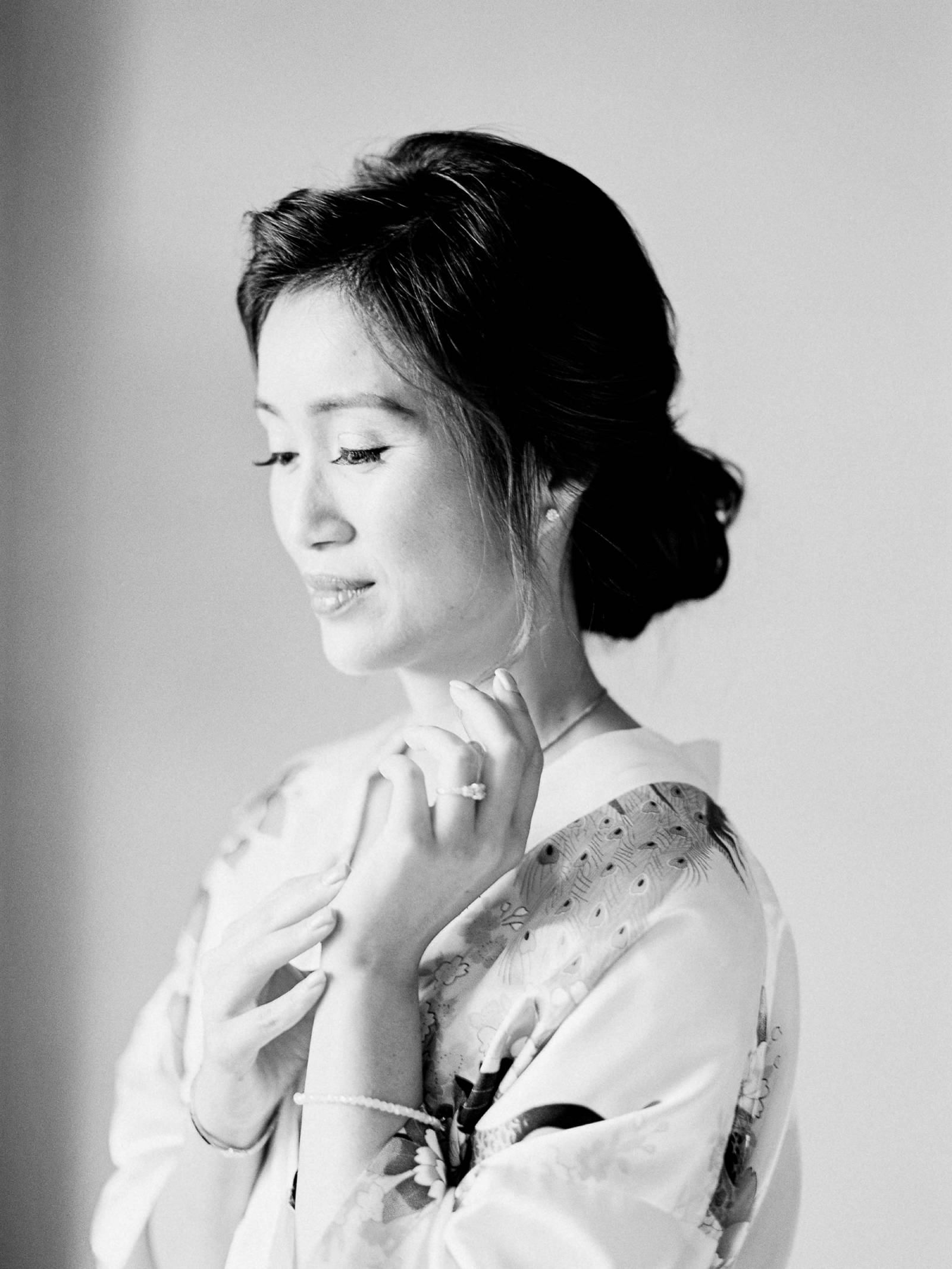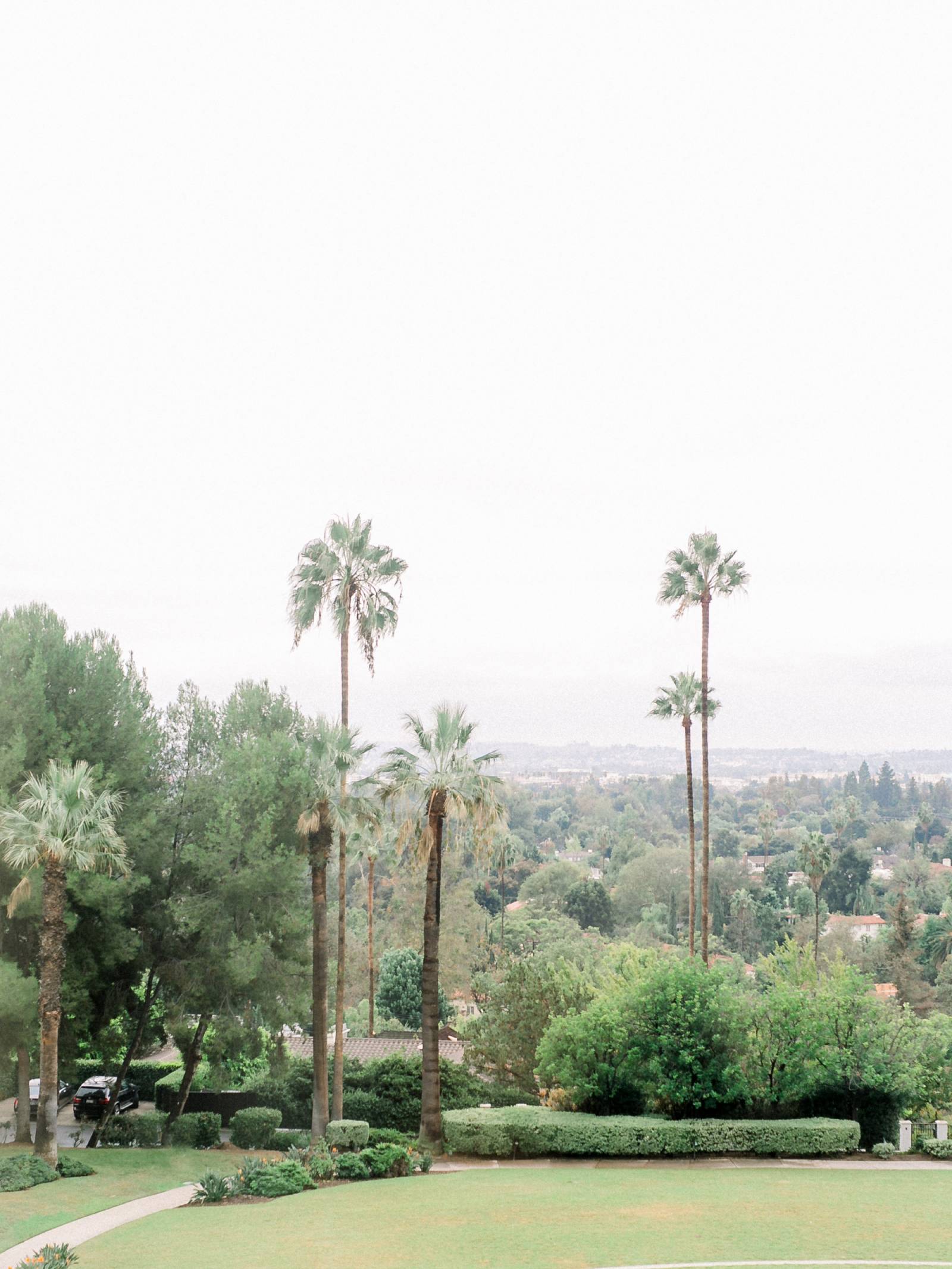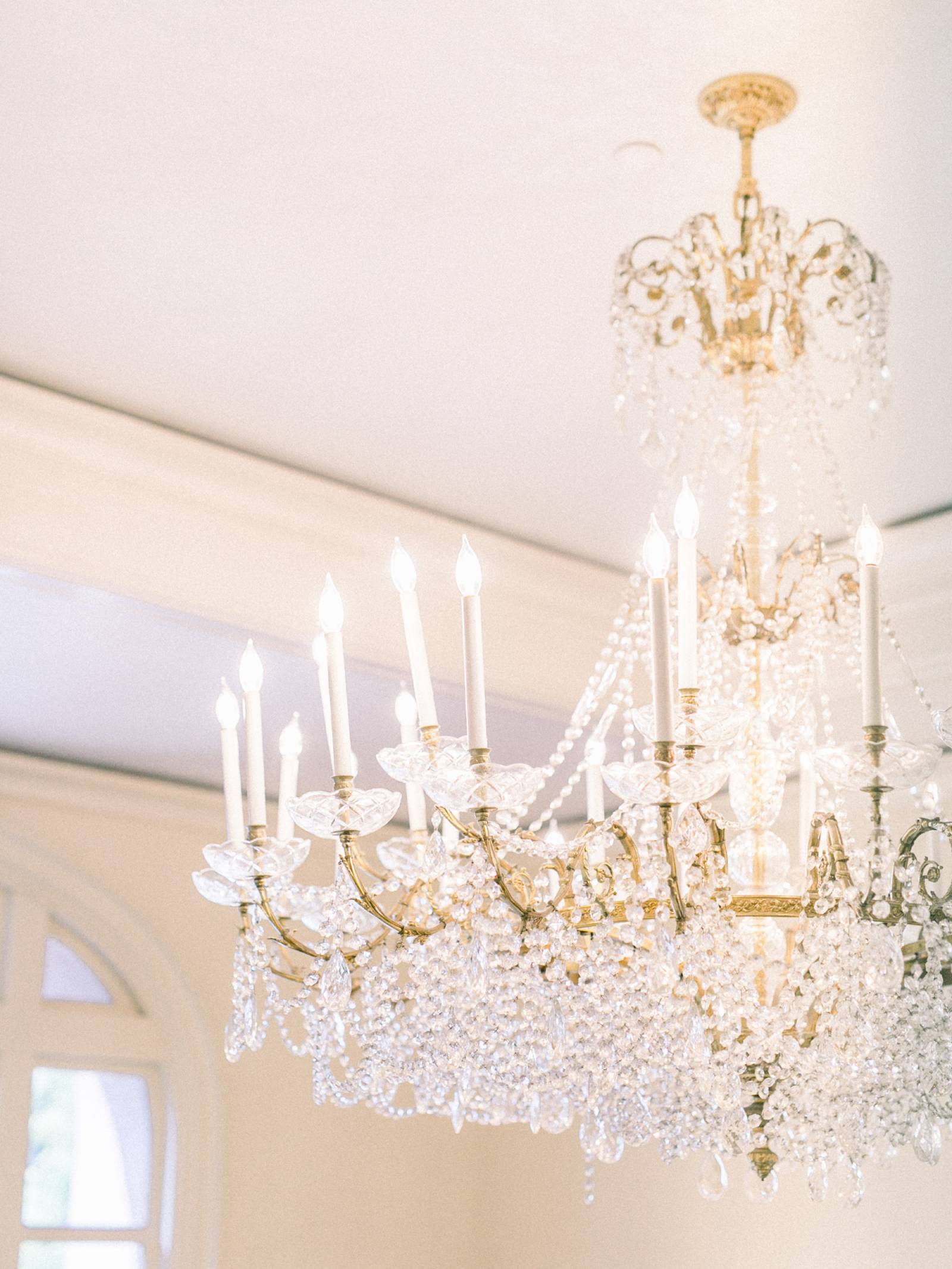 HOW DID YOU MEET? We met in our first year of internal medicine training. I came right up to him and asked if he was a senior resident because I thought he looked really confident. He was actually there for his first week just like me. He thought it was cute that I was flirting with him.
TELL US ABOUT YOUR PROPOSAL: Nick is what one might refer to as a "foodie" - a French foodie, to be specific. He's willing to jump out of his comfort zone and try new and exciting dishes. On his first date, he brought Nancy to a restaurant where they tried escargot. On the day Nick proposed, he brought Nancy back to that original restaurant to share a meal. After dinner, they drove to the Getty Villa in Malibu, but instead Nick detoured at the top of Topanga Canyon, overlooking the San Fernando Valley where both Nancy and Nick grew up. With flowers, beautiful music, cake, a heartfelt tablescape, and a nice low dip, Nick proposed to Nancy in the hope that she would say yes. Spoiler alert - she did! They celebrated the unforgettable moment with family who had been hiding and enjoyed champagne and cake.
TELL US ABOUT FINDING YOUR WEDDING DRESS: I was procrastinating with wedding planning, and my mom and sister insisted that I seriously get a move on. We booked three bridal shops while I was in town attending another wedding. I never made it to the last shop because I found the dress of my dreams at the second location. It was a mermaid dress with intricate beading that I never would have picked out for myself, but mom and sister know best. It fit me perfectly. I just knew. Wedding dress shopping was the easiest part of wedding planning for me.
DID YOU HAVE ANY DIY ELEMENTS? Not really. Nick and I are left brain people, which means we excel at reasoning and logic. Not so much artistry. But we did incorporate our nerdy side into our unity ceremony by performing a chemical reaction. We mixed two clear liquids that turned magenta upon combining to represent our colourful lives together.
DESCRIBE YOUR WEDDING FLOWERS: Our wedding flowers were organic, elegant, natural, and memorable.

FAVOURITE DETAIL OF THE DAY: When my bridesmaid put on their gold chiffon dresses by Amsale, they looked stunning. Everyone looked luminous and elegant. I thought I did such a good job picking out the dresses, but then I realised my girls made them look beautiful!
WHAT ADVICE WOULD YOU GIVE OUT TO A COUPLE PLANNING THEIR WEDDING? Don't sweat the small stuff. There are so many details when it comes to wedding planning that it can be easy to feel overwhelmed. At the end of the day, all that matters is you get to marry your best friend. Also make the wedding your own, and don't let family or friends get into your head. Every decision should be between you and your future husband.
MOST MEMORABLE MOMENT? I kept teasing my husband about crying when I walked down the aisle or during our first look. I joked that we should have the best man carry an onion. As it turned out, he held it together pretty well, but I was very emotional and shed some tears during our vows. I liked that it was spontaneous, heartfelt and touching.
ANY OTHER DETAILS THAT HELP TELL THE STORY OF YOUR DAY? We tried to infuse our personalities into the day by including some of the things we love best. There was an ice cream cart and dessert station for me because everyone knows I have an insatiable sweet tooth. Our MCDJ performed magic for Nick. We had signature drinks titled "STEMI" for me and "Code Blue" for my husband to represent our jobs as cardiologist and critical care doctor. We played as much of the Beatles as possible. They were singing when I walked down the aisle and during our first dance.
TELL US A LITTLE ABOUT YOUR HONEYMOON: We went to Maui for one week. This was both our first times. It was a perfect choice because it was easy to balance activities with rest and relaxation. I loved swimming with green sea turtles, sharing a couples' massage at the Grand Wailea, hiking the Pipiwai Trail, and eating all of the local delicacies. The best memory was meeting our favourite celebrity chef, Sheldon Simeon of Top Chef Charleston, at his restaurant opening, which landed on the same week we were in town. How fortuitous!
IS THERE ANYTHING YOU WOULD CHANGE OR DO DIFFERENTLY? I was pretty nervous about the weather. There was thunder and lightning the night before the big day, and showers on the morning itself. My friends and family tried to reassure me and said that rain was good luck. In the end, they were right. The rain broke just in time for our ceremony, leaving behind a dreamy sky.
A big thanks to Southern California wedding photographer MANDY FORD for sharing this beautiful Pasadena wedding with us. As a film hybrid photographer with a light and airy aesthetic, Mandy is deeply passionate about her craft and has documented weddings and love stories in beautiful spots through the United States. "This means I shoot both digital images and medium format film to achieve my aesthetic. Film, to me, achieves a soft, classic colour range that can't be emulated with a digital camera alone. I strive for a level of quintessential, authentic romance in my work - so you end up with photos as remarkable as you are, with an experience to match." You can see more of Mandy's work in our vendor guide.