White flowers, greenery, a touch of gold and an informal elegance was what gorgeous bride Beth was after for her wedding to Michael. Held at the stunningly beautiful GLOSTER HOUSE in County Offaly, Ireland, it was a black tie affair in keeping with the stately manor of the venue. In contrast they had a relaxed humanist ceremony followed by a family style dinner to keep the overall vibe relaxed and informal. These truly beautiful images by NIAMH SMITH capture their day perfectly.
HOW DID YOU MEET? We first met when we were 16 when at sixth form college. We became good friends, picking up lunch together most days but there was a long standing "Will they? Won't they" running joke amongst our friends, as Mike was apparently interested in more than a friendship much quicker than I! We stayed close friends through college, gap years & starting university, and eventually (4 years later!) after spending most of the summer together and on a group holiday we took the plunge to give dating a go, which turned out the be the best decision we ever made.
TELL US ABOUT YOUR PROPOSAL: We were back in Ireland for a family christening Oct 2017, and decided to visit Glendalough for the first time. Although marriage was something we knew was in the pipeline, he completely took me by surprise when he dropped on one knee by the lake with an empty box! It was perfect as we got to celebrate with all the family that evening at my grandfather's pub in Dublin. As he knew I'd want to design my own ring (which we did together with a jeweller in Leeds) a second proposal came in our kitchen in March '18 once the ring was ready. This was made all the more special as unbeknown to him I had found out I was pregnant with our daughter that morning, so I was able to return the favour with a surprise of my own for him!
WHY DID YOU CHOOSE THIS LOCATION? We had visited about 7 other Irish wedding venues, but found all of them were missing that 'special something' for us. We'd had our heart set on a venue that could accommodate all of our guests on site (as there would be approx. 120 travelling from the UK), but when we walked into the entrance hall at Gloster House, we fell in love and knew we would find a way to make it work (All guests stayed at the nearby County Arms hotel for the three days). The house has been so beautifully & sympathetically brought back to life by it's owners Tom & Mary Alexander over the past 16+ years, but unlike many older properties which can feel dark & stuffy, the décor is light & neutral- perfect for a 'no colour' wedding theme! Walking into the white chapel, I knew it was the only place I could see myself walking down the aisle.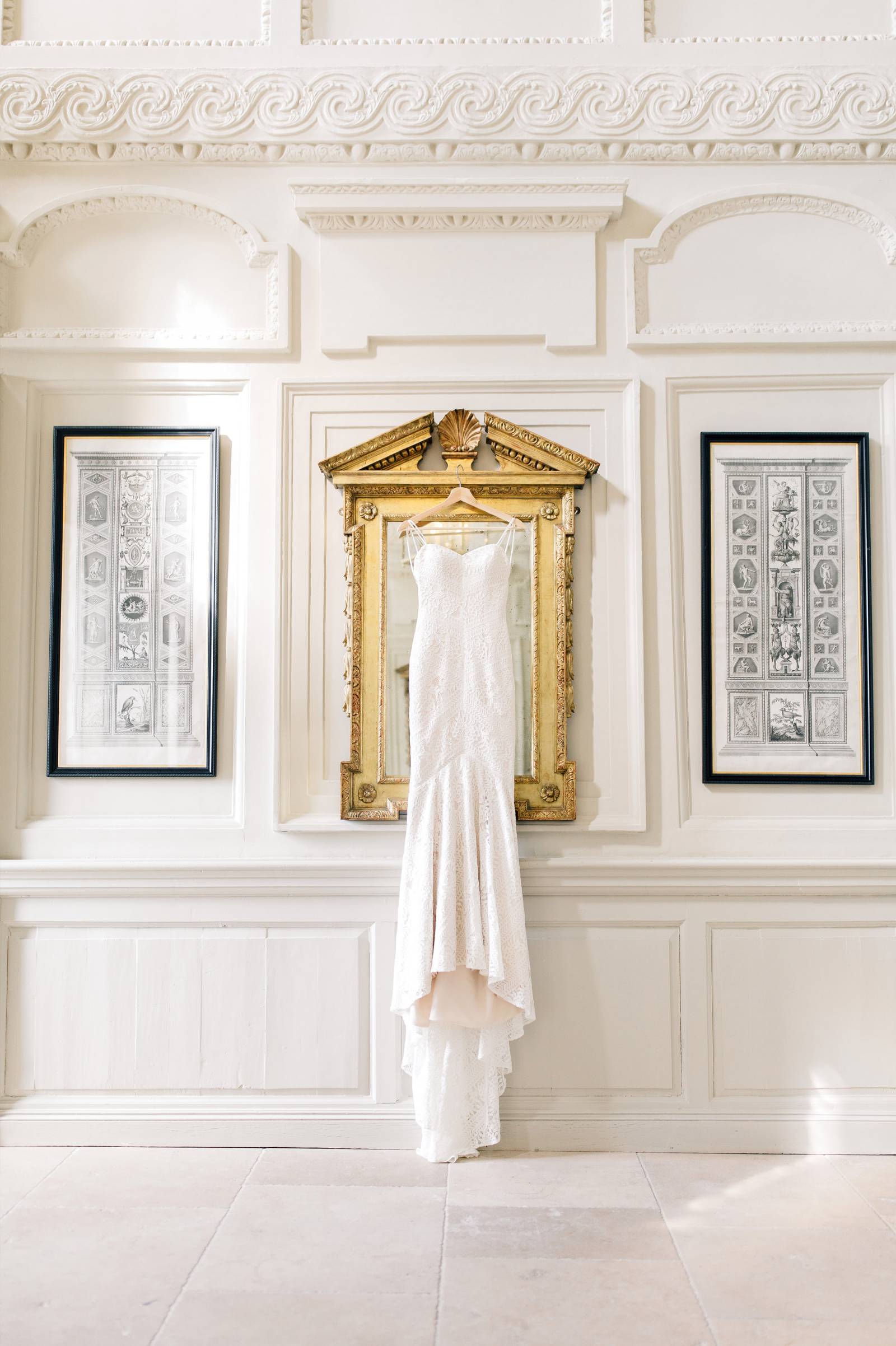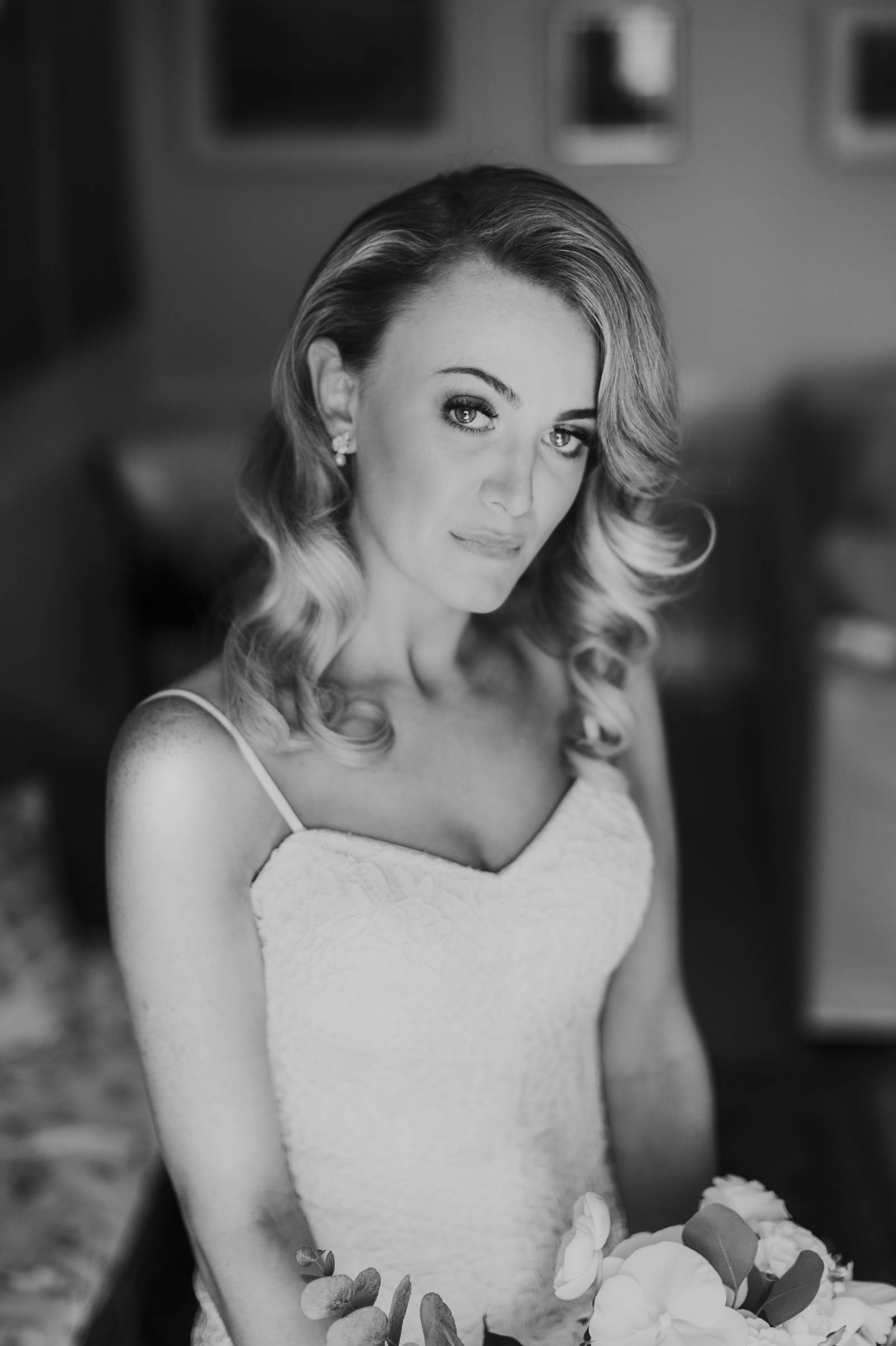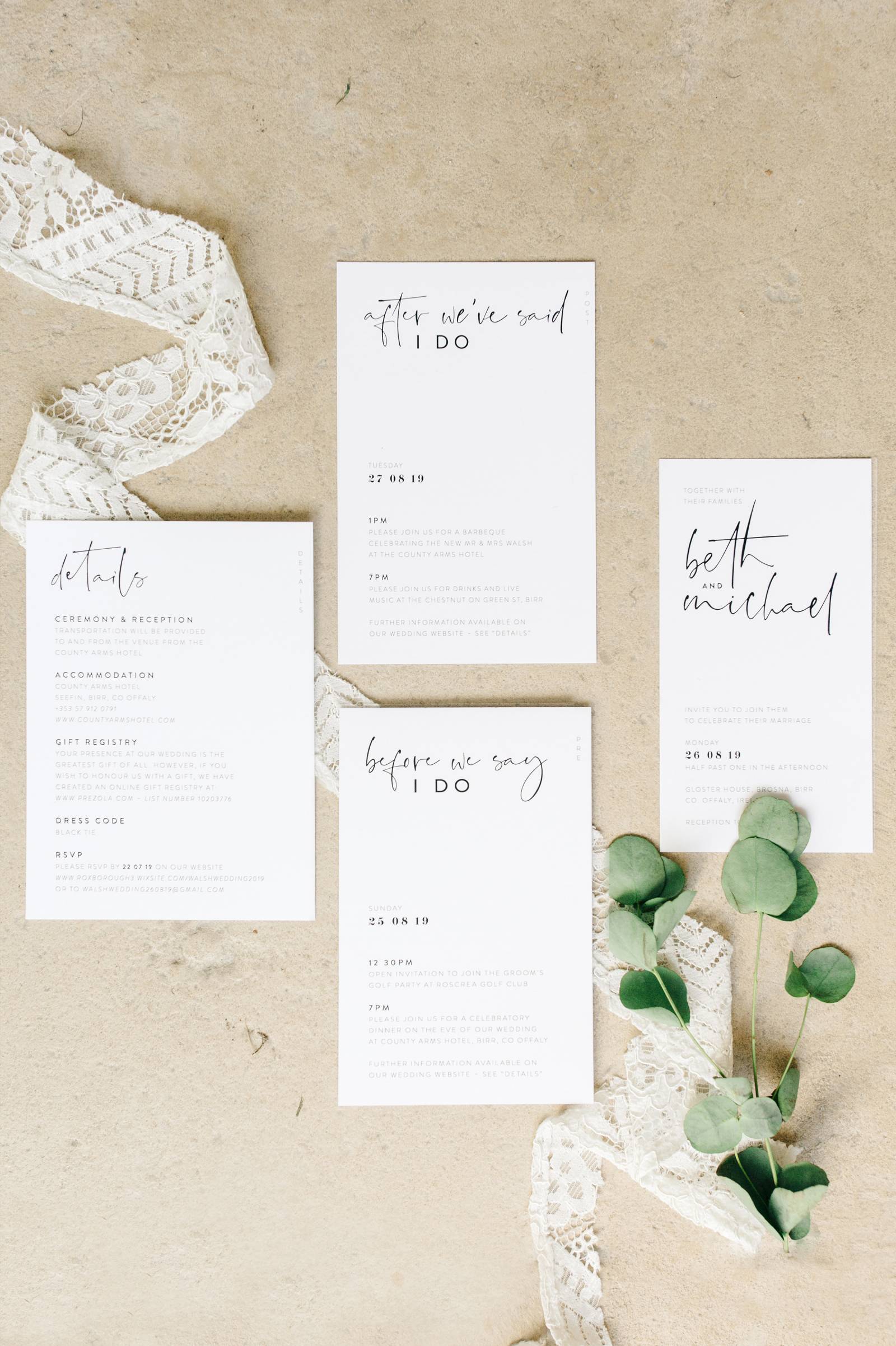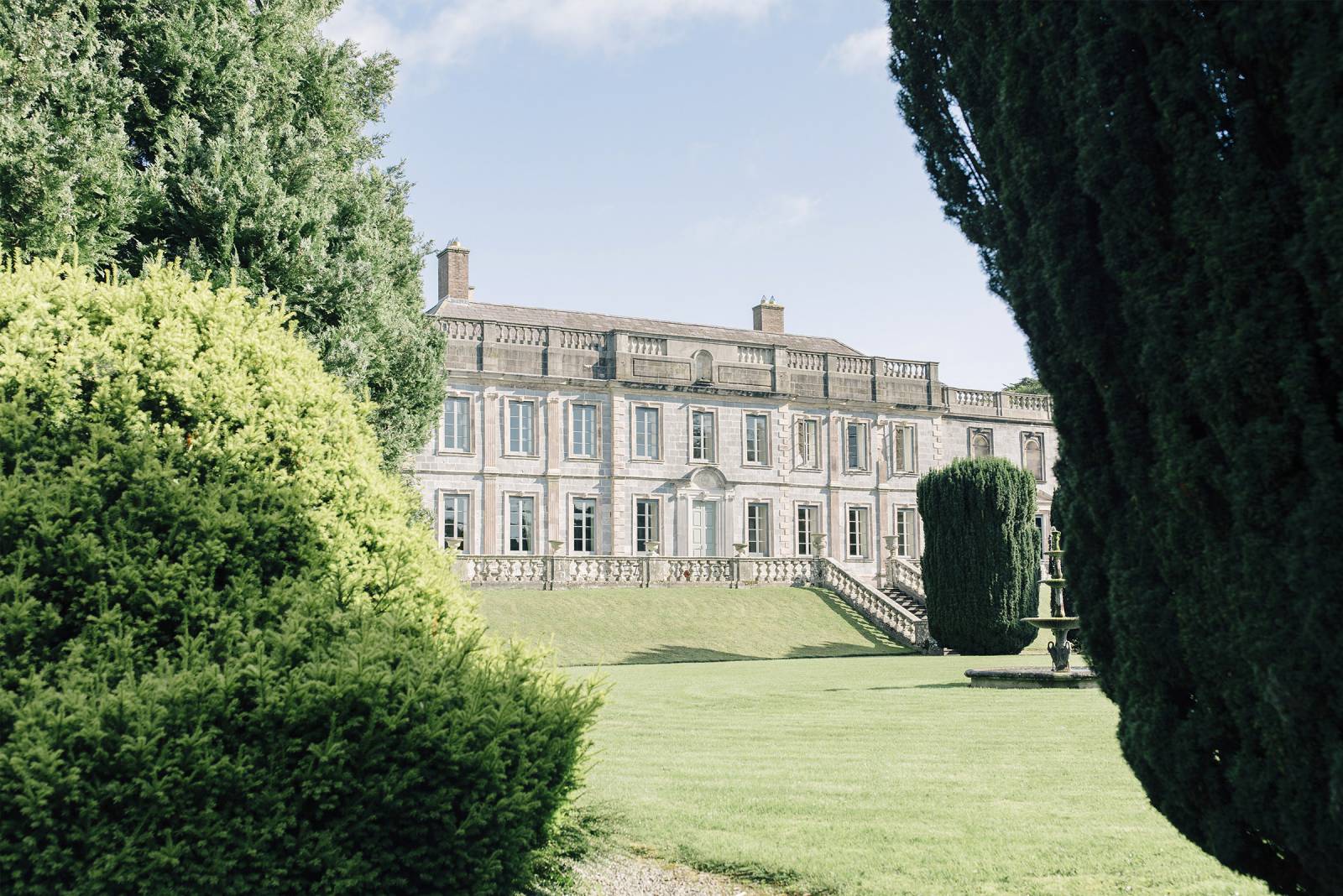 TELL US ABOUT FINDING YOUR WEDDING DRESS: I was in my first trimester of pregnancy and conscious that I didn't have much time to find something before my bump started showing & growing! I had an idea of what I thought I wanted for a dress, though couldn't find it in pictures or real life. After trying on a strapless fitted dress by Lillian West, it had the shape I was after which I knew with some customisation could become my vision. Three months post pregnancy I had my first fitting with a seamstress. We lowered the back & added straps, and once the cathedral veil was on my vision came to life
DID YOU HAVE ANY DIY ELEMENTS? I worked with a friend who's a graphic designer to create the wedding stationery including the invites, menus & large frosted acrylic table plan. One of the groomsmen made the gold centerpiece stands for the tables, as well as the 6.5ft stands for the floral display in the ceremony
DESCRIBE YOUR WEDDING FLOWERS: I'd always envisaged a large, spray bouquet with trailing linen ribbons, made up of soft green foliage with white flowers- Nothing too structured. I met our florist Richard with some initial inspiration images which included loose arrangements & scattered greenery for the décor & table settings. I then came across an image of a staggered stand display, with flowers & greenery grouped loosely & attached to the frames, sent it to Richard and said I had to have it for the alter display! On the day it looked even better than I could've hoped. The flowers included spray roses, Irish eucalyptus, freesias & translucent honesty.

FAVOURITE DETAIL OF THE DAY: The ceremony by far ended up being our favourite part of the day, something we had previously thought of as just a formality before the party! We worked with our Humanist celebrant, Shona Weymes, to create a script and ceremony which was personal to us, and included ceremonial elements such as a traditional Irish hand fasting and our fathers lighting unity candles. Family members did readings, and the bride's uncle joined the Kooky Ukes to sing McFly's 'All about you', which had all the guests singing along! Looking over at everyone in that moment was the highlight of the day
WHAT ADVICE WOULD YOU GIVE OUT TO A COUPLE PLANNING THEIR WEDDING? Social media is invaluable! As we were planning from the UK, we relied heavily on internet searches. Mike came across the venue on One Fab Day, and almost all our suppliers were found via Instagram. Search the hashtag and tagged pictures of wedding venues and it will lead to local vendors.
MOST MEMORABLE MOMENT? Sharing our first dance with our daughter Maggie was so special before being joined on the dance floor by all of our guests, most of whom barely left it for the rest of the night! It felt incredible to look around the room to see all the people we loved enjoying themselves and mixing with each other. As we'd had a meal at the hotel the night before, and a post wedding BBQ the following day, some of our guests who otherwise would likely never have met left as new friends after getting to know each other through the course of the festivities!
WHAT ASPECT OF THE WEDDING WAS THE MOST IMPORTANT TO YOU AND YOUR HUSBAND? We knew we wanted the day to be about bringing all of our friends and family together and showing those who had travelled from the UK (many who's first time it was to Ireland) 'the craic'! Our band (Acoustra) was one of the first things we booked for this reason, as we knew their mix of dance-floor classics with Irish folk & tradition would be the perfect experience for our guests (they didn't disappoint!)
We wanted a venue where we weren't restricted to certain suppliers or many limitations to what we could do. At Gloster House you get exclusive hire, no corkage & flexibility to decorate and use the space as you wish. Being able to bring in our preferred wines and personal reception drinks ('Hugo' cocktails & Peroni bottles), a less traditional grazing & sharing style meal and free rein to decorate helped to make the day feel more like us hosting
IS THERE ANYTHING YOU WOULD CHANGE OR DO DIFFERENTLY? Looking back I wish I hadn't worried so much about the finite timings of the day. I'd spent hours going back & forth over the timeline in the run up to the wedding, when on the day all the suppliers & people involved are so professional and used to the runnings of a wedding, they had it all under control!