This elegant engagement session by AMANDA K PHOTOGRAPHY was captured at the beautiful MONET VINEYARDS in the Washington countryside. Working with planner Elizabeth from BRIDAL BLISS Charlotte & Kyle went with both a casual and a formal look for their photos. I'll let the gorgeous bride-to-be tell you more of their story:
About a year and a half ago a mutual friend "just had a feeling" Kyle and I needed to meet. By our third date I knew he was the love of my life and we started dating seriously. We jointly discovered a passion for travel and planned a trip to Paris to celebrate the end of my season with the NBA as a Blazer Dancer. With Kyle's frequent work travel there was a nine day window in early May that fit perfectly. The only problem was the NBA playoffs ran into June, meaning there was a chance I would have to work. At the time it was unthinkable that the Trail Blazers would advance to playoffs and ruin our trip. So we got to work researching sights to see, places to eat and unbeknown to me, a place for Kyle to propose. Fast forward to April, the Trail Blazers would go on to finish the season as one of the hottest teams in the league, and against all odds advanced to playoffs. Since I couldn't let my team down and ditch them in the middle of playoffs, we sadly cancelled our reservations and requested refunds. Bittersweet, no doubt. The Blazers had defied the odds, but our trip, and Kyle's proposal, was ruined.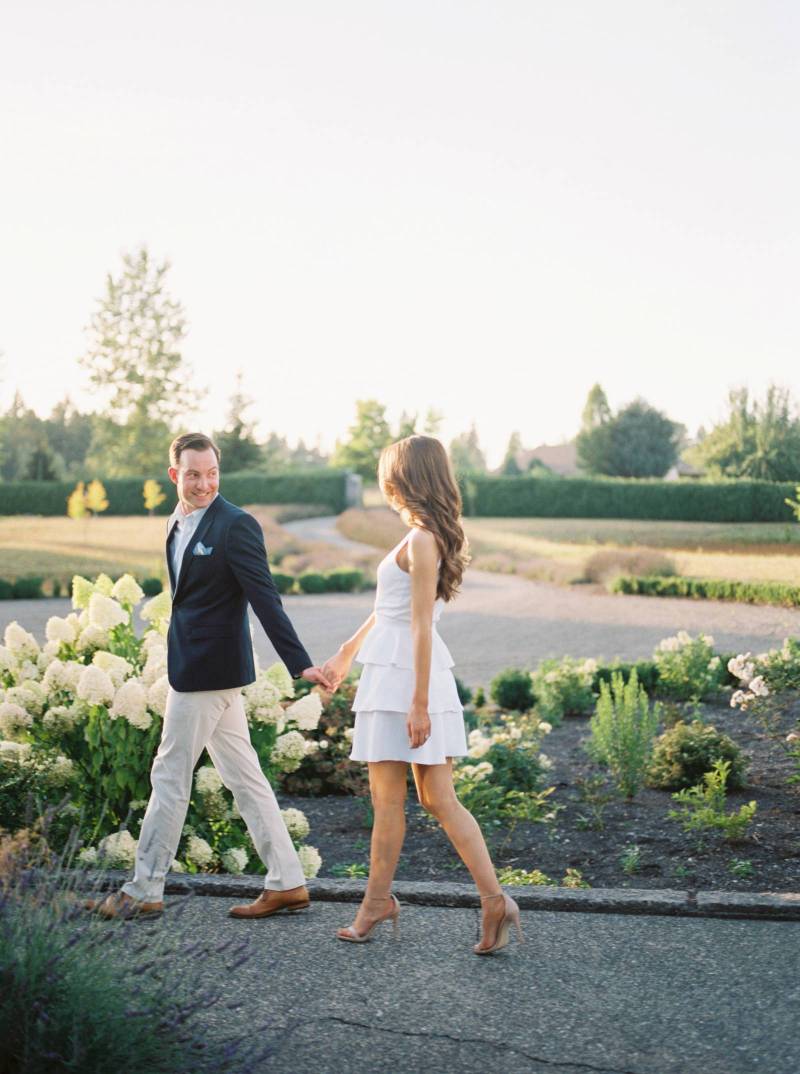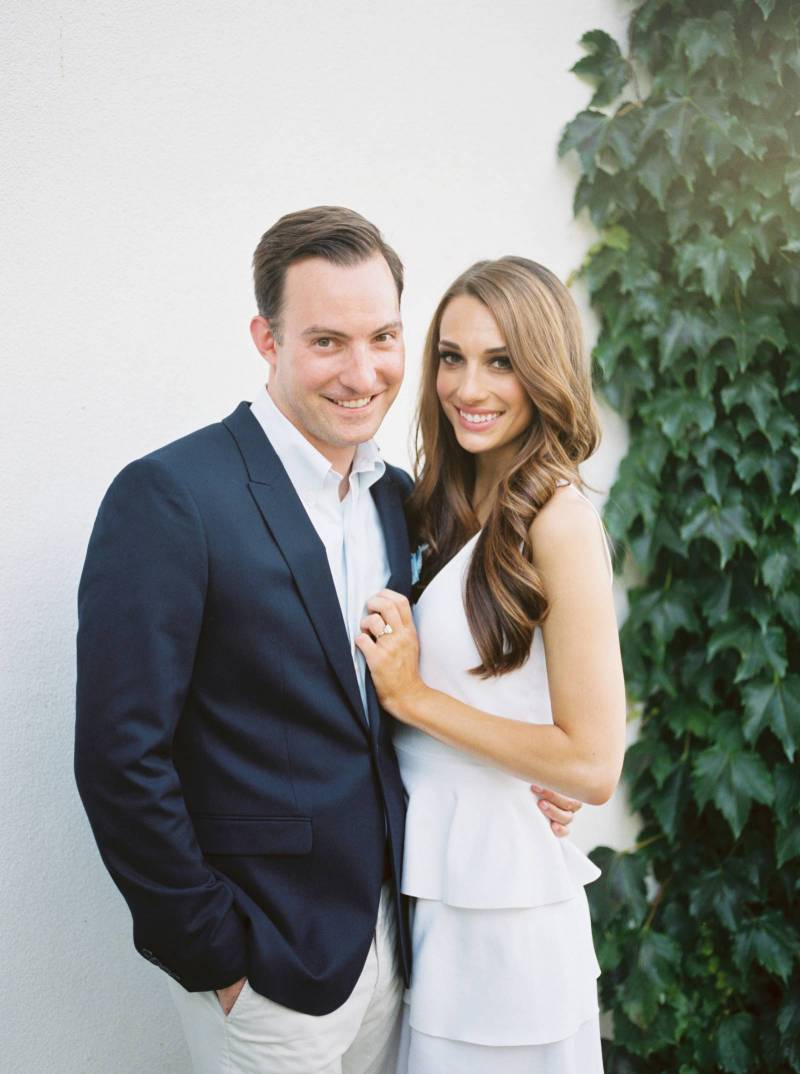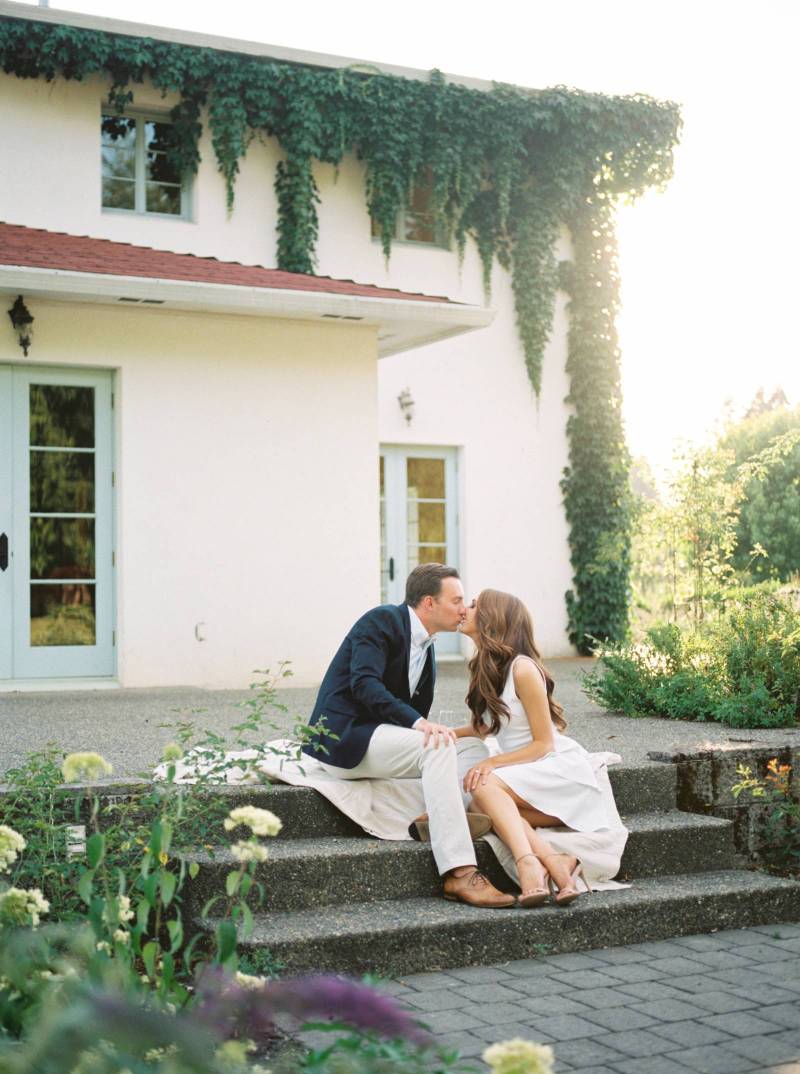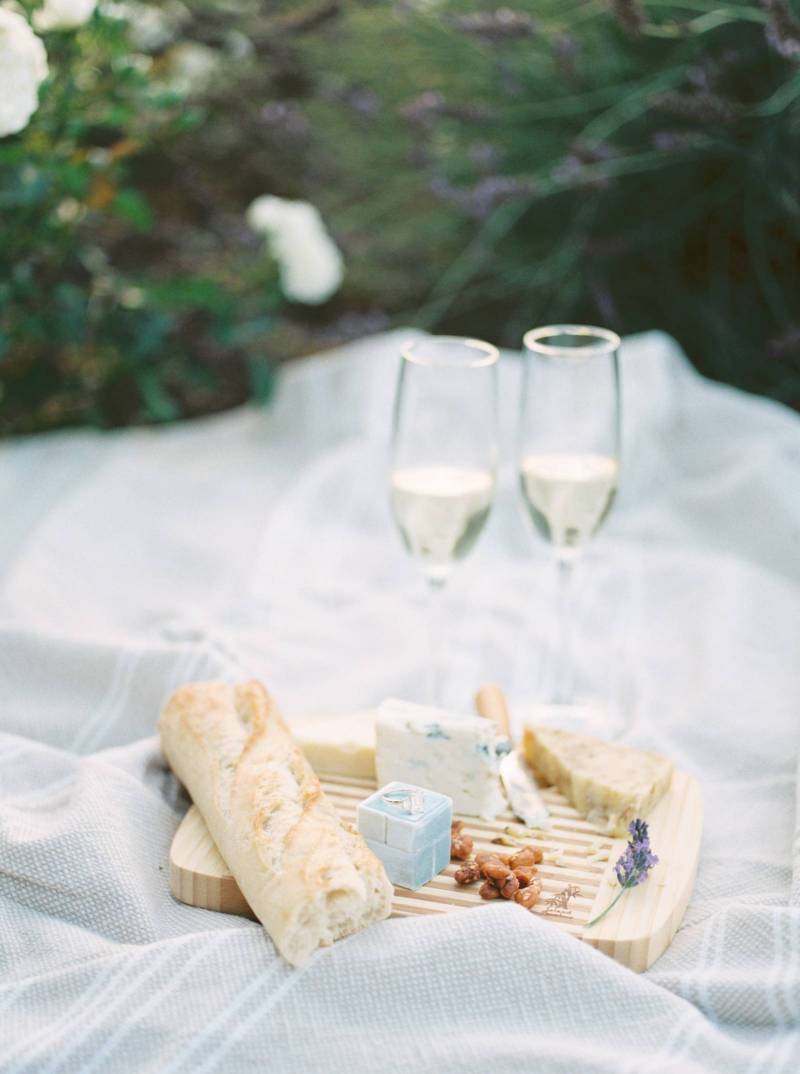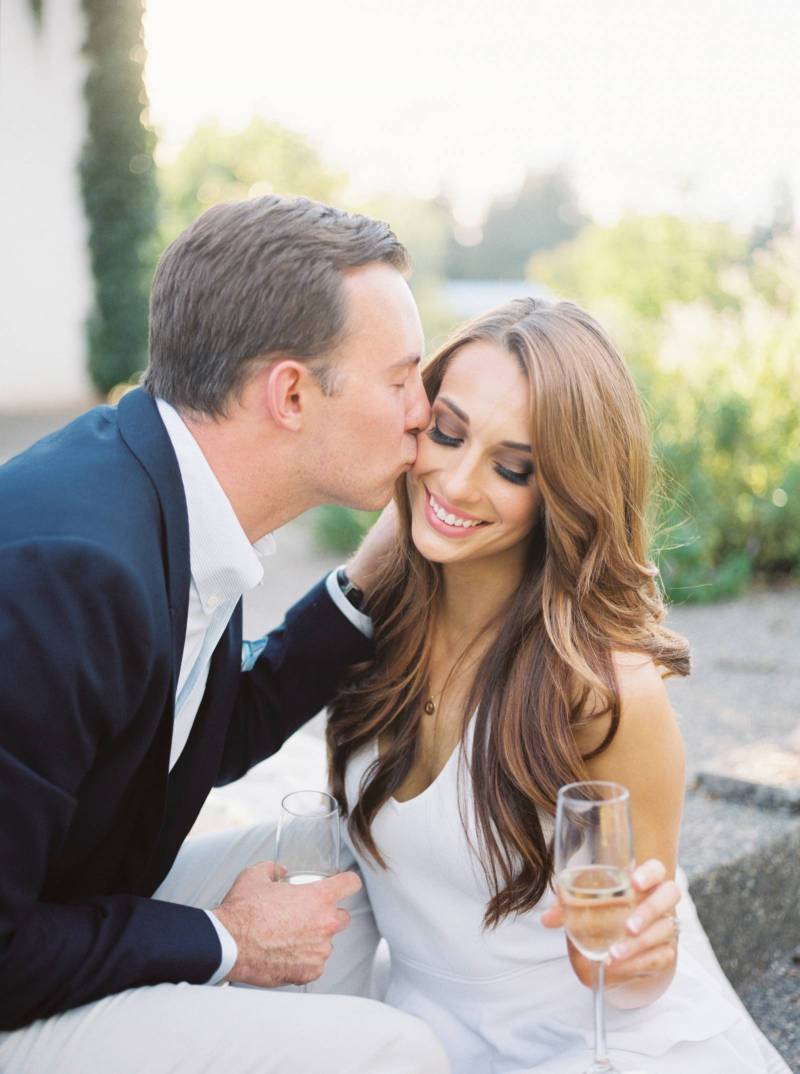 On May 3rd, rather than catch our scheduled 8 am flight to Paris , Kyle told me to take the day off work. What followed was the closest we could get to Paris in Portland: a day full of crepes, croissants, baguettes, cheese, and of course wine. We spent the afternoon at some of Oregon's most scenic wineries, and on the last stop, Kyle made his move. In the middle of our picnic overlooking the Willamette Valley, he got down on one knee and revealed his plans for us in Paris and his commitment to our future. I joyfully accepted. When thinking about our engagement session it seemed natural to take them at a vineyard since that's where we got engaged. To personalise it, I wanted to have a picnic and drink the same champagne we drank on our third date. Monet Vineyards offered the perfect backdrop to our picnic with their romantic vine covered estate, beautiful gardens and small vineyard. Amanda K Photography was so much fun to work with, and made us feel completely comfortable.
I knew I wanted to have a casual and formal look for our engagements. When putting together our casual look I wanted to still feel like ourselves, just a little more refined. I picked out Kyle's pieces first, and then styled my look around that. I wanted to keep it preppy and clean. For our formal look I wanted to wear something dramatic with a lot of movement to help bring dimension to the shoot. I loved the idea of a red dress contrasting with all of the greenery at the venue. I consulted with Amy Sim of Grace Mariee and she took my idea and ran with it! She created the most beautiful red gown with a long train and low back. Kyle decided to wear his favourite navy suit which worked perfectly with the dress.