Have you ever visited Château de Versailles and been blown away by the gardens and the architecture which hold so much history? That was certainly the case for Amanda from AMV WEDDINGS the first time she visited; "I knew I wanted my wedding venue to be reminiscent of the gold detailing and fine craftsmanship found there. CHÂTEAU SAINT GEORGES, built by the famous perfumer, Leon Chiris, is known as Le Petit Versailles. Its molding, decorations, and thoughtful elements make an intimate wedding a royal affair. AMV WEDDINGS and AMV RETREATS, along with a team of incredible vendors, chose to illuminate Château Saint Georges' beauty because it is unique. There's a special air of elegance about the property that allows for the privilege of exclusivity, panoramic sights, and an enchanting ambiance for your wedding day. Captured beautifully by California wedding photographers REDAMANCY PHOTO AND FILM, this editorial takes us on a journey through Le Petit Versailles of the French Riviera.
LAURA ELIZABETH PATRICK created custom stationery, from gold-trimmed place cards to the perfect invitation suite to match AMV WEDDINGS colour palette. Each piece was styled beautifully using CHASING STONE mats. The invitation suite was carefully placed on a rosy background with blush floral elements and old world details, along with a stunning VICTOR BARBONE ring. THE CURATED TROVE'S accessories shone bright against a textured tan background, which highlighted the jewellery and place cards. Lastly, the bride's 'something blue' was quite literally a pair of Cinderella-worthy slippers from SOMETHING BLEU'S collection, once again telling a story through immaculate decoration and design.
The ceremony was held at Saint Georges' famous gazebo, Temple de L'Amour, which overlooks the rolling hills of Cannes and Grasse. LA BLONDE ET LE BARBU'S pink, peach, and cream-toned florals 'grew' up the sides of the gazebo, while smaller arrangements kissed the ground leading to the view. White chairs with brown detailing, compliments of JOLI BAZAAR, were stationed for an array of royal guests. Yana wore both a VIVIENNE PARIS gown and a HERA COUTURE one, complete with MEGAN THERESE COUTURE accessories. MADELINE ELEANOR styled the bride with a bold red lip and soft waves. Her groom, Giuseppe, was dressed to the nines in black BUCCO COUTURE wear.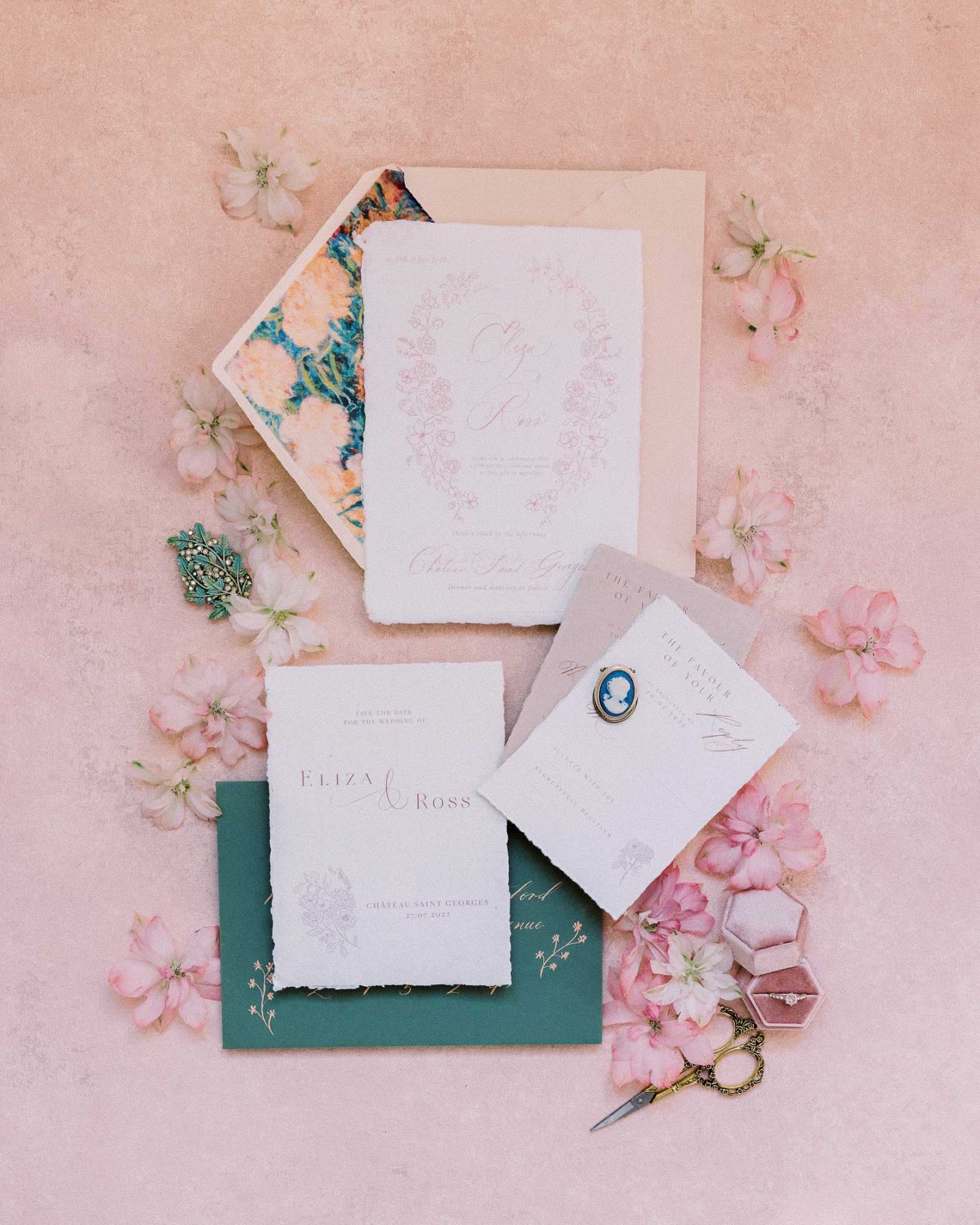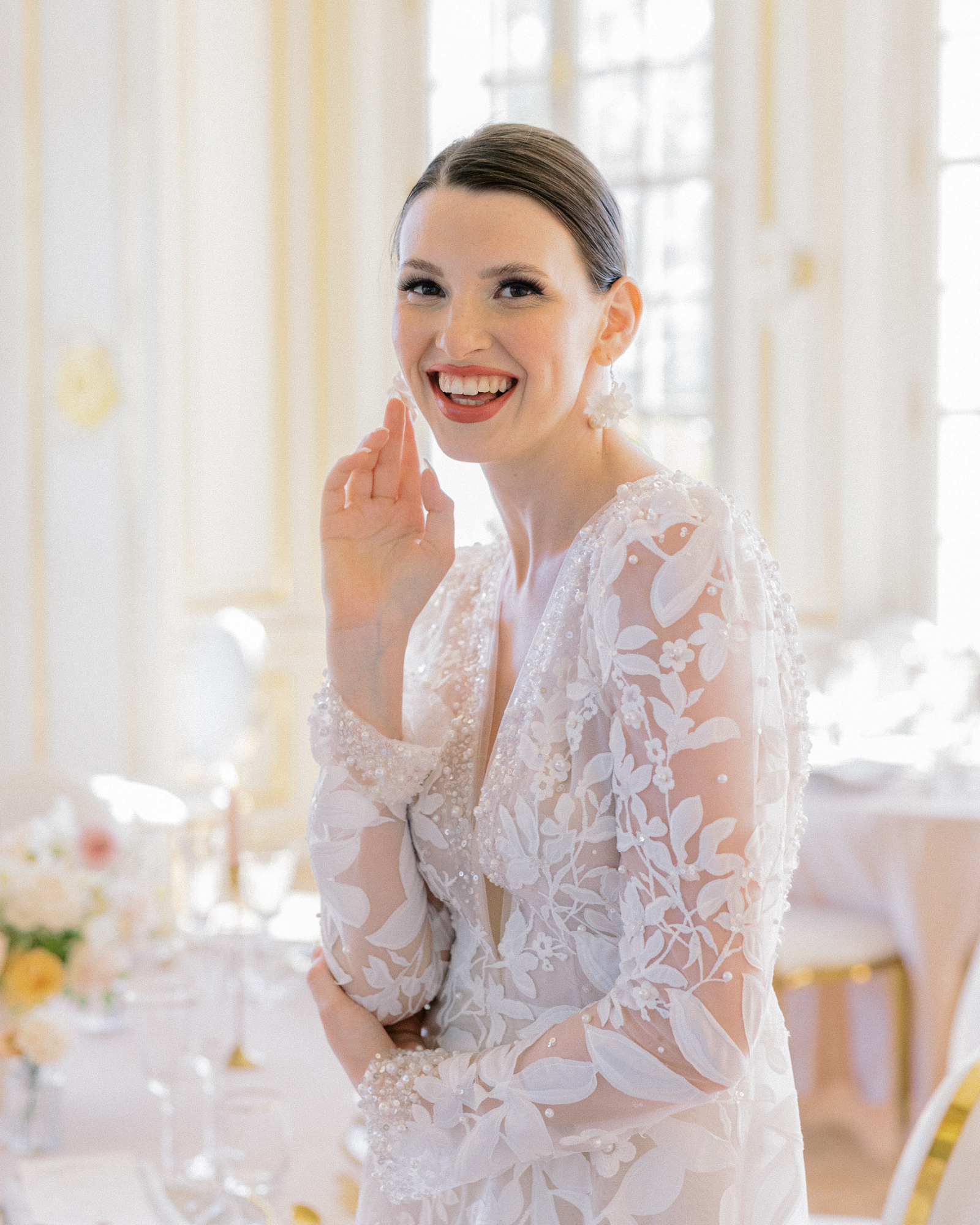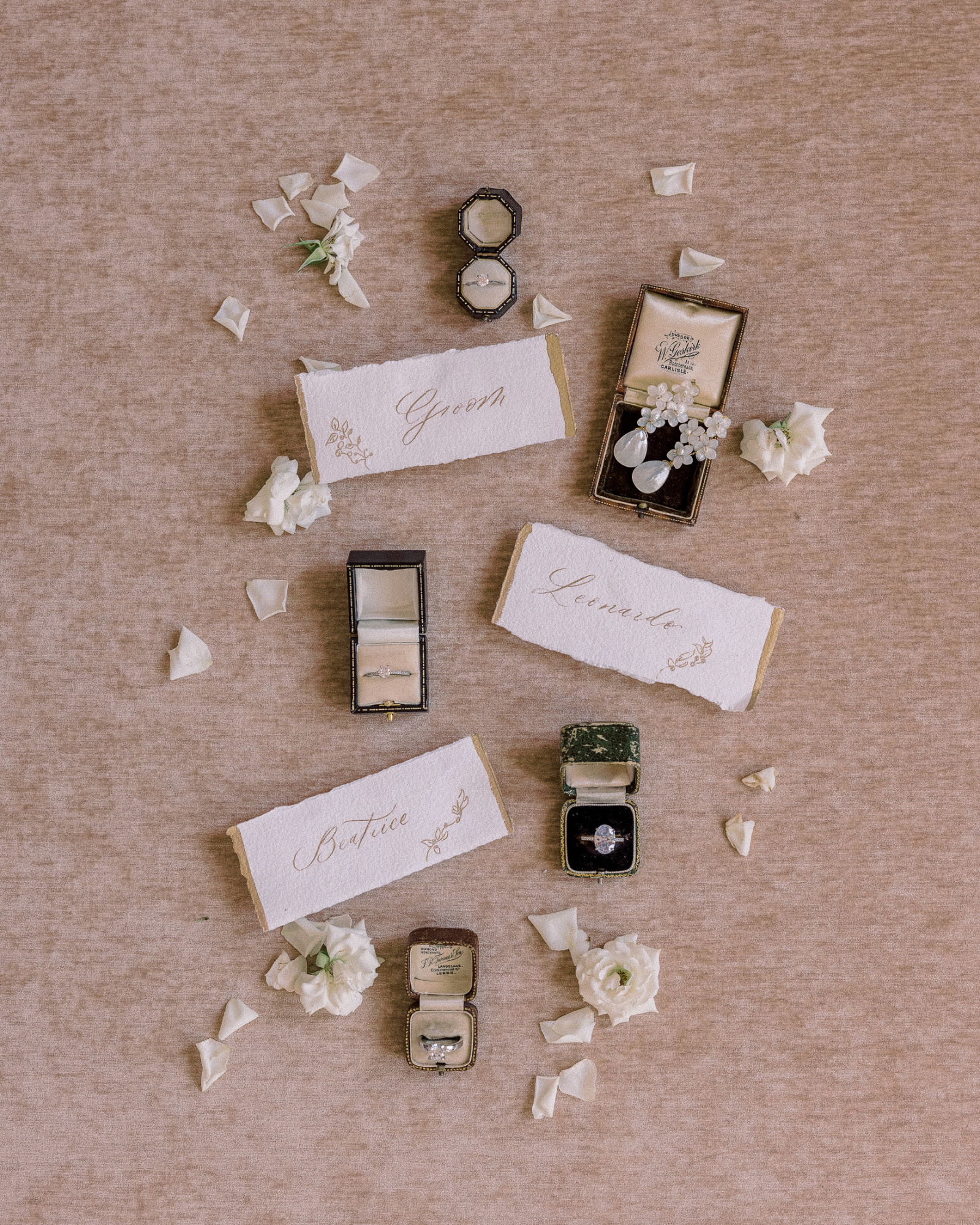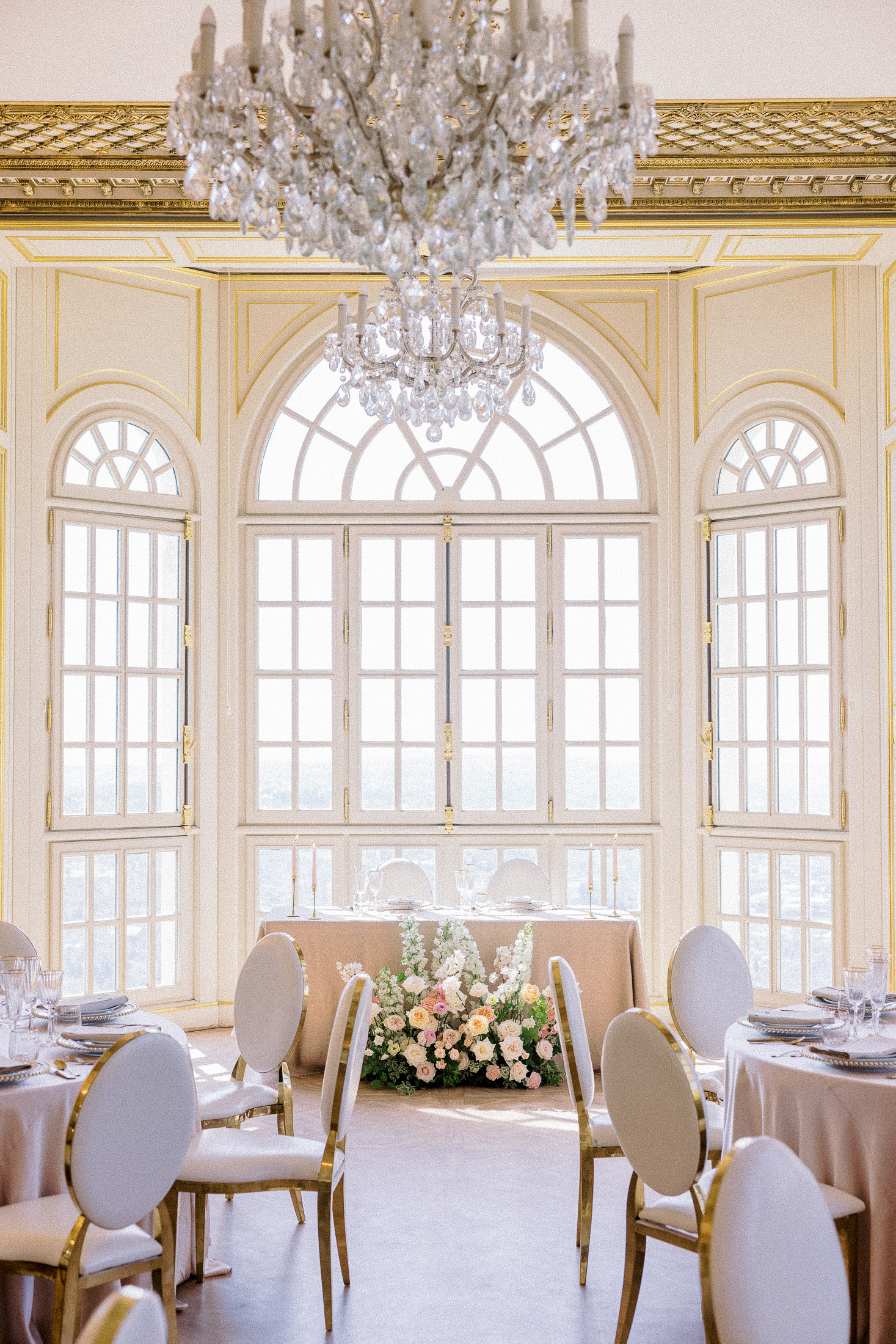 Before entering their reception in their evening looks, the newlyweds shared a glass of champagne at their drinks cart. Yana's reception dress was a MADE BRIDE masterpiece. Its shimmering details, low cut neckline, and a line fit were perfect for dancing. MADELINE ELEANOR completed a second look to complement Yana's gown, which featured a low swept ponytail.
Their reception was held in the golden Napoleon Salon, a grand space flooded with natural light that spilled in from the ceiling-to-floor French windows. A scene out of a real life fairytale, the round tables were styled to perfection with floral centerpieces and HOUSE OF HOUGH and A1 TABLECLOTH CO. linens. Their floral patterned blush and gold cake, designed by MONIKA KOS SWEETS, was perched on the marble fireplace.
As the sunset cast warm light upon Saint Georges' facade and the laughter of the day turned into sleepy grins, we were left in awe of the experience Grasse offers. LE PETIT VERSAILLES is the perfect description of this hidden Côte d'Azur gem. As the people behind Château Saint Georges, themselves, describe, Grasse is "...a true haven of well-being, brimming with authentic flavours and fragrances." It is simply not to be missed.
A huge thank you to California wedding photographers REDAMANCY PHOTO AND FILM for sharing this beautiful inspiration with us. Aaron and Shaye believe that photography and videography are meant to document beauty, love, and family. "We've designed our imagery around this very notion. With Shaye's extensive knowledge of various arts (ask her about it - she'll share all of her secrets!), and Aaron's insight into movie cinematography and expert lighting, we create quality work to capture your love story. We incorporate the timeless durability of sculptures, the richness of portraits on canvas, and the careful stitches of a designer gown - all delicate in detail and steeped in patience.
Your wedding is not the beginning of your story, but it's a milestone keepsake you'll never forget. We promise fine art, magazine-worthy captures of your day that'll be fond reminders of every important tradition and candid, intimate moment you experience. We're here to create imagery that's so classic and durable you might just find it in a museum one day." You can check out their portfolio here.