When Melisa from BLUE NOTE WEDDINGS first laid her eyes on LYFORD HOUSE, it took her breath away and it's not hard to see why looking at these beautiful images by them. The story of how the LYFORD HOUSE came to rest on the cliffs of Richardson Bay entails a romantic unrequited love story. The Victorian mansion was built in 1876 by Benjamin Lyford. Lyford's son, John Paul Reed, fell in love with Rose Rodrigues da Fonta, the daughter of a man in his employ. They were never able to marry due to their class difference, but on his death bed, as a token of his love for her, John Paul gifted the Lyford House to his beloved Rose. Later in 1957, to save the house from destruction, a volunteer brigade was raised to move the house across the Bay on a barge to where it now rests proudly on 10.5 acres overlooking Richardson Bay and the stunning views of San Francisco.
Melisa from BLUE NOTE WEDDINGS tells us, "Being a romantic at heart, I knew I wanted to create an inspirational styled shoot that felt like we were stepping back in time and honouring the love Story of John Paul and Rose. I teamed up with Kandis of BLUE DAPHNE EVENTS to create a painterly piece of art that would celebrate the history and love story of the majestic mansion.
Shooting film gave this inspirational shoot the old world touch. I wanted the gallery to feel timeless, painterly and harmonious with a modern touch to the colours in the photographs. We decided on a colour palette with soft hues of creams and antique whites, delicate blush and apricots and a contrast of navy blue for the accent.
Each vendor we partnered with was hand selected for their complimentary style. The fully restored 1954 MG matched perfectly in colour and style for the Lyford House romance, adding to the ambiance and essence of the shoot. Kandis created the exquisite floral design using lots of dried floral accents for a more antiquated vibe. The table decor was designed using antique floral inlayed dishes accompanied with silver chargers, goblets and crystal wine glasses.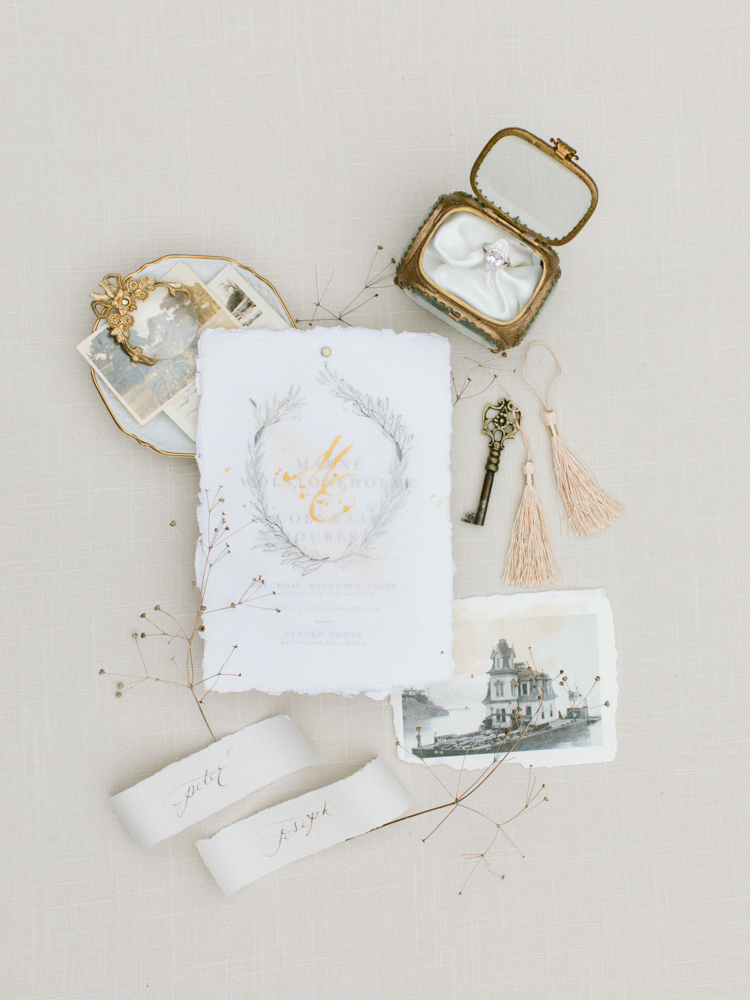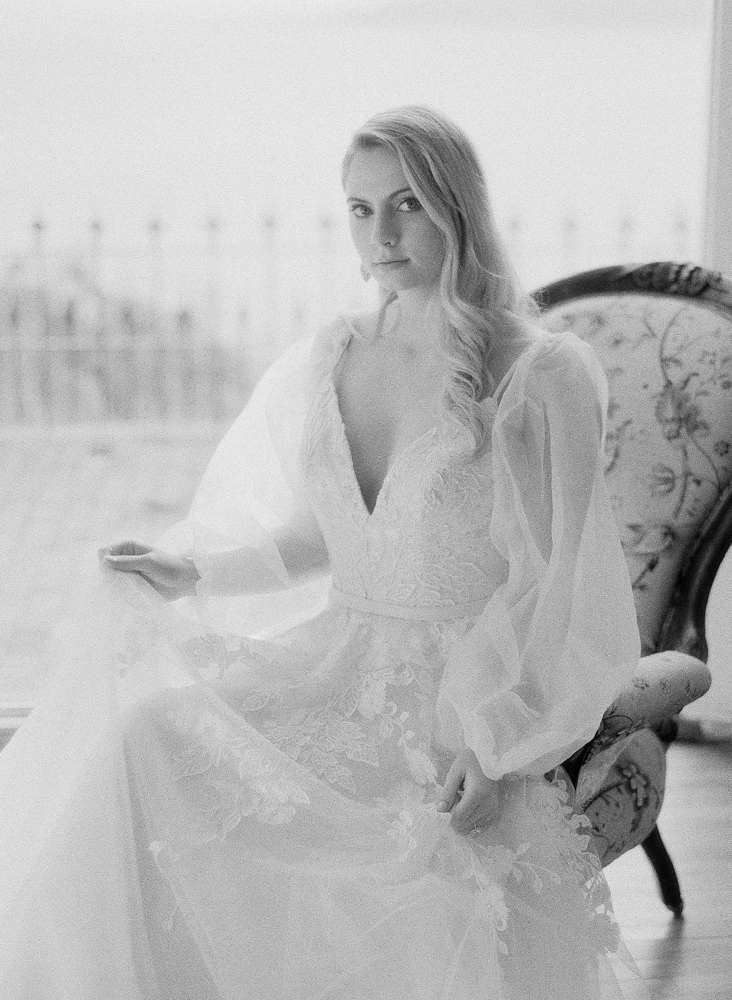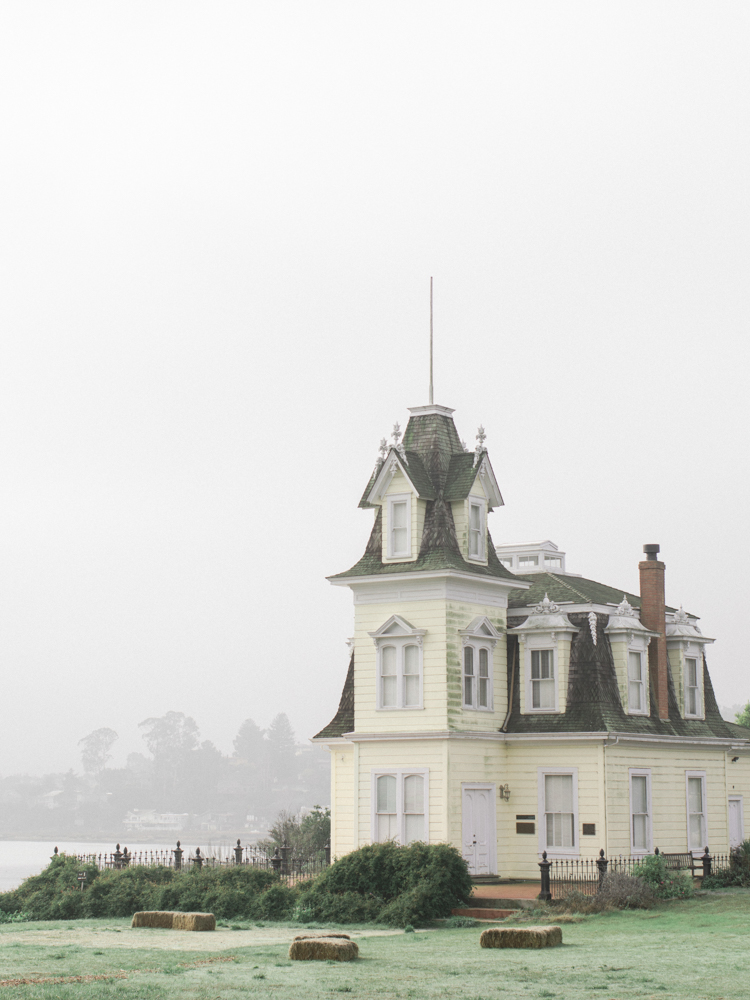 Our bride was dressed in a gorgeous yet simple A-lined tulle and lace gown. Added Puff sleeves were the perfect romantic touch to keep in line with that era. Of course no gown could be complete without the BELLA BELLE shoes that dazzled. The groom was a dapper compliment in a slim fit royal navy velvet Manhattan Tuxedo from Stitch and Tie.
We set up a small cocktail station on an old antique wooden dresser that felt enticing for an after dinner drink paired nicely with the parfait desert cups.. And our three tiered cake she designed was a breathtaking sculptural piece with accents of marble and hints of gold leaf.
The incredible invitation suite and artwork sent in from Wedding invitation designer PAPIER HANDMADE were the perfect touch of old world stationery and added artwork of the house. And the calligraphed love letter by CAITLYN O'BRYANT designs added the perfect touch to the story of our shoot.
Every detail made me entranced with the Lyford House and the historical love story that existed within it. I couldn't have asked for a better team to help bring my vision of the recreation of this love story to fruition.
Wedding stationery designer PAPIER HANDMADE is a valued member of our vendor guide. Owner Anika creates beautiful fine art paper and styling goods with recycled paper and to ensure that soft, rich cotton feel, they add… nothing. Their paper is 100% suitable for both printing and other techniques like letterpress and foil stamping and also suitable for calligraphy and non-oil based paints. Paper is not our only ability, and we offer an incredible and exciting journey of designing. We focus on Branding and Custom Wedding Stationery. Check out more of Anika's beautiful creations in her portfolio here.