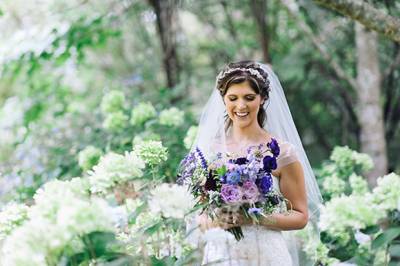 I'm completely enchanted by the beautiful florals in this country garden wedding! As always Naomi from Leaf & Honey has done such a stunning job of them, and Maree Wilkinson has captured them to perfection. The gorgeous bride Claire grew up surrounded by amazing English cottage gardens and wanted to infuse the beautiful colours and romance of them into her wedding day with Nathan, and the fact that they both greatly enjoy being outdoors confirmed the beautiful venue of Bridgewater Estate.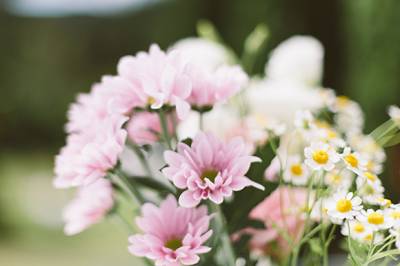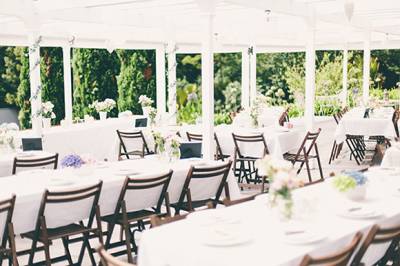 How and/or where did you meet? Nathan and I met on the New Zealand dating website Find Someone. It was meant to be; we both kept being "recommended" as matches on our individual accounts. After chatting online first, we met up and yes it's corny but it was love at first sight. We hit it off instantly, he made me laugh, he loved dogs just as much as I did and the rest is history – after the first meeting we both knew we were meant to be together!
Tell us about finding your wedding dress: I didn't know what sort of wedding dress I would suit until I tried some on. My mum, my best friend Vicky and I went dress shopping together one Saturday, looking at off-the-rack dresses. There were so many lovely ones. We found two dresses that I liked and just couldn't decide between them! In the end Mum and I went to see a local dressmaker Sue Hunter who was known for making beautiful wedding dresses. She had made my ball dress ten years prior. I really loved that ball dress so I knew she would work her magic on my wedding dress. Sue quickly sketched up a dress from my descriptions and pictures and it was just as I had in mind! Over the months that I went to see her for fittings, the dress evolved and we made little changes to the design here and there which really worked. If possible, I highly recommend brides getting their dress tailor made for a few reasons; it fits you like a glove so you are so comfortable on the day and you can get it just right as you play around with ideas to create a dress that is uniquely yours.
Describe your wedding flowers: Our bouquets were romantic garden flowers, which were lush, gathered but relaxed. I really didn't want a 'tight' bouquet. I wanted the blooms to be natural and wild, like I had scooped them up from the garden on my way to the wedding! They were in keeping with our colour scheme using a palette of deep lavender, with softer hues of cornflower blue, soft lavender & sage green. Naomi at Leaf and Honey was lovely and a breeze to deal with; her style was what drew me to her initially and she did not disappoint, it was everything that I imagined – just gorgeous and natural. The flowers in my bouquet were purple dolcetto roses, lisianthus, nigella and lavender with foliage of caspia, soft green sage and olive and were bound with lace and twine. The corsages for our mum's and my grandmother were mini-blooms of the same flowers in my bouquet. The groomsmen and our dad's had lavender buttonholes with garden foliage, bound with twine. Nathan's only request was that he didn't want to wear a girlie flower, so the lavender and the twine worked as an awesome compromise! Manly, but still colourful!
Favourite detail of the day: We were so pleased we chose Aaron Bloomfield to be our celebrant, MC and entertainer. He was with us through the day and into the night. Aaron gave the whole day so much energy and it flowed well. We wanted people to be able to relax outside; so having Aaron not only marry us but serenade us all in the garden with his stunning voice while people mingled and played garden games was absolute magic. He was spot on, giving us the right amount of humour to reflect our personalities and the perfect amount of "loved-up tenderness" that you'd like to have at a wedding.
Most memorable moment? Walking down the garden steps towards the chapel at Bridgewater arm in arm with my Dad to our chosen music and seeing Nathan standing there waiting for me. I had thought I might cry but on the day it was such a happy moment that I was beaming from ear to ear!