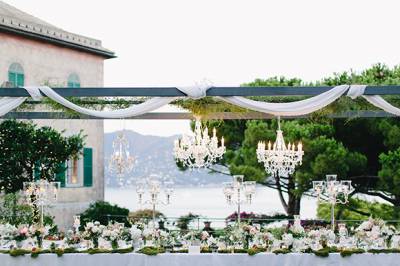 Get ready for a whole lot of swooning as you scroll down this post. Possibly one of the most epic weddings that's ever been featured on Magnolia Rouge, this utterly enchanting fairytale of a wedding by CARMEN & INGO also features in Issue 7 of the MAGAZINE. With exquisite styling by the team at CHIC WEDDINGS IN ITALY it really is quite the magical celebration, and the setting in stylish Portofino is just out of this world. Can you imagine the excitement at receiving this beautiful invitation suite in the mail? As a former stationery designer I'm obsessed with all the paper goodies!
It must have been Fate that brought Alison and William together, two strangers on a train who struck up a conversation and eventually fell in love. To celebrate their marriage, they invited guests to join them on an Italian adventure, ending in a fairytale Great Gatsby-inspired wedding in Portofino. A wealth of details paid tribute to both Italy and their personal histories, from Venetian masquerade masks to New Orleans-style jazz, and extended to the wedding party's attire - William wore a bespoke Italian suit, Alison an Italian lace veil with her modern Peter Langner gown, and the bridesmaids were outfitted in vintage jewellery and champagne, gold, peach and blush dresses, to reflect to soft colours of the Ligurian coast.
Invitations were designed to give guests a taste of Italy and set the stage for what was to come. A custom air mail-style envelope contained a map of Italy with swans - the couple's wedding insignia - marking key spots, as well as a hand-sewn leather book and an outline of the week's itinerary.