Having just moved to the midwest Tess & Dimitri decided it didn't quite feel enough like home for them to have their wedding there, and New York where they'd moved from also didn't feel right, so they opted for a destination celebration. They themselves loved the excuse to travel when invited to other out of town weddings and the sense of camaraderie amongst guests that they inevitably involve so they set out to create this vibe for their own celebration and ended up in Sonoma - at The Barn at Tyge William Cellars at Cornerstone.
As always Colorado Wedding Photographer BRUMLEY & WELLS have created perfection with these images, and STUDIO MONDINE seriously knocked it out of the park with these florals! The colours are so warm and inviting!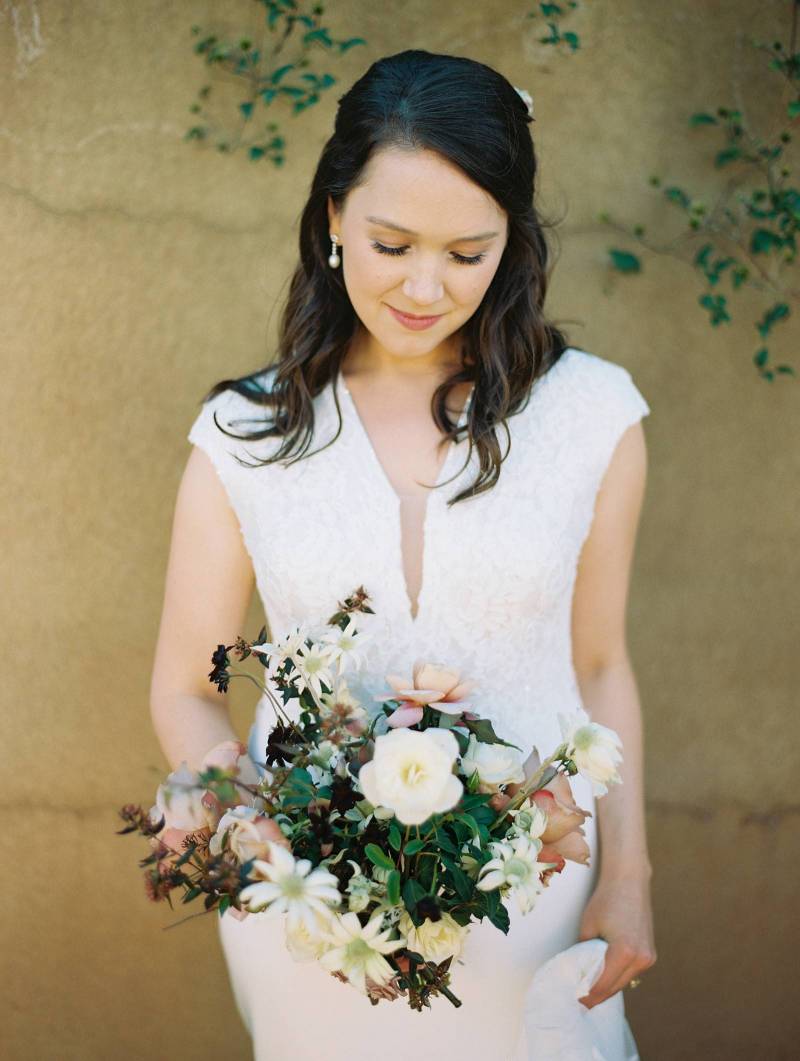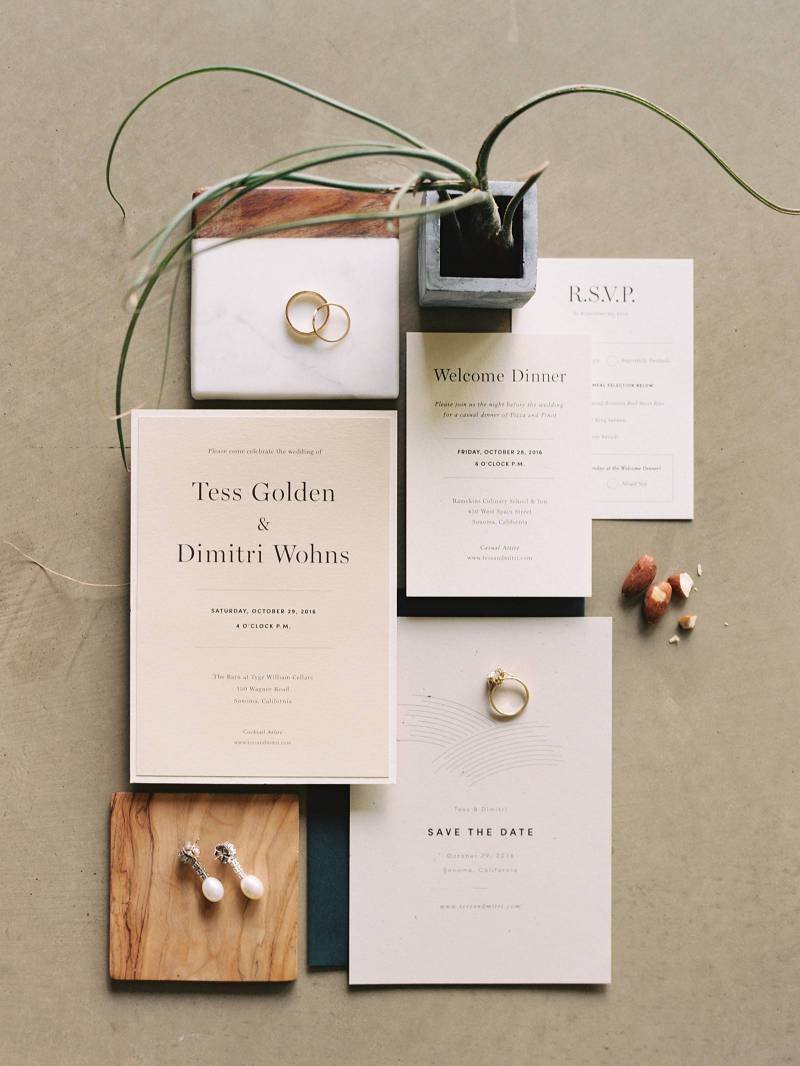 I'm a sucker for a good wedding stationery suite flat lay!! Isn't this beautiful? The bride herself designed the paper goods!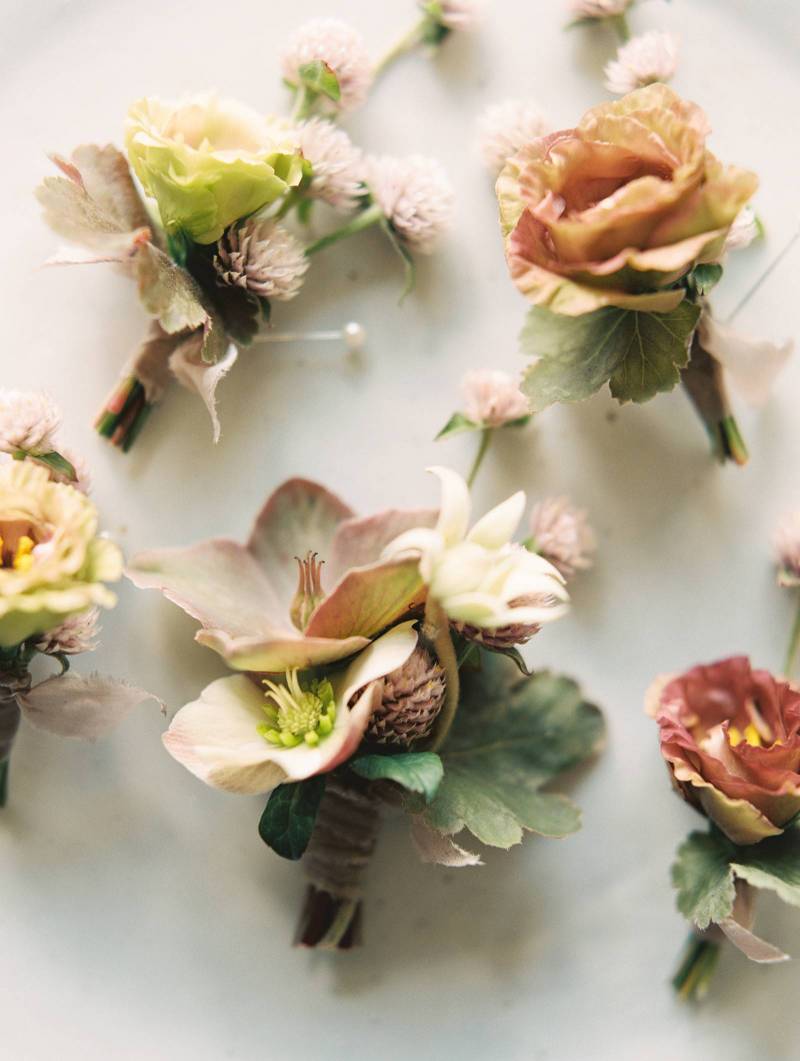 HOW DID YOU MEET? We met on OKCupid whilst we were living in New York City. I had just joined the online dating world and wasn't expecting to meet The One so soon, but it was clear from our first date that we had something special. We met for a drink but ended up hanging out for five hours. The next week, we were meeting for dinner in Brooklyn the night that Hurricane Sandy was due to hit the city. Sure enough, it hit hard and closed all modes of transportation between the boroughs, effectively stranding Dimitri on my side of the river. We spent the next four days together non stop and even traveled to the hardest hit areas to volunteer with hurricane clean up efforts.
TELL US ABOUT YOUR PROPOSAL: We had moved to Michigan together a few months earlier so that Dimitri could start a graduate program. On one of our first walks in our new neighbourhood, we found a little park with a huge, beautiful maple tree that I fell in love with. I told him it reminded me of home in New England. The day he proposed was an unseasonably warm October day, and he asked if I wanted to go with him to take the dog on a walk. He walked us back to the tree, and right as we were underneath he stopped and bent over, pretending to fiddle with something on the dog's collar. When I looked back, he was down on one knee.
TELL US ABOUT FINDING YOUR WEDDING DRESS: I had a clear idea of what I wanted-in fact, I even had a specific Jenny Packham dress picked out from photos-but was saddened to learn that it looked terrible on me. I went to the next store with more of an open mind and tried on lots of different styles. While I was in the dressing room, the saleswoman passed me this boring-looking, shapeless dress that looked like a white sheet on a hanger. Begrudgingly, I tried it on and gasped when I saw myself in the mirror. I never, ever would have pulled the dress of the rack, but it was absolutely beautiful and I felt like it was made for my body. The dress itself was very simple and modern, but it had a gorgeous lace train which gave the dress the vintage, feminine look I had originally wanted. Also, the train detached so I felt like I could totally change the look of the dress between the ceremony and the reception. Of course, I tried on another hundred dresses around New York City, but I ended up with this one, which was one of the first.
ANY DIY ELEMENTS? I'm a graphic designer, so I designed and printed all of our stationery including our Save the Dates, invitations, menus, place cards, etc. My favourite piece was a little fold-up poster I made for our Save the Dates which had all of the information about about wedding as well as travel and accommodation. I also made our seating chart, which was etched in acrylic; it looked amazing set up on a table with our beautiful flowers!
DESCRIBE YOUR WEDDING FLOWERS: I really wanted our flowers to feel lush and natural with tons of foliage and greenery like they had just been plucked out of a landscape. It was really important tome that they feel relaxed and romantic; when flowers are too "done" it feels fussy to me, which was not the vibe that I was going for. I wanted to incorporate the beautiful fall colours of the vineyards, but I was worried about it feeling too cliché. They achieved that by using foliage that was slightly orange/red, but the flowers themselves were still the dusty pinks and whites I wanted, which I thought was absolutely genius. The flowers looked so much more beautiful than I could have imagined.

FAVOURITE DETAIL OF THE DAY: I loved the way our farm tables looked like they were almost a continuation of the vineyards.
WHAT ADVICE WOULD YOU GIVE OUT TO A COUPLE PLANNING THEIR WEDDING? If you can make it work, do something the night before the wedding with all of the invited guests, whether it's the rehearsal dinner or an informal gathering at a bar. The actual wedding day goes by so quickly, and you're constantly being pulled this way and that. It's impossible to spend me with people and have real conversations. Because we had all of our guests at a big rehearsal dinner gathering on Friday, I felt like I actually got to see people and chat in a much more relaxed setting.
MOST MEMORABLE MOMENT? Oh so hard to pick! Dimitri's cousin officiated our wedding, and we asked him to incorporate into the ceremony a few moments for us to turn around and look out at all of our guests. It was the perfect way to pause for a second and "be in the moment." I've never felt more loved and supported than looking out over a sea of our closest friends' and family's faces with my soon-to-be husband by my side.
ANY OTHER DETAILS THAT HELP TELL THE STORY OF YOUR DAY? It had poured in Sonoma all week and the morning of the wedding, which was very uncharacteristic of the season. Naturally, I was pretty disappointed..While I was getting my makeup done, suddenly the clouds parted and made way fora beautiful, blue, sunny day. We got to have the outdoor ceremony we had dreamed of, and the clouds made the light absolutely spectacular.
IS THERE ANYTHING YOU WOULD CHANGE OR DO DIFFERENTLY? The day was so utterly perfect in every way, the only thing I would do differently is to maximise the time I spent enjoying it. I hated having to step away to bustle my dress or to disappear before being announced at the reception because I wanted to savour every moment with our guests.
Also, this is a funny memory in retrospect, but Dimitri, his groomsmen, and our fathers all went to get straight razor shaves the morning of the wedding. None of them had done it before, and they came back all bloodied and scabbed. It was a surprise I wasn't expecting at our first look :-). They had fun but I might have suggested they... not... do it.