For Nicole & Andrés who met and built their life together in New York City, it was a non-negotiable that their wedding be held within the city. Some of their favourite locations in the city are those that seamlessly juxtapose industrial elements with nature - like the High Line where they got engaged. They used this theme throughout their wedding which was held at THE FOUNDRY - a magical space tucked away in an intimate spot in Long Island City. This 19th century building has been meticulously restored to showcase it's industrial character so it fit their vision perfectly. Nicole tells us, "Our wedding very much reflected our personal styles - quirky and full of surprises. We wanted the wedding to feel intimate, so we opted for a family-style dinner with long, steel-framed wooden tables. To counterbalance the industrial vibe of the venue, we utilised a lot of modern, chic elements like rose gold sequin table runners, mirrored elements, and ghost chairs." ETHER & SMITH captured these beautiful images of their day.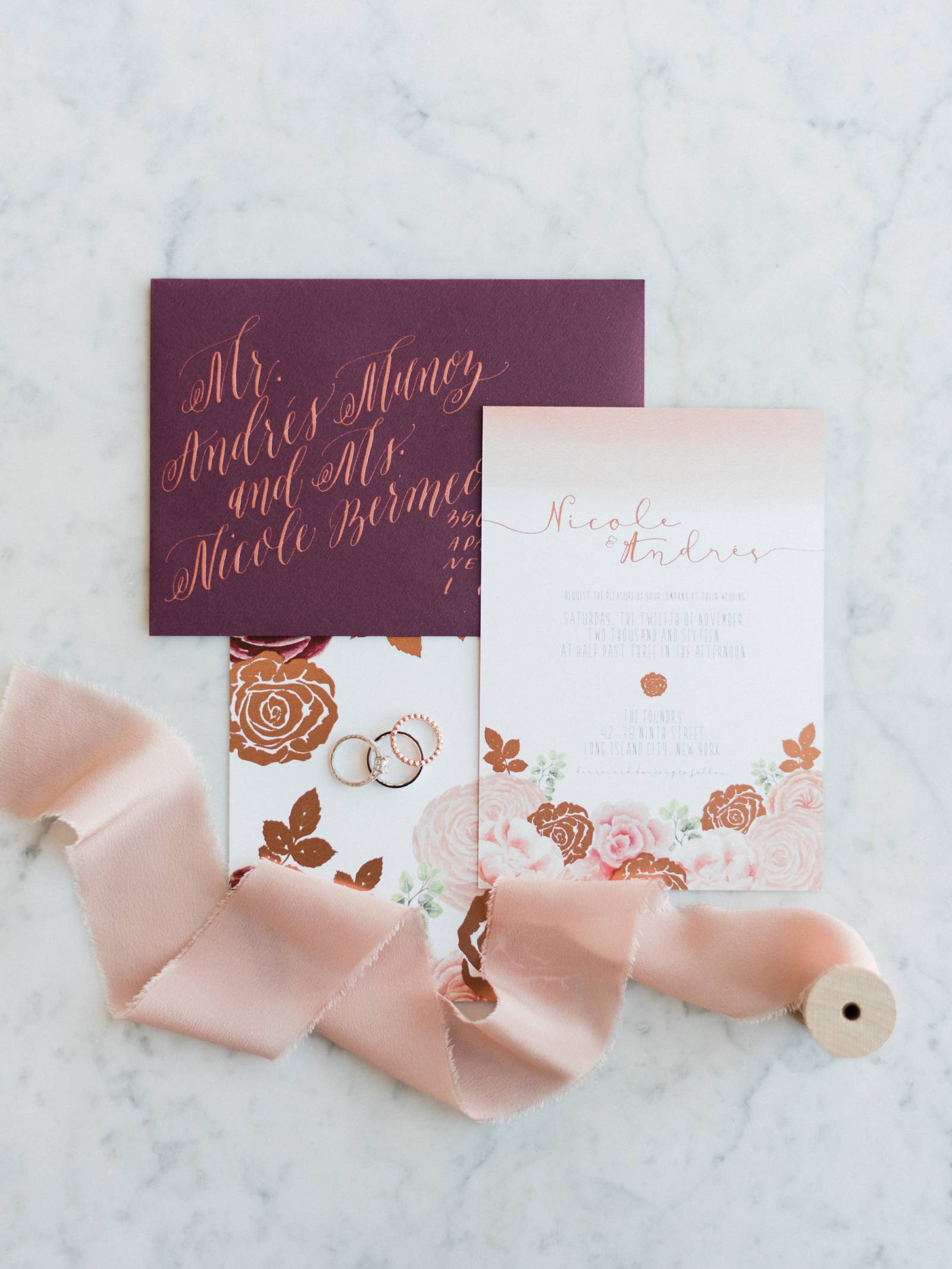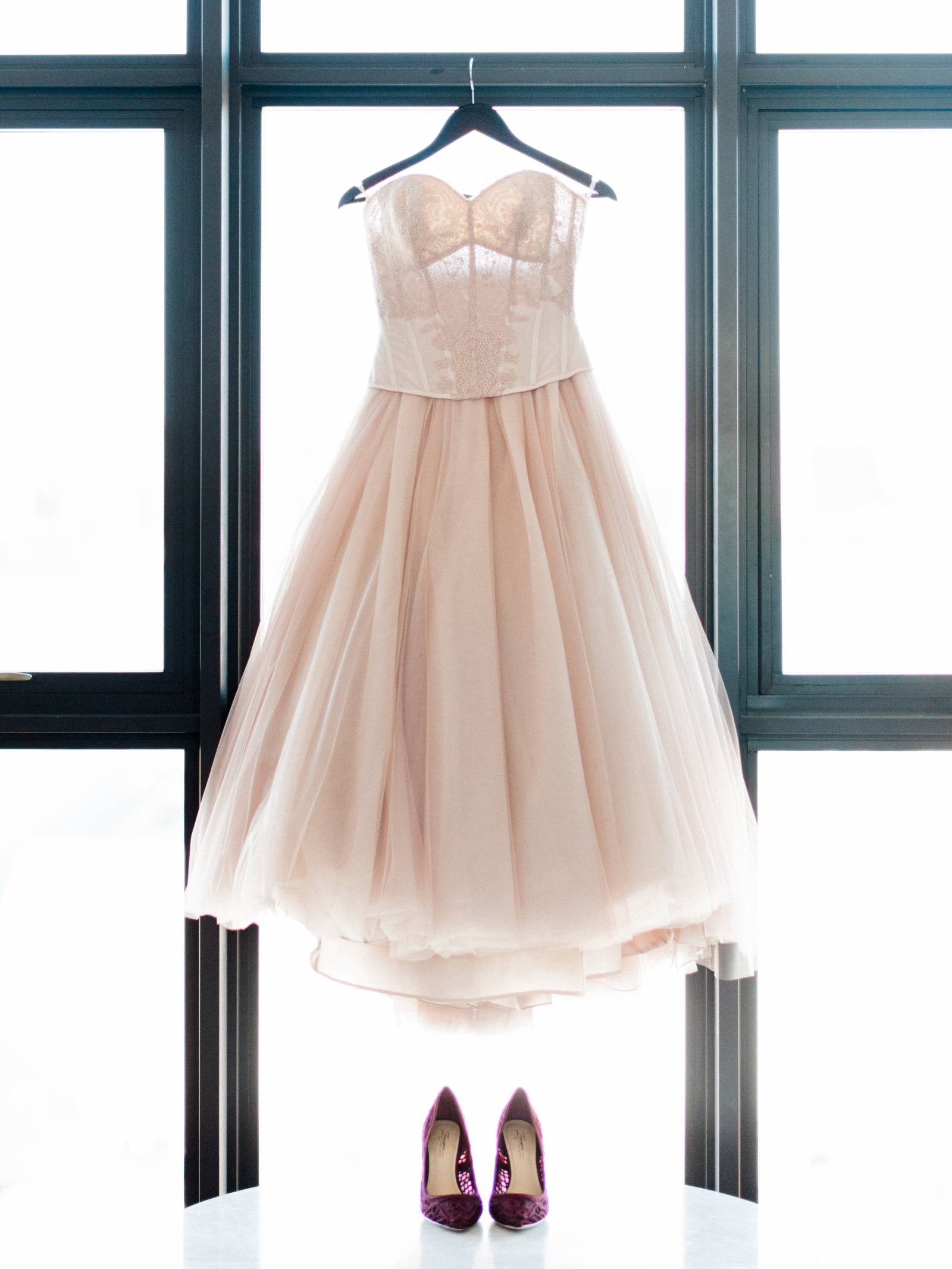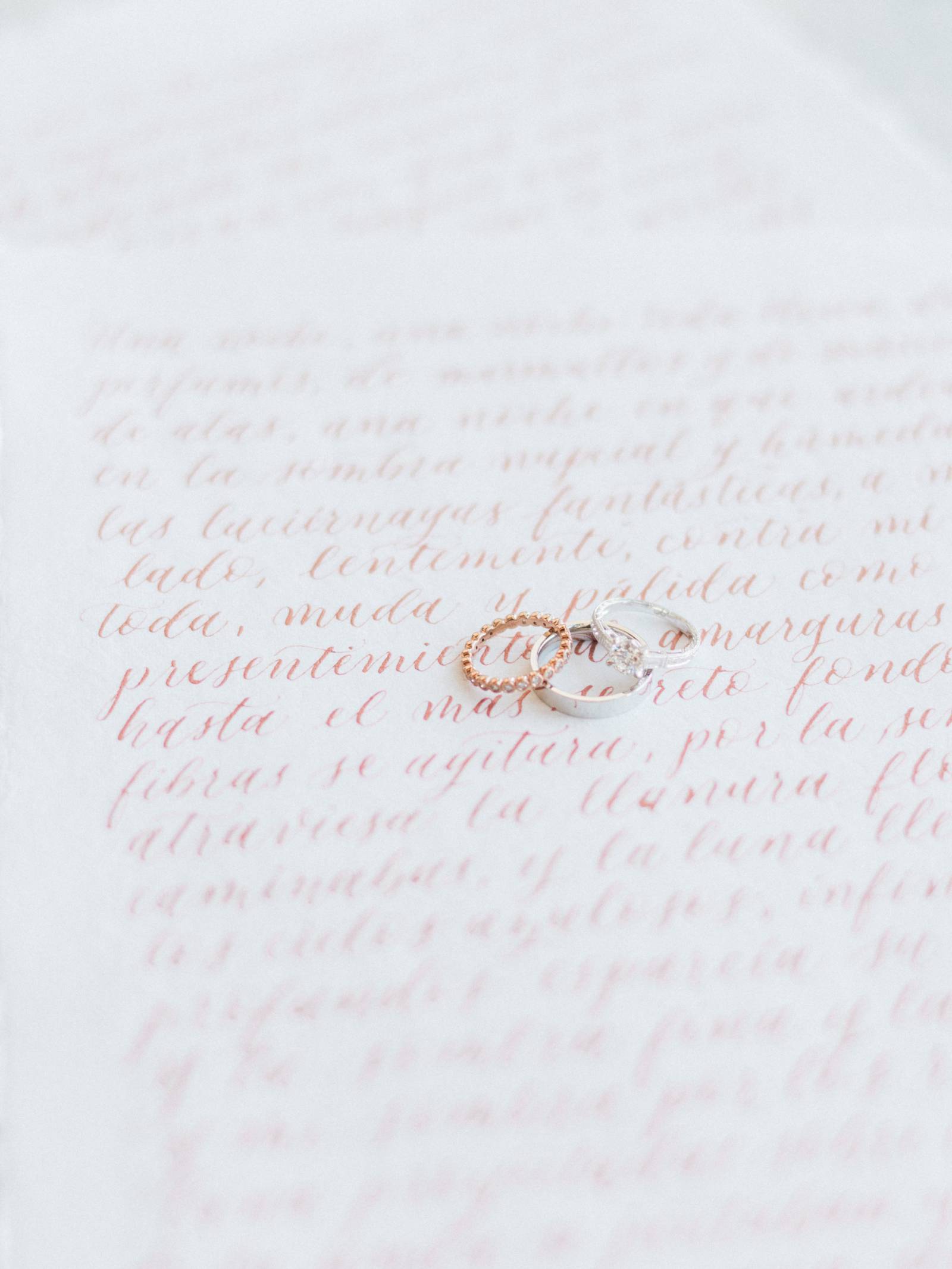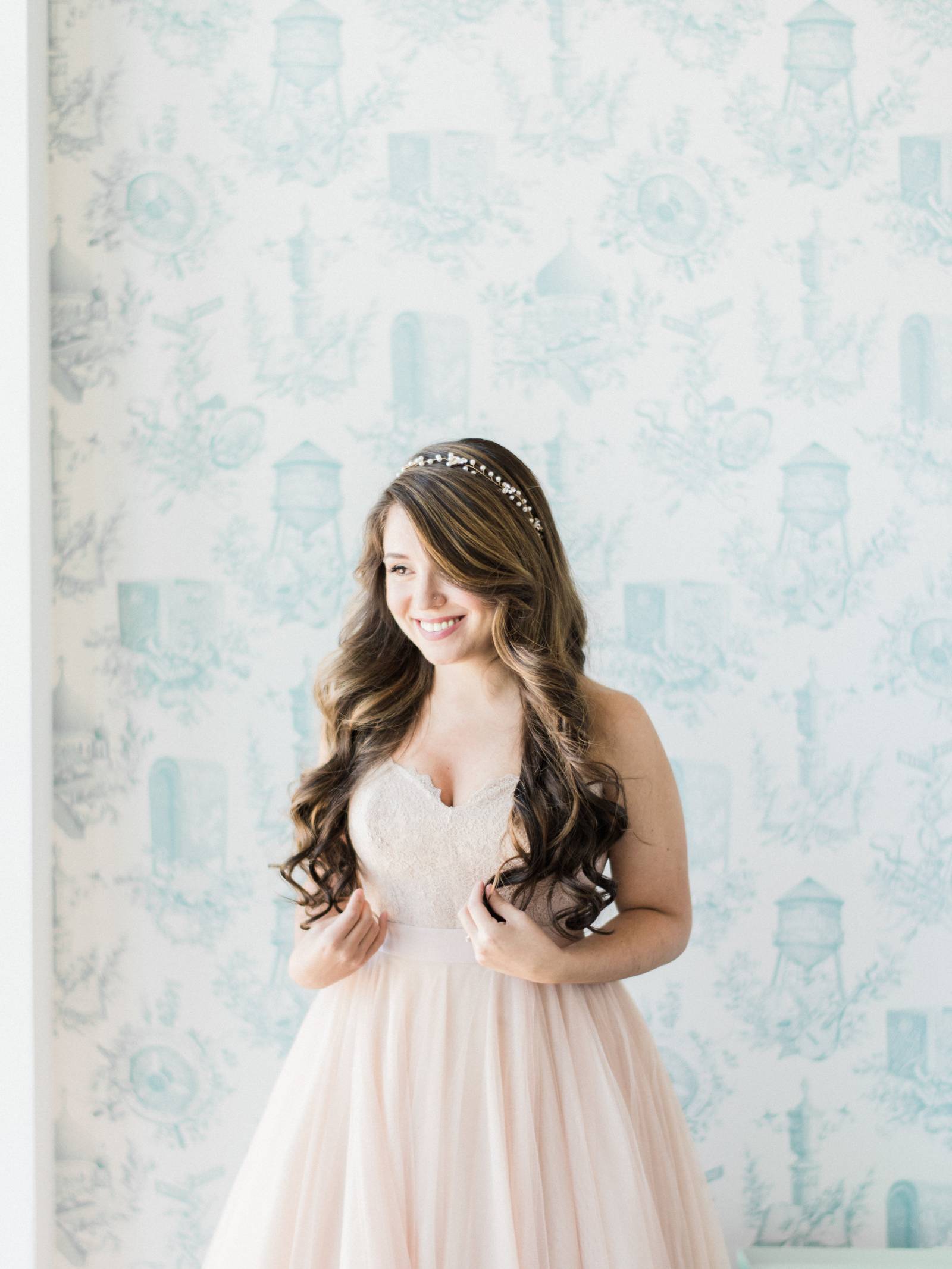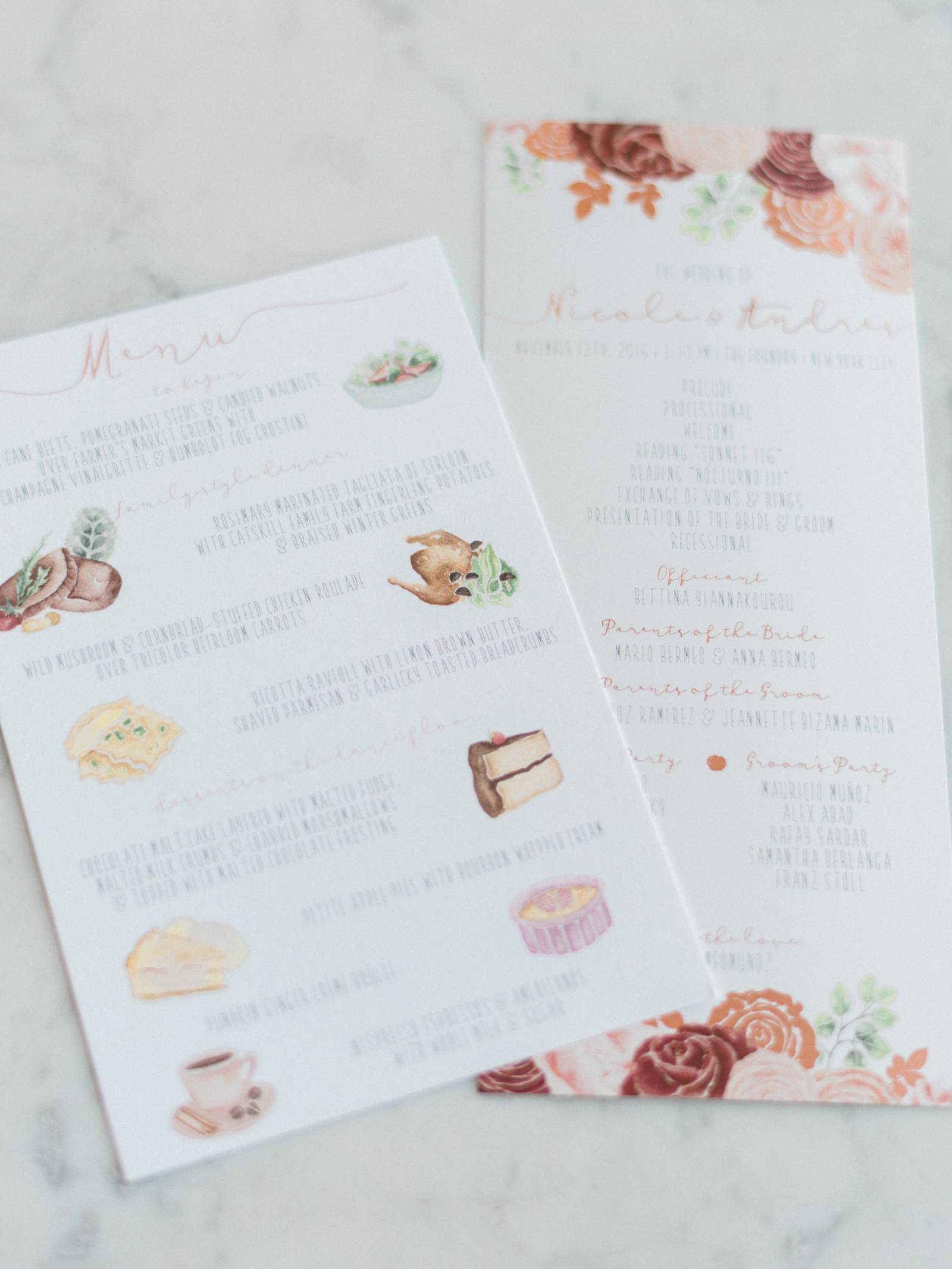 HOW DID YOU MEET? During my freshman year at New York University, I briefly dated a friend of a friend who happened to be one of Andrés' suitemates. Despite that relationship not working out, we stayed close friends and as a result, I saw Andrés on a pretty regular basis. I found myself consistently making excuses to go to his room and talk to him. During our winter break, when Andrés had traveled back to Peru to visit his family and friends, he had a bit too much to drink and we spent over twelve hours on Skype. For the duration of break, I couldn't get him out of my mind. When we were both back in New York, I finally told him how I felt but he was already dating someone else. At that point, I was fairly certain I should move on. However, on the day that I planned to tell him that I was done trying to pursue him, he finally made a move. From that point on, we were inseparable.
TELL US ABOUT YOUR PROPOSAL: Before Andrés and I started dating, we took a long walk along The High Line, an elevated NYC park built atop disused railroad tracks. This was the first time we ever spent time alone, outside of his dorm. Flash-forward five years later and we found ourselves yet again on the same abandoned tracks, but this time in a newly developed section of the park. It was a chilly May night and Andrés pulled me off the main path onto a more private balcony overlooking 10th Avenue. He got down on one knee and started to say what I assume to be a lot of sweet words, but I was so caught up in the moment that I couldn't focus on anything coming out of his mouth.
TELL US ABOUT FINDING YOUR WEDDING DRESS: Whenever I used to picture myself getting married, it was always in a less traditional, non-white wedding gown. Given my proportions, I knew I wanted something very form-fitting on top, ideally a corset, paired with a fuller tulle skirt that would skim my fuller hips. Before I was ever engaged, I remember seeing a beautiful two-piece blush gown on Instagram that completely blew me away - it was everything I ever dreamt of in a wedding dress. I spent countless hours searching for the designer and style of this particular dress. When it was finally time to go dress shopping years later, I had only one dress in mind. I went to a local boutique that carried the gown and it was the only dress I tried on that day. Needless to say, seeing how everything looked on me only further solidified my decision.
ANY DIY ELEMENTS? Given that we live in a tiny one bedroom apartment in Hell's Kitchen, we knew we wouldn't be able to store too many handmade items. That being said, I was very adamant about somehow incorporating my background in science into our wedding. I am a huge fan of repurposed items, so I decided to order some chemistry glassware to use as flower vases. I ordered a huge case of Erlenmeyer flasks from a wholesale chemistry supply company and dipped them in metallic gold paint. The result was super chic, but also unique and whimsical. Despite only hand-making a few items, the entire wedding design was carefully curated and it was a massive undertaking to realise all of our ideas as we had envisioned.
DESCRIBE YOUR WEDDING FLOWERS: When we originally came up with the colour palette, it consisted solely of blush and ivory hues. As time went on and we started to envision of how everything would eventually come together, something seemed off. I decided that adding burgundy and metallic rose gold was what we needed to make it feel a bit more like an autumn wedding. My absolute favourite flower is the ranunculus, so we decided to keep the original colour palette with blush and ivory garden roses and incorporate deep burgundy ranunculi and eucalyptus into the arrangements. We further integrated this colour palette by purchasing coordinating silk ribbon in blush, burgundy, and ivory that cascaded from the base of each bouquet and provided a beautiful contrast to my dress as well as the bridesmaid's dresses.
FAVOURITE DETAIL OF THE DAY: By far, our favourite details from the wedding are those that allowed us to make the event feel truly unique to us as a couple. Many of our song choices were very personal. We walked down the aisle to "Holocene" by Bon Iver, which is a song that stirs up a lot of emotion for us. Our first dance song was "Existentialism on Prom Night," which was the song I played for Andrés on the piano the night we shared our first kiss. We also wanted to blend our two families together by incorporating Andrés' Latin American roots throughout the night. The majority of Andrés' family and friends flew in from Peru and Chile, so it was important to us that they felt welcomed. We incorporated some Latin culinary elements with ceviche hors d'oeuvres and pisco cocktails and were sure that the event was bilingual with a ceremony reading of "Nocturno III" by José Asunción Silva, a speech by Andrés' best friend, bilingual vows, and plenty of Spanish music requested by our friends and family.
WHAT ADVICE WOULD YOU GIVE TO COUPLES PLANNING THEIR WEDDING? No matter what, don't be afraid to go against the grain. Weddings are full of traditions, from bouquet tosses and formal cake cuttings to bridal showers and bachelor parties. If something doesn't fall within your comfort zone, modify so it reflects your personal preferences or skip it altogether. Personally, I couldn't imagine getting married without my best male friends standing by my side or having a wedding shower or bachelorette party without them present. Everyone has an opinion throughout the planning process, whether it's opposition to your nontraditional decisions or simply disagreeing with your colour palette. It's important to remember that you can't please everyone. When you look back at your wedding photos, you should see it as a reflection of yourselves as a couple, not a hodgepodge of your loved ones' ideas.
MOST MEMORABLE MOMENT? Hands down, our vows were the highlight of the entire day for us. Even though we knew it would be deeply personal and that we would be emotional wrecks, we decided to write our own wedding vows. We rarely get the chance to express ourselves so vulnerably to one another and being able to do so in front of our closest friends and family was something that we'll never forget. On a more lighthearted note, another memorable moment (perhaps more for the guests than for us) was when our dog Coco started crying before the ceremony even began. We decided to let her roam around the ceremony space and mingle with the guests. Well, let's just say she did a bit more than mingle with the guests and left a little surprise for us right below my aunt's chair.
ANY OTHER DETAILS THAT HELP TELL THE STORY OF YOUR DAY? Most of the advice I had read prior to planning our wedding focused on how details don't matter and how no one will ever notice them. Anyone that knows me will tell you that I am excruciatingly detail-oriented, so it was important for me to have those details, even if I was the only one who noticed them. One of my favourite details from our wedding was the place setting. We had gorgeous, neutral agate slices adorned with each guest's name written in gold calligraphy. The names on the place settings corresponded to a floor-length vintage mirror that displayed the seating chart. Each place setting was paired with rose gold silverware and had a personal menu with hand-painted watercolour drawings of each of the family-style entrees. Watercolour illustrations were carried throughout multiple aspects of the wedding, from our wedding invitations and programs all the way to our Snapchat filter and photo booth logo.
IS THERE ANYTHING YOU'D CHANGE OR DO DIFFERENTLY? To be honest, our wedding was absolutely perfect. Andrés and I were truly pleased with how everything ultimately came together and we had an amazing time. However, it would have been helpful during the planning process to have trusted our gut a bit more. The biggest drama we encountered revolved around our original caterer dropping out a mere two months before the wedding. There were many warning signs throughout the planning process that seemed strange, but I trusted the process and expertise of those we had hired. Looking back, I wish we would have trusted ourselves more and perhaps we could have avoided the last minute scrambling that ensued. That being said, this situation was actually the catalyst for hiring our wedding planner José. Up until that point, we had nearly everything purchased and planned mentally, but José helped us execute every tiny detail and allowed us to take a step back from the planning process. If we were to do everything over again, we definitely would have incorporated his team much earlier.