Deciding on a short six-month engagement because they couldn't wait any longer (they had been dating for 10 years at this point), Stephanie & Scott went about planning their wedding at NELSON FAMILY VINEYARDS in Ukiah, California and were surrounded by all their closest family and friends for the most special day of their lives. Captured by DITTO PHOTOGRAPHY their venue offered them the perfect picturesque yet intimate setting for their day. Each detail of the wedding was designed to create a romantic, classic, and fun feeling. The wedding was also quite the labour of love with third grade teacher Stephanie working with her students to create books about what love means to them, and they were then included as part of the table settings. The couple tell us, "We're both very close with our families, and they have always been so supportive of us individually and as a couple. Everyone pitched in to give us our dream day. We borrowed table settings and votives from a cousin and another friend, we created all the chalkboard signs, we borrowed photobooth props from friends, Scott made a DIY photobooth (and built ladder ball and cornhole sets just for our wedding!), and we had a whole team of friends and family who helped us set up the entire wedding venue (tables, chairs, signs, and decorations) the day before and the morning of the wedding. The saying goes, "It takes a village," and we are positive that we have the best village around! Our ceremony was beautiful and heartfelt. Anyone who knows us knows we love a good party, and our reception was the best party of our lives thanks to a fabulous DJ and guests who love to dance!"
HOW DID YOU MEET? Scott and I went to the same middle and high school, but didn't become close friends until our junior year when we had Spanish class together. After that, we were pretty much inseparable. We officially started dating at the beginning of senior year of high school. This November will be our 10th anniversary!
TELL US ABOUT YOUR PROPOSAL: After a very stressful week (my car broke down and was in the shop for the entire week with for expensive repairs), Scott surprised me with a weekend away in Healdsburg to de-stress. Little did I know, he had this weekend planned all along! We drove to Healdsburg Friday evening. He had booked us a little cottage to stay in using AirBnB. The next morning, we went on a tandem bike ride through the vineyards. It was a misty morning and actually quite rainy while we rode. Normally I hate the rain, but I was so happy that he planned this surprise weekend that I didn't mind it. We stopped at a bridge and spent a few minutes watching the river below us. Amazingly, it stopped raining for a few minutes. That's when Scott pulled the ring out of his pocket and got down on one knee. I cried, he cried, and I said yes as a bus full of people on a winery tour drove by and cheered for us out of their windows. It was amazing!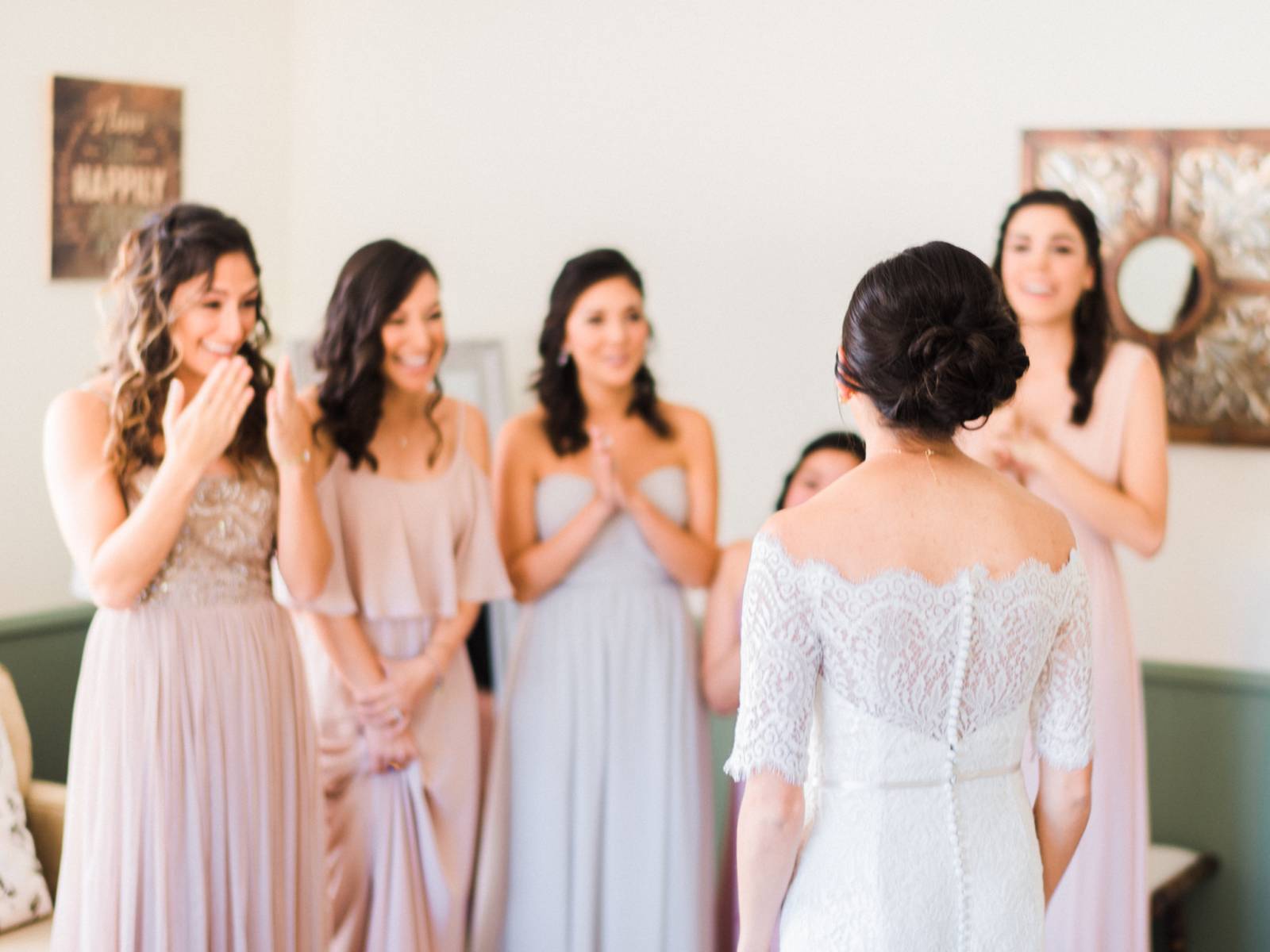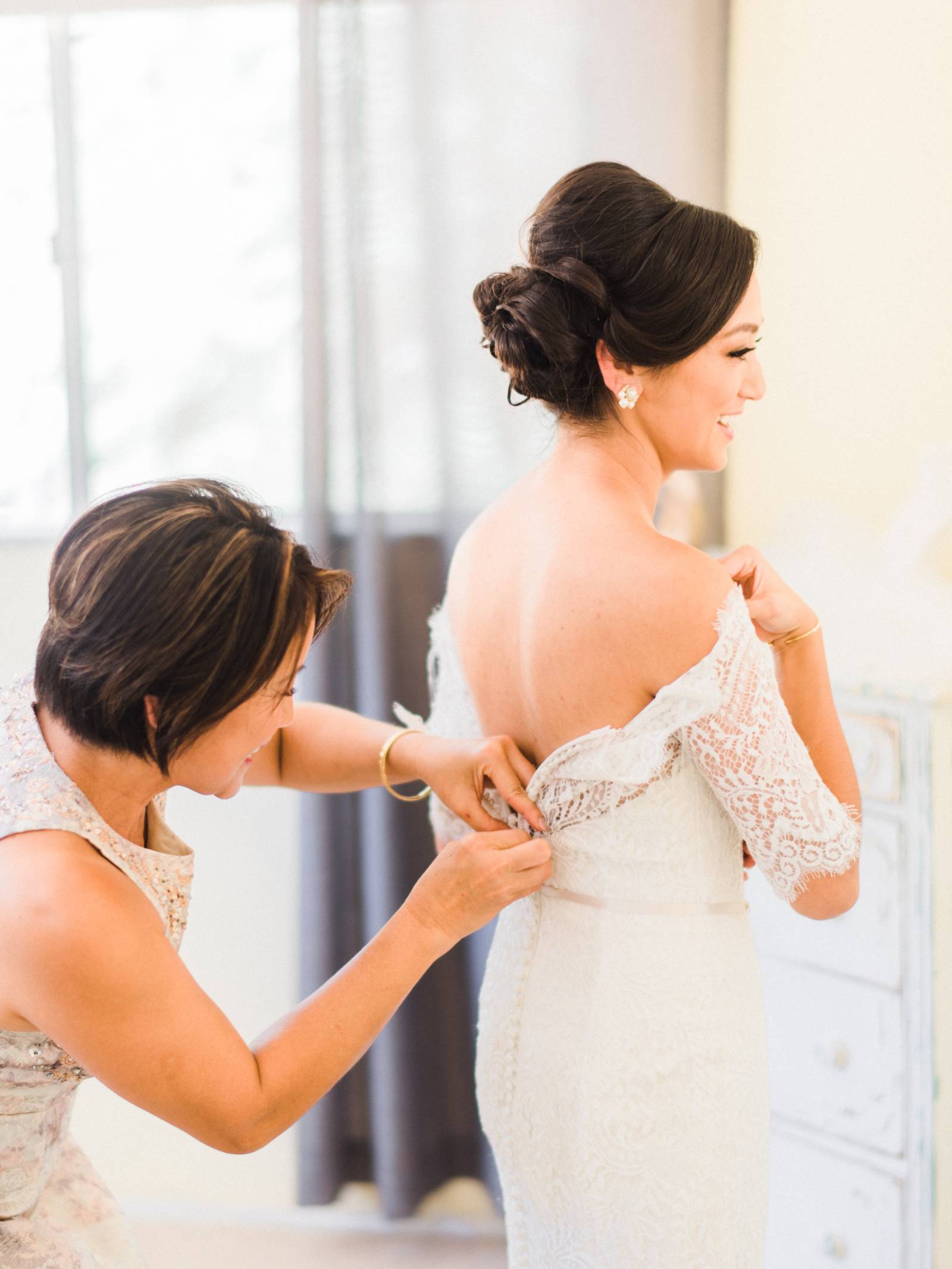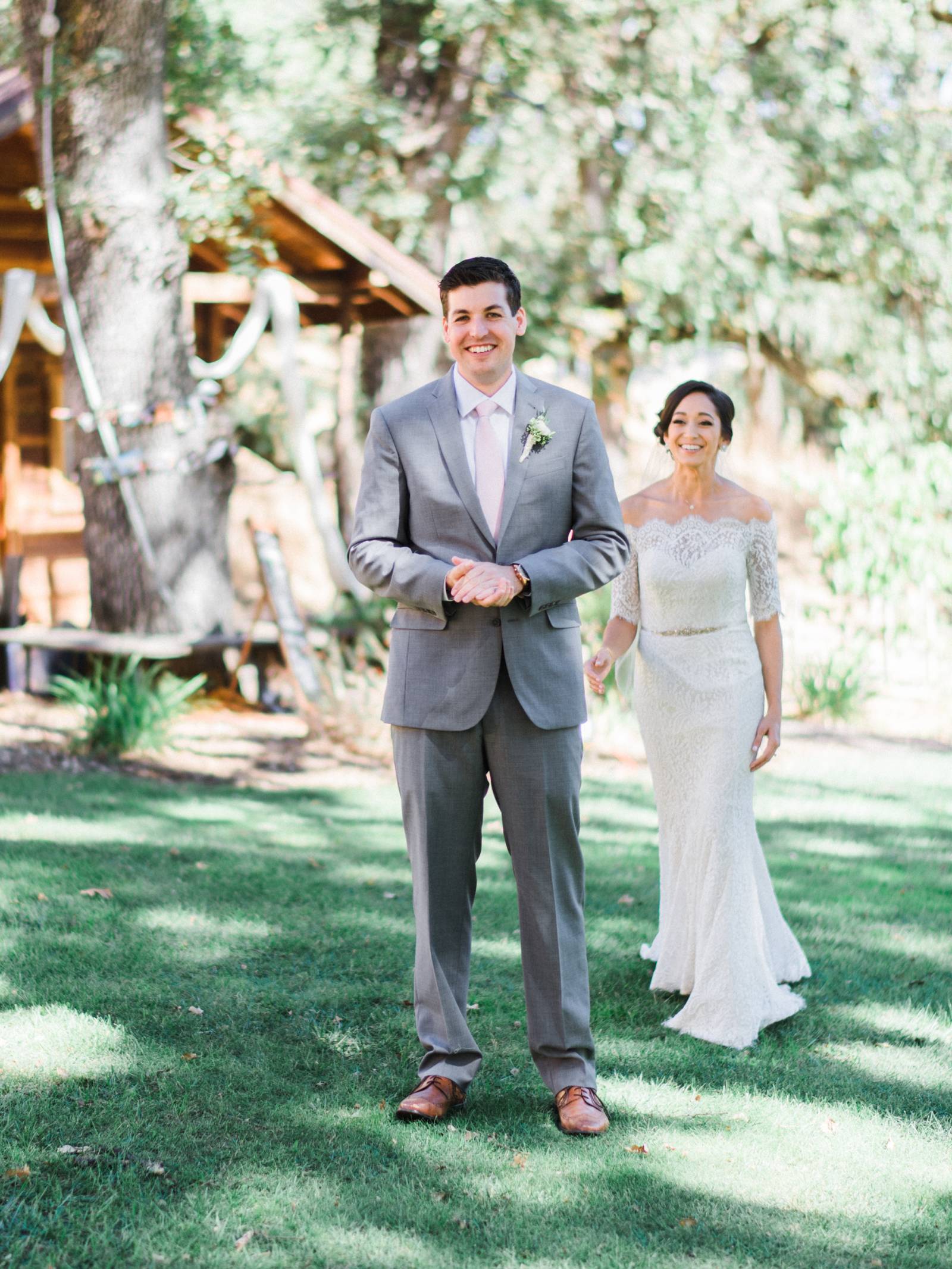 TELL US ABOUT FINDING YOUR WEDDING DRESS: It only took me a week to find my dress. I tried on dresses at Flares Bridal in Walnut Creek, Anthropologie, and The Wedding Party in Berkeley. I knew I didn't want anything poufy, and I was pretty sure I wanted some lace, but other than that I didn't have much direction. My goal was to find a comfortable dress with a timeless and elegant look - plus I needed to be able to eat and dance! On my third dress outing, I picked up the Wtoo Savannah dress off the rack to try on for fun. I never thought I would wear a dress with sleeves but figured I won't have an opportunity to try on wedding dresses after this, so why not have some fun? When I tried it on, I didn't have THE feeling that people talk about. I think I was surprised that I liked a dress with sleeves so much! Once I decided it was the dress, I did tear up and knew I made the right decision.
WHAT WAS THE INSPIRATION BEHIND YOUR WEDDING STYLE? We wanted to keep the style of our wedding simple and timeless. We felt like our venue gave us the naturally beautiful atmosphere we wanted, and the venue spoke for itself. Scott and I are pretty relaxed people - we wanted the focus to be on our marriage and the celebration, not on any extravagant decorations. With only a six month engagement, we also didn't want to stress about details that ultimately don't matter at the end of the day. As long as we got married and had a fun time with our family and friends, we were happy.
WHY DID YOU CHOOSE THIS LOCATION? Scott proposed in March, and we really didn't want to wait an entire year (or more) to get married. So we looked for venues that had openings for fall weddings. Luckily, a family friend mentioned Nelson Family Vineyards. They had the September 23rd weekend available. We had seen about five other venues (from redwoods, mountains, and even event centers), but none of them felt like they suited our style. We wanted the whole ceremony and reception outdoors somewhere that felt open, yet intimate. Scott visited Nelson Family Vineyards on his own while I was at work one day. When I asked him about it, he said he thought this was the one! It was gorgeous, large enough to accommodate our big families, and still felt very intimate as we were surrounded by oak trees overlooking the vineyard.
DESCRIBE YOUR WEDDING FLOWERS: I wanted a natural look with lots of greens. My bridal bouquet was loosely gathered flowers that included white, pale pink, and sage colours. Our florist, Petal Town Flowers, was amazing to work with! They used garden roses and eucalyptus leaves to give me the bouquet I envisioned. The bridesmaids' bouquets had pink roses with eucalyptus, baby's breath, and some darker greens. On the tables, we had small milk bottles with pale pink or cream flowers with some greens. We went for elegant simplicity! One thing we didn't want was for our centerpieces to block our guests' view of each other across the table. Plus, smaller centerpieces were more our style - and more budget friendly.
DID YOU HAVE ANY DIY ELEMENTS? We had a number of DIY elements! Scott took it upon himself to create a DIY touchscreen photo booth setup. We rented a DSLR camera and tripod, bought a craft box, used my touchscreen laptop, and downloaded a photo booth software to create the photo booth. One of our friends kindly let us borrow a bunch of props from her third grade classroom. The photo booth was such a hit! Scott also built cornhole and ladderball for our guests to play.
I designed and printed the guest seating chart. I love calligraphy and typography, so all the chalkboard signs were drawn by me. That was probably my favorite project. Our favors were DIY also. We are coffee lovers, so we stamped kraft envelopes with a customized stamp from Etsy, stuffed them with fresh coffee beans, then used gold washi tape to seal them.
I teach third grade and knew that I wanted to somehow include my students in some element of our wedding. I worked with my students before the wedding to create a book called, "Love Is." Each page featured one student's interpretation of what love is to them. Copies of the book were laid out at each table. I also made our own "guest book" wine bottles. I designed and printed small pages where guests could write advice or well wishes to us. Then they rolled up the pages, wrapped it with a rubber band, and put it into one of our wine bottles. Each bottle was labeled with an anniversary year when we will open it and read all the advice! We're already dying to take a peek into the bottles. I'm sure they are stuffed with great advice, but with our humorous friends and family, there have got to be some unexpected and entertaining notes as well!
Aside from the crafting, we also borrowed a LOT from generous friends and family. Most of the chalkboard signs, our photo booth signs and props, 150 mercury votives, chicken wire frames to display the seating chart, mini paper lantern lights, and white string lights were all borrowed!

FAVOURITE DETAIL OF THE DAY: Our favourite detail was the venue. It really set the whole tone for our wedding. It is such a unique spot, and it will always have a special place in our hearts!
WHAT ADVICE WOULD YOU GIVE OUT TO A COUPLE PLANNING THEIR WEDDING? Build in extra time on your day-of timeline! Work backwards from when your venue closes, and give yourself buffer time between each part of the day. For example, if you think you want a one hour cocktail hour, plan for an hour and a half. People aren't joking when they say that your wedding day goes by quickly! It's also true when they say that things will go wrong. If you have some transition time as a buffer in between each element of the night, you won't need to stress if your timeline gets a little thrown off - which it will! During your wedding, just remember to relax and let the night unfold while you enjoy each moment.
MOST MEMORABLE MOMENT? It's so hard to choose just one moment! The speeches at our wedding were pretty spectacular. My dad gave a heartfelt speech that was equal parts humorous and sentimental, just like him. My matron of honour, Erin, gave a touching speech that could've only come from her - we've been best friends since first grade. Scott had two best men, Alex and Mike. Alex is basically another brother to Scott; they've known each other their entire lives. Mike is one of our closest friends from high school. They each made us laugh and cry, and we were so touched by their words.
ANY OTHER DETAILS THAT HELP TELL THE STORY OF YOUR DAY? The wedding was such a labour of love that brought us closer and reminded us just how lucky we are to be surrounded by amazing friends and family. We're both close with our families, and they have always been supportive of us individually and as a couple. Everyone pitched in one way or another to give us our dream day. In addition to all the elements that were created ourselves or borrowed from others, we had a whole team of friends and family who helped us set up the entire wedding venue the day before our wedding. They assembled tables, placed chairs, hung signs, draped lighting, placed tea lights in each votive, and even hung a chandelier from a tree over our sweetheart table (which was not an easy feat). Then on the morning of our wedding, Scott and I didn't have to stress about anything - again, we had friends and family putting all the last minute touches in place. The morning after the wedding, a second round of aunts, uncles, and friends returned to the venue to break down tables, collect our decorations, and generally made sure we didn't have to lift a finger on our first day as newlyweds. The saying goes, "It takes a village," and we are positive that we have the best village around!
TELL US A LITTLE ABOUT YOUR HONEYMOON: I didn't want to take too much time away from my third grade class, so we did a mini-moon at the Albion River Inn on the coast just south of Mendocino. It's a charming and romantic spot. We were spoiled with the wood burning fireplace and floor to ceiling views of the coast from our bed. Those few days away gave us some much needed relaxation! We're planning a bigger honeymoon for summer 2018 but haven't decided on a destination yet.
IS THERE ANYTHING YOU WOULD CHANGE OR DO DIFFERENTLY? Our wedding was so fun, we wish we had more time with everyone! Our ceremony started at 4:00pm and we had to wrap it up at 10:00pm. We did continue the party at a bar afterwards. In hindsight, we would have started our ceremony earlier.