As a wedding photographer herself gorgeous bride Alex has seen her fair share of inspiration and over time had narrowed down what she did and didn't like. What her and husband-to-be Marcel did know, is that they didn't want a huge wedding with lots of guests or too much fuss. An intimate wedding with only their closest friends and family was most appealing, and so they began to organise their dream celebration at this beautiful private house that Alex had discovered whilst doing a shoot there. A relaxed, calm garden wedding was the order of the day with a festival feeling to it and these stunning images by DIE HOCHZEITSFOTOGRAFEN display exactly that! I'm completely smitten with the stunning florals by NELLY HUTTENLOCHER – aren't they just the prettiest?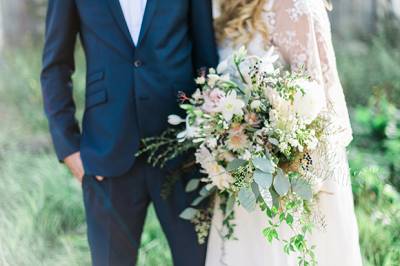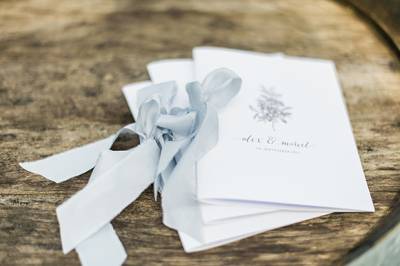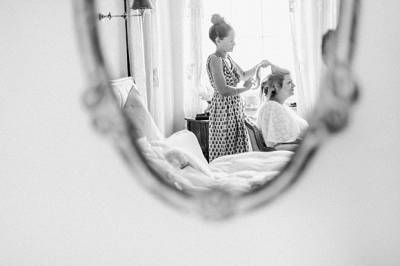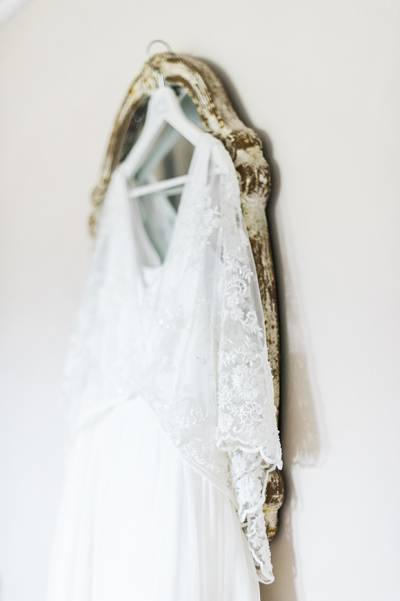 HOW DID YOU MEET? We had been at the same (bad) party in a club and I saw him while he was walking by. Unfortunately my friends wanted to move on, so I hadn't the chance to talk to him. By a happy coincidence I found him a few times later via facebook. After three weeks of sending messages and telephone calls we met at my house and since that moment he had never left again. The rest is history!
TELL US ABOUT FINDING YOUR WEDDING DRESS: My friend Sina is a wedding dress designer, so I went with her to the fabric fair in Munich, finding beautiful lace. She designed the dress after my wishes and suggestions.
ANY DIY ELEMENTS? I did all the paper goods and the decor myself. Marcel build our ceremony arch with wood from a near forest and my mother sewed the napkins and the curtains. Oh... and the aerosol lacquer was our best friend in these days!
DESCRIBE YOUR WEDDING FLOWERS: Oh my gosh! Our wedding flowers was an absolutely dream. Nelly did such a fantastic job... she is such an incredible artist and had outdone herself! When she show me my wedding bouquet in the morning – I started crying and couldn't say anything...
FAVOURITE DETAIL AND MOST MEMORABLE MOMENT? The whole day was an absolutely emotional rollercoaster! It was such a gift for us to see with how much passion and heart's blood all our friends, parents and vendors were giving their very best to make our day as beautiful it just could be! To marry each other in the closest circle of our beloved ones. My dad (bride) was so emotional all the day that I couldn't hardly looked at him without bursting into tears. We felt so loved and overwhelmed and we think -that was the real magic of that day. We won't never forget these feelings in our lifetimes.