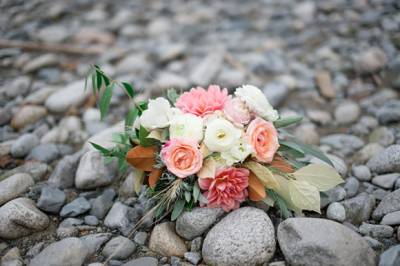 Sometimes a bride knows what type of bouquet or floral style she wants before she decides on a wedding dress. For those of you who choose the untraditional path of florals first, dress second, this shoot by Christie Graham showcases how a specific bouquet style doesn't have to limit your options when picking your gown. Each gown, though very distinct, looked gorgeous with the bouquet and was styled differently with a flower crown or veil to polish off the look. Hair and makeup, like the floral style, suited all the unique styles of dresses featured.
From the photographer: I constantly see brides putting a lot of pressure on themselves to find the perfect dress. To me, there are a lot of important details that go into styling a wedding day, flowers being one of my personal favourites! I wanted to show brides that you don't always have to do everything by the book. Don't be afraid to let other elements of the day inspire your dress choice, but also understand that by choosing say, flowers first, you aren't going to be limited to a certain style of gown.
From the Florist: We loved the idea of a bride using florals to inspire her choice of wedding dress. Untraditional, sure, but it makes perfect sense! The inspiration for this shoot was an effortless and etherial bouquet and crown. I used an abundance of foliage to give the bouquet a distinct texture. I combined dahlias, roses, ranunculus, and accented with foraged sage, tarragon, flowering grass, and trailing vines. I love to use what is in season to accent a bride's florals. A unique personal touch from your own backyard lets your floral personality shine through no matter what gown you choose! The crown and bouquet featured soft colours so it could easily translate to any of the gowns and would match the beautiful, natural styling of the hair and makeup.
From the makeup artist: My vision for the hair and makeup application was a very soft and elegant look. I wanted the makeup to have a flawless finish, with a focus on a bolder red lip. The eyes were on the natural side with a lighter pink/taupe colour, like the flowers, to compliment the lips and cheek, which also looked amazing with the florals and all of the gowns.