The idea that something so stunningly beautiful can at the same time feel both effortless and unspoken is awe-inspiring. That was the goal of this shoot by Seattle wedding photographer JANET LIN; to create a garden-inspired look that embodied the effortlessly romantic nature of a lush garden while incorporating a touch of modern elegance, and Alex of WILLOW & IVY hit it out of the park. The all-white colour palette, contemporary gown, and minimal tablescape all came together seamlessly, bringing our vision for a modern, garden-inspired wedding to life.
Good design should be more than just beautiful, it should be an experience for the senses. As the soft breeze billowed in through the historic old windows of GRLS STUDIO, a gorgeous intimate gathering space in the Pacific Northwest, the room came to life. Ayana's soft curls caressing her skin, the scent of abundant florals, and the serene sound of tall, lush grasses swaying together filled the room.
The incredible floral artistry by PETAL & POSY was inspired by the fundamentals of good garden design. Blocking types of flowers or plants together to give them more visual impact, layering textures and heights for maximum interest, and using a variety of shapes and sizes of flowers. For the ceremony installation, sweet peas, spray roses, scabiosa and yarrow created a 'garden border' in front of a tall variegated grass hedge. Giant white alliums were placed among the grass to add a modern and bold touch, creating an element of height and interest. The ceremony space was completed by climbing roses on a trellis in the background. The tabletop centerpiece was again a nod toward a garden border, featuring Lace Flower, Campanula, Spray Roses, Scabiosa and Sweet Peas blocked together by flower type. The bride's bouquet was created in the same style, as if the bride simply grabbed a handful of each flower as she walked along her peaceful and serene garden.
A luxurious white linen from CORT PARTY RENTAL kept the table palette clean and bright, allowing the lush floral centerpiece to speak for itself. Modern tabletop decor with clean, minimal lines from SET THE TABLE PARTY RENTALS and a soft, flowing napkin topped with a torn-edge dinner menu by KELSEY MALIE CALLIGRAPHY tied everything together.
All this, captured by Janet Lin Photography and her signature timeless style; effortlessly elegant and emotive, with a romantic, film aesthetic.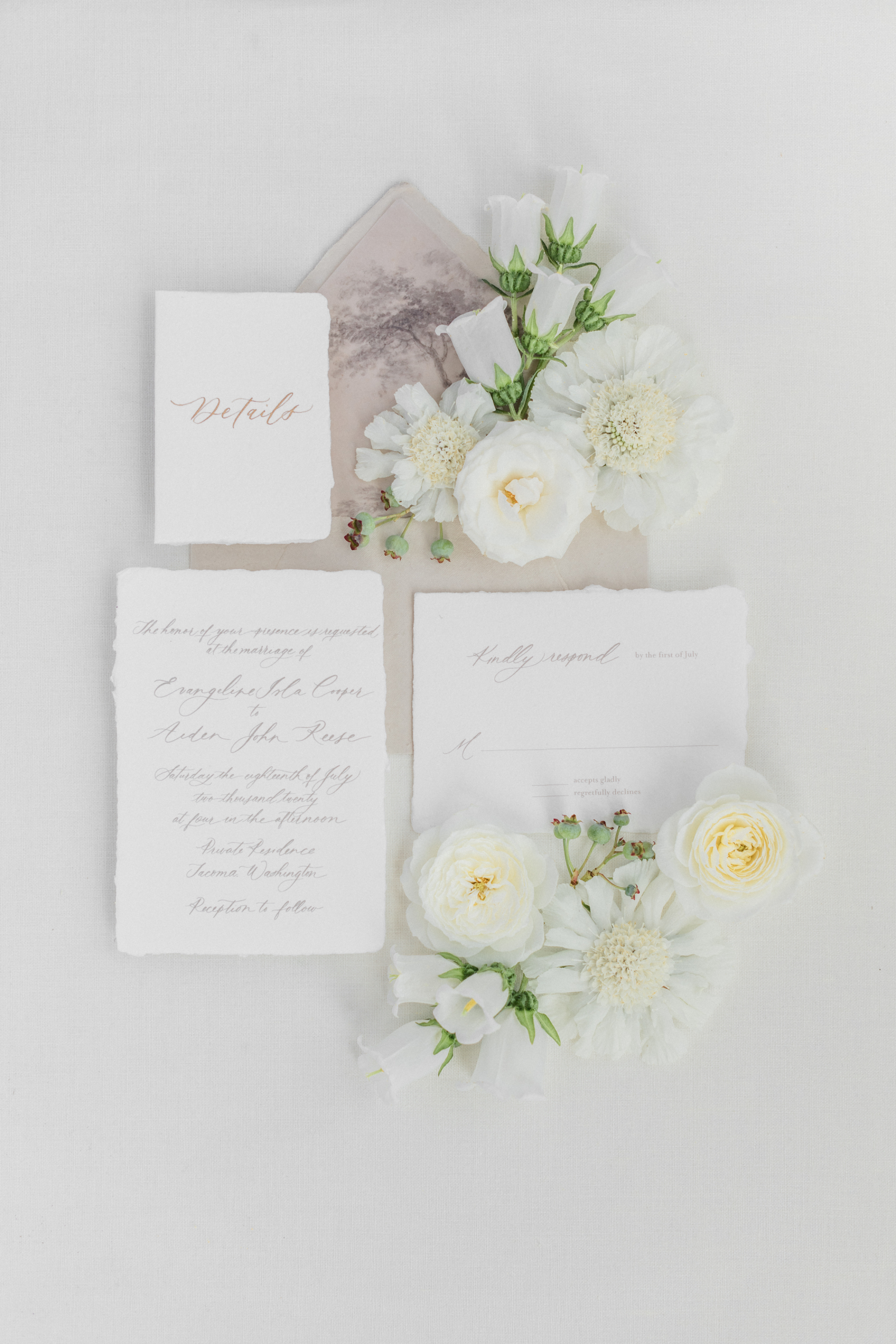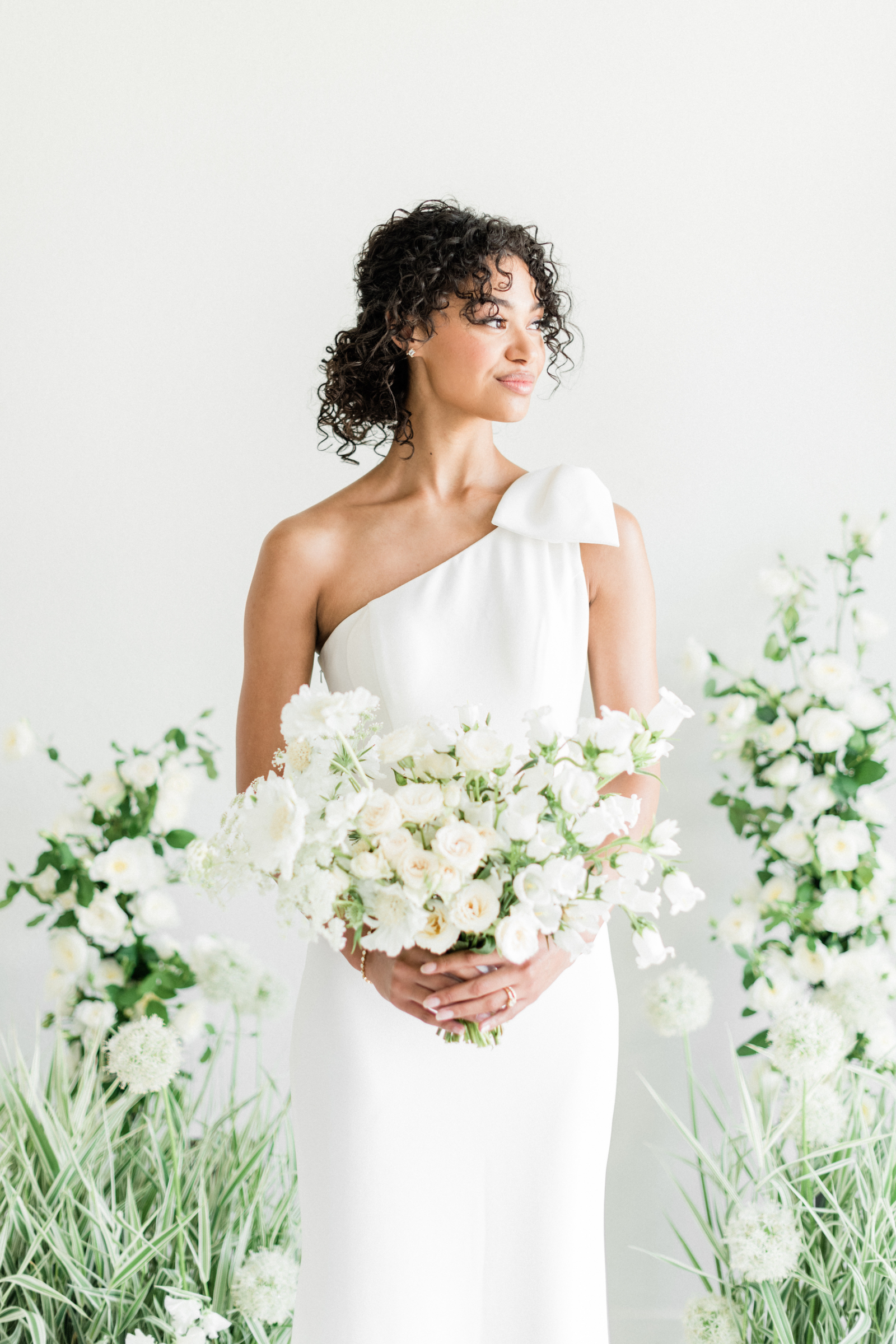 The brides crepe, one-shoulder gown from A & BE BRIDAL is the epitome of modern elegance. The bow detail on the shoulder sweetly whispers femininity and was carried through to the gorgeous bow detail shoe from BELLA BELLE SHOES. Her natural hair and make up executed perfectly by YESSIE LIBBY look both finished and authentic, accenting her natural beauty with neutral tones. and softness. Even the wedding ring set from LAPIS embodies the marriage of modern and romantic, with a detached wedding band and round halo engagement ring.
Elderflower Gin & Tonic's adorned with fresh florals and rosemary brought the garden-inspired design full-circle, adding that touch of floral love even to the bride's specialty cocktail. A minimal, modern SIFT & GATHER wedding cake and custom stationery suite with just a spattering of soft pink added a dash of romantic femininity while continuing to attend to the detail of texture represented throughout the design elements.
A huge thank you to Seattle wedding photographer JANET LIN for sharing this beautiful inspiration with us. Janet is a fine-art wedding photographer based in Seattle, Washington and serving destinations worldwide. She grew up in the dark room of her father's photography studio, watching people's memories come to life in images through a seemingly magical process. With a passion for loving people, learning their stories, and documenting human connection, the decision to pursue photography was an easy one. Janet's goal is to capture the true essence and spirit of a moment, creating timeless wedding images that will serve as cherished artefacts of your marriage. On a wedding day she strives to balance a quiet documentary approach with an artistic and editorial perspective. You can see more of her work in her portfolio here.