Happy New Year everyone! I hope you had a wonderful break over the holidays I know we've had year-end favourite posts over the past week but today is our official return kicking off with a beautiful tropical wedding by Hawaii wedding photographers DMITRI AND SANDRA. Captured at one of their favourite venues on the island, THE OLOWALU PLANTATION HOUSE - an historic and charming 100 year old building - it was put together with styling and planning by MAKENA WEDDINGS.
Marie & Aaron wanted to get married outdoors, somewhere near the water. Given that they both love travelling and had dreamt of an intimate destination wedding, they settled on Hawaii as somewhere to have all their close friends and family gather for a week of celebrations, allowing their guests time to get well acquainted. Utilising the natural beauty of the island they went with a simply fresh green and white colour palette with a hint of rose gold.
HOW DID YOU MEET? We met in mid 2008 when we were working together at the same work place.

TELL US ABOUT YOUR PROPOSAL: Aaron planned a special getaway for our six year and six months anniversary. He organised a day off work for Marie with her boss without her knowing. Aaron told her the night before that they were flying to Hamilton Island (Island on the Great Barrier Reef in Australia). They flew in the morning, arrived on the Island then took a helicopter to a remote island where we had lunch and champaign before walking along the beach and proposing.

TELL US ABOUT FINDING YOUR WEDDING DRESS: I had a particular dress in mind, so when I was visited various wedding dress boutique I already knew what type of dress I would look for. My cousin and I organised a weekend where we aimed to visit three wedding boutiques. The second store I visited I fell in love with one of the A LA ROBE wedding dress and was so excited that they had the type of dress I like. I tried it on and I really liked how the material sat on my body. I knew though that I had to keep my options open so I organised to visit other stores. I then started following A LA ROBE on Instagram and found the Claudette dress and thought I might as well try to see if it suited me without any intention that this was going to change everything. On our second visit, I tried on the previous dress I was initially going to purchase and then I tried the Claudette and the rest is history.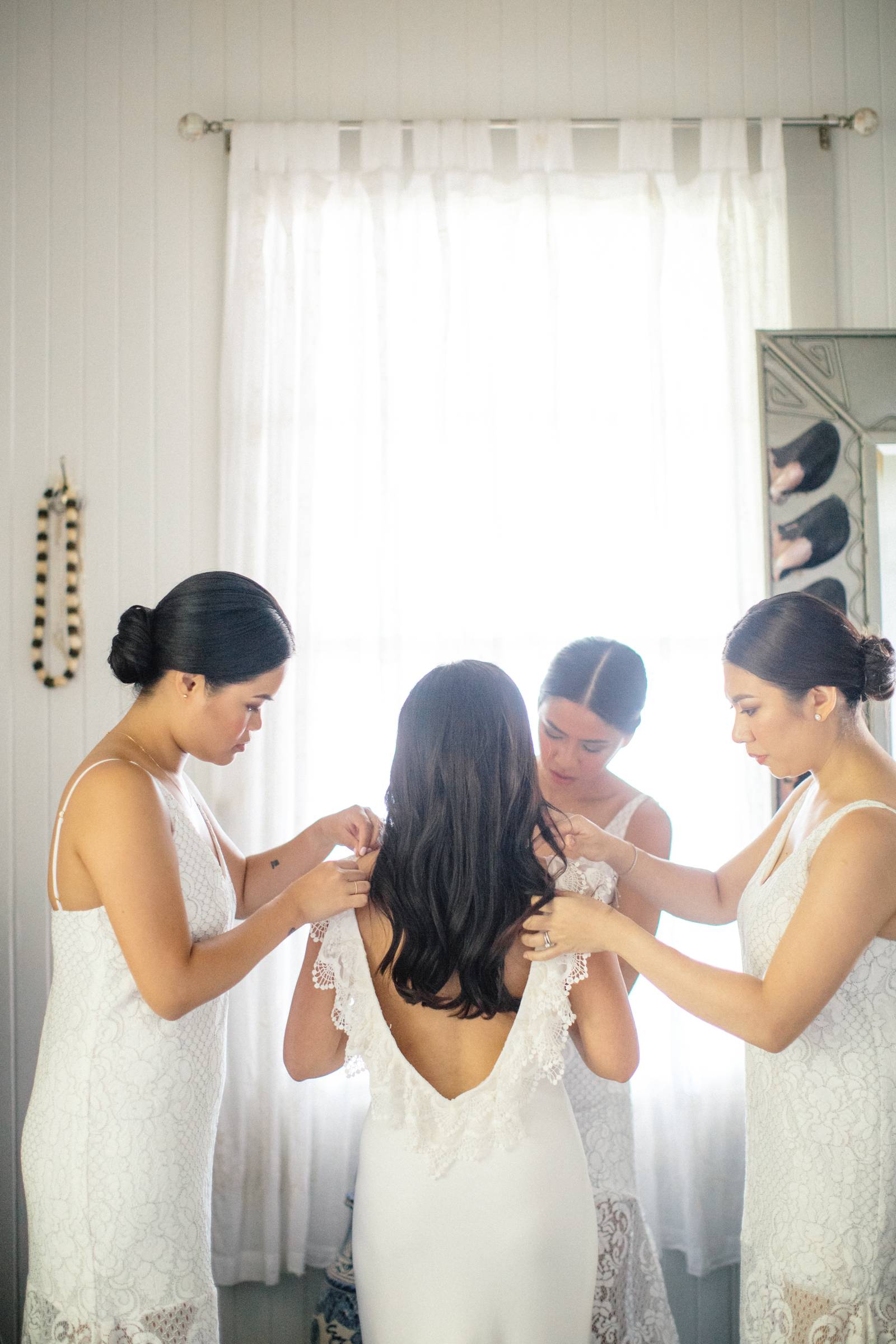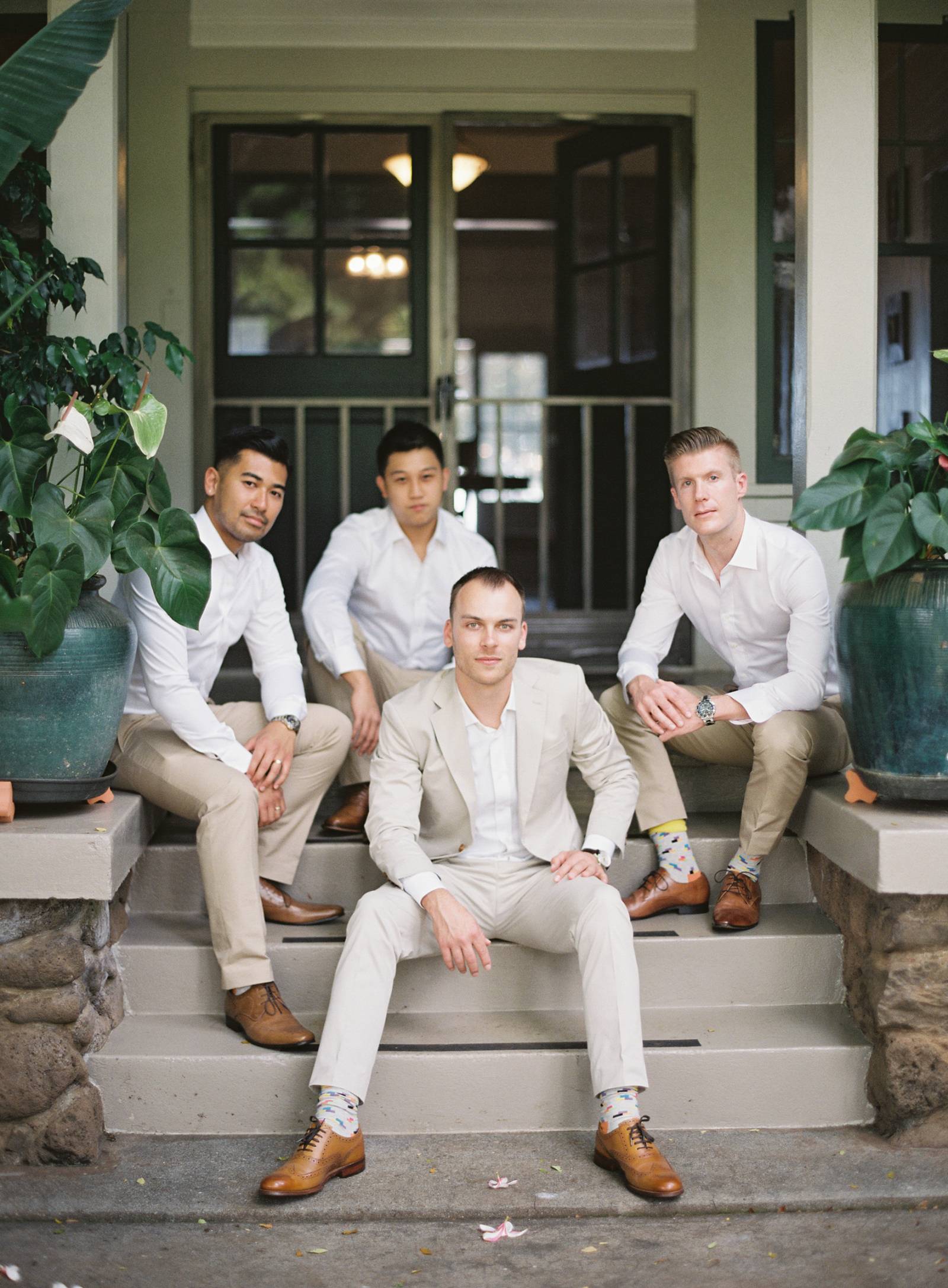 DESCRIBE YOUR WEDDING FLOWERS: My wedding flowers were done by Country Bouquet Maui. My bouquet was a combination of white and green tones with peonies and hydrangeas. We had floral runners which was one of favourite things.

FAVOURITE DETAIL OF THE DAY: The entire venue and how everything was carefully thought out. Our friend from London surprising with Prince Harry and Meghan Markle's face masks.

WHAT ADVICE WOULD YOU GIVE OUT TO A COUPLE PLANNING THEIR WEDDING? Find inspiration from other weddings and then personalise it with your own taste. We were inspired by a specific photo and then used it as our the foundation to our vision.

MOST MEMORABLE MOMENT? Aaron - The build up to Marie walking down the isle
Marie - Arriving at the venue with my bridesmaid and just walking around and taking it in and exchanging our vows.

ANY OTHER DETAILS THAT HELP TELL THE STORY OF YOUR DAY? Down The Hatch is a nice location for an after party!

TELL US A LITTLE ABOUT YOUR HONEYMOON: Aaron had never been to any Islands in Hawaii so we explored Maui and Oahu. It wasn't your typical honeymoon where you would chill out in a resort or by the pool, instead we wanted to explore Hawaii's natural beauty so we went hiking, snorkelling, swimming and ate plenty of Poke Bowls.

IS THERE ANYTHING YOU WOULD CHANGE OR DO DIFFERENTLY? Stayed longer in Maui after the wedding.