Using pinterest as her main source of inspiration, gorgeous bride Whitney was going for a light and airy garden vibe for her wedding to Kyle. Like many couples planning a wedding during the pandemic, they had to navigate through rescheduling multiple times, changing venues, and even a reception venue closure due to Covid. But they dealt with the situation gracefully and eventually opted for having the wedding reception at the backyard of Kyle's family home and Washington DC wedding photographer FEATHER & FAWN PHOTOGRAPHY captured their beautiful celebration.
WHY DID YOU CHOOSE THIS LOCATION? Our plans had changed 360 due to covid. Originally, we were supposed to get married at my husband's childhood church. However, it was actually double booked and we were left to scramble for another church! Luckily we had an awesome priest to help us with plan B at the most beautiful church I ever stepped foot in. Our original reception venue was a Chinese restaurant that was supposed to hold about 350+ guests. Unfortunately, that restaurant went out of business due to covid. So we decided to do a backyard wedding at my in-laws with our immediate family and wedding party.
HOW DID YOU MEET? We met through fraternity and sorority Greek life in college, but did not like each other at the time. However, we hung out about a year later with mutual friends. He sent me flowers for my birthday and it all started from there!
TELL US ABOUT YOUR PROPOSAL: He took me to a movie theatre at his college and played a movie clip that he put together from our Europe trip the previous year. It was basically showing our relationship through his eyes and it was the most thoughtful thing anyone has ever done for me. He got down on one knee and popped the question. It was very private and intimate...just the way I would've wanted it.
TELL US ABOUT FINDING YOUR WEDDING DRESS/ATTIRE: It was a hard time booking wedding dress appointments because it was limited to one bride in the store with 1-2 guests. It was just the beginning of stores opening, so I decided to take just my mom with me. I ended up buying the very FIRST one I tried on! I always knew the style that I wanted. I knew I wanted a lace A-line gown, with buttons down the back and cap sleeves. A super classy and timeless piece. It was meant to be and I bought it that day.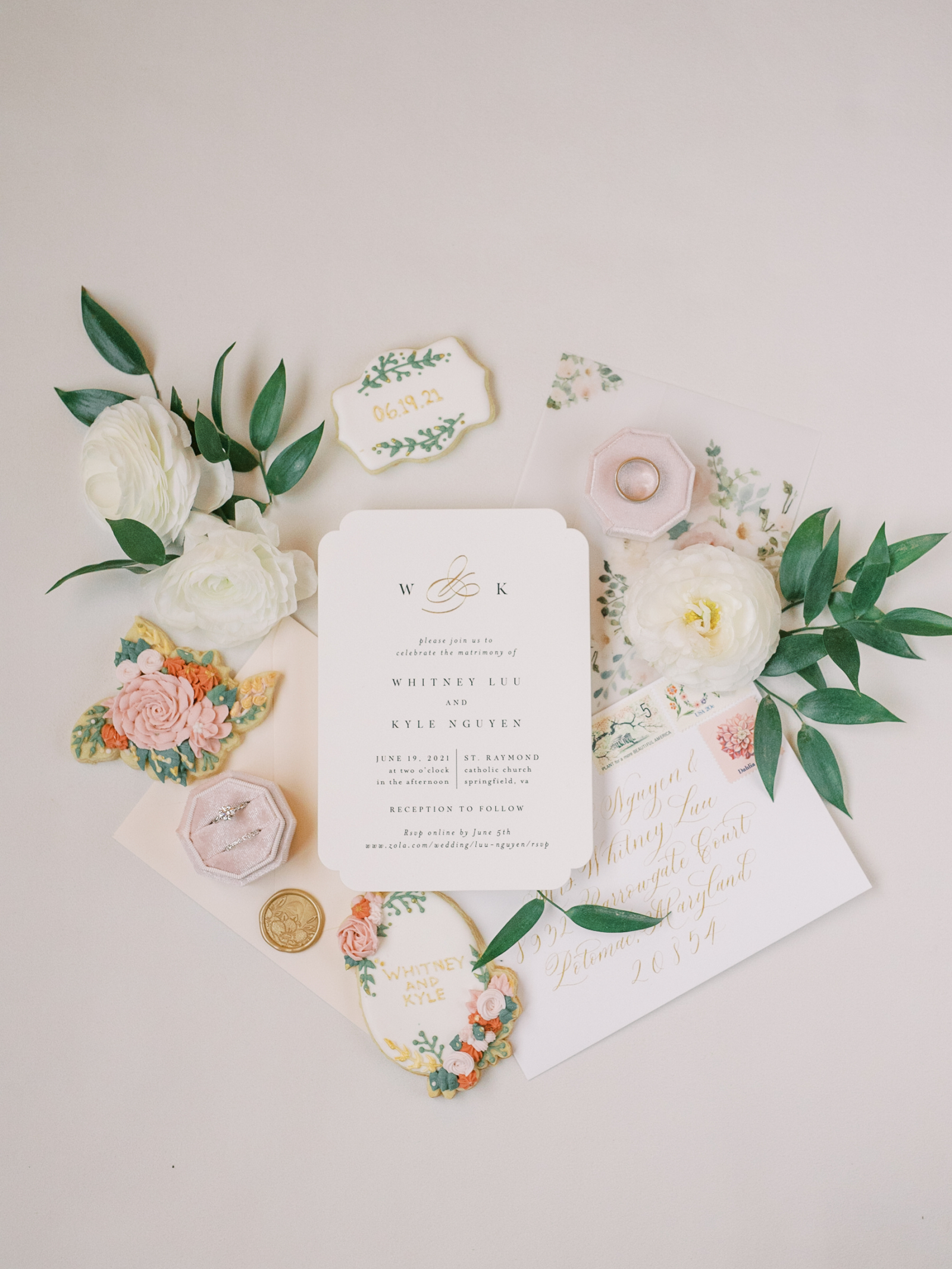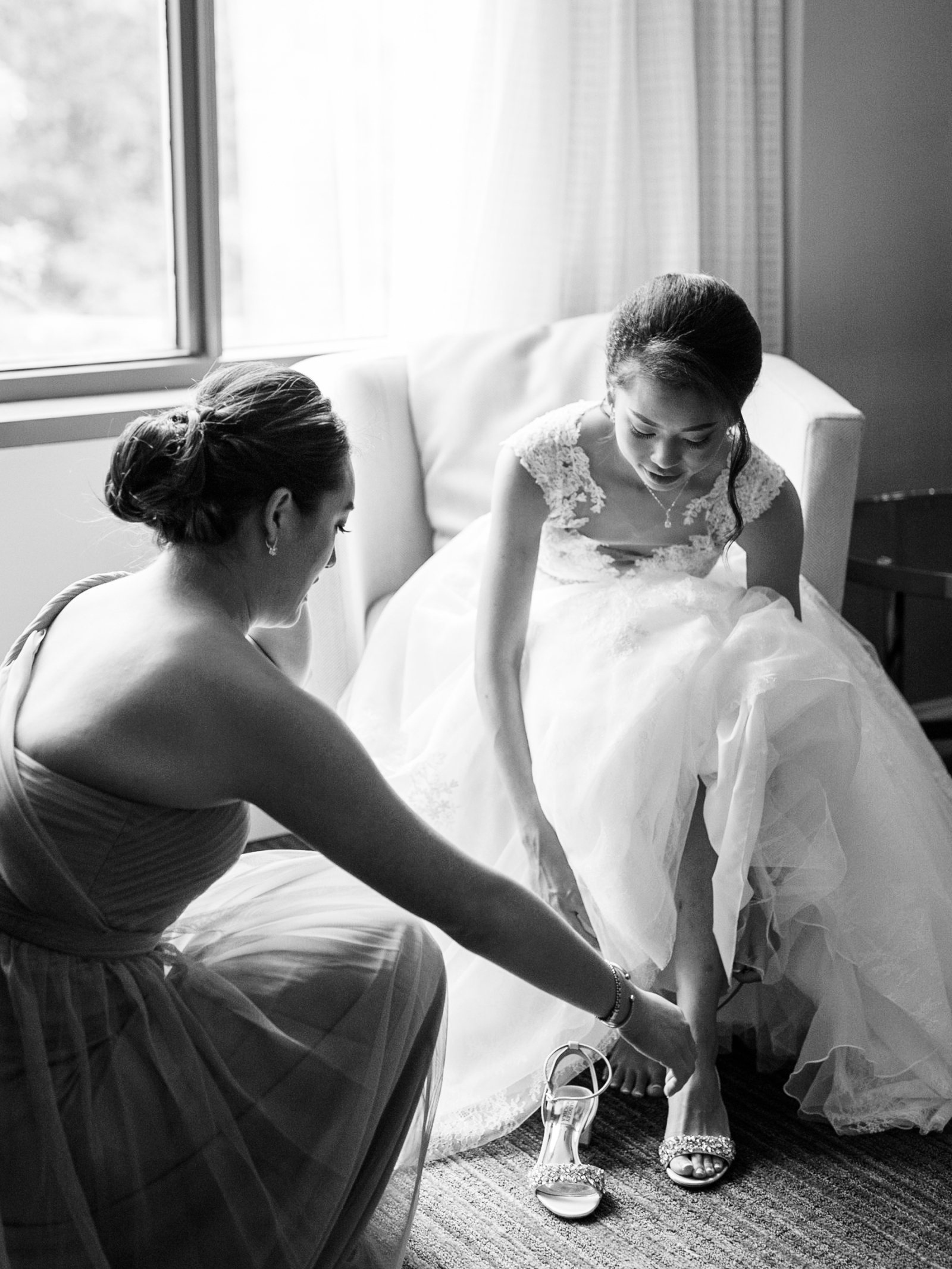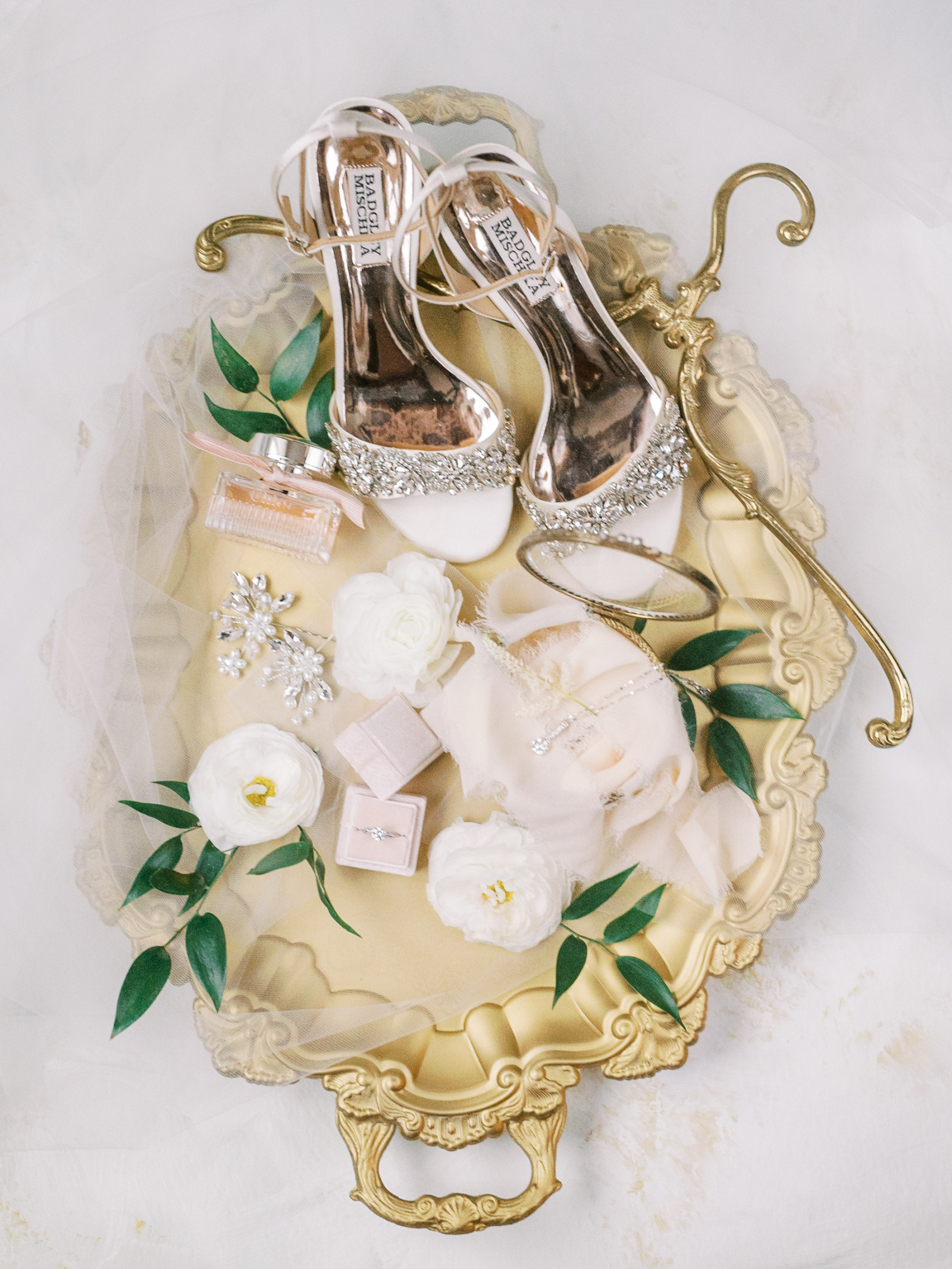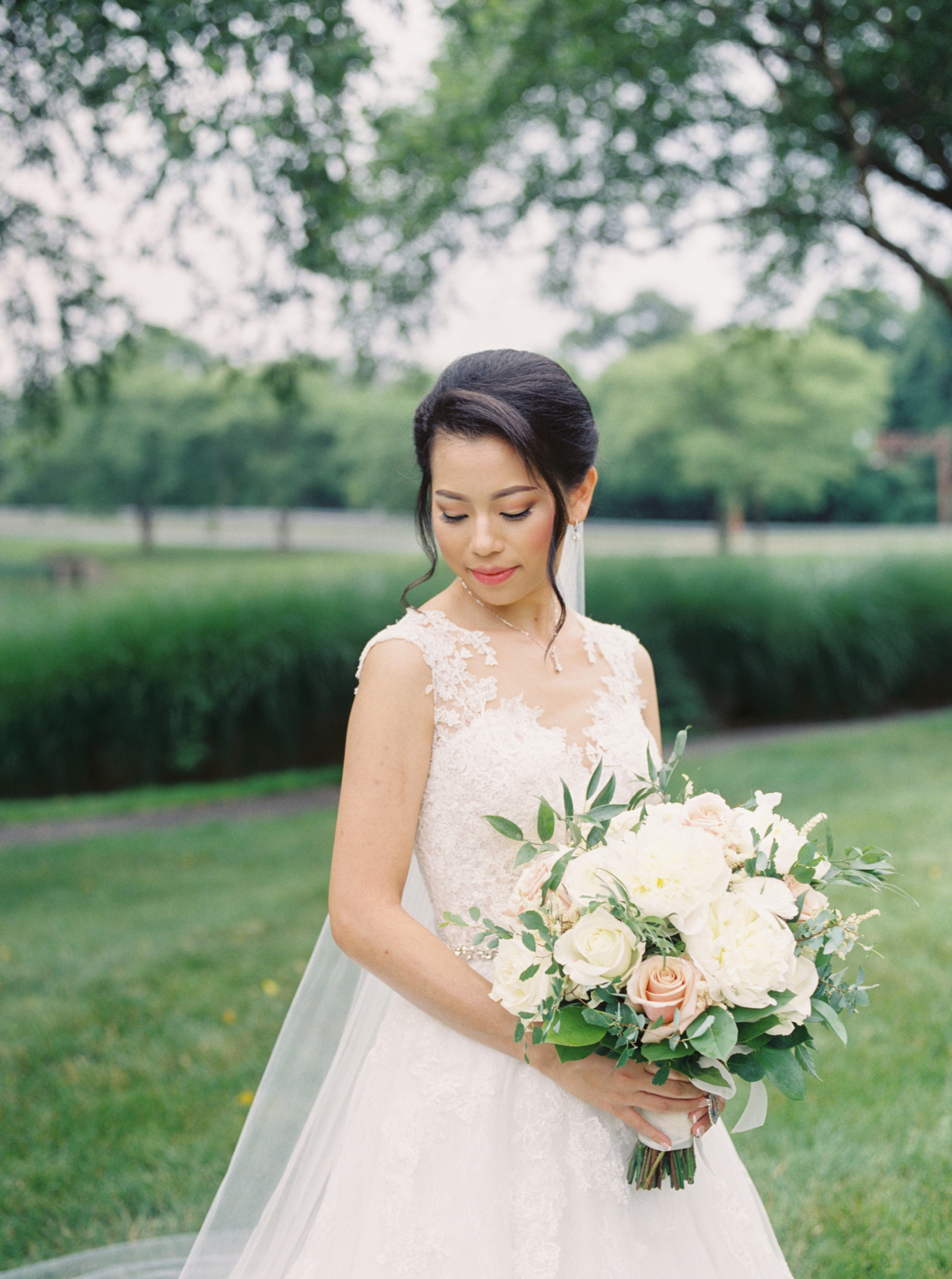 DID YOU HAVE ANY DIY ELEMENTS? Yes definitely. I basically DIY'd my entire wedding reception in the backyard. I had bought all the decor throughout the entire year of wedding planning. I collected bud vases, spray painted my cake stand, bought my welcome mirror sign and vanity (cake table) off of Facebook marketplace. I ordered flowers from a local wholesaler. I hand cut and pre-arranged all the flowers the night before my wedding with my bridesmaids. I ordered charger plates, chiffon runners, candlestick holders, and pink napkins online. I basically took pictures of how I wanted the items placed on the farm tables and my cousin was able to make my vision come to life. I had a lot of help from my family and was so lucky to save so much money doing everything on my own.
DESCRIBE YOUR WEDDING FLOWERS: My wedding flowers were a dream-come-true. I knew that I wanted my specific florist ever since I saw her work from a friend's wedding. I just loved the way her bouquets were so fresh and full. I listed the types of flowers I wanted and shared inspirational pictures. I told her I loved peonies and they were the freshest peonies I've ever seen in my life, even in my bridesmaids' bouquets! She went above and beyond. When I stepped foot in the church, the wedding coordinator said that they were the most beautiful altar flower arrangements she'd ever seen. For my reception, I kept it simple and elegant with bud vases. It was the perfect touch with the other decor on the table.

FAVOURITE DETAIL OF THE DAY: Boba Bar. A lot of my family and friends know me as a bubble tea fanatic. I've also been given the nickname "Boba Queen." I was able to order catering from my favourite bubble tea shop, Kung Fu Tea. We had the most adorable customised cups that said, "It's time to par-tea!" with our initials and wedding date. This was an idea that incorporated our wedding favour cups. The kids loved it and some adults actually spiked it with alcohol lol. .
WHAT ADVICE WOULD YOU GIVE OUT TO A COUPLE PLANNING THEIR WEDDING? Enjoy the process. It may be very frustrating, but it's literally just one day and it goes by in the blink of an eye.
MOST MEMORABLE MOMENT? The most memorable moment was the church ceremony surrounded by both our family and friends. We didn't see our extended family for a while due to Covid and the last encounters were actually at funerals. My father and my husband's grandmother both passed away within the few months leading up to our wedding. This was finally a happy moment to celebrate together with both families.
WHAT ASPECT OF THE WEDDING WAS THE MOST IMPORTANT TO YOU BOTH? The most important aspect of our wedding was to just have a fun time! We wanted it to be a super laid back reception. There was absolutely no pressure to be formal. Most of our family changed into something comfortable for our reception...one family had matching Hawaiian shirts! It was pretty awesome.v
ANY OTHER DETAILS THAT HELP TELL THE STORY OF YOUR DAY? The necklace I was wearing was a diamond pendant that my father had designed for me before he passed away just a month before our wedding. I was also able to design the wedding gift for my husband, a diamond cross. My dad was a jeweller for a living and it meant so much to us to have a piece of my dad with us on our wedding day.
TELL US A LITTLE ABOUT YOUR HONEYMOON: We originally didn't plan a honeymoon because we were aware of my father's sickness. My father ended up passing away the month before our wedding. Since we were finished with all the funeral arrangements and wedding planning, we decided that we really needed a getaway. Greece and Italy would've been our dream honeymoon, but Covid restrictions in Europe were still strict. So we decided to go back to one of our favourite places, Honolulu, Hawaii. We ate a lot of good food and saw amazing views on many hikes!
IS THERE ANYTHING YOU WOULD CHANGE OR DO DIFFERENTLY? Not at all. I think everything happens for a reason. With Covid, our original plans had changed completely. Even though our guest list was cut by two-thirds, it was the most intimate and fun party in our own backyard! We both truly enjoyed our special day and we wouldn't have wanted it any other way.
A huge thank you to Washington DC wedding photographer FEATHER & FAWN PHOTOGRAPHY for sharing this beautiful wedding with us. Owner Angel loves capturing moments of love and joy, especially on a wedding day. "Wedding photography is so dear to my heart because I love seeing families and friends get together to celebrate the couple as they embark on a new journey together as newlyweds, to turn a new chapter of their lives together with love, and to vow a lifelong commitment to each other in front of their loved ones." Head over to her portfolio to see more.