MCGOVERN GARDENS, located in the heart of Houston's vibrant Museum District, provided Lu & Givens the garden paradise feeling that they wanted for their wedding celebration. More intimate and beautiful than a hotel event space, it had water features and fountains that were illuminated at night, creating an atmosphere of splendour. For them it was the perfect location. Houston wedding photographer MARNI WISHART captured their beautiful day.
WHAT WAS THE INSPIRATION BEHIND YOUR WEDDING STYLE? Our florist CALI & BLOOM presented an amazing visual for us! We loved the look and concept that she developed from our conversations with our planner SPELL EVENTS and our pinterest board. Our goal was to let the garden shine, we were already in such a beautiful location for the reception (not to mention the church was grand and architecturally significant) that we didn't want the florals to overshadow the beauty of our venues. The table setting and colours were also selected to complement, not overwhelm with bright colour and a garish presentation. We strove to highlight the venues as they stood, while also giving the space a unique wedding environment.
HOW DID YOU MEET? At work, a dorky vegetarian white guy worked up the courage to ask a spontaneous and bubbly (also beautiful) Chinese girl on a date after Lu announced her intention to leave our company for a competitor. She thought the idea of a date with such a man so ridiculous that she considered the date a "networking event." Fast forward five years later and the networking event certainly increased Lu's network with a lifelong colleague she can't get rid of!
TELL US ABOUT YOUR PROPOSAL: I asked Lu to marry me in Austin, Texas as the sun rose above the 360 overlook bridge at 7:30 in the morning early in October. I had asked Lu's parents for permission in a letter I had written them weeks earlier. Her parents had included a response, and I had both my initial letter and the parent's response in my pocket along with the ring; after a brief hike, I gave her the letter to read first, followed by the ring. Next, a photographer hidden in the bushes snapped everything, and we had a miniature photo session on the spot. We spent the remainder of the day going to a winery, taking a boat ride on lake Travis, and enjoying dinner and after dinner drinks.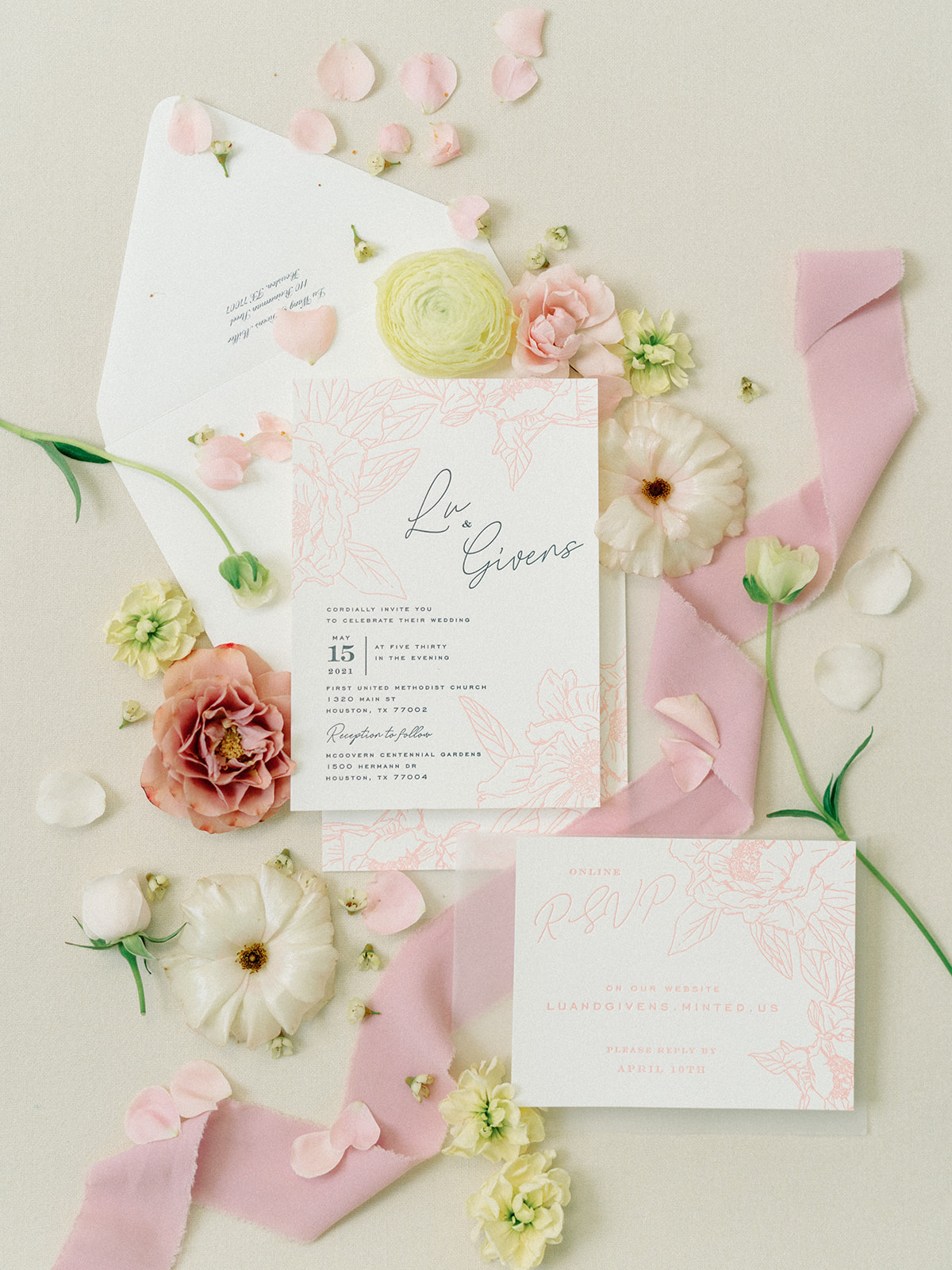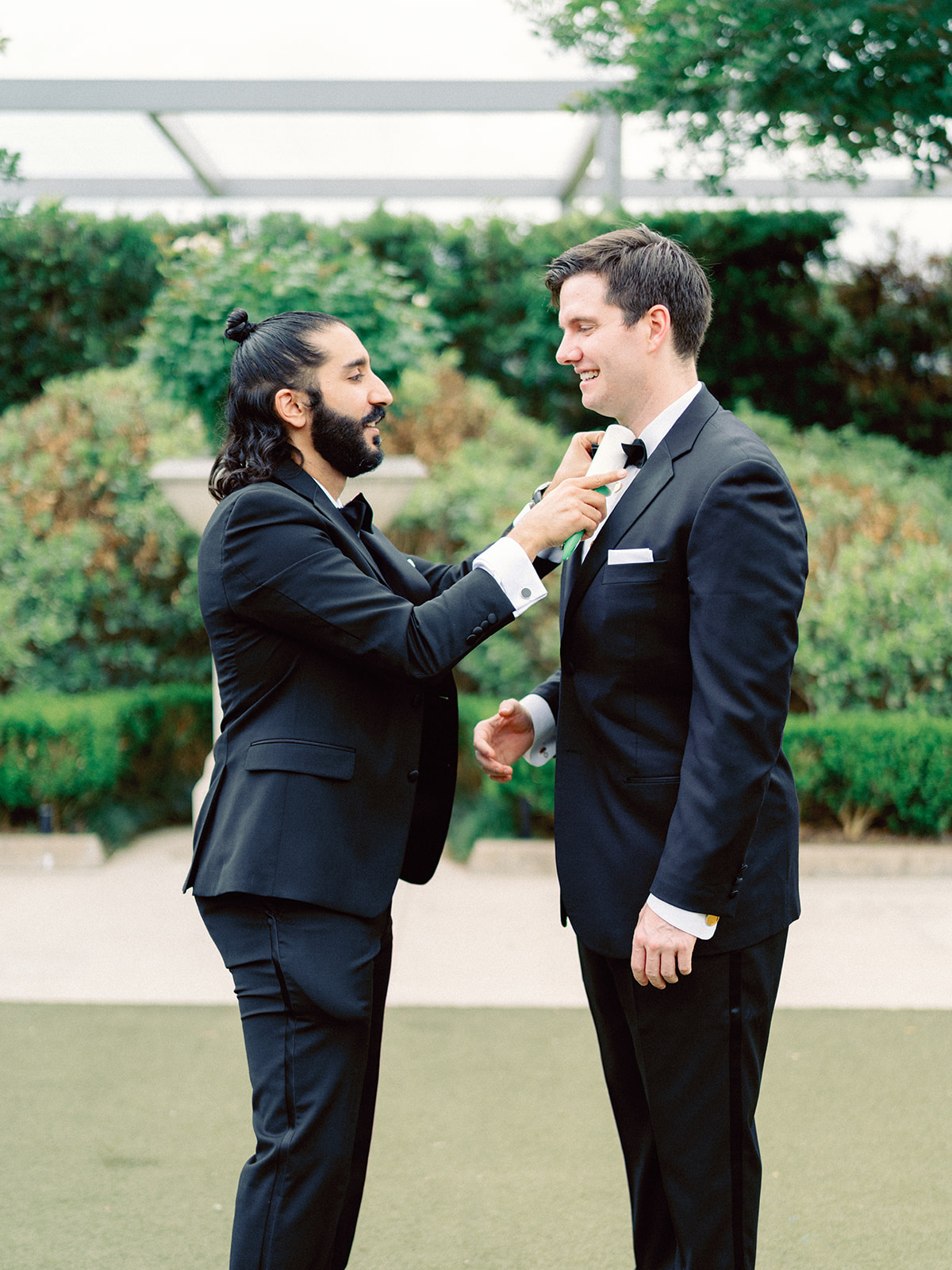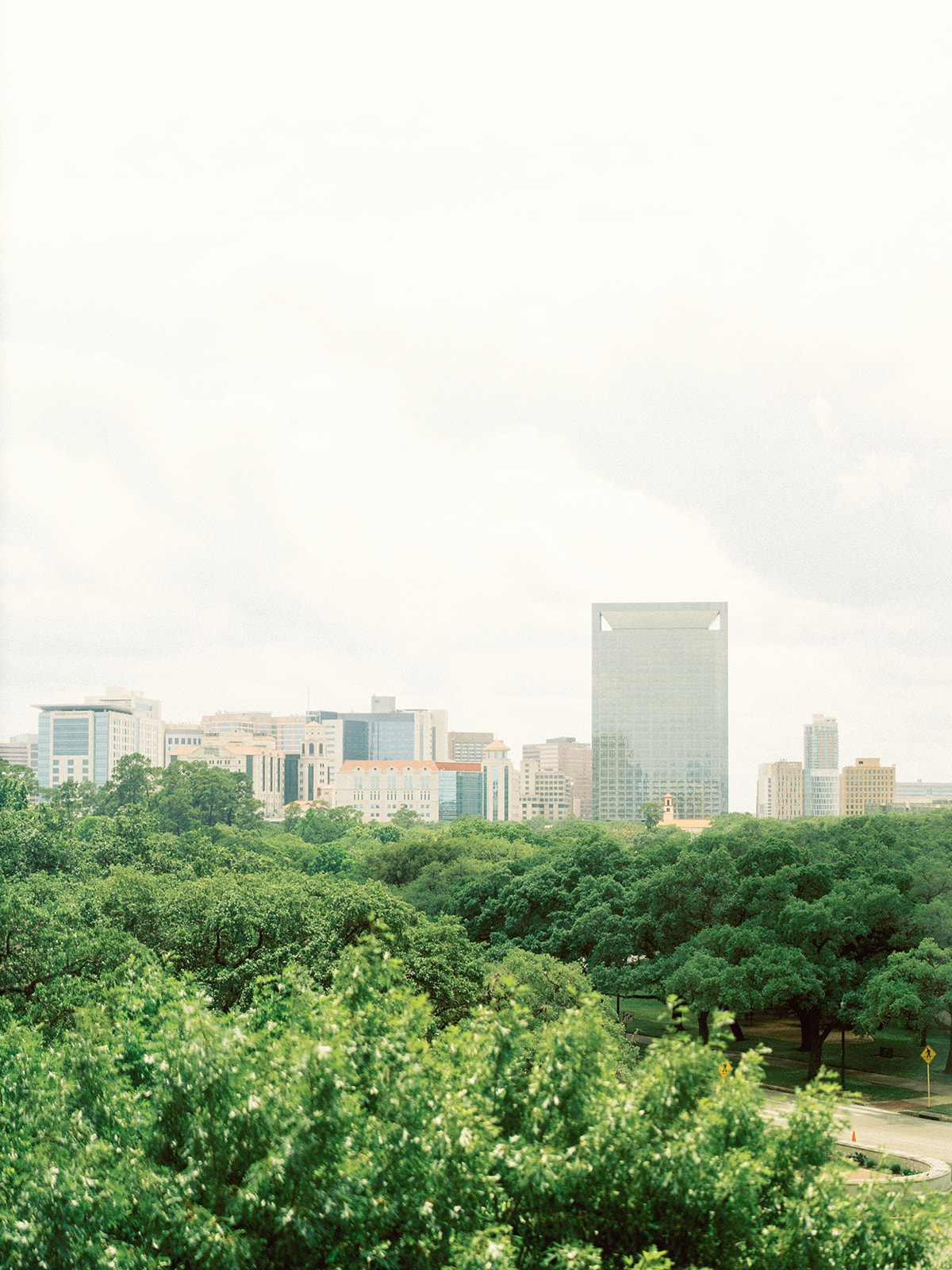 TELL US ABOUT FINDING YOUR WEDDING DRESS/ATTIRE: We picked a dress store based upon a recommendation from a friend. Lu and her sister shopped around and went to some big stores but settled on a friend's boutique recommendation after feeling like the style and look of the dresses was premium despite the store's size. Lu tried on eight total dresses and the other dresses didn't excite her despite being more expensive; then, at the right time of the afternoon, as the sun fell through the window of the shop, Lu tried on "the" dress and looked fantastic in the afternoon sun. It wasn't the most expensive or most well known designer but the moment when she tried it, her radiance resplendent in the fast setting sun, quickly dispensed of the need to try another dress.
DID YOU HAVE ANY DIY ELEMENTS? We brought two champagne glasses from Lu's friend that lives in Australia but couldn't make it due to coronavirus restrictions. The glasses were incredibly nice; however we were so excited cutting the cake we forgot to toast with them!!! My dad also gave Lu a large bracelet right before the ceremony to commemorate our union.
DESCRIBE YOUR WEDDING FLOWERS: Warm champagne colours, a muted pink, white and yellow. Our florist was great because she repurposed flowers from the ceremony to our reception and the table settings looked amazing! It gave a very warm and sweet feeling to the room as people sat down to eat.
FAVOURITE DETAIL OF THE DAY: Lu's parents couldn't make it to the wedding due to coronavirus restrictions in China and this prevented them from being present in person. But when the families gave speeches, Lu's parents had a pre-recorded video that was subtitled in English. It was an especially amazing moment because Lu was given away by her Uncle that lives in the US, so this gave the guests and the new couple a chance to feel connected to our parents across an ocean, that were certainly with us in spirit (and by zoom!) but unfortunately not in person.
WHAT ADVICE WOULD YOU GIVE OUT TO A COUPLE PLANNING THEIR WEDDING? Get a wedding planner who will help you stick to your budget. But most of all get a wedding planner! You cannot possibly handle all the needs of a wedding on the special day and the experts know how to properly handle every situation, have familiarity with vendors, and organise you and your spouse for an amazing day.
MOST MEMORABLE MOMENT? Our most amazing moment was our first dance and our entrance with the rest of the bridal party. We danced two songs and including a Latin bachata. The other song was Beautiful in White by Shane Filan. The introduction of the bridal party was incredibly memorable as everyone was cheering and excited to see us finally walk in as a couple after the ceremony.
WHAT ASPECT OF THE WEDDING WAS THE MOST IMPORTANT TO YOU BOTH? Both of us really value photos and the capturing of a once in a lifetime event. We had a wonderful photographer and we were beyond pleased with the outcome of our photos. I think Marni Wishart Photography was the most amazing vendor by far, she went above and beyond the contract specifications, meeting Lu early to capture her getting ready moments. Lu's bridal shoot also turned out spectacularly, with Lu feeling her smile and dress were perfectly captured. During the reception she captured everything from our first dance to our last dance and our sending off photo! The dedication and commitment to capture our special day exceeded expectations!
Additionally, I am a religious person so the church ceremony was incredibly moving and beautiful. Our pastor read our letters to one another and administered our ceremony in the most memorable and loving fashion.
ANY OTHER DETAILS THAT HELP TELL THE STORY OF YOUR DAY? We had a small wedding, about 75 people, but honestly it was enough. It was well attended by our closest family and friends. Lu's parents, uncles, aunts and cousins couldn't make it due to coronavirus restrictions in China, but we felt their blessings regardless. Our wedding, by chance, fell into a sweet spot of the pandemic (May 2021); most people had gotten vaccinated and the new variations of the virus had yet to emerge, so all attendees felt safe to party maskless! What a blessing! And we felt it was bestowed upon us by Lu's parents wishes from China for a successful event in their absence.
TELL US A LITTLE ABOUT YOUR HONEYMOON: We went to Honolulu, Hawaii on a five day trip. It was an incredible experience, we stayed in Waikiki beach at the pink (and historic) Royal Hawaiian hotel. It was incredible and memorable. We rented a red Jeep Grand Cherokee and did some amazing hikes throughout the island. Ate good food including: brunch, Japanese ramen, and Seafood. Finally, we finished our trip with an amazing helicopter ride around north Oahu. Lastly, we finished with a toast of champagne and a song in the garden of our hotel right before our flight.
IS THERE ANYTHING YOU WOULD CHANGE OR DO DIFFERENTLY? Differently? Not much, we really think the wedding went perfectly! However, I think the one thing we found most surprising were some vendor contracts. We didn't understand the nature of certain contracts all that well and we were expecting a much different product than what we ultimately received; the cost to meet our expectations was higher than we anticipated. I would recommend having upfront and honest conversations with your vendors regarding final product so that you can manage expectations, and are not surprised with an underwhelming product and additional costs on the backend.
A big thank you to Houston wedding photographer MARNI WISHART for sharing this stunning wedding shoot with us. A deep appreciation for the great outdoors is fundamental to who Marni is and this together with family and art, are the influences she brings to her photography. If you're a Texas bride looking for a Houston wedding photographer get in touch with Marni and see more of her work in her vendor listing here.