After visiting six venues in the Dusseldorf area where they live, Jacy & Claudius fell in love with SCHLOSS GRÜNEWALD. Located in the beautiful area of Solingen, with lush trees and flora, it offered them a very private location and had an "old German" feel to it with stonework and wooden beams. "We wanted the location to have a big garden for our wedding and also a venue for the dinner reception. Indeed the place had a big garden and an event location and all guests said it was really nice and special. Geriel Ramos of ARTYSTAFOTO captured their day with these beautiful images.
Beautiful bride Jacy tells us, "I am a fan of rustic themed weddings, but I also wanted it to be feminine and soft with lace and floral elements. I found some inspiration online and in the end I chose the colour scheme of pastel pink, green, and blue, and also selected the flowers personally. I met a talented decorator in the Philippines and he made the flower decor and I brought them to Germany. As for the real flowers (table decor, bouquet etc) we ordered these from a florist in Germany and he made the, beautifully."
HOW DID YOU MEET? We met at work as we both work at the same global company, working together in some projects. We started out as work colleagues, which later grew into a friendship. We starting spending more time together and got to know each other, learning we had a lot of similarities in spite of being different (I am from the Philippines and he is from Germany). We both have the same humour, same likes, same way of thinking – and soon it was inevitable that our friendship would grow into something more.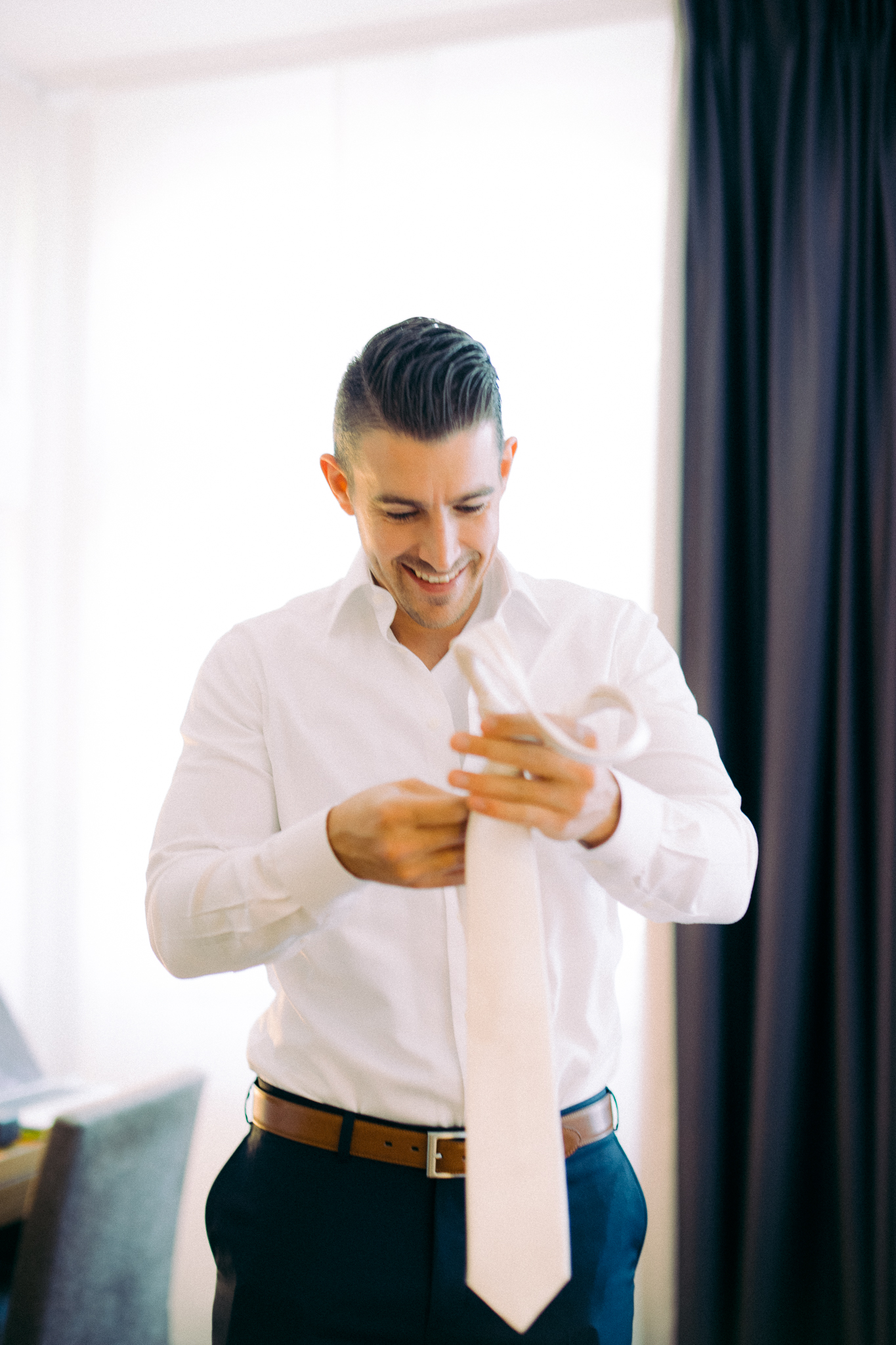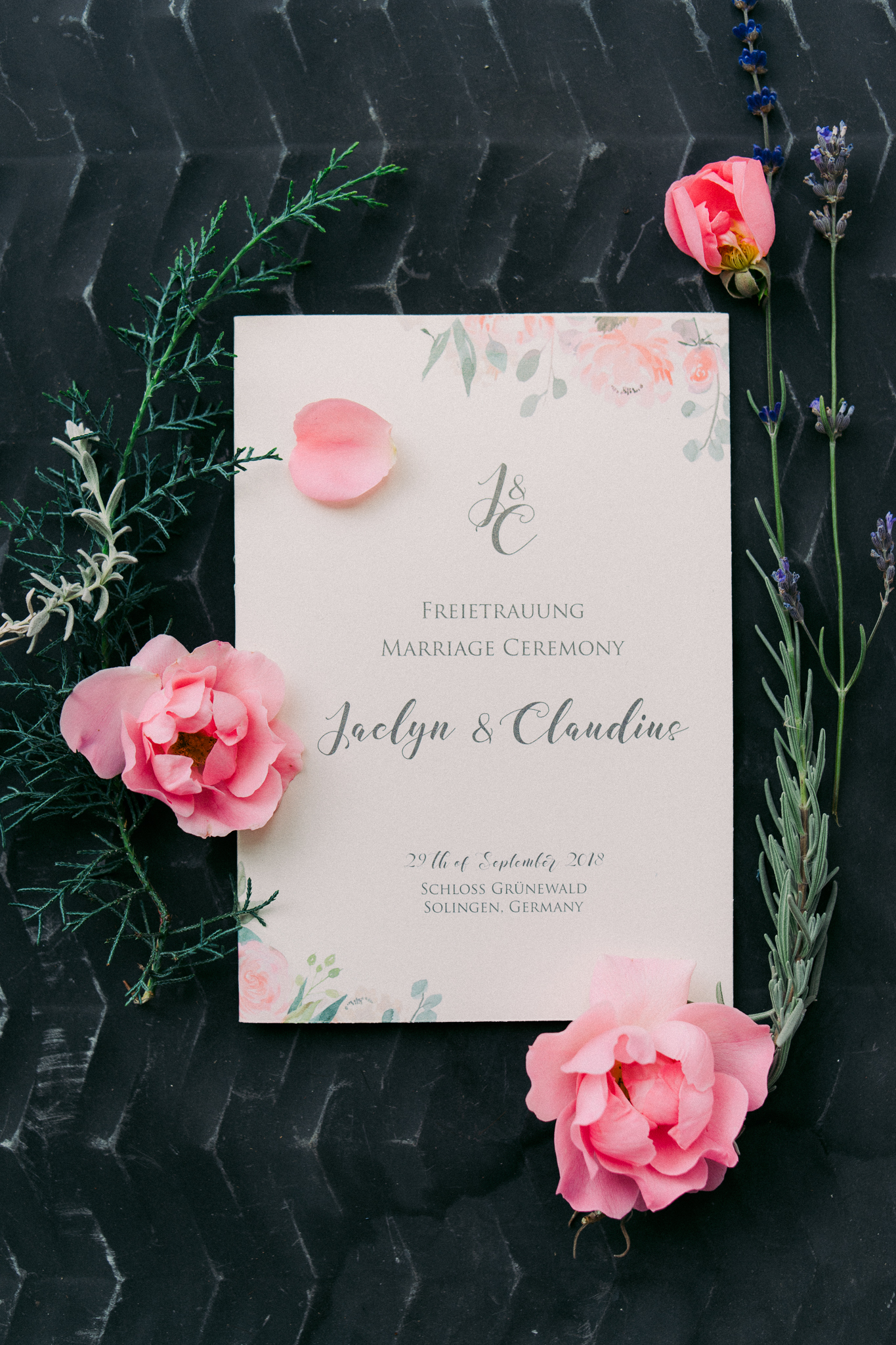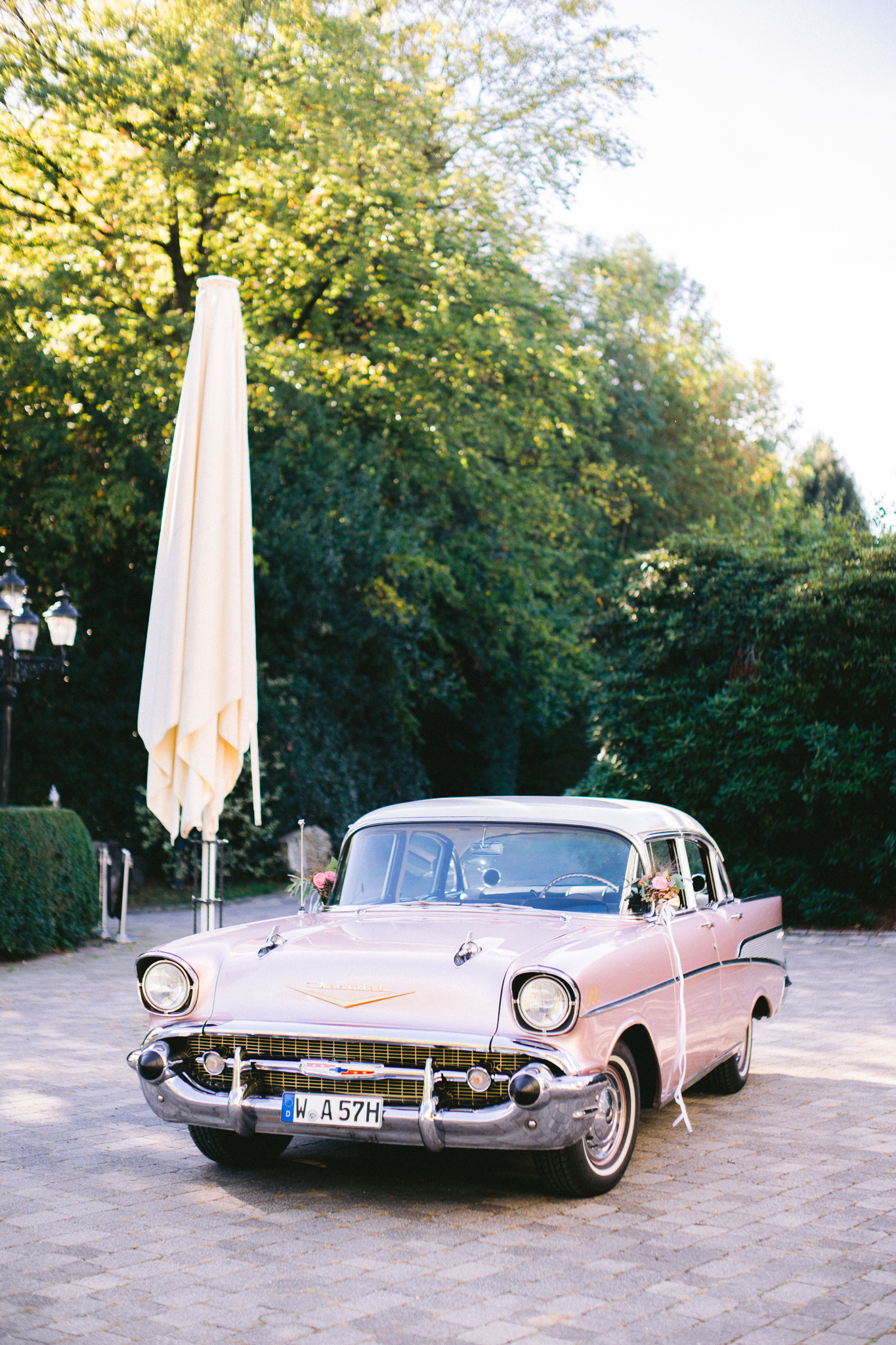 TELL US ABOUT YOUR PROPOSAL: One of the things we enjoy doing is solving Escape Rooms. We find the task exciting, challenging and fun! We probably did over 20 escape rooms all over the world! This being our favorite hobby, naturally that's what he had in mind as the venue of his proposal. That's how he planned it - it HAD to be in an escape room. He bought already the ring in July and only was able to propose 3 months later when we finally found common time with his brother and best friend to book an escape room with whom he was already planning the proposal secretly. It was in Team Escape in Düsseldorf. After going through all clues in the room, as a last task he created his own "clue" where I had to solve a puzzle with cut out letters which in the end spelled our "Marry Me?". I really didn't realize at first it was a proposal, as I was shouting out "Marry Me! Marry Me!" thinking the door would open and we could escape! As nothing happened I looked at him, puzzled, and was so surprised to see him down on his knees with the ring as he asked in German "Willst du much heiraten?" (Will you marry me?) I was in shock, it was totally unexpected…. I said YES! But with part of my mind still in the game I said "we need to escape the room first, we only have 16 mins left!!" (Obviously I was still in game play mode!). They all laughed and said actually the final task was already solved, and my husband just added the last one. The door was already supposed to open automatically after the real last task but the guy outside (game master) was holding it so it would not open! It turns out the escape room company was in on it as he coordinated with them a few days earlier. When all we went outside there was already champagne - everything prepared. It was so sweet - I cried!

TELL US ABOUT FINDING YOUR WEDDING DRESS: Although we already live in Germany, I really wanted my wedding dress to come from a Filipino designer. So when I travelled back to the Philippines I contacted 3 designers -- but ended up seeing only Richie Ortega-Torres who made my dress. She was very prompt and nice in replying to my queries. I met up with her and showed her what kinds of elements I liked/not liked and she drew it up and sent it to me days later. I loved it! It was to be fully beaded with intricate designs of lace/pearls/beads. The whole process was 4 months from conceptualisation to final output. I LOVED IT! To add a bit of variety Richie made it in a way that the top part could be changed 3 different ways, with the whole dress remaining the same. First was long sleeves with sheer tulle, fully beaded intended for the garden wedding. For the reception, the long sleeves could be removed and over it I wore a fully beaded see through cape. For the dancing and party I then put on a short sleeves tulle top, beaded at the shoulder area. Different top looks but the main dress stayed the same.

DID YOU HAVE ANY DIY ELEMENTS? Yes! The guest favours were custom-made and I arranged and wrapped them myself - spa items as we love to go to the spa. The floral decor was also made with the help of the decorator from Manila. The chair covers and table covers I sewed myself!! The candy bar and venue decors were also decorated with the help of family and friends!

WHAT ADVICE WOULD YOU GIVE OUT TO A COUPLE PLANNING THEIR WEDDING? Start as early as possible and get inspirations online. Choose and mix what you like. Important is that the couple agrees in every aspect of the wedding and agrees together.
MOST MEMORABLE MOMENT? In the latter part of the program, we were asked to sit beside the dance floor. The groomsmen suddenly gathered in the dance floor and starting dancing. I asked my husband what was going on, if he know about the dance surprise and he said he had no idea what was going on. The boys then pulled him into the dance floor as he hesitated, and when the next song played they starting dancing in tune! It was a well-prepared surprise dance! I was laughing so hard, I told him, you're such an actor, you knew this! It was a hit, they danced six songs (all with some meaning to our relationship) and the guests had a blast! It was so cool and fun!

ANY OTHER DETAILS THAT HELP TELL THE STORY OF YOUR DAY? We only had 70 guests - just the way we liked it, close family and friends. The people there were special to us, knew our love story and all the tough times we went through. It was wonderful to hear that our guests enjoyed our wedding, saying it was special and they would remember it forever. Every element and moment was perfect.

TELL US A LITTLE ABOUT YOUR HONEYMOON: We wanted an adventure kind of honeymoon. We wanted to visit World Wonders as we already visited the Taj Mahal back when we were still friends. We decided to visit Chichen Itza in Mexico and Machu Picchu in Peru spending one week in each country. They were so beautiful!

IS THERE ANYTHING YOU WOULD CHANGE OR DO DIFFERENTLY? Yes. We should have also hired a videographer. We thought we wouldn't watch a wedding video as much as look at our photos. This is our one regret! We should have hired one, all the moments were so special!