It was colour and lots of it that inspired Baylee & Jarod's Fall Arkansas wedding. Beautifully captured by Arkansas wedding photographer ERIN WILSON, the wedding was held in the couple's backyard - making it so personal - surrounded by beautiful trees during their peak colour change. The couple met through Baylee's dad who is a pilot alongside the groom. They hit it off and the rest is history. Their gorgeous ceremony took place on the lawn of their home at sunset. They celebrated the day under a tent, beautiful lights on their property and their wedding was full of special details for them. Their wedding programs were paper airplanes, their favours were tiny shots of fireball (one of their favourite drinks) and their wedding reception served the most gorgeous charcuterie board, mini-desserts and pies and the prettiest cake. They had a fun live band and danced and celebrated the night away. Photography Erin says, "I loved their colour palette of soft blues, pale blush and gorgeous rich fall colours like burgundy, rust, and orange. It was such a fun and gorgeous wedding."
Gorgeous bride Baylee tells us, "Fall Foliage was the main inspiration for my wedding along with colourful natural elements that would compliment our outdoor reception area. Having the ability to see our wedding space daily allowed plenty of time to cultivate ideas of what I wanted, which was helpful. Most importantly I made a point to chose details that felt natural to me and reflected our own personal style. We wanted to create an atmosphere that was inviting and enjoyable so that our guest would feel at ease to have a great time and let loose. We love a great party! Having a wedding at our home did bring a lot of challenges I didn't really think about at first, like lots of yard work! I am so so thankful my mom has a green thumb!"
HOW DID YOU MEET? Jared and my dad are both pilots and have known each other for years. After seeing each other at a wedding, my step-mom made a statement about how Jared and I would make a great couple. My dad thought it would be weird to ask his friend to date his daughter, so my stepmom arranged for us to go on a blind date. The same week Jared drove an hour to take me to dinner at a local place in Little Rock where I was living at the time. From the moment we meet we were instantly comfortable with each other and never stopped talking the entire night! We went out on a Tuesday so the restaurant was fairly empty, a couple setting next to us stopped at our table on their way out to ask us if we were on our first date, of course we nervously said yes. The couple then told us, "we could tell, you two are really hitting it off,"! The date went so well the next day we decided to meet half way at a BBQ place and have our second date and the rest is history! My parents love to take credit, and my dad always likes to say Jared came "pre-approved!"
TELL US ABOUT YOUR PROPOSAL: Jared proposed at the Capital Hotel in Little Rock the night before we left for a week long vacation in Mexico. It was nice to have to week after our proposal to spend with each other before the craziness of planning a wedding began.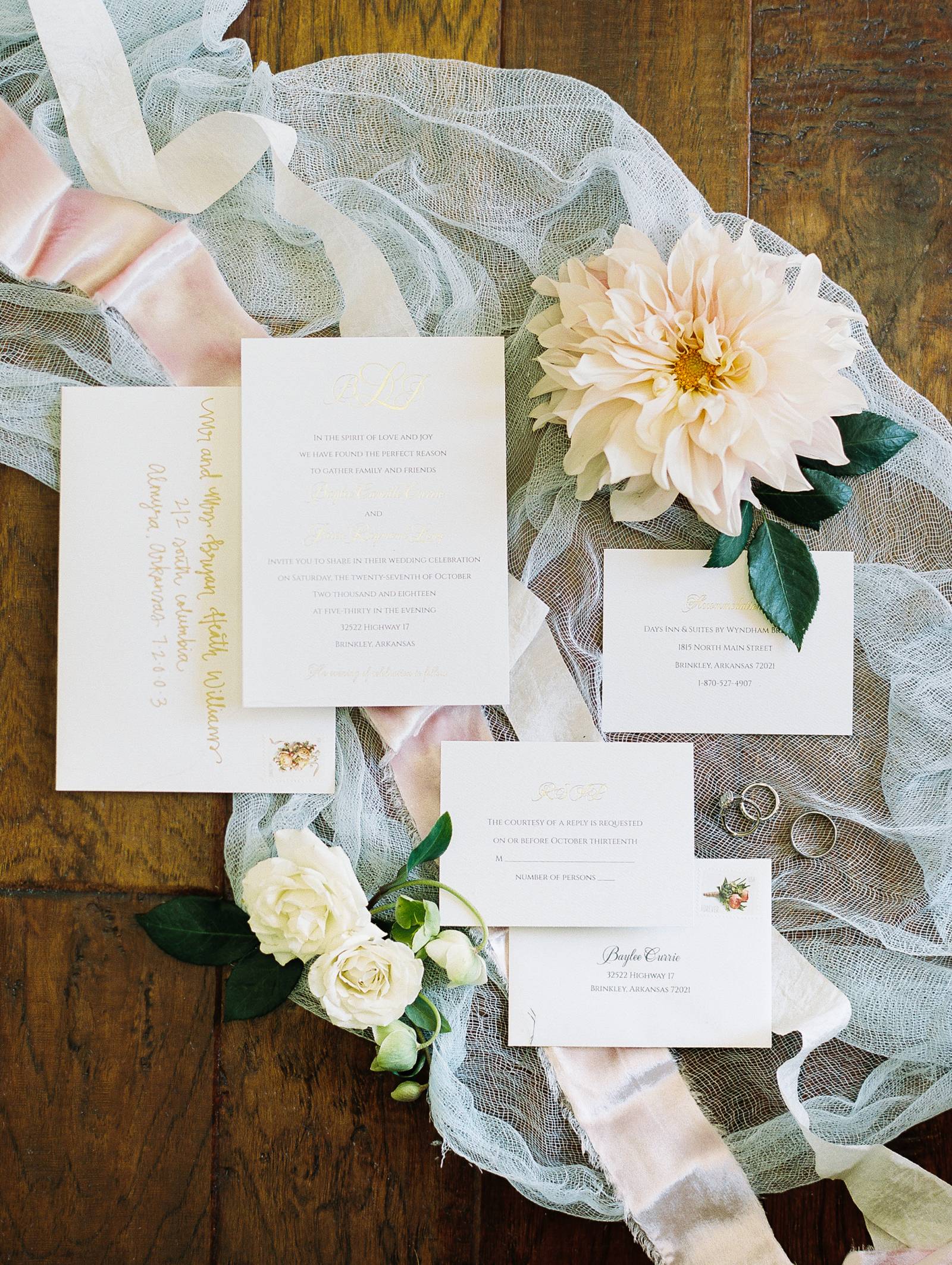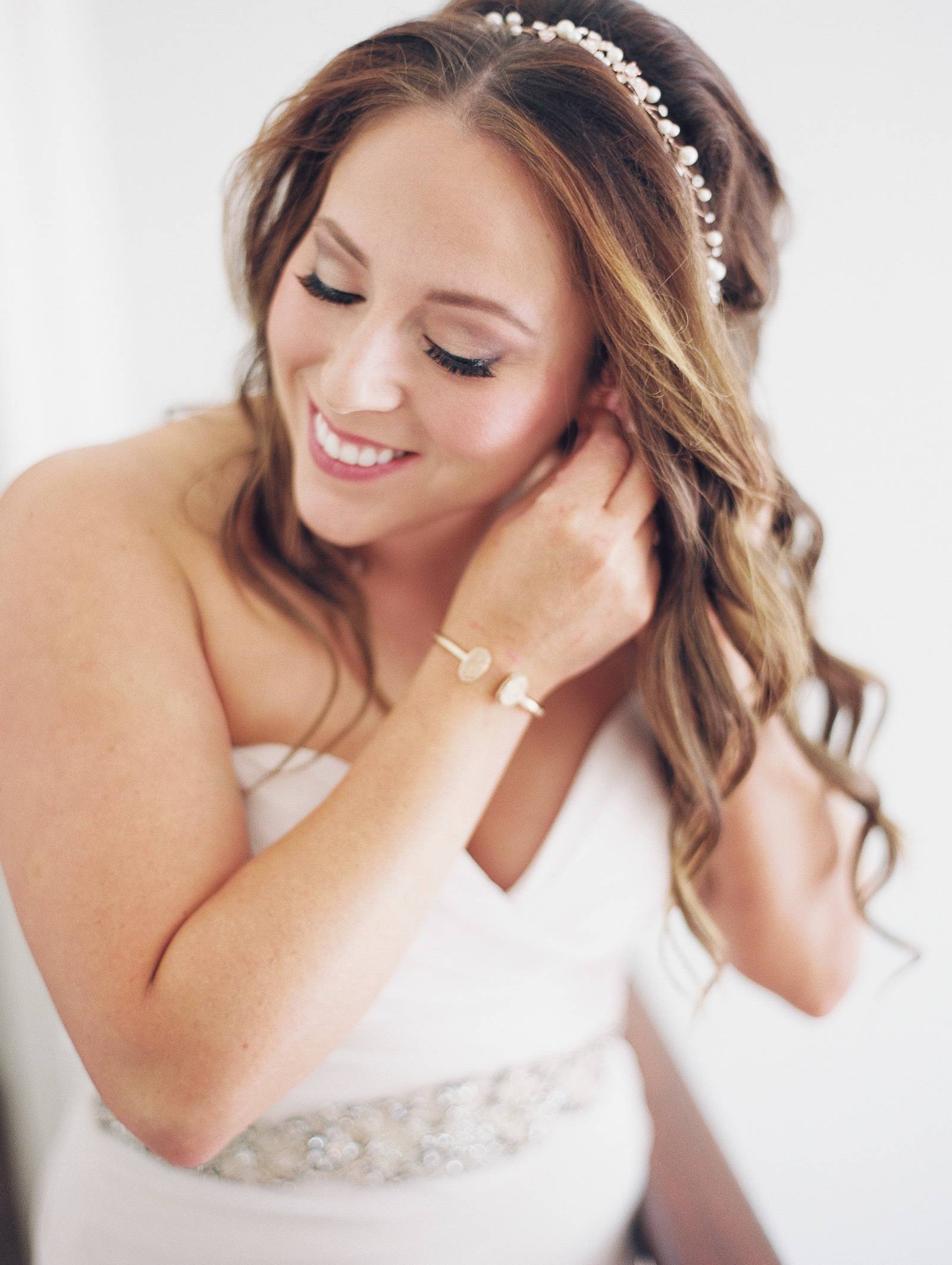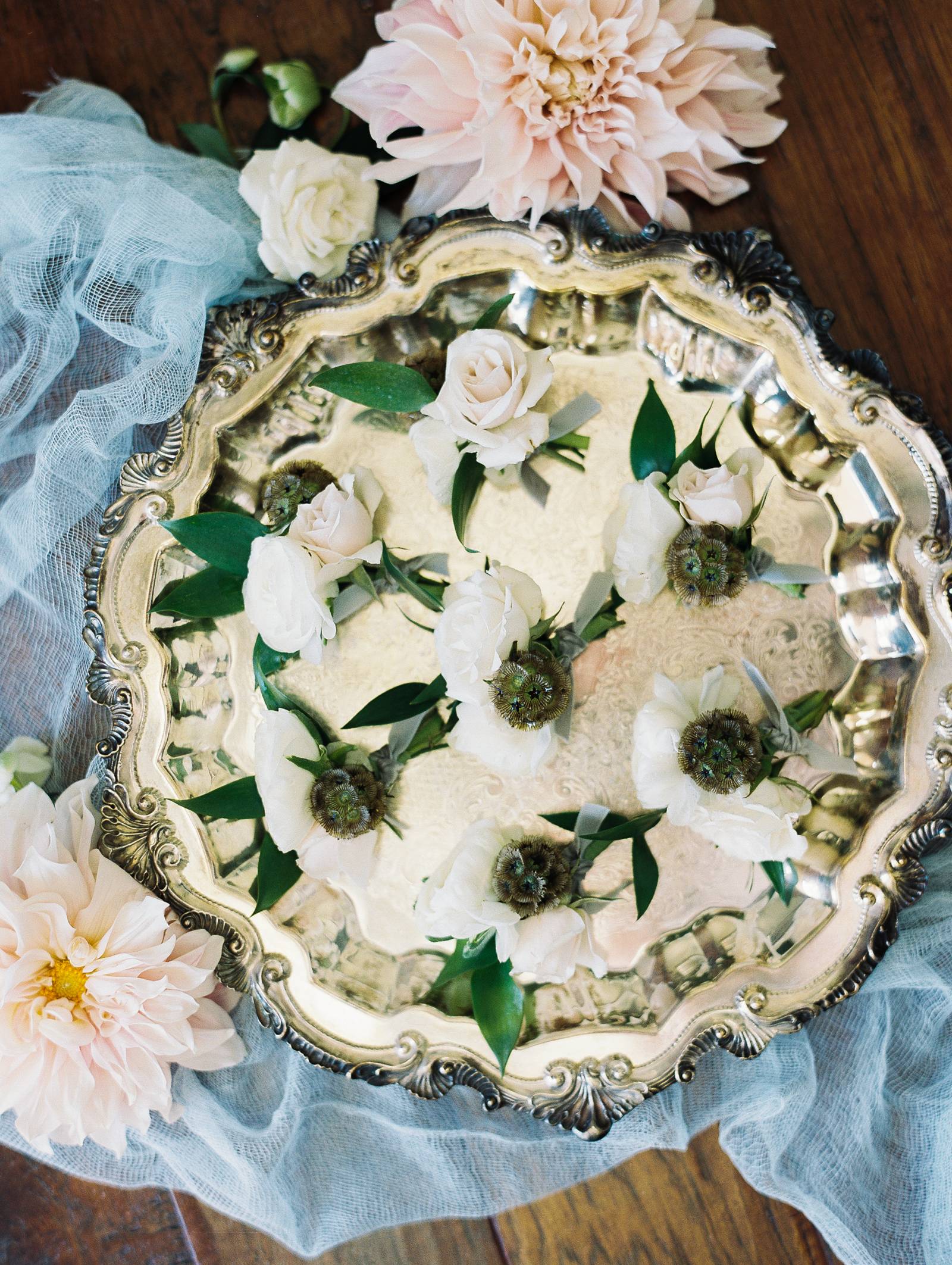 TELL US ABOUT FINDING YOUR WEDDING DRESS: I had been following different bridal shops in the area for some time trying to get an idea of what I was looking for. The one thing I was sure of was that I wanted a blush wedding dress, something with plenty of colour! I saw on instagram, a dress shop nearby was having a sample sale and appointments weren't needed so I called my mom and she agreed to meet me there after work. Having mostly white dresses as samples, I tried a few on to see what silhouettes I preferred , but I instantly knew anything white or cream was out! I then spotted a strapless blush gown and tried it on. The moment I looked in the mirror I knew it was the one. The blush complemented my skin tone so well and it had a beautiful whimsical tulle train. Getting my dress at a sample cost also allowed me to get a reception dress that was easy and fun to dance in!
DID YOU HAVE ANY DIY ELEMENTS? My mother made small jars of strawberry pepper jelly, a southern staple, as guest favours. After helping me make every wedding decision, she still took on the task of making 200 small mason jars of pepper jelly! It was a great token of appreciation for our guest. I still get compliments on how delicious the pepper jelly was!
DESCRIBE YOUR WEDDING FLOWERS: I wanted a whimsical unstructured design with varying textures and colours and I think that is exactly what I got! I love the look of magnolia leaves with the dark green front and gold velvet-like back, they are also traditionally seen in the south, so we incorporated a lot of those. Kelly, my florist, also used different flowers with blush and maroon tones to bring in vibrant colours to the other natural elements of our design plan.

FAVOURITE DETAIL OF THE DAY: I wanted to bring Jared's passion for aviation into the wedding in some way. My bridesmaid and I, hand folded our ceremony programs into paper airplanes. It took a little practice to remember how to fold a paper airplane but they turned out so sweet! My Mother is from Mississippi and I love to collect McCarty and Peter's Pottery a part of Mississippi Delta heritage. I had two little white clay birds serve as my cake topper and white clay wine goblets instead of champagne flutes. My caterer also used pottery from my families' collection as serving pieces. This was a small detail many may have not noticed, but it meant so much to me to have those personal pieces. Oh! And to keep with the blush colour theme our cake had a beautiful light blush icing, my baker had the idea and I fell in love!
WHAT ADVICE WOULD YOU GIVE OUT TO A COUPLE PLANNING THEIR WEDDING? A wedding planner is a must! I was lucky enough to have a wedding planner and florist in one! Once I explained the vision of my wedding Kelly, my wedding planner, was able to design my reception and come up with the most beautiful floral concepts. Also decide what element of your wedding is most important to you and your groom. For us this was the reception, I wanted a huge reception/party where we just so happened to get married. Not a traditional outlook, but perfect for our personalities. Going with that plan, we made sure we had good food, a large dance floor, and great music!
MOST MEMORABLE MOMENT? Before the wedding ceremony the entire wedding party waited inside our home while guests were being seated. Emotions were high and everyone was so excited, I remember standing in the window and looking out at all of our guests. It was so surreal to see everyone there, I took a moment to take note and remember being so thankful they came so far to celebrate our love for each other.
ANY OTHER DETAILS THAT HELP TELL THE STORY OF YOUR DAY? We both come from a family of farmers and Ag pilots, so rice farming is an important part of our family and community. We live beside a rice field, so I hand picked stalks of rice to incorporate into our flower arrangements. Trust me it is harder than it sounds! I saw another bride in our area use rice stalks in her wedding and I thought it was such an amazing idea! Another detail that was important to me was the placing of our wedding party. Almost the entire wedding party were couples so I had the idea to have them stand beside their spouse instead of the traditional wedding party placement. It was really neat to stand at the alter and look over to see our best fiends stand as spouses as we became the last couple to get married!
TELL US A LITTLE ABOUT YOUR HONEYMOON: Our honeymoon was anything but traditional. We traveled with our best friends, who were also in our wedding, to Vermont! We spent several days in Vermont eating, drinking, and taking in all the history and scenery. A highlight was staying in several historical bed and breakfast throughout our trip. We ended the trip in Washington DC before heading home. Traveling with our friends was a blast and countless memories were made.
A huge thanks to Arkansas wedding photographer ERIN WILSON for sharing this gorgeous fall wedding with us. Erin is known for her dreamy wedding photography and loves to serve others by encouraging their creative sides, reminding them how beautiful they are and being as positive and calm in wild situations. "I am extremely passionate about people, art and love. I photograph weddings on film and digital and very inspired by timeliness images that have a little artful vibe." You can see more of Erin's portfolio in our VENDOR GUIDE and you may also want to check out this Modern Italian style wedding with sophisticated southern touches.