Picture this if you will... a family owned olive tree farm, a rural village in Greece, an outlook over the Aegean Sea, and the Ismaros Mountain range as a backdrop. Sound too good to be true? Well it's not and that's exactly the scenario Sharon and Achilleas found themselves in for their destination wedding. Captured by LUSHANA BALE PHOTOGRAPHY naturally they drew their inspiration for their wedding style from the picturesque private estate they held it on. "We wanted to have a Mediterranean family-style gathering in the country side" and these beautiful images show they achieved just that.
Gorgeous bride Sharon tells us, "Maronia is the village where Achilleas' paternal grandparents lived, and where his father, aunt, uncle, brother, and Achilleas grew up. The house and olive tree farm have been in Achilleas' family since his grandparents time. With all the ancient history and personal memories, Maronia has a sort of magic, and holds a special place in all of our hearts. When we were deciding on a venue, we didn't even think twice about choosing Maronia and the olive tree farm."
Photographer Lushana had this to say, "Sharon and Achilleas' destination wedding in Greece last June was one of my favourite weddings that i've had the opportunity to photograph! Their wedding took place in the cutest little seaside village called Maronia in northern Greece where Achilleas' family vacations in the summers and own an olive tree farm. We started the day off getting ready at two beautifully decorated historic homes situated in the town square among narrow alleyways covered in colourful flowers and grapevines. Basically everywhere we turned there was some photogenic little detail. Best of all Sharon and Achilleas, and their families, were so sweet and welcoming that I almost immediately felt like an invited guest rather than just a vendor. Once the smouldering Greek summer sun had cooled down a bit Sharon and Achilleas got married on a hillside overlooking the Aegean Sea at his parent's olive tree farm, which was followed by a casual dinner seated at two beautiful rustic harvest tables lit by string lights. I've always thought there was something so magical about having an entire wedding outside, and this one definitely did not disappoint! They had their first dance just as the sun was setting and finished the night dancing under the open stars."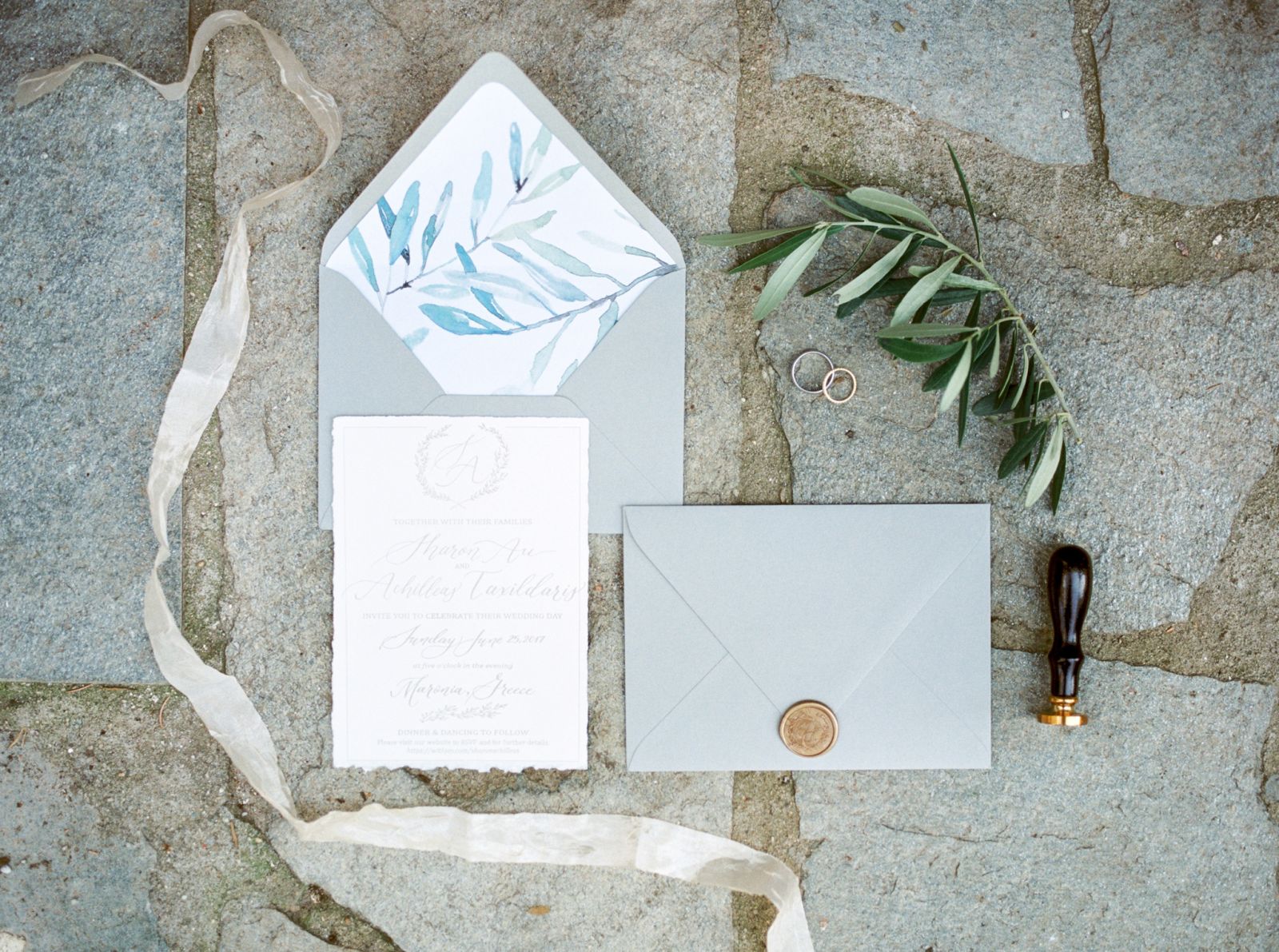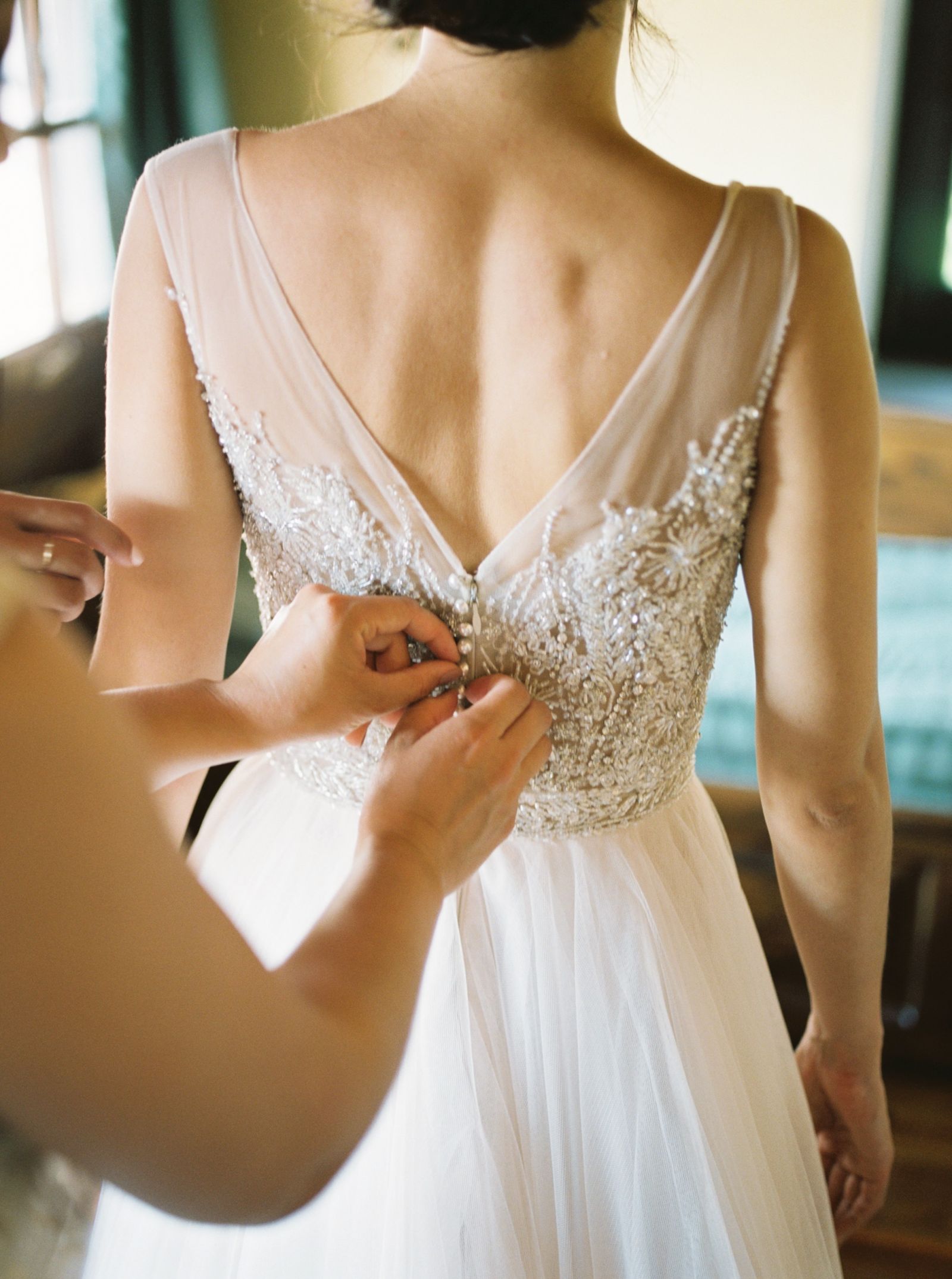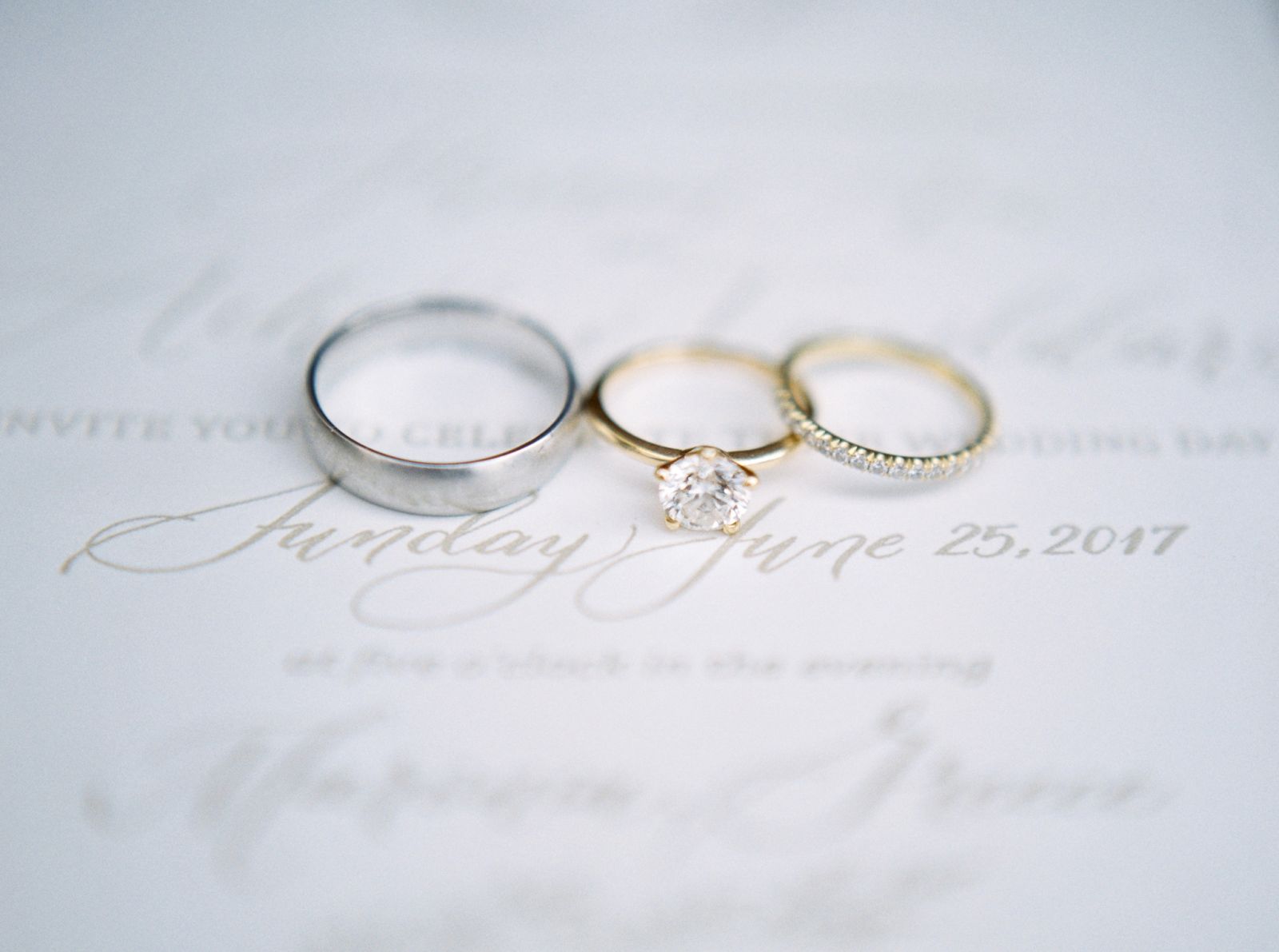 HOW DID YOU MEET? We met online! Before all these new dating apps became popular. Achilleas was new in Toronto, and just wanted to meet people in the city. While I was pressured into online dating by friends months before, and was just about to give up, as I had quite a few bad experiences. He naively messaged me "you have a really nice smile", and I debated even responding to him because it sounded like a mass message. I finally decided to respond because I thought he was cute, plus he looked adventurous and fun from his photos. Apparently, Achilleas thought the same of me. I responded by calling him out on sending me a mass message – he was mortified, as this was not at all the case. Soon after a few messages back and forth, I realised that he was genuine, and the rest was history!
TELL US ABOUT YOUR PROPOSAL: We were traveling in Germany to visit his family and friends. We were taking a stroll after dinner through the Old City by the Rhine River in Düsseldorf. He got on one knee, and the rest was a big blur to me. It was on December 27th, 2015, which he had planned intentionally on my parents' wedding anniversary. I also later found out that Achilleas had gone through plans A, B, C, and D before he could finally propose successfully. He also managed to keep the ring hidden from me even though he had to take it through customs three times – all of which he got his carryon checked by customs with me standing next to him!
TELL US ABOUT FINDING YOUR WEDDING DRESS: This was quite the journey. I had an idea of what I wanted in my head, but when I went to try dresses on in store, that completely changed. Store after store, my bridesmaids and my mom went, but nothing stood out or made me feel special. I started scouring the internet, and finally came across the perfect dress – of course, it was completely out of my budget. I searched endlessly for the dress second-hand, and came across the dress in the right size and colour, unworn! The seller was so sweet, and I had such a great experience, that I wouldn't trade the experience for anything.
DID YOU HAVE ANY DIY ELEMENTS? We are so lucky to be surrounded by so many talented family and friends. All the personal touches we added to our wedding made it extra special for us. I hand-wrote the welcome sign with a chalkboard pen on a framed chalkboard. I made mini envelopes with this beautiful double-sided paper I found at a specialty paper store in Toronto for guests to place their private message cards in the guestbook. It's a Greek tradition to throw rice at the bride and groom after the wedding ceremony. So our friends helped fold little paper boats for each guest to hold the rice. Achilleas and his family have a strong relationship with the sea, and this was the perfect way to tie it into our wedding. The photo booth backdrop was a joint effort between my bridesmaids and friends. They transformed a bedsheet, balloons, and tissue paper into a professional-looking photo booth!
We even had personal touches when it came down to the drinks and food. A friend who owns a local vineyard, gifted us with red wine. Our bestman's grandmother gifted us with two lambs, and Achilleas' dad went fishing for all the fish.
My favourite personal touches would have to be the invitations and favours. I had the invitations designed by a friend, and screen printed by my cousin. Each invitation was hand ripped by my cousin and I to give it a rough, rustic edge. For the favours, we had mini bottles of olive oil and honey from Achilleas' father's farm, which tied together with a ribbon. We attached a thank you tag, which again was designed by my friend and screen printed by my cousin.
DESCRIBE YOUR WEDDING FLOWERS: We had white peonies, dusty pink roses, olive leaves, and eucalyptus leaves. It was the perfect neutral summer palette.
FAVOURITE DETAIL OF THE DAY: Most of our guests didn't know, but we got married at the Toronto City Hall just two weeks prior to our wedding in Greece. This meant that Achilleas' brother Alex could be our "officiant" even though he isn't ordained. This was our favourite detail of the day by far, as our ceremony was so personal. Alex spoke English, Greek, German, and even Chinese during the ceremony, and there were moments of laughter and tears.
WHAT ADVICE WOULD YOU GIVE OUT TO A COUPLE PLANNING THEIR WEDDING? No matter how much you plan, something or multiple things will definitely go wrong. You just have to let it go, live in the moment, and enjoy it! The day is too short for you to do anything else but to enjoy being surrounded by all your closest family and friends.
MOST MEMORABLE MOMENT? It's so hard to narrow it down to one! We were so busy leading up to the wedding, that we hadn't even seen everyone who came to Maronia, nor the entire venue set up, as it was all done the day of the wedding. When I walked down the aisle, and saw everyone and everything come together, it was just surreal.

ANY OTHER DETAILS THAT HELP TELL THE STORY OF YOUR DAY? Since our family and friends live all over the world, they never had the chance to meet until the days leading up to the wedding. To ensure that everyone would have an amazing time at the wedding, we hosted a welcome party at the beach two days before. We spent the entire day and night at the beach with swimming, drinks, music, food, dancing, and surprise fireworks (planned by Achilleas)! Seeing everyone come together and have fun, despite some language barriers, was definitely something we'll cherish forever. This was definitely the best way to start off our weekend of celebrations!

TELL US A LITTLE ABOUT YOUR HONEYMOON: We didn't go on a honeymoon right after the wedding. We had family fly to Maronia from literally all over the world. Since this was an opportunity of a lifetime to have all our closest family and friends together, we opted to stay and spend time with them instead. We're currently planning a big trip, but I don't think we can call it our honeymoon anymore, as it'll probably be for our first anniversary.

IS THERE ANYTHING YOU WOULD CHANGE OR DO DIFFERENTLY? Despite the immense amount of help we got from family and friends, so much was left to finalise once we arrived in Greece. I wish we had planned to arrive with more time prior to the wedding, so that we could relax and spend time with family and friends prior to the big day. I was running on hardly any sleep ten days leading up to the wedding (a combination of jetlag and stress), and I didn't sleep at all the night before. I felt so sick that morning that I didn't know if I'd make it through the day. Between my naturopathic doctor bridesmaid who revived me, my makeup artist who covered up my dark circles, and eye bags, and my photographer who used all the right lighting, no one had a clue!