If you love your romance with a slight industrial vibe, you're going to fall hard for this Texas Hill Country wedding by LUCY STRUVE. From the start of their planning process, Bekah and Wade knew they were going to get married at PARK 31. They felt there was nothing else like it in the area - nothing that could pull off that chic, modern, industrial vibe so authentically. Their design choices from then on out revolved around the venue; which parts of it to highlight, which parts to balance out. They wanted to contrast the heavy industrial interior of the venue with wispy greenery, mixed metals, and soft light. The lush garlands on the reception tables designed by their planner, Julianna of PEN & WHISTLE DESIGN CO., brought a little bit of the outdoors inside, adding a romantic element to the space and softening it. The heavy lace and sleek silhouette of Bekah's JUSTIN ALEXANDER wedding dress brought it all together. Bekah chose soft pinks to add a little colour whilst still keeping the decor soft and feminine. They were wed under a majestic oak tree wrapped in a stunning floral garland and draped with airy silk.
HOW DID YOU MEET? We were in our high school's marching band together and met through mutual friends. We started dating our senior year of high school.
TELL US ABOUT YOUR PROPOSAL: He asked me on December 28th, 2017. We were going to see The Force Awakens and he was going to propose at the end of the movie (I'm a big Star Wars fan), but there was an accident on 1604 so we missed the first half of the movie and decided not to go. On our way back to my house to get something to eat, Ice Ice Baby by Vanilla Ice came on the radio and I started rapping and dancing and I guess that gave him the push he needed because he pulled the car over on the side of the road, got out of the car and opened my door, and got down on one knee and proposed. We set off sparklers when we got home.
TELL US ABOUT FINDING YOUR WEDDING DRESS: The first time I went to look at dresses I took my mother and my grandmother to a couple boutiques in San Antonio, but the rules were I couldn't buy a dress until my little sister could come with me. I narrowed my options down to a couple choices. Once my sister got back from her summer camp, myself, my mother, and my sister went to Olivia Grace Bridal in San Antonio and spent a few hours trying on the dresses I previously picked out, along with some new arrivals. I ended up buying my dress that day and it was the exact opposite of what I thought I wanted.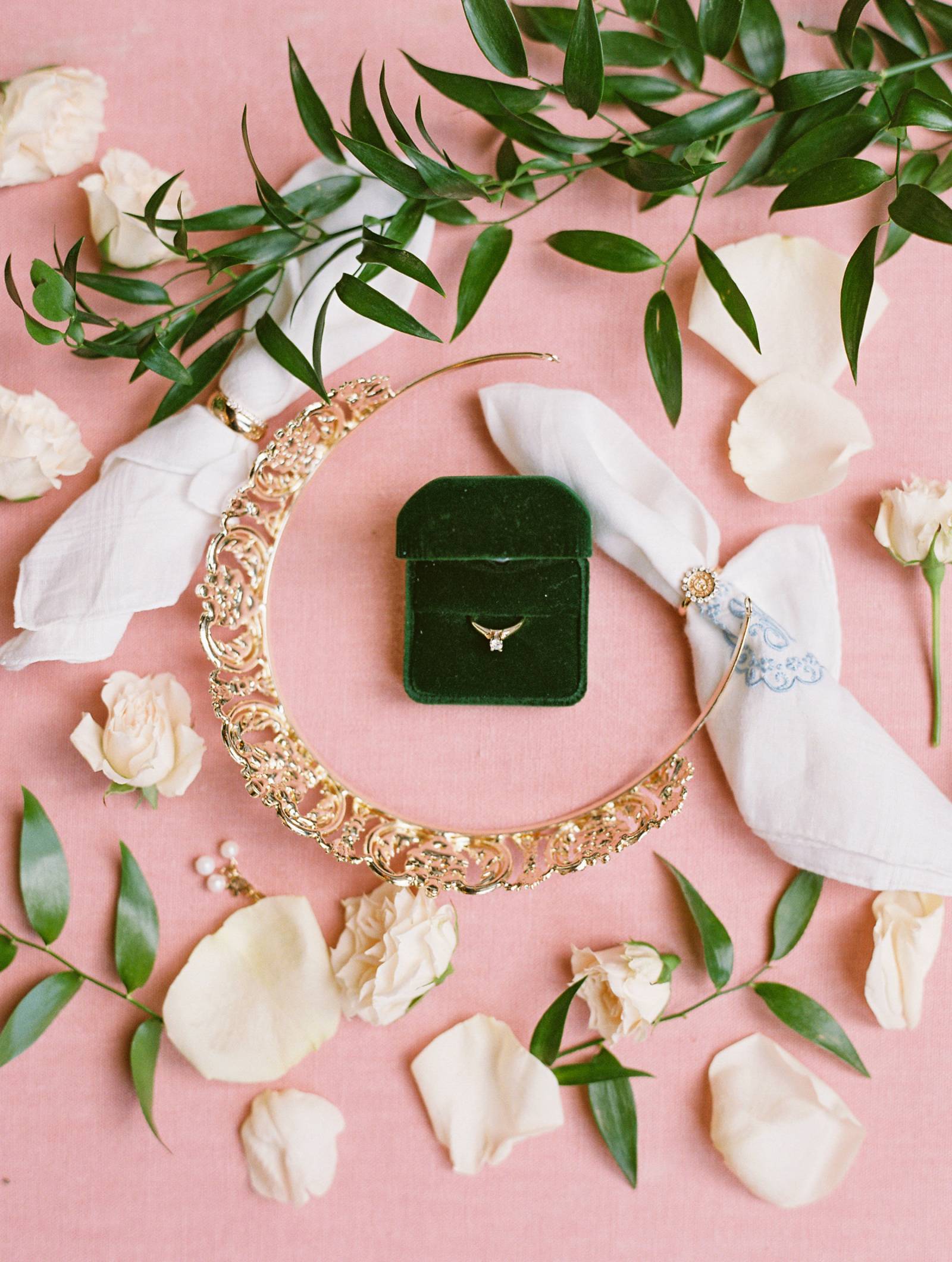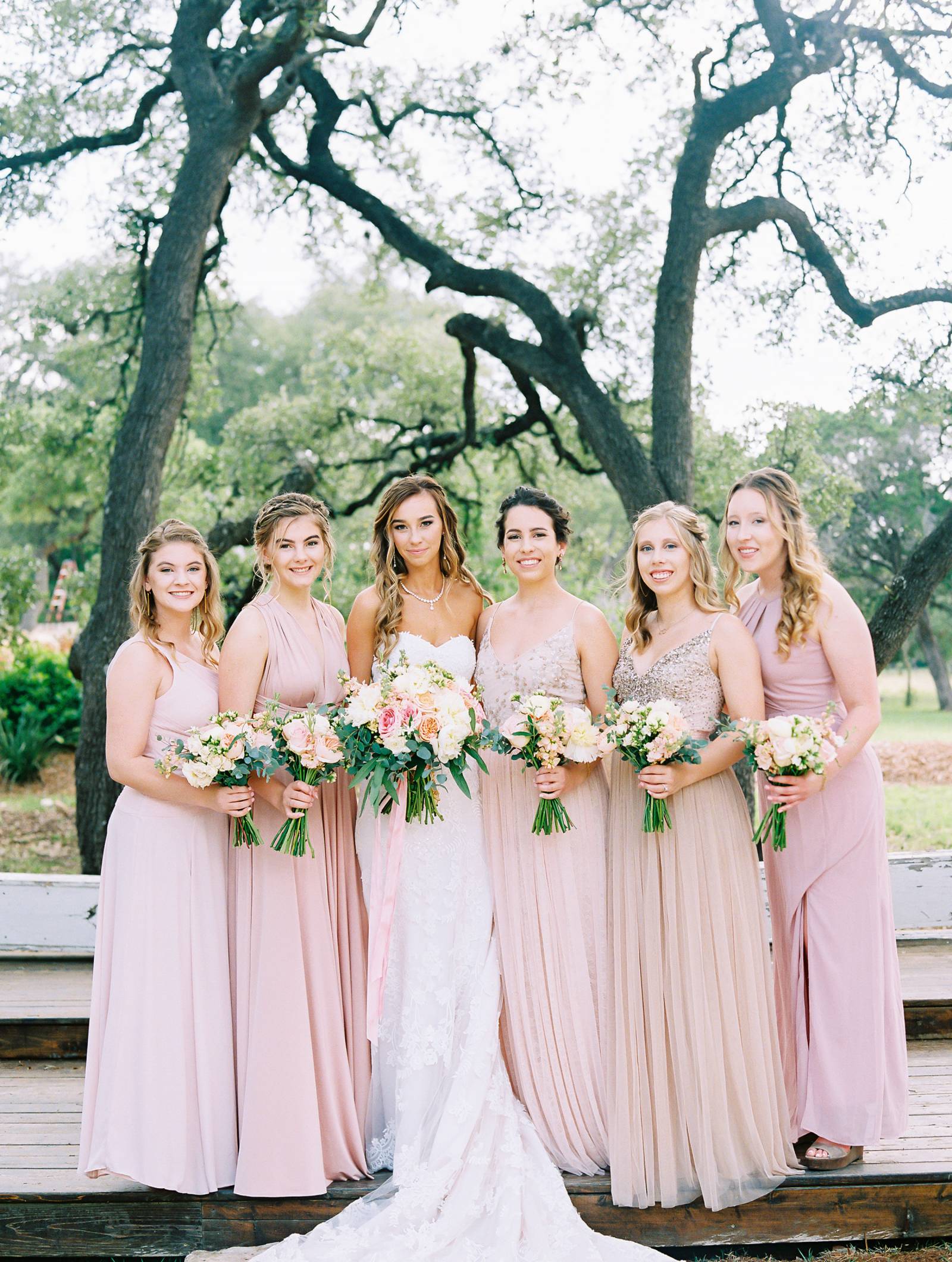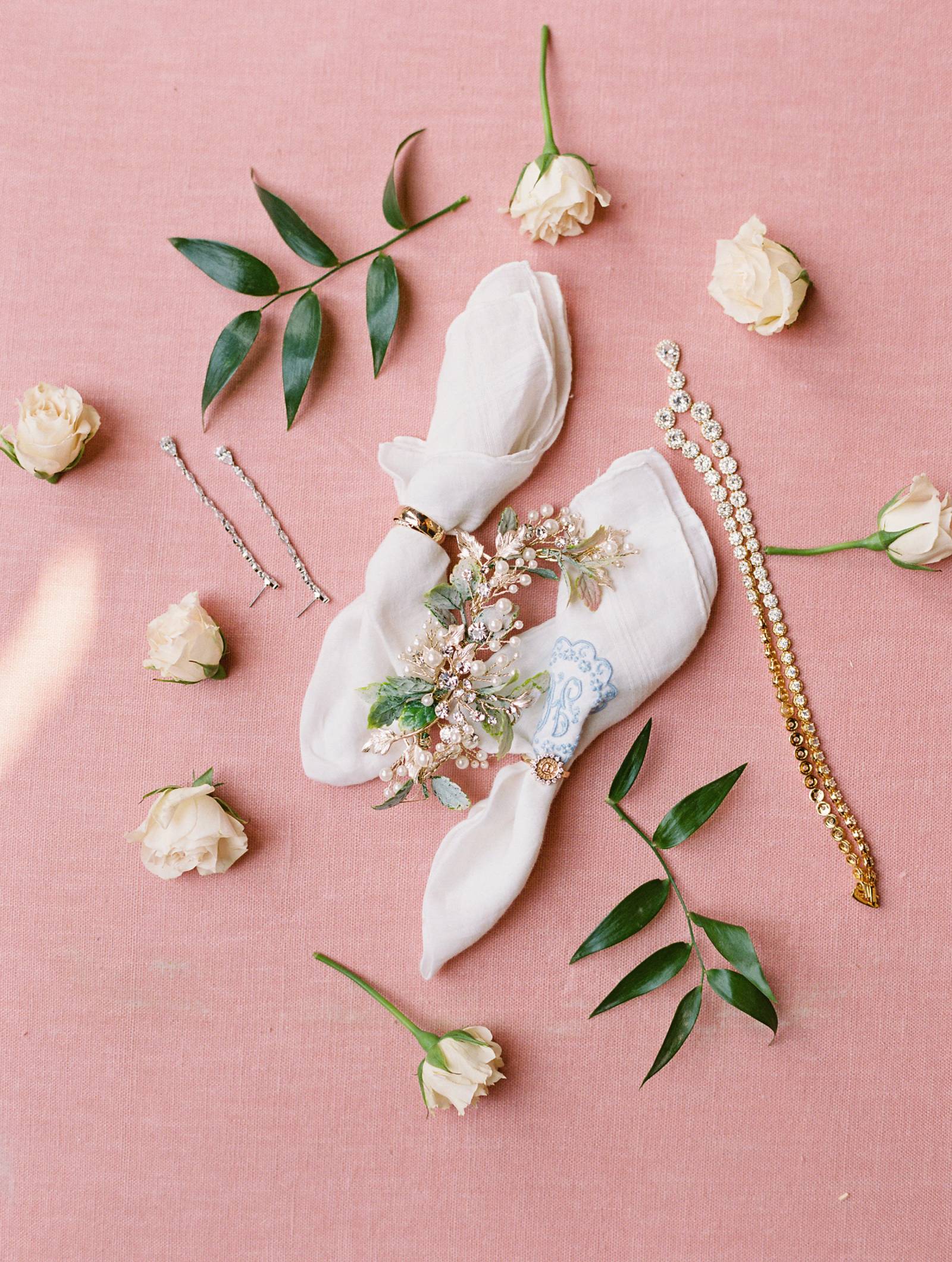 DID YOU HAVE ANY DIY ELEMENTS? The DIY elements we included were an "W & R" letters that I had cut out of poster board and attached pieces of different types of greenery to. I hung those next to our welcome table along with prints from our engagement photo session and my bridal session. We also made some of our ceremony programs into fans for our guests since our ceremony was outside during the summer. We sandwiched the front and back pages of the programs onto a wooden popsicle stick and tied ribbon around it. We laid them on the benches so that people could stay cool during the ceremony.
DESCRIBE YOUR WEDDING FLOWERS: The flowers consisted mainly of long garlands of greenery pretty much everywhere with pops of florals on the tables and in the bridal party's bouquets. The bouquets were made up of greenery, pink peonies, antique roses, pink and white roses, and other florals that stayed within the cream, blush, and light pink colour scheme.

FAVOURITE DETAIL OF THE DAY: Our favourite detail of the day was definitely the flowers. Ashlyn did an amazing job figuring out what we wanted, and it looked absolutely stunning. Flowers were a very important part of the wedding since the we started planning- my late grandmother loved having flowers around the house, so I picked up the love for flowers from her- so the floral element of our wedding was a top priority and the finished product was perfect. It was sort of a tribute to her and knowing that she would have loved it meant a lot to me.
WHAT ADVICE WOULD YOU GIVE OUT TO A COUPLE PLANNING THEIR WEDDING? The advice I'd give out to a couple planning their wedding would be to remember that the wedding is about the love you have for each other and sharing that with the people around you. So, even though wedding planning can get stressful and sometime chaotic, try to focus on why you're doing this. Your engagement should be an exciting and enjoyable time for you and your significant other, so during those stressful times, try to not fixate on those pesky details and focus on your relationship. That stress will pass, so enjoy the time you have together during planning and look forward your future together after the wedding.
MOST MEMORABLE MOMENT? The most memorable moment for me was right before the ceremony ended before our officiant said, "you may kiss the bride". We had shared our vows and gave each other our rings and I was literally bouncing up and down, barely able to contain my excitement. I was so ready to marry the love of my life I couldn't keep still.
ANY OTHER DETAILS THAT HELP TELL THE STORY OF YOUR DAY? One of our groomsmen had told us that he was no longer able to make it about two weeks before the wedding (after we had printed the programs and finalised the schedule.) This kind of worked out because my husband had been wanting to figure out a way to incorporate his grandfather into the wedding. His grandpa had been very sick recently and for a while we weren't sure if he'd make it to the wedding, when we found out that he had been cleared to travel, we asked him if he'd be up for standing in as a groomsman for the ceremony. He was ecstatic. When the wedding came, he was still pretty sick and on oxygen, so the fact that he could be a part of the ceremony meant a lot to us and our families.
TELL US A LITTLE ABOUT YOUR HONEYMOON: The Monday after the wedding, my husband and I took a plane to Philadelphia. We stayed in Society Hill and visited pretty much every museum we could fit into a week of travel. We're both big history nuts so it was a perfect fit for us.
IS THERE ANYTHING YOU WOULD CHANGE OR DO DIFFERENTLY? Something I'd do differently would be trying to spend more time on the dance floor and actually enjoying the food. Leading up to the wedding people had told us that we wouldn't have time to eat and we kind of shrugged it off, but they were definitely right. We were so busy trying to talk to everyone and stay on schedule that we didn't really get to fully enjoy the wedding we planned. I wish we could have been more present in the moment.