Inspired by summer in northern Michigan, Kristiana and John's wedding day was chic and breezy (literally! There were 30mph winds coming off of Lake Michigan that required a last-minute ceremony location change!) Setting the tone for the event, their invitation suite featured a RSVP card in the shape of Michigan. Enjoy these beautiful photos of their celebration by Michigan wedding photographer K.R. MORENO.

The bride looked stunning in her one-of-a-kind gown by KATERINA BOCCI, who created a custom look that combined all of the elements she was looking for. Kristiana had a true mis-matched bridal party, telling her bridesmaids to wear whatever they wanted, with no instruction or colour palette restrictions. Her bouquet by BLOOM FLORAL DESIGN was an homage to the favourite women in her life, incorporating flowers from her mom's, mother-in-law's, and sister-in-law's wedding flowers. After the ceremony the couple whisked away for some photos in her Dad's red Corvette, with the license plate titled "Last Run".

Their tented reception was a greenery lover's dream, with custom boxwood wall backdrops and lush greens draping the chandeliers and tables. Kristi and Johnny chose to omit a cake for dessert and instead went with an ice cream bar, perfect for summer, featuring fun flavours like fruity pebbles and cookies and cream. The couple danced the night away and enjoyed a big confetti pop explosion to top the night off. It was the perfect day, weather mishaps and all!
HOW DID YOU MEET? We met in college during the 2008-2009 school year (Fire up Chips!). John lived across the street from my sorority house. You could say we piqued each other's interest early on, but we didn't start dating for a couple of years. Fast forward to 2010, we ran into each other at the University Center, we exchanged phone numbers, and the rest is history.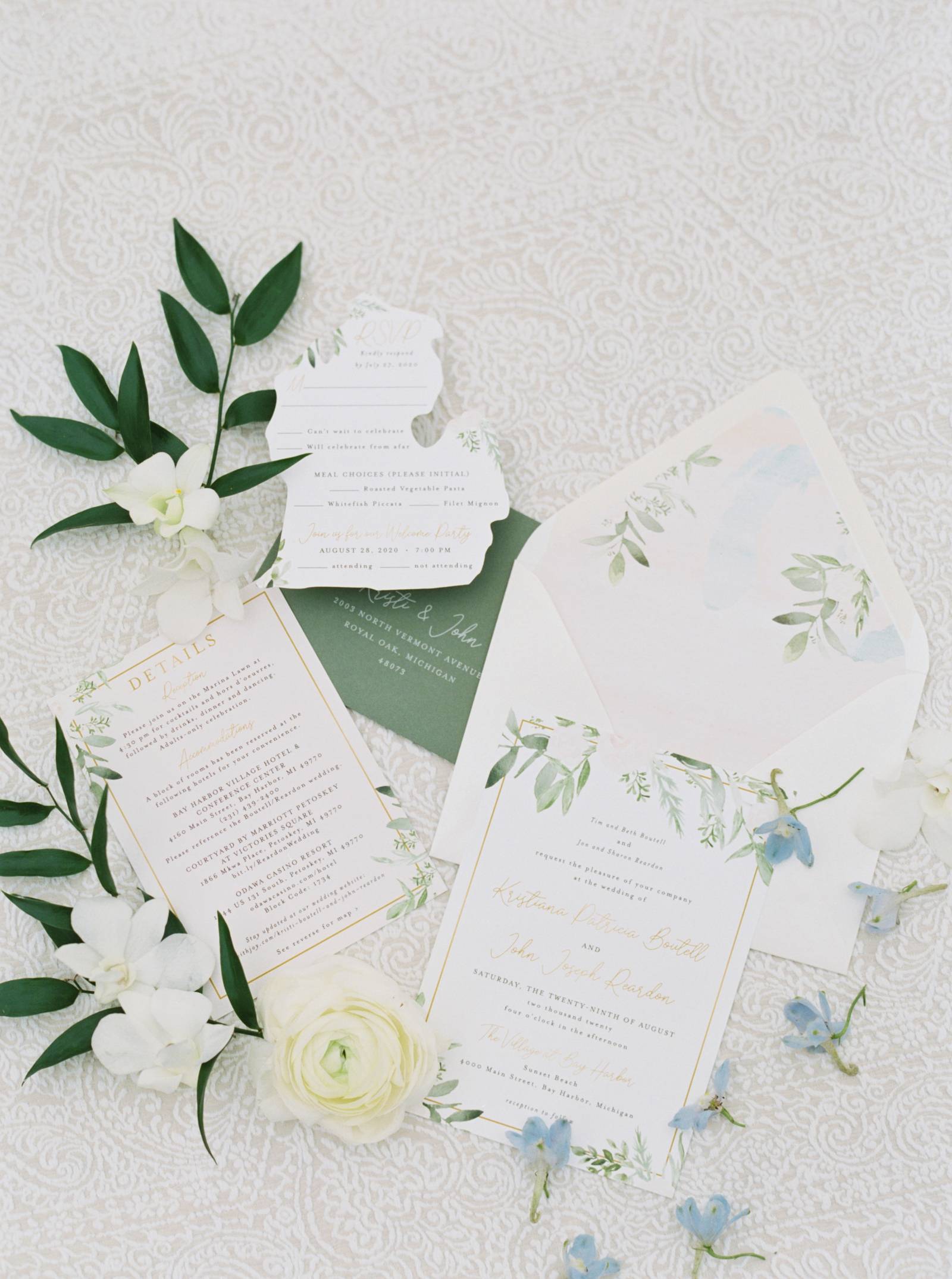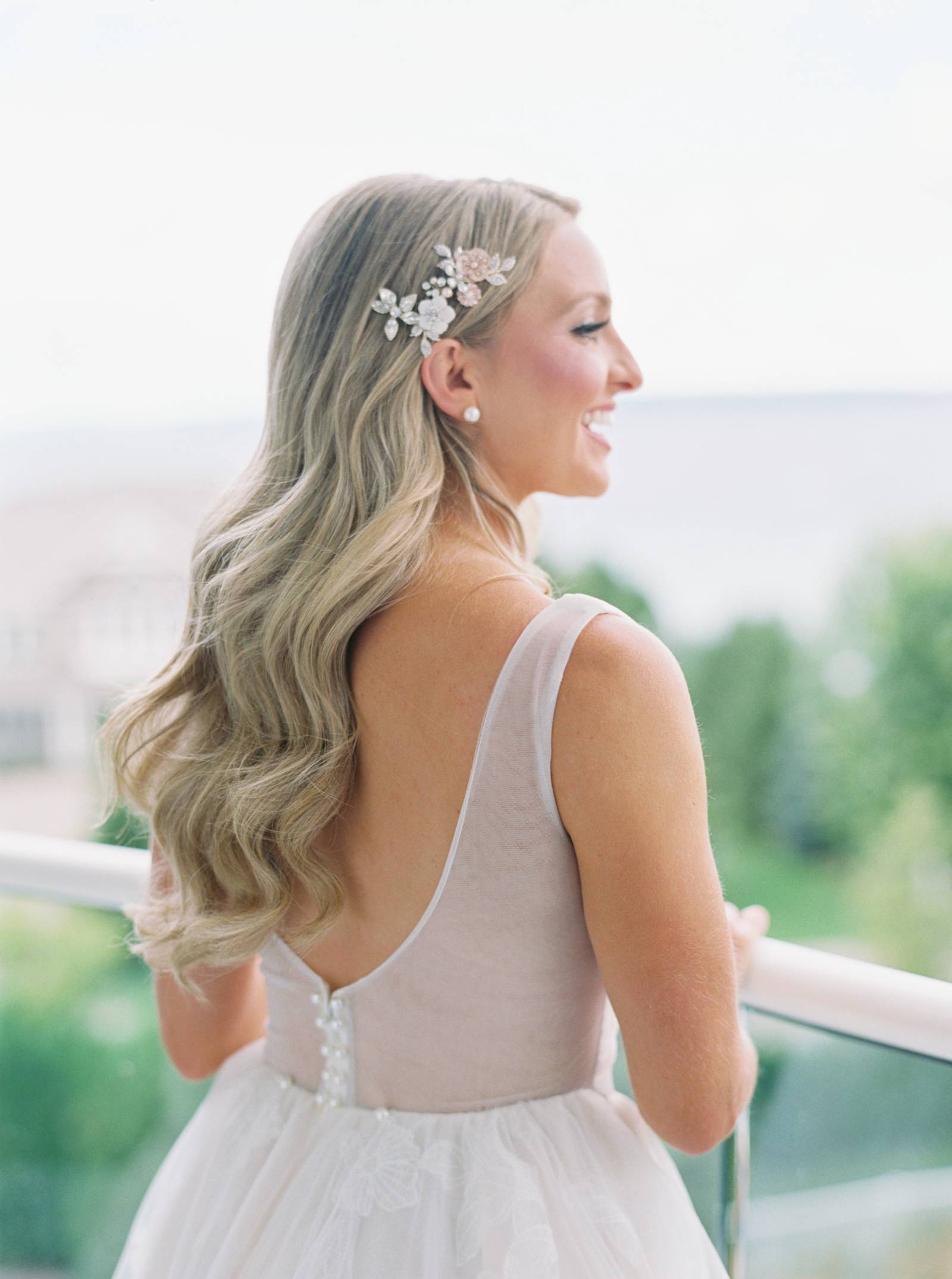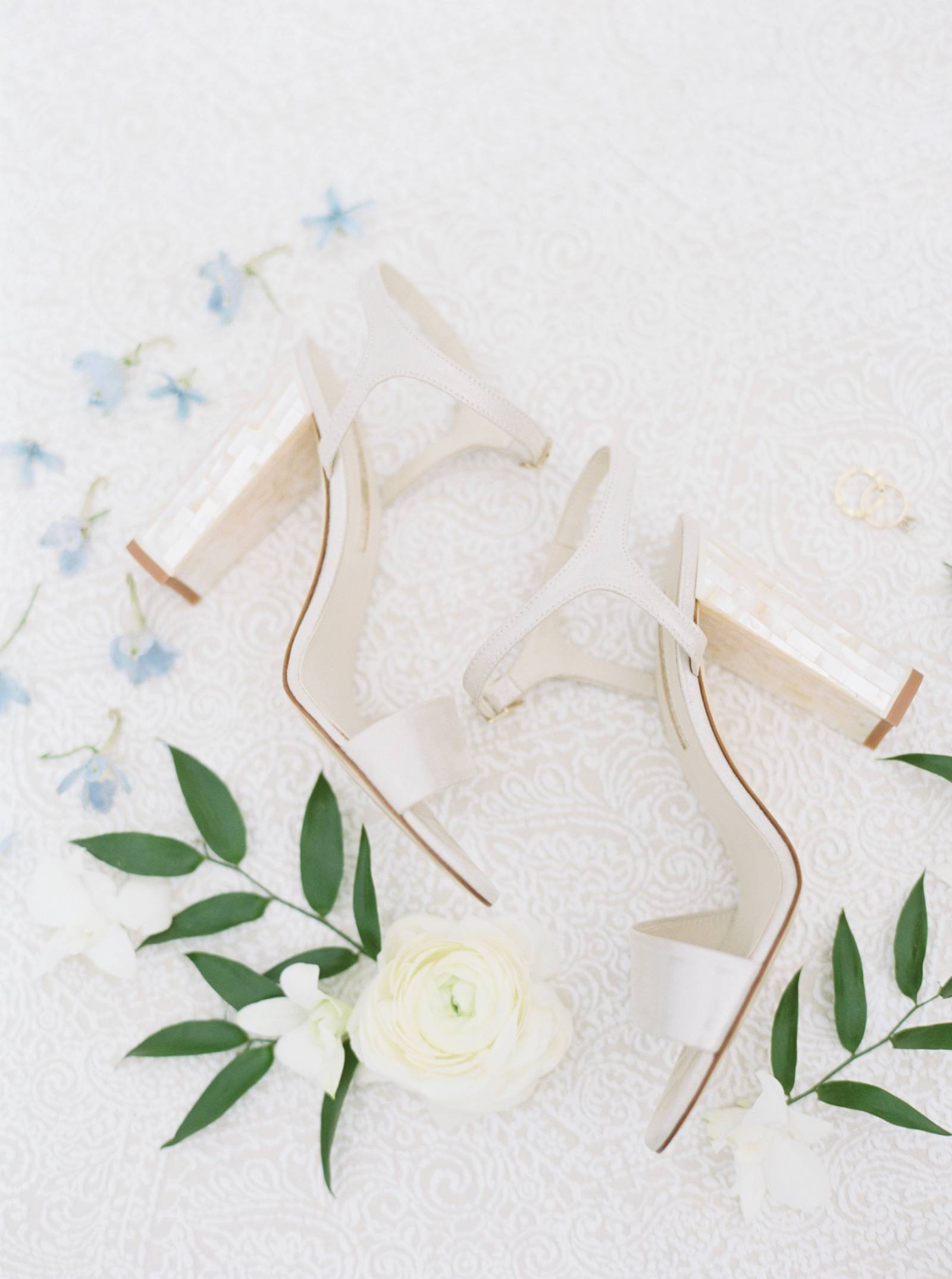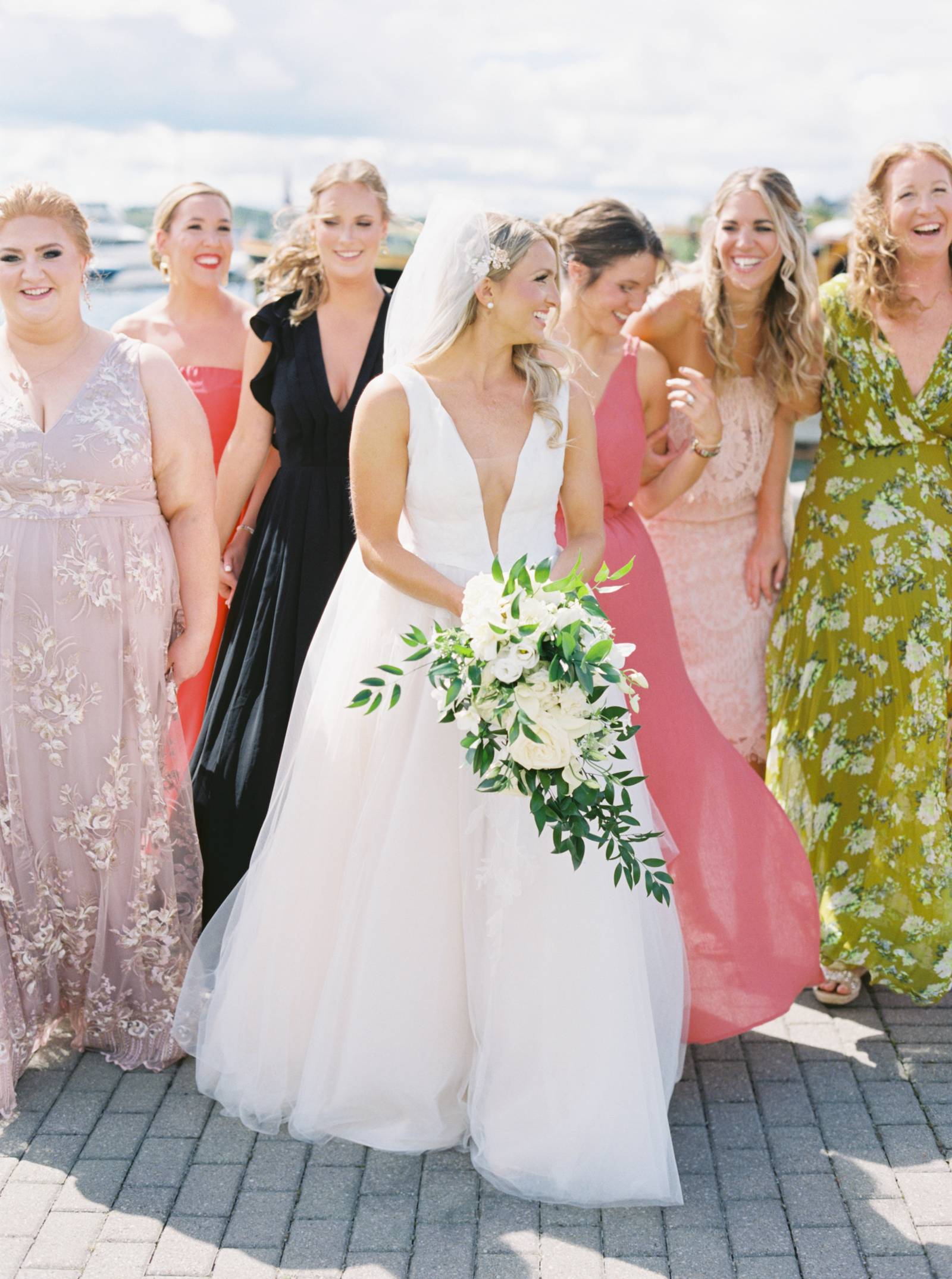 TELL US ABOUT YOUR PROPOSAL: We got engaged on January 2, 2019 while on a spontaneous holiday vacation in Riveria Maya, Mexico. We scheduled a beach dinner and, upon arrival, our waiter asked us if we wanted a sunset photo. John took advantage of the opportunity and our entire engagement was captured in a series of live photos with an unmatched evolution of facial expressions!
TELL US ABOUT FINDING YOUR WEDDING DRESS/ATTIRE: I got a custom wedding dress made by Katerina Bocci. I knew the style of dress that I wanted, but couldn't find one that I loved. I ended up showing Katerina a handful of photos of dresses, she sketched a design for me on the spot that incorporated aspects from each different dress, and over a series of 4 appointments she created the dress on my body in stages and tweaked it over time until it was perfect.
John got a custom suit from Cicchini Custom Clothier in Birmingham, Michigan. He chose a french blue to compliment Lake Michigan and the marina setting with a custom marina-inspired liner.
DESCRIBE YOUR WEDDING FLOWERS: My bouquet incorporated my mom's wedding flowers, my mother-in-law's wedding flowers, and my sister-in-law's wedding flowers, which was really special to me.

FAVOURITE DETAIL OF THE DAY: Our stage and backdrop, which was full greenery with a neon "The Reardons" sign; our rosè escort wall; the open-air concept tent with white drapery that moved with the wind; our custom invitation suite featuring a RSVP card in the shape of Michigan with an envelope liner of Lake Michigan; and our dessert: rolled ice cream by the one and only Rollow Bar!
WHAT ADVICE WOULD YOU GIVE OUT TO A COUPLE PLANNING THEIR WEDDING? Be true to yourselves and don't feel pressured to adhere to "traditions" if it's not your vibe. The most rewarding compliment we got after our wedding was when our guests told us that our personalities and our relationship shined throughout all aspects of our day. Also, if you can, try to choose vendors who align with your vibe. Our entire crew matched our energy and our guest's energy the entire day and it made the day fun and effortless.
MOST MEMORABLE MOMENT? Aside from EVERYTHING, having everyone we love under one roof in a place that is so special to us is something we will never forget. I loved getting ready in the morning with my bridesmaids. We got them shirts with "gotta get with my friends", a nod to my love of Spice Girls. I told my bridesmaids to wear whatever they wanted. No colour palette, no instruction - just wanted them all to feel beautiful and themselves.
ANY OTHER DETAILS THAT HELP TELL THE STORY OF YOUR DAY? We would not have been able to accomplish what we accomplished without the expertise of our wedding planner, Ann Travis Events. Without Ann and her team, John and I would never have been able to execute our vision the way she did. A wedding planner is the best investment you can make as a newly engaged couple.
A huge thank you to Michigan wedding photographer K.R. MORENO for sharing this beautiful wedding with us. Kaylea is a valued member of our vendor guide, Kaylea is an international photographer who specialises in documenting love stories taking place all throughout the world. "Having spent most of my adult life traveling to over 30 countries and primarily living in Europe I love working in different cultures, languages and the most incredible locations. I adore capturing and preserving the memory, heart, and soul of an event, family and couple. Through my lens, I am working to capture every element that comprises your wedding and your journey together. Rich textures, held back tears, golden light, the sashaying of your dress down the aisle and most importantly the love that you share." Head over to our Vendor Guide to see more of her portfolio and you should also check out this Old World Wedding Inspiration in the heart of Provence.