There is something magical about the desert landscape that we adore so we completely understand why Laura & Joel opted to escape their mid-west homebase and head to Arizona for their beautifully intimate desert celebration which ELYSE HALL has captured so beautifully. Beautiful bride Laura explains it far better than I can so I'll hand you over to her:

"Our destination wedding to Arizona was all about the "knowing"--honing in on that feeling--making sure that each fleeting moment and carefully curated detail offered our family and friends an organic glimpse into knowing us as a couple. Being raised in the same mid-west city, also coming from two large extended families, we knew that we wanted a destination in order to keep our symbolic weekend intimate. Without a doubt, we both felt Fountain Hills where my parent's had a second residence, was the most authentic extension of home. The desert provided such an abundantly wild and notably different backdrop that we desired to share with our loved ones. Since we had everyone to my parent's house on Friday night for the welcome dinner, I wanted to keep central in location. The golf club in their gated community offered the most breathtaking views of the entire valley! The view was everything!"
And my favourite part about this wedding? For favours the couple chose to have their guests donate to their selected charities - they had a bride's choice, groom's choice and couple's choice to select from. Guests placed their name cards in the jar of their choice, and a donation was then made to that selected charity. Laura tells us, "I have always been heavily involved in service work my entire life, and I work in philanthropy - so this idea felt right to us."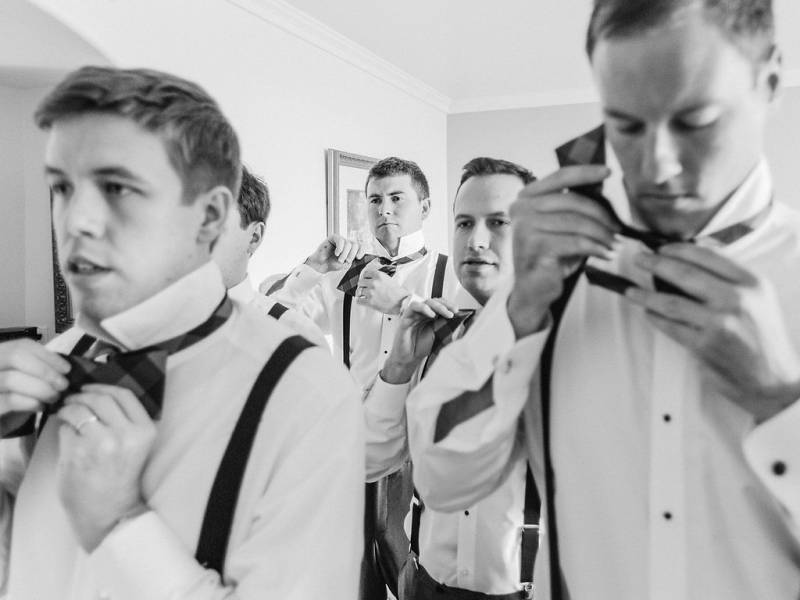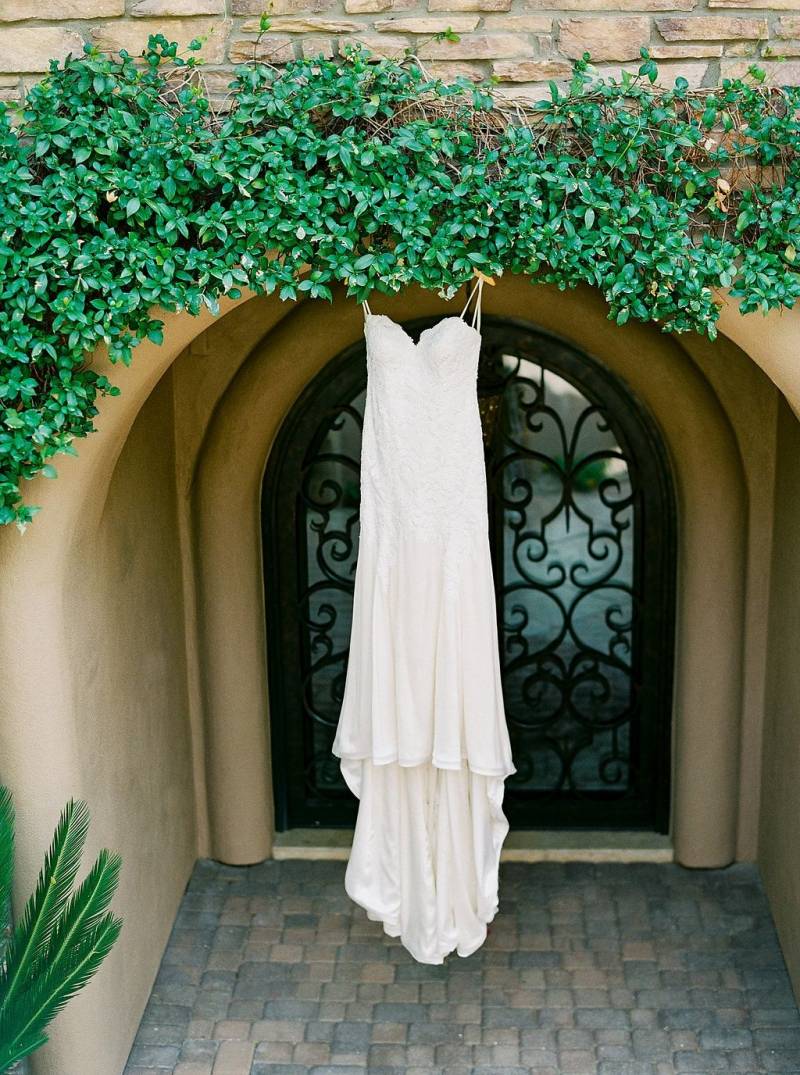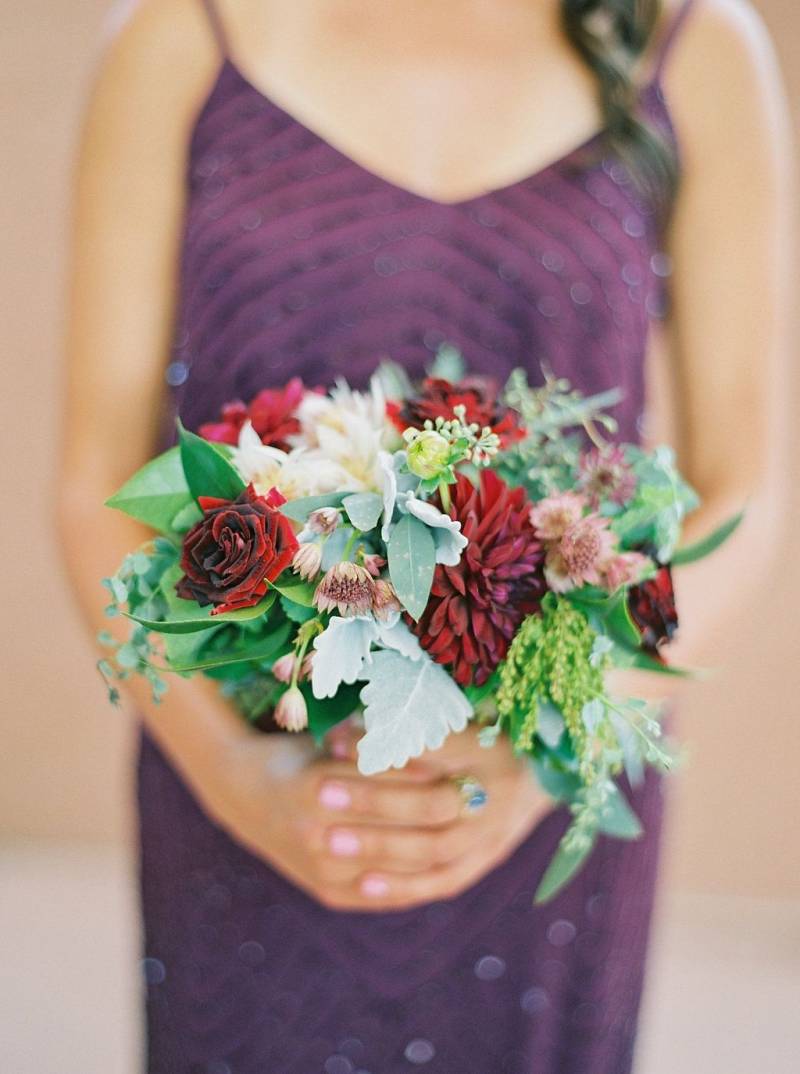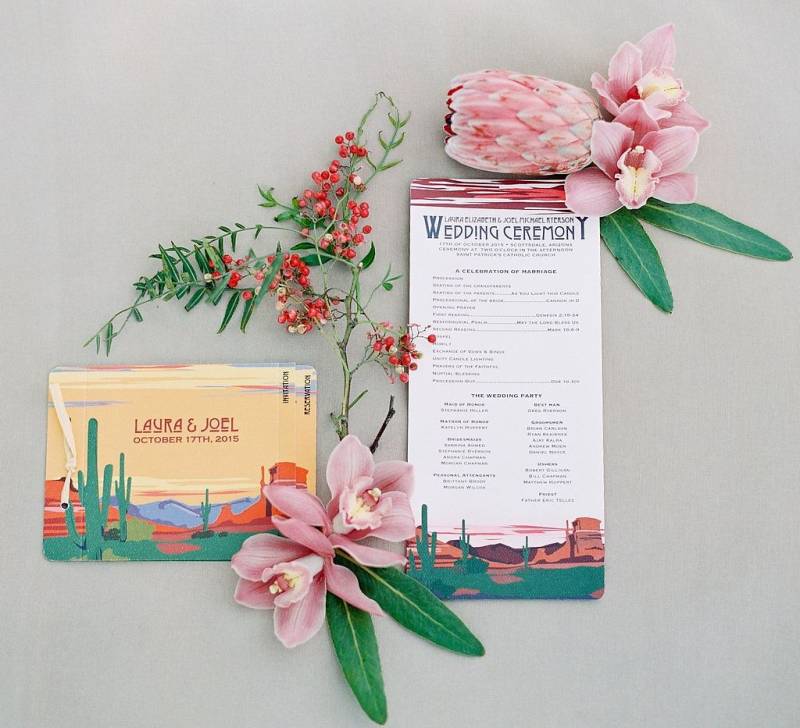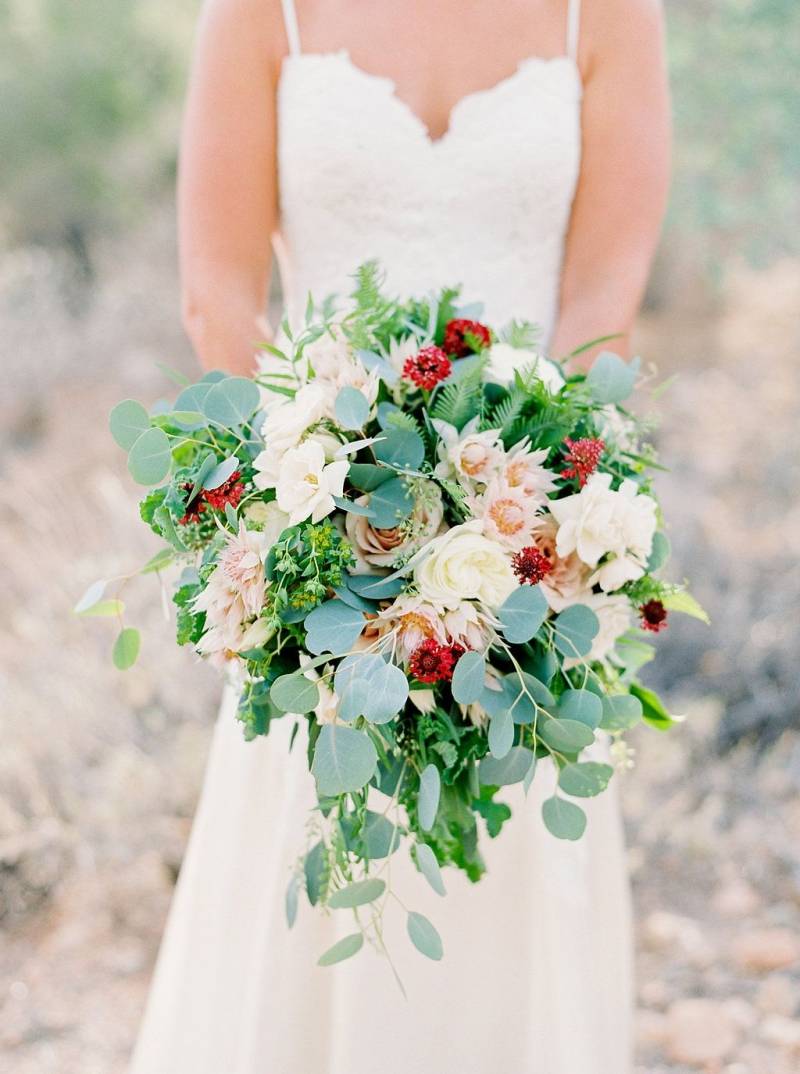 HOW DID YOU MEET? Joel and I coincidentally grew up in the same hometown. We had the same friends that ran around together - however, we never met each other. He even had a class in high school with my older sister. Joel went off to get his undergraduate degree and masters from the University of Iowa and I went to The Ohio State University. It wasn't until I was home for Thanksgiving break that we met at a friend's house by fate; I'd like to think. The following night he asked me to come over to watch a movie. I wasn't sure if I liked him or not - I almost stood him up! I was an hour late. Thankfully, he waited for me. And the rest is history!
TELL US ABOUT YOUR PROPOSAL: The day Joel proposed, we actually got in a fight! (I feel like he had to throw me off somehow, right?). We had planned to go to dinner with my parents, and the morning of Joel said "wouldn't it be great if my parents joined all of us for a glass of wine prior to heading to dinner?" My initial outburst was "No!" How incredibly awkward would it be to have wine with them and leave without extending an invite? The whole way over to my parents I yelled at him. We were already running late, I had little to no makeup on, and a sour attitude. He stopped at the grocery store (later to find out he had to stall time) and picked up another bottle of wine, which should have tipped me off because my father has a rather large curated wine collection and we definitely did not need an additional bottle. When we got to my parents house, I immediately rushed off to call my friend to vent - but Joel had other plans. He called me into my parent's living room and the rest, as most individuals who have gotten engaged know, was a blur. I only remember him saying, "I know you hate surprises, but you have been the best surprise of my life..." and down on his knee he went. I looked over to my right to see his parents and my parents who had walked in from the sunroom watching the entire event. I was so nervous, so caught off guard, I forgot to say yes! Oh, and dare I mention I was so nervous the first thing I said is "I'm sweating!" Romantic, right? I called my twin sister immediately, only to hear her voice turning the corner with Joel's sister trailing behind. They had both come to surprise us to be a part of the engagement from out of town! It was truly wonderful to share such a memorable moment with family.
DESCRIBE YOUR WEDDING FLOWERS: My wedding flowers were heavy on the foliage. Don't get me wrong, I love flowers! However, there is something so interesting and intriguing to the eye about foliage and all the texture it gives. I basically gave my florist free range to play with whatever would make my floral "dance" and have a lot of interesting aspects. My favourite flower is the queen and king protea - so my florist heavily focused on that flower along with whimsical and unique looking blooms to enhance the deep foliage. We ended up having ivy hung from the ceiling of our venue.

FAVOURITE DETAIL OF THE DAY: Given that we had a destination wedding - my favourite detail primarily came down to all the individuals that travelled near and far to be with us and celebrate. Each of those who came represented who we are and our lives.

TELL US ABOUT FINDING YOUR WEDDING DRESS: I must confess, the first dress I purchased I ended up hating. I think I tried too hard to find something different and non-traditional. I made the mistake of looking after finding my initial dress, but truly it became a blessing, as my second dress was my vision and I felt like a bride. It was a custom dress by a seamstress named Tama and it was incredibly romantic and silky (It was all lined in silk!) I didn't want to take it off. The hand-applied lace was delicately laid in the most gorgeous way that trailed off into pure silk all at the bottom. I originally thought I wanted strapless, but I loved the simplicity of the thin straps, plus, it definitely aided in all the (attempted) dance moves later on in the evening! I had adored cathedral length veils since I was a small girl - so choosing a simple veil that gave a big statement was a must. I had always envisioned my father walking me down the isle and then lifting up my blusher as he gave me away to my husband.

WHAT ADVICE WOULD YOU GIVE OUT TO A COUPLE PLANNING THEIR WEDDING? The biggest advice I would give to a couple planning their wedding is to make sure you add elements of yourselves - what makes you as a couple? How do you want to show others your love and relationship? When I reflect on past weddings, including ours, favourite highlighted moments are those that felt like they captured the spirit of the couple.
MOST MEMORABLE MOMENT: Our first dance was the most magical moment that I actually had a lot of anxiety about going into the reception. Joel and I mutually felt strongly about not taking dance lessons prior to our big day as it simply was not us, and we wanted to stay organic and real to who we are as a couple. Naturally, I still wanted to look like we knew what we were doing - but ultimately, it didn't matter... it was our moment. We danced to Regina Spektor's "Folding Chair," the very song that played in the background the moment I realized I had fallen in love with the boy. It was a snowy December day, the sky bright and the rays reflective off of the gently falling snow. It was in that moment, I knew this was it - I told him I loved him. It forever became our song that we relish and hold so dear to our hearts. As we swayed, danced, and twirled, my heart couldn't have been more full of the deepest happiness and love. We sang the lyrics to each other like children and out of my peripherals; all I could see were the individuals--all of our family and friends that created our world - watching us, surrounded by the flickering candlelight.