It's always a good day when we get to share the stunning work of Southern California wedding photographer LUCY MUNOZ. She is a master at executing the perfect styled shoot, which always contain the most divine elements, from gorgeous gowns like this LIZ MARTINEZ number, to delicious florals - in this case by LILY RODEN FLORAL STUDIO. Lucy tells us, "This editorial was an ode to our newlywed couples affected by COVID-19, to whom our hearts reach out to for such unfortunate circumstances. The inspiration for this shoot came from a quote from Jacqueline Simon Gunn:"
"You are the stars hidden by clouds. I know you're there even when I can't see you. Your shine peeks out and reaches me in the depths of my soul. Tell me your arms are long enough to reach me across oceans. Tell me someday we will be together, somehow, some way. Tell me that this love we have can survive being together as well as we've survived being apart. Tell me we are more than the chasm of our divide." ― Jacqueline Simon Gunn
The backdrop was sunny and beautiful San Diego, California, where the couple were able to look out into the sparkling blue horizon. The bride donned two outfits, starting with a one-of-a-kind production created by AMORETTE EVENTS, LUCY and LILY RODEN FLORAL STUDIO. The second was the stunning LIZ MARTINEZ, blush and soft to the touch that added to the delicate and soft atmosphere. PAGE BEAUTY created magic with soft, natural hair and makeup.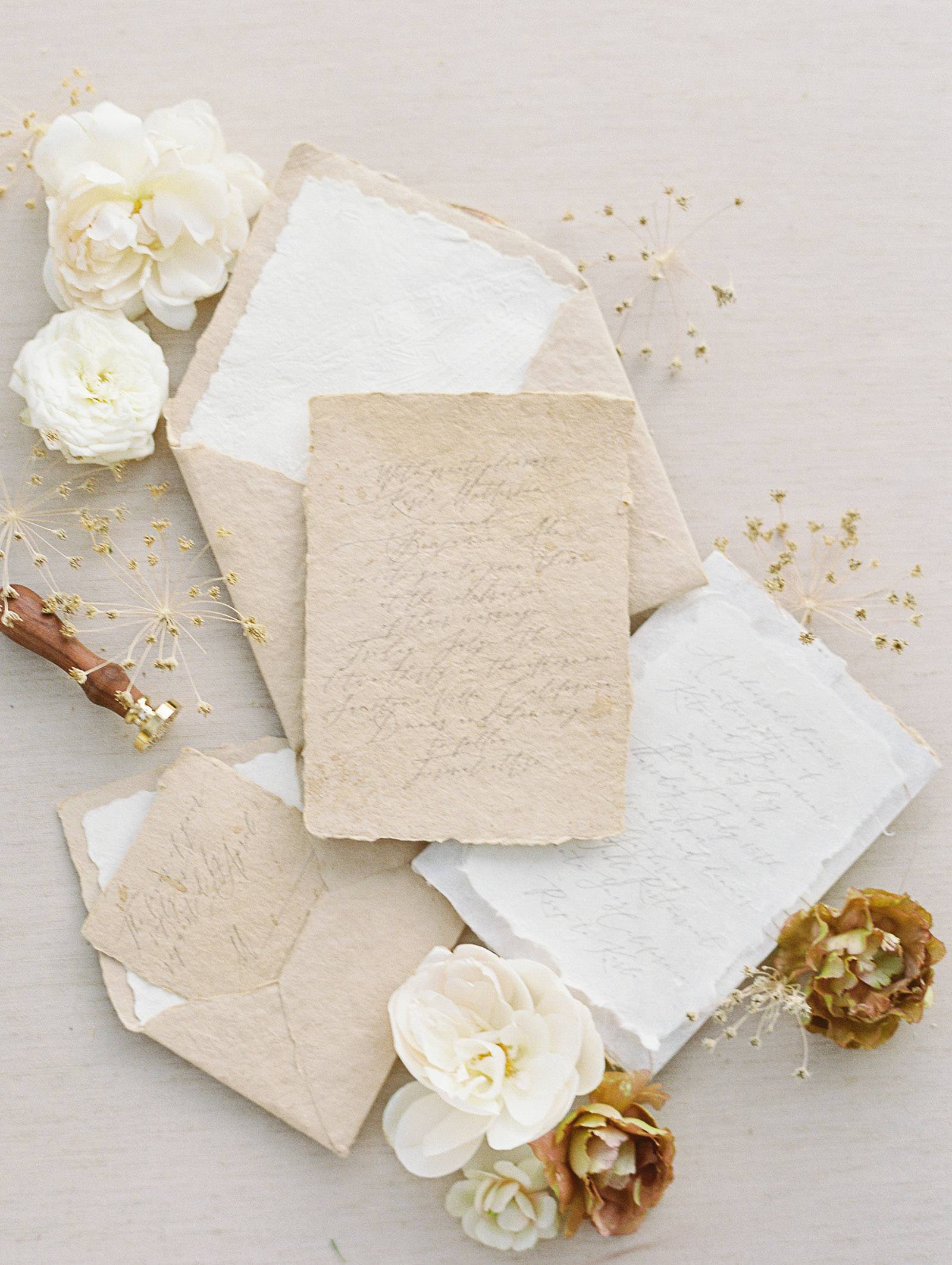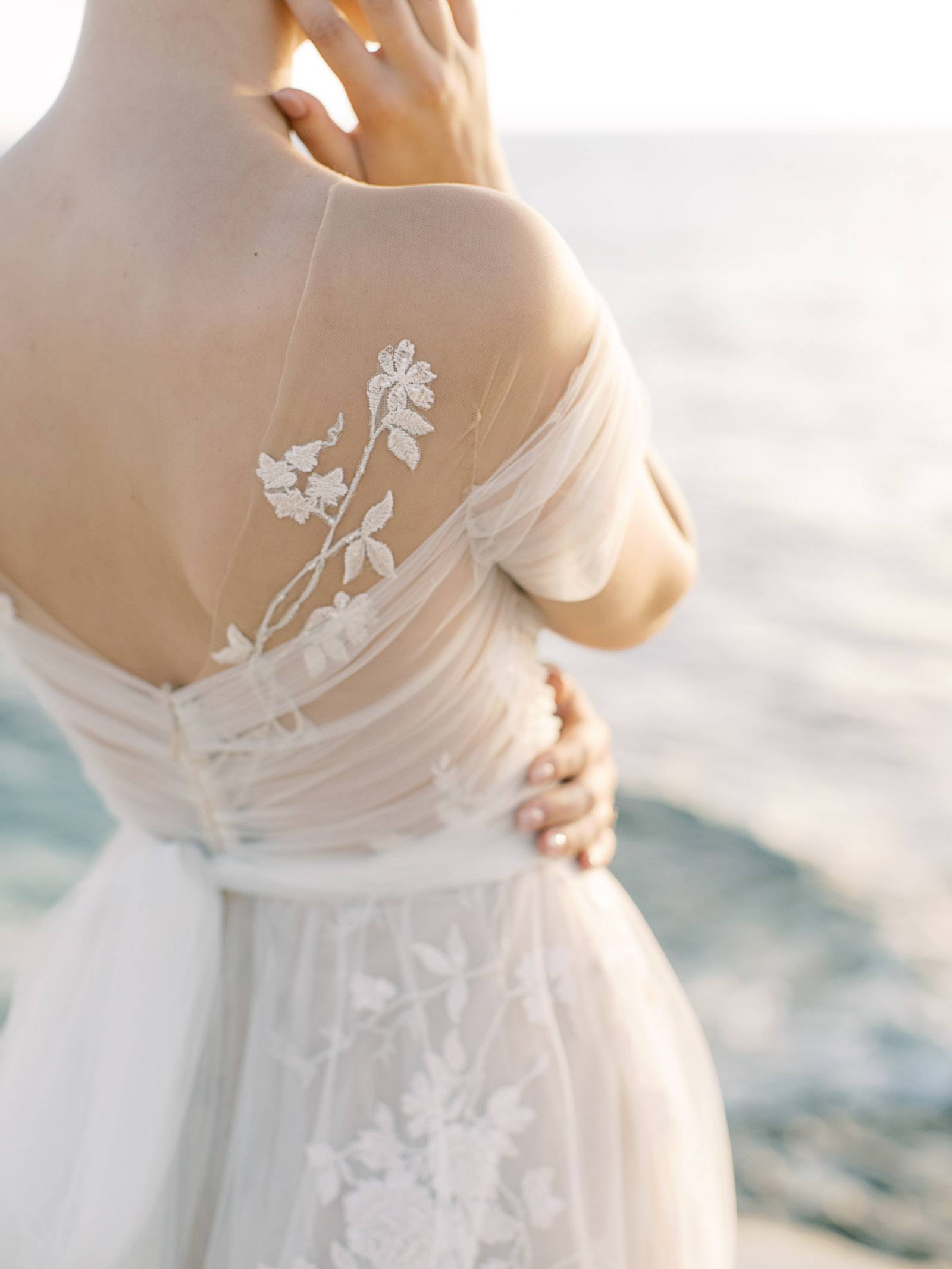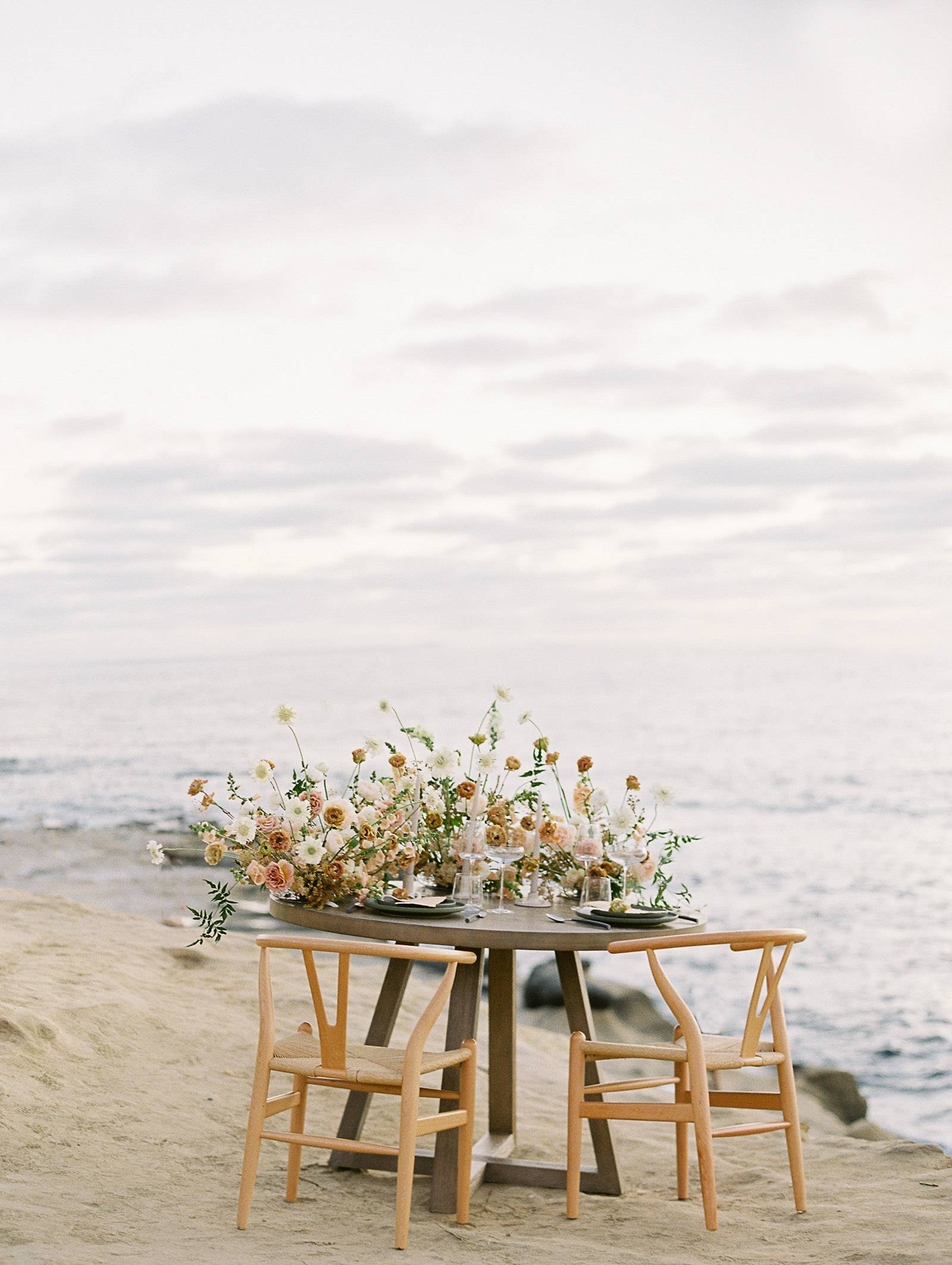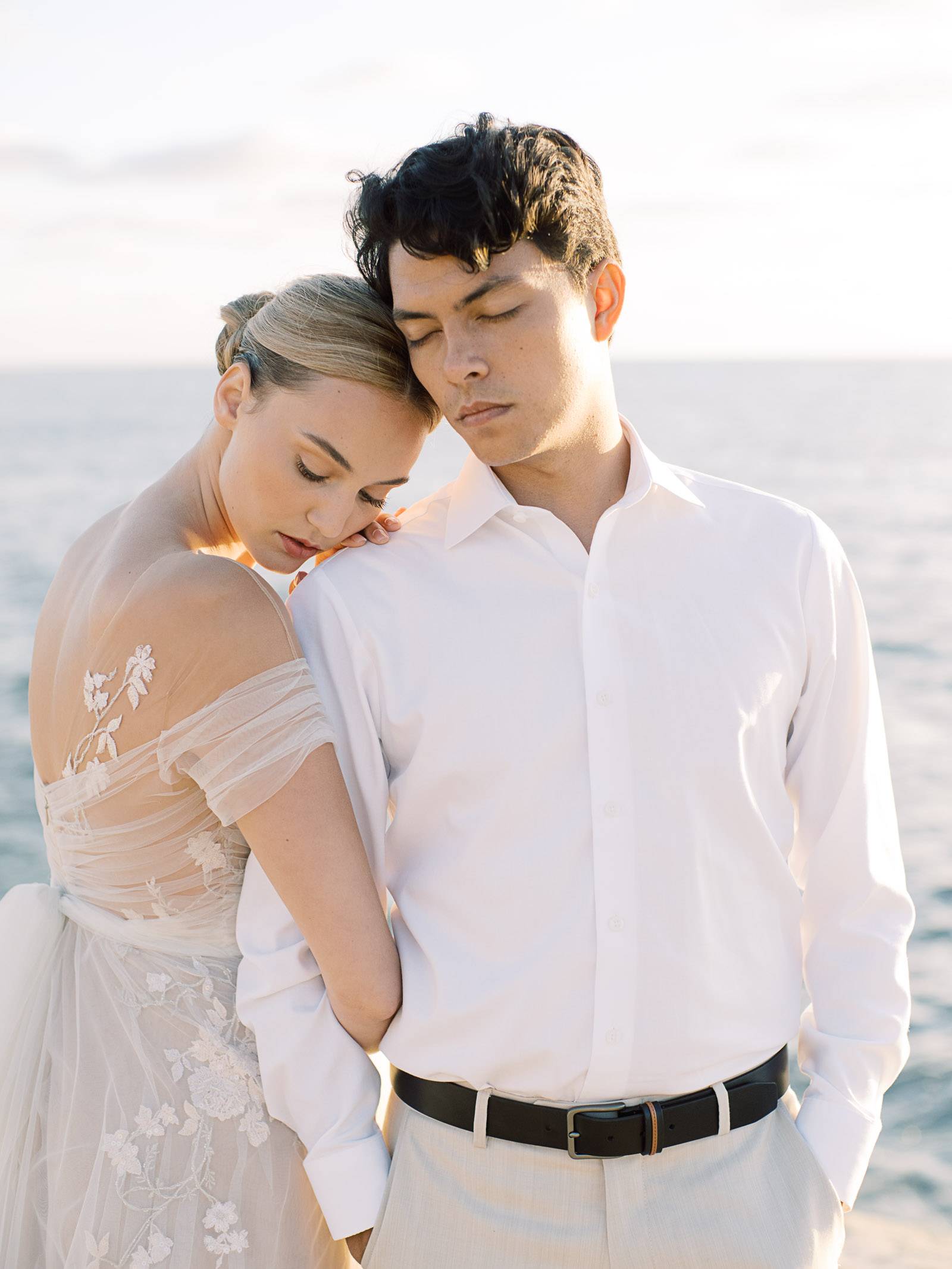 Jessica from AMORETTE tells us, "Our tablescape was fit for two, to further our theme. Lily Roden Floral Studio created a lush unique centerpiece that outlined half of the table, which coupled perfectly with the rentals provided by Folklore Rentals and Catalog Atelier. Our paper goods were created by the one and only Wedding stationery designer PAPIRA, who even wrote an original love letter for our editorial.
We wanted to portray a sense of longing and overwhelming love that will overcome all odds. With this in mind, Southern California wedding photographer LUCY MUNOZ was the obvious choice as she excels in capturing pure emotion in her work. She was able to create our desired mood through creative use of perspective and soft touches/embraces and all-in-all, brought our entire shoot together."
A huge thank you to Southern California wedding photographer LUCY MUNOZ for sharing this beautiful bridal inspiration with us. Lucy is a valued - and super talented - member of our VENDOR GUIDE. "From the moment I arrive at your wedding until the moment I leave, my goal is to capture your day so that you have an amazing mixture of candids, traditional poses, family formals and everything in between - all whilst delivering an incredible experience." Be sure to check out this Romantic sunrise bridal session underneath the Eiffel Tower.
Wedding stationery designer PAPIRA is a valued member of our Vendor Guide. Papira is a letterpress and design printing studio, specialising in the creation of luxurious fine art wedding stationery and artisanal paper goods. Grounded in the love for paper, timeless design, and old printing techniques, all stationery created by us is meant to highlight the story of each couple and at the same time emulate heartfelt emotions and inspire a touch of that everlasting sentiment of love. Based in the magical land of Transylvania, Romania, we work with clients all around the globe. See more from their portfolio here.