With its Mediterranean sea and its mountains, you could say that the French Riviera has it all. Imagine professing your love surrounded by such beauty and tranquility. Leah & Andrew chose the VILLA EPHRUSSI DE ROTHSCHILD to set the scene of their nuptials, with its rose-coloured house and sprawling gardens. The villa is surrounded by nine gardens, each with its owns influence, providing different pops of colour where ever you go and gave photographer CLAIRE MORRIS plenty of amazing options to play with.
After a proposal in Saint-Jean-Cap-Ferrat the couple had engagement photos at the Villa and it became a dream to return for their wedding. The Villa's overall aesthetic served as the inspiration for the colours, flowers, and other design elements for the ceremony. This intimate elopement was witnessed only by a select few family members yet it was so full of emotion and love.
The bride wore a stunning OSCAR DE LA RENTA gown paired with a pair of shoes from Wedding shoe designer BELLA BELLE SHOES, which helped to create a stunning ethereal vision of beauty. Complete with her parasol to shade her from the Mediterranean heat she really did look elegant like the lady of the villa.
TELL US HOW YOU MET? Andrew and I met in a summer program before we started college in Chicago and we have been together ever since. I grew up in Florida and Andrew is originally from California, yet we somehow met in the middle! We spent the formative years of our adulthood with one another and on the seven-year anniversary of our relationship, we decided to get married.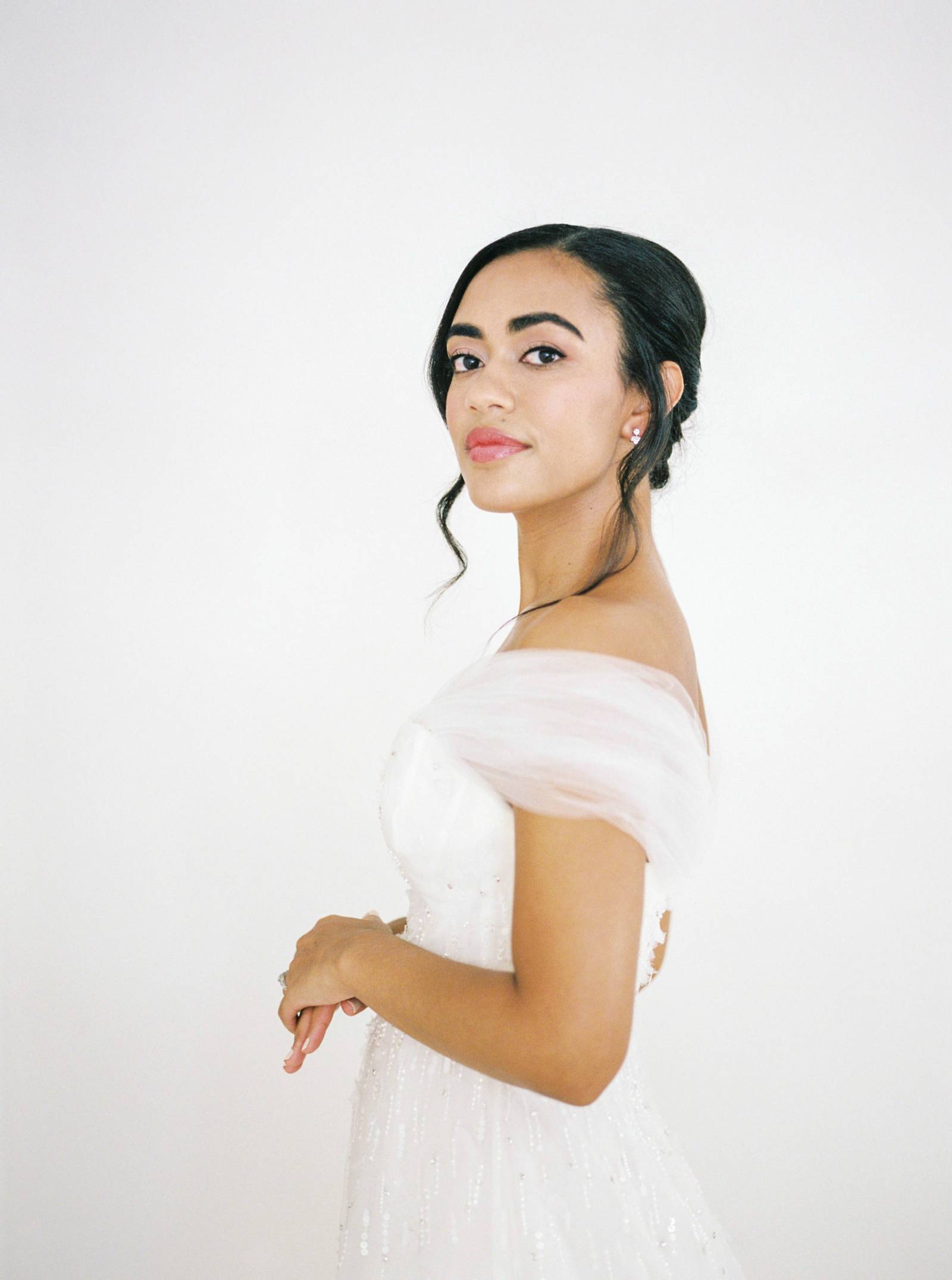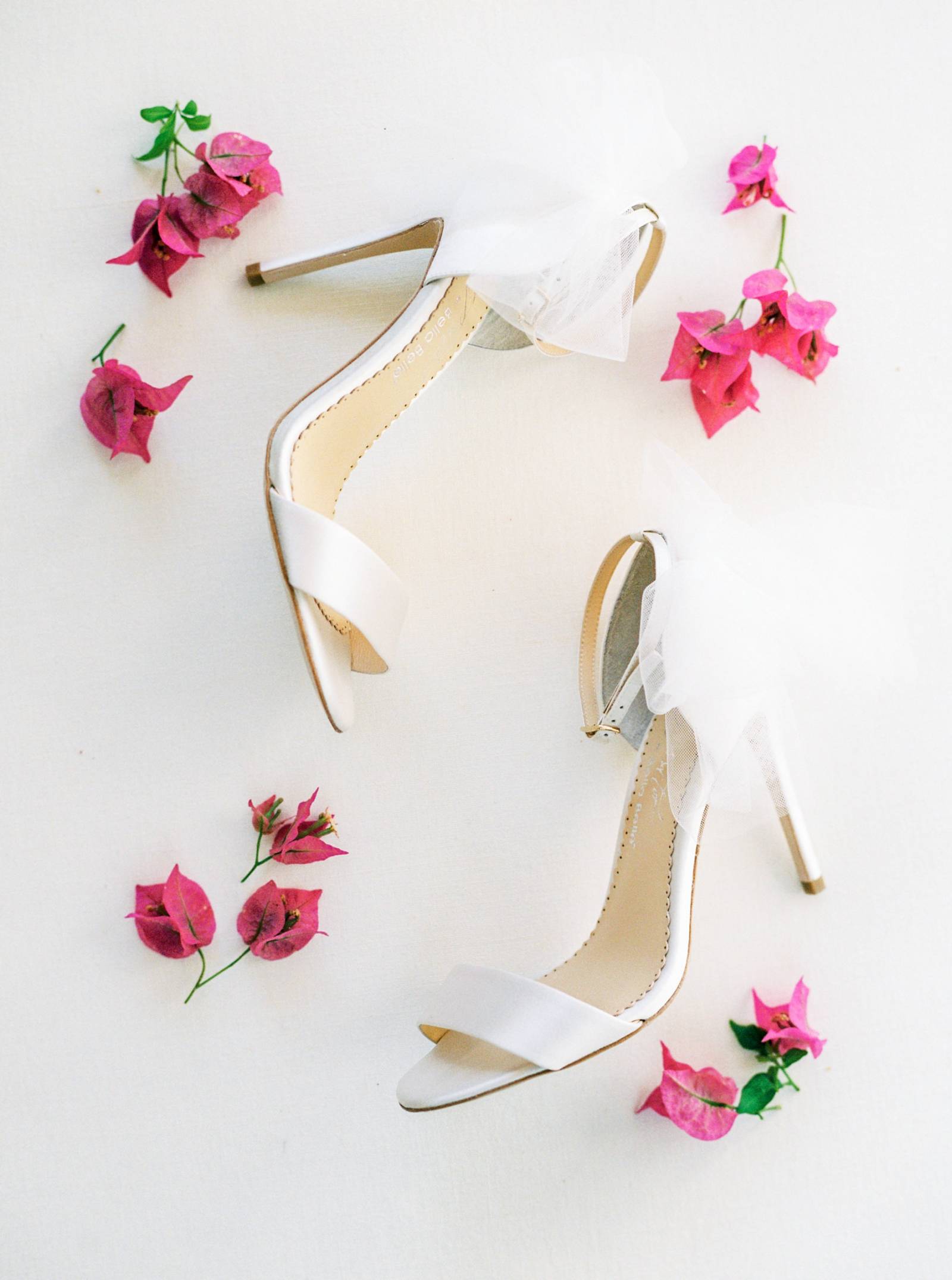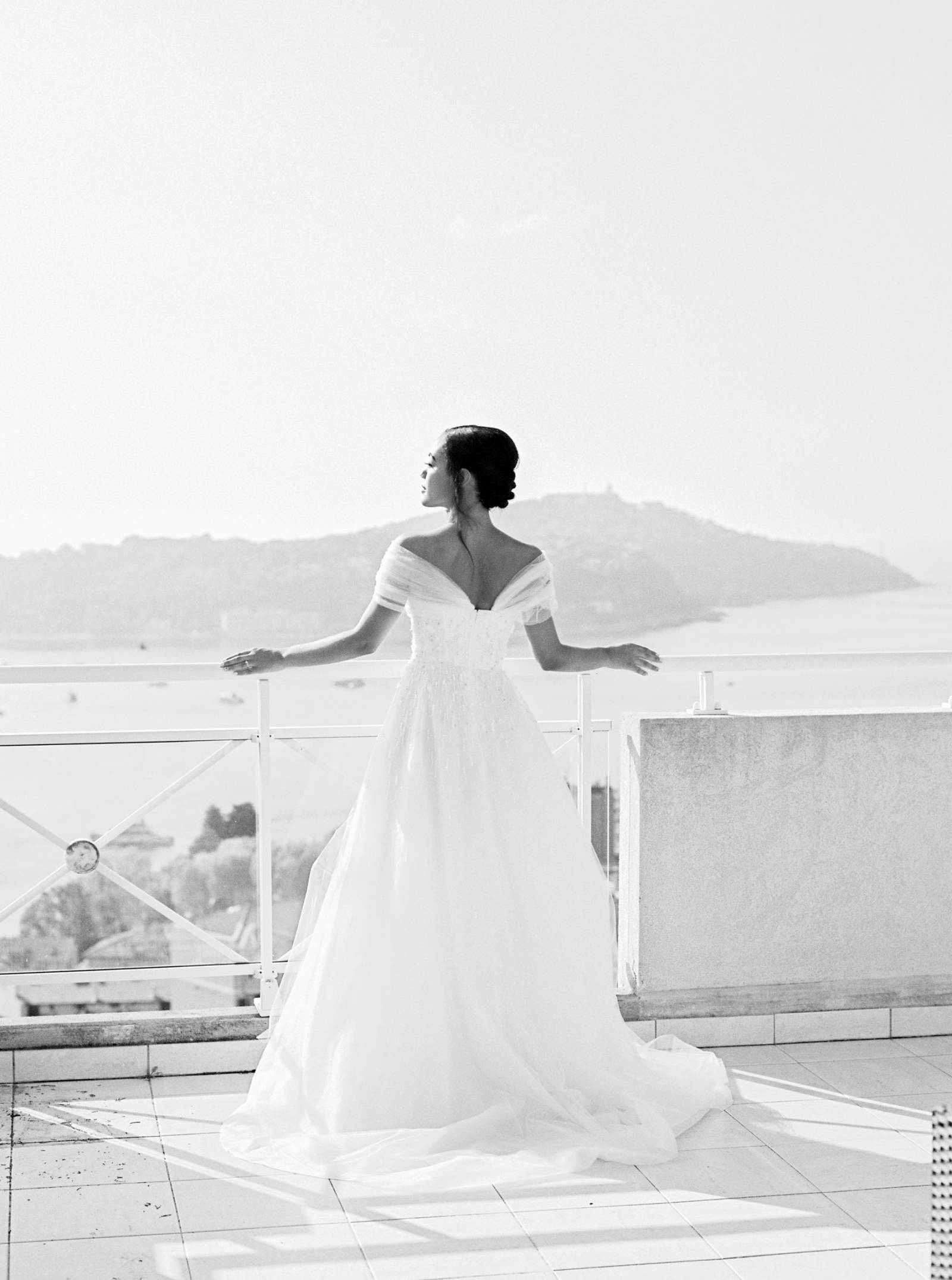 TELL US ABOUT FINDING YOUR WEDDING DRESS: Because we were engaged for 3 years, I had plenty of time to find the perfect dress. I had been wedding dress shopping, and had thought I had found "the one" multiple times. I decided to try one more shop, a boutique designer outlet, on a whim. After looking around, only one dress caught my eye. As soon as I put on the OSCAR DE LA RENTA dress, I just knew. Surrounded by mine and my mom's favourite artist playing in the background and a random call from my husband while I was trying on the dress, I took it as a sign that it was meant to be.
DESCRIBE YOUR WEDDING FLOWERS: To keep with the aesthetic of the Villa and its gardens, I envisioned a dreamy bouquet full of roses, coloured pink, white, and with hints of lilac, which was executed to perfection. For the ceremony, there were small arrangements to complement the bouquet lining the aisle. And we had white wisteria flowers lining the terrace overlooking the Villefranche bay. I dried my wedding bouquet over the Honeymoon and brought it home so I will always have a reminder of our incredible day.
WHAT ASPECT OF THE WEDDING WAS THE MOST IMPORTANT TO YOU BOTH? Andrew and I decided to have a nontraditional, very small wedding. We only had seven close family members as guests and my uncle even officiated the ceremony. It meant so much to us to get married in such an intimate setting.
WHAT ADVICE WOULD YOU GIVE OUT TO A COUPLE PLANNING THEIR WEDDING? It takes time! Be prepared to wait several days in between email correspondence and don't be afraid to follow-up. I found that the hardest part was picking vendors, but the internet and social media were very helpful. If you have the wiggle room in your budget, consider hiring a local wedding planner who can handle things on the ground.
MOST MEMORABLE MOMENT? A special part of our wedding day was our celebratory champagne break after the ceremony. To escape the heat of the French Riviera's August day, we went to the Le Salon de Thé to cool down and have a toast overlooking our favorite view of the Villefranche bay. We will always remember the touching words spoken by our loved ones during this time.
ANY OTHER DETAILS THAT HELP TELL THE STORY OF YOUR DAY? It was extremely hot during our ceremony. Both my mother-in-law and my mom were furiously fanning us and I had a parasol (which ended up being a great prop for pictures). Thanks to the heat, though, our champagne break in the Villa's air-conditioned Salon de Thé felt even more refreshing.
TELL US A LITTLE ABOUT YOUR HONEYMOON: We stayed in the French Riviera for our honeymoon. Why go any where else when you are already in one of the most beautiful places in the world? We headquartered in the small town of Beaulieu-sur-Mer, which was not too far away from our wedding venue. It ended up being the perfect location for us, given its proximity to key Riviera destinations, access to trains/buses, and most importantly, the fact that there was a full-fledged grocery store just steps away from our apartment! A highlight of our honeymoon was having an intimate dinner on our last night at Chevre d'or complete with delicious food and breathtaking views.
IS THERE ANYTHING YOU WOULD CHANGE OR DO DIFFERENTLY? I wouldn't change a thing. It was the best day of my life.