With Anjali & Justin coming from very traditional families, they had a big Hindu wedding & celebration planned for them, and even though they were so excited for this big traditional celebration, they also wanted something private and of their own. They decided to go to Hug Point on the Oregon Coast six days before their Hindu wedding to read their vows in private, and be married and they took Oregon Wedding Photographer DAWN PHOTOGRAPHY along with them to document the moment. She tells us, "They had never been to this spot, so their adventurous and passionate spirits were so excited about this beautiful place. We decided to not waste any time, and go straight for the vows once we found the perfect backdrop. From there it was all just happy tears, laughter and lots of kisses. They are such a fun and passionate couple, and love to have fun! So this location was perfect for all of the above. I loved that even though they were having the big wedding with all their family and friends, they decided to still keep their vows special to each other and not make it about anyone else. Weddings are slowly becoming about who has the best wedding, best decor...but really it's all about the couple and how amazing their love is and celebrating that!" I really couldn't have said it better myself!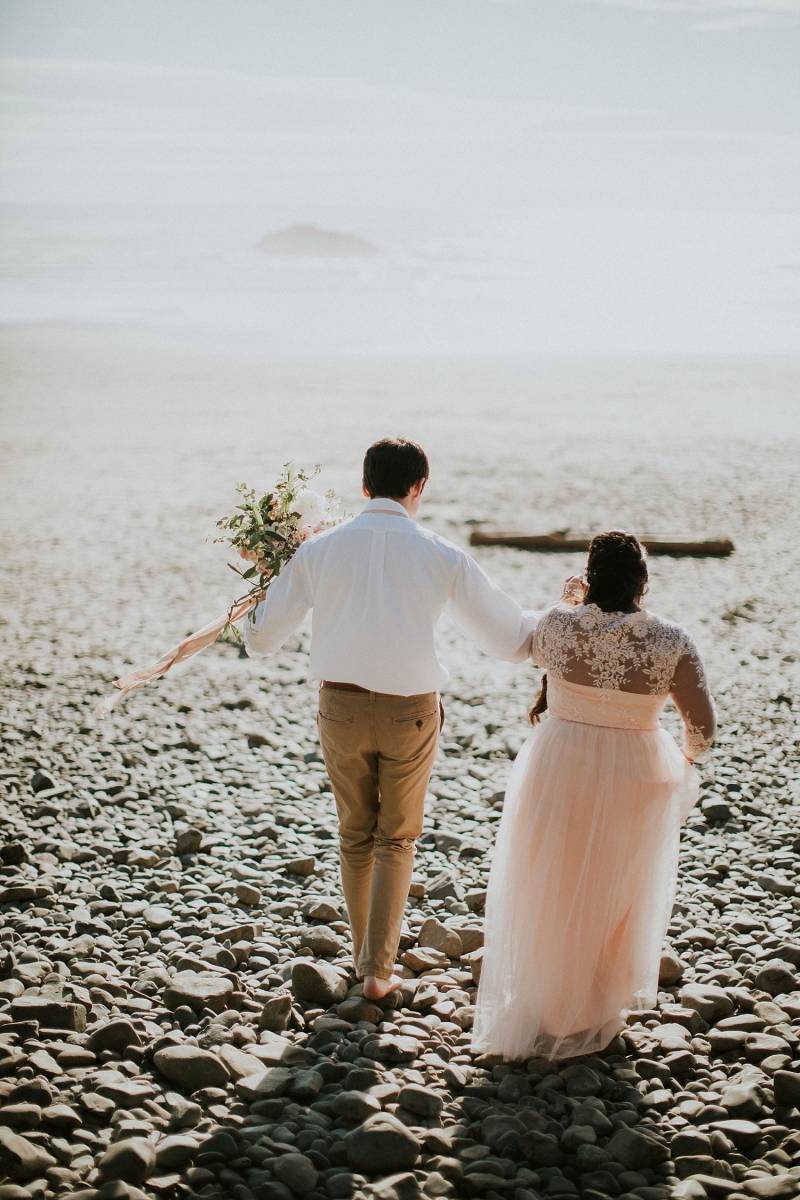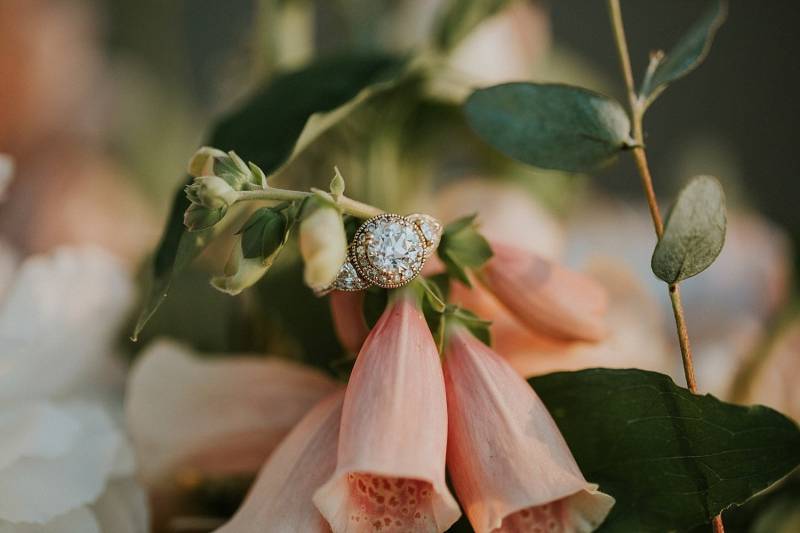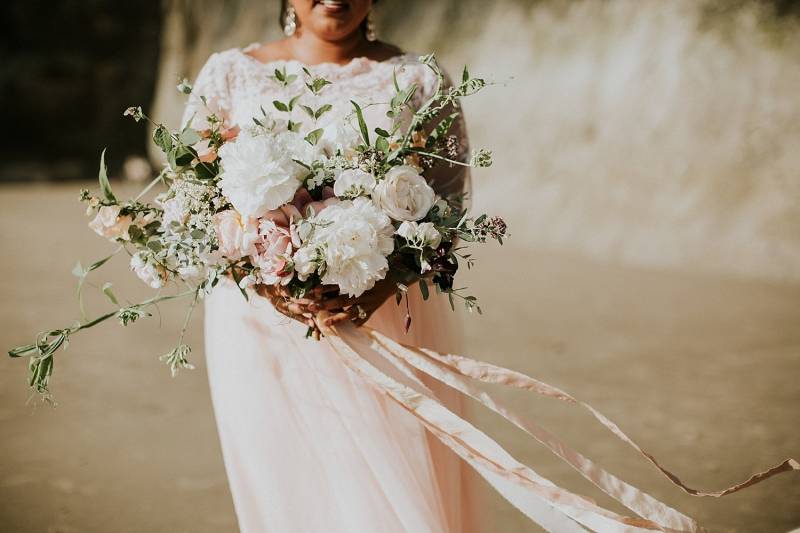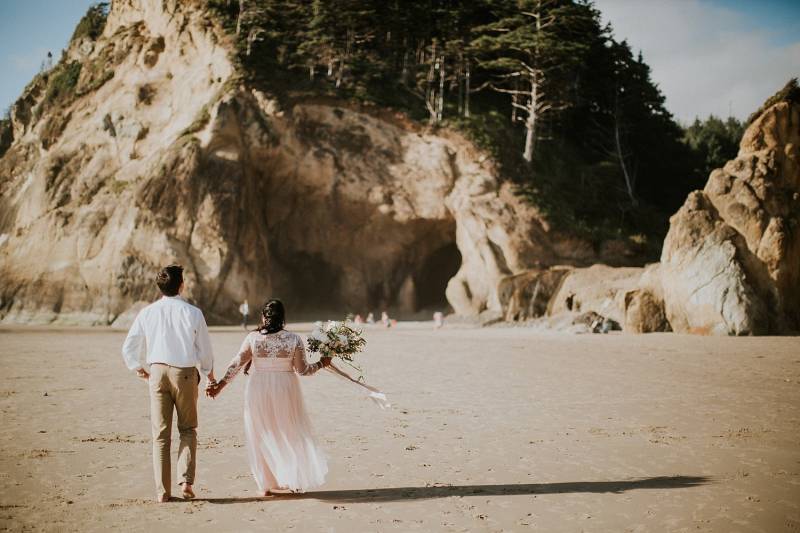 HOW DID YOU MEET? We met at a mutual friend's birthday party when I was an undergrad and Justin was finishing his Masters at Oregon State University.
TELL US ABOUT YOUR PROPOSAL: Justin proposed at one of our favourite restaurants in Portland, Streetcar Bistro, and I was taken completely aback - we had a vacation planned in Hawaii for later in the year, and I was convinced it would happen on that trip. Instead, Justin had some of our closest friends hiding out in the restaurant, and they got the entire proposal on video for us, which was a lovely surprise.
TELL US ABOUT FINDING YOUR WEDDING DRESS: Over the year of our engagement, I graduated with my Masters in Atlanta, lived in my childhood home in Portland, and then moved to Albuquerque - so my dress hunt was spread across the country. I visited 8 different boutiques, but I couldn't find anything that I truly loved. On a whim, and out of a bit of desperation, I took a stab in the dark and ordered my dress from Chi Chi London online - and I got incredibly lucky. After some serious alterations from a dedicated seamstress, it was perfect.
ANY DIY ELEMENTS? I made our vow booklets with Moleskin notebooks and a little Sharpie magic -we plan to write a new love letter to each other every anniversary with the remaining pages. I can't wait to see our little books fill up!
DESCRIBE YOUR WEDDING FLOWERS: Initially, we weren't going to have any flowers - they just seemed really out of budget, so I had morosely resigned myself to saving the cash and putting it towards the honeymoon. The day of our elopement, Justin surprised me with a bouquet from SEVENTH STEM, a floral design company that I'd crushed on for years - and it was one of the most gorgeous things I've ever laid eyes on. My bouquet had so much amazing texture and variety going on,and I loved that it looked so lush and full without looking heavy. I can't say enough amazing things about SEVENTH STEM - they created my dream bouquet without ever talking to me, with just a little guidance from Justin and a glance at some old Pinterest posts.
FAVOURITE DETAIL OF THE DAY: Justin used to read me bedtime stories, when we spent years doing long-distance - and he turned his vows into a bedtime story, of sorts. His vows were about our adventures, our determination to make our relationship work despite the distance and despite how committed we were to careers that separated us geographically, and how our love really has felt like a fairy-tale. Hearing him weave our lives into his story was incredibly beautiful.
WHAT ADVICE WOULD YOU GIVE OUT TO A COUPLE PLANNING THEIR WEDDING? Do what makes you happy - there are so many expectations that families and society at large have for weddings, but your wedding should belong to you. You want it to be a day that makes you melt as you remember it for the rest of your life - so find your melting point. I know we ruffled some feathers by eloping before the big traditional wedding we had later, but getting to say our vows without an audience made us be so much more sincere with one another.
MOST MEMORABLE MOMENT? Justin got down on one knee to recite his vows to me - and when we got up, he twirled me around and sealed those promises with a kiss. I couldn't tell you exactly what words he said, but with the ocean roaring around us, the wind whipping my hair, and my brand new husband wrapping me in his arms, I just felt giddy with happiness. When I think about our elopement now, I always think about that moment, teeming with joy.
ANY OTHER DETAILS THAT HELP TELL THE STORY OF YOUR DAY? Shortly after we met, I got into grad school - in Georgia, while Justin was tethered to his grad program in Oregon. We spent the next 3 years making cross-country long-distance work. With the time difference, I was going to bed as Justin got home from work, and I was so exhausted I fell asleep on the phone every night. Because there was no way I could stay awake for a real conversation, Justin started reading to me every night - sometimes a short story, sometimes a reimagined fairy tale, but always something magical to usher me into the sweetest dreams. He turned his vows into a story, just like the kind he used to read me as I went to sleep.
IS THERE ANYTHING YOU WOULD CHANGE OR DO DIFFERENTLY? Honestly, we kept it simple - and that was perfect for us. I love that we planned nothing besides the date, time, and our photographer. We love Dawn, and after we said our vows, the three of us went to dinner together on the beach - it was casual, and impromptu, and very "us".