Amy and Bailey's intimate organic destination wedding captured by Florida wedding photographer RENEE LEMAIRE is filled with old Florida charm. Set at the historic BONNET HOUSE, this wedding is a tropical dream. Bailey grew up visiting the venue on frequent family trips, so the pair thought it was the perfect location for their wedding day. The venue's bright yellow architectural detailing coordinated perfectly with the grey, light blue, and greenery colour palette. Their three pups are important to them, so the group all travelled down from Ohio together to be there for the wedding. Sunny the Golden retriever played an important role as the ring bearer. The ceremony was held in front of an old fountain and officiated by a close family friend. Dinner was served waterside on the patio for a romantic end to a beautiful day.
HOW DID YOU MEET? Back in 2015, Bailey and his family's company were in the process of relocating their home office to a small suburb in Cleveland. I was working as a waitress at one of the local restaurants through college. Our town is so small and bailey became a frequent patron and the rest is history!
TELL US ABOUT YOUR PROPOSAL: I'd describe our proposal as very intimate and private. It was Christmas Eve of 2019 and we were grabbing an after-dinner drink at one of our favourite local spots at Lauderdale by the Sea and Bailey said "let's go for a walk on the beach." There were two chairs open and we started reminiscing on our lives together the past five years and he popped the question!
TELL US ABOUT FINDING YOUR WEDDING DRESS/ATTIRE: As far as dress shopping went, I didn't have much inspiration. I didn't grow up having this dream of what my dress would look like. Because I'm petite and bustier, I do know what looks good on my body type and what doesn't so I just went with what I knew haha. I typically wear a high neck and I knew that's the route I wanted to go. I wanted high neck, low/ open back, some lace or sequin and a short train. I went to a few shops and did my research online and found the Katarina gown by Rosa Clara and I knew she was the one!
DESCRIBE YOUR WEDDING FLOWERS: Our wedding flowers were very neutral. I love the natural greens, white, and blue. The venue itself has so much greenery and colour that we didn't want to take away from the beauty that was already there. Our florist did an amazing job with every floral detail from the arch to my bouquet!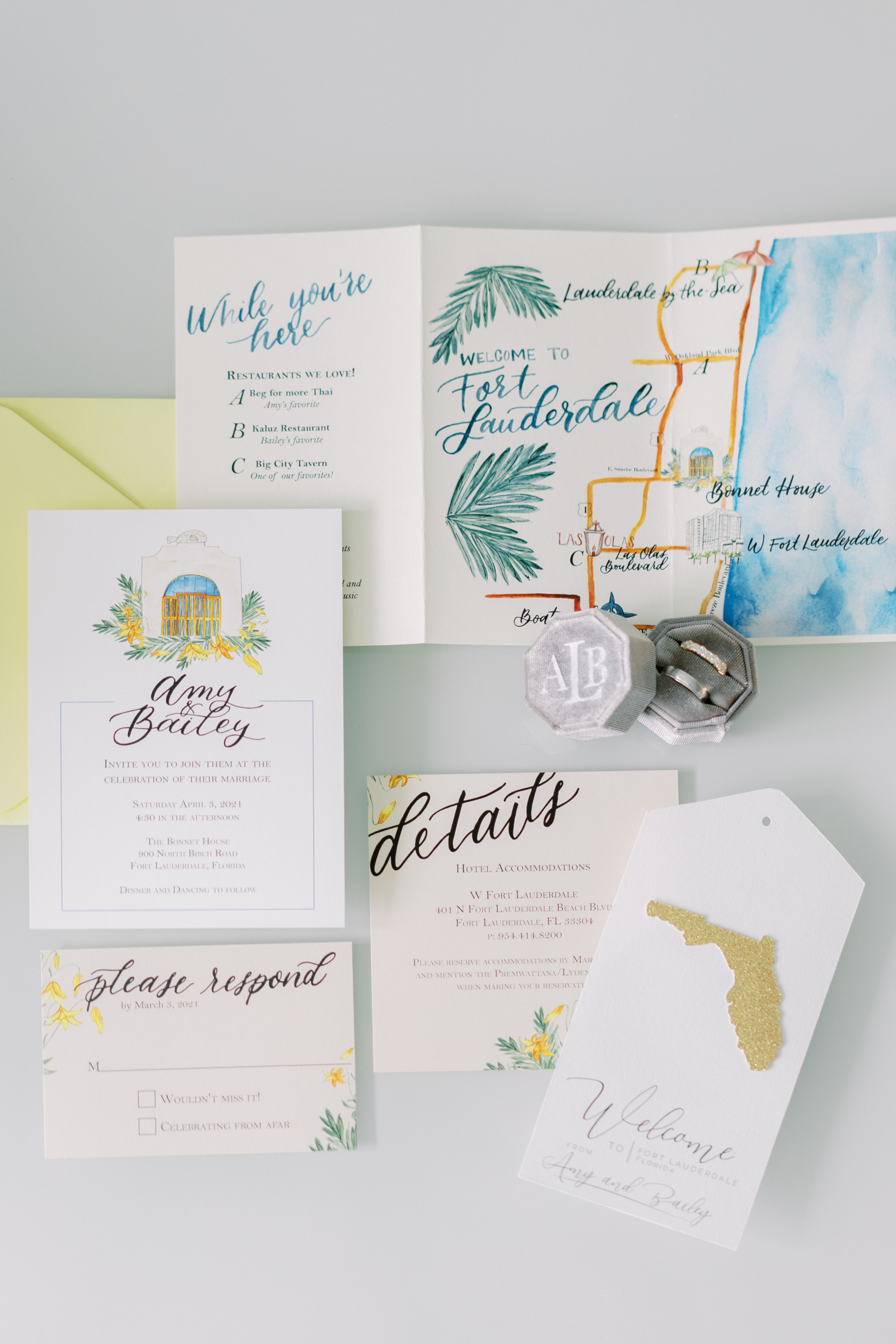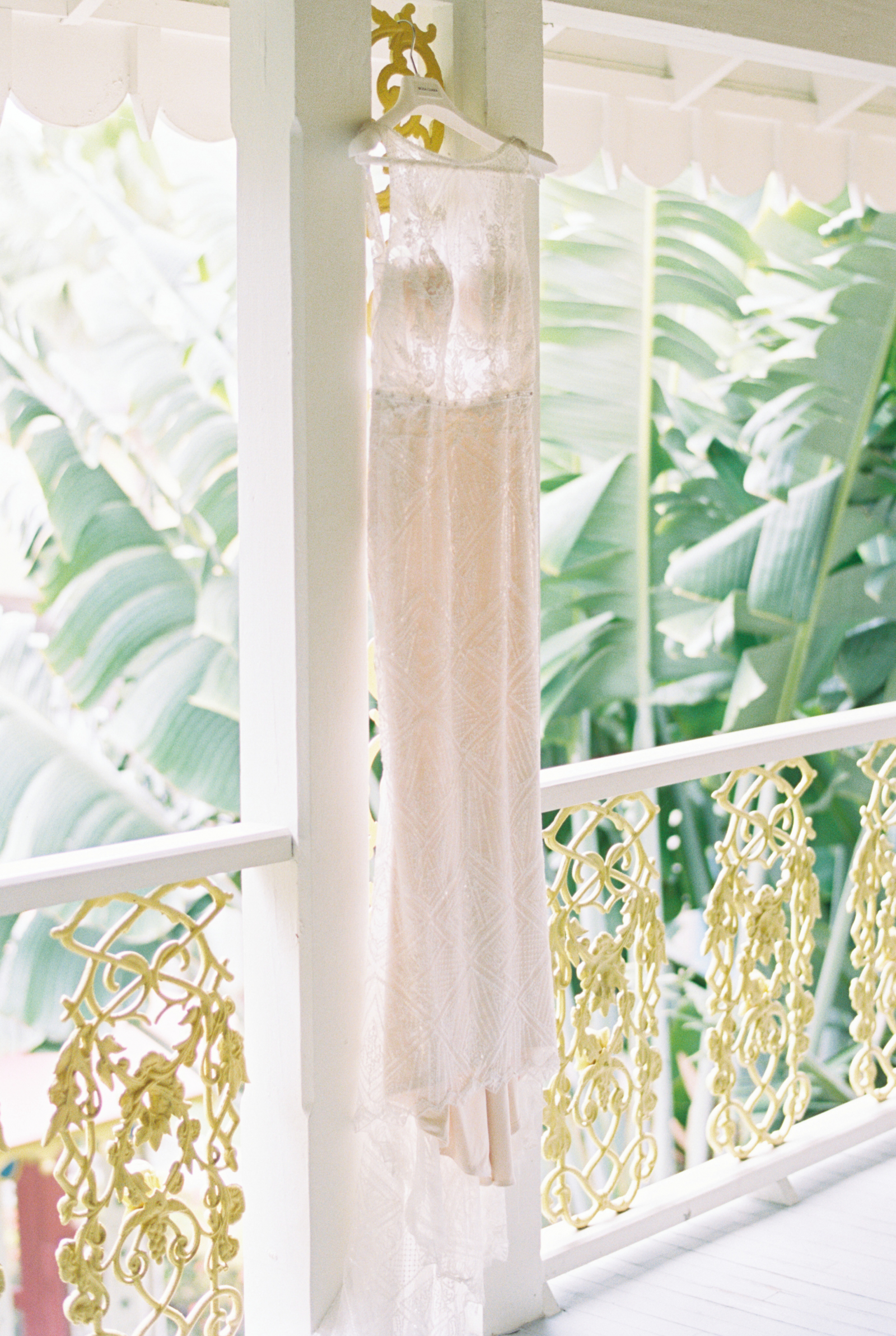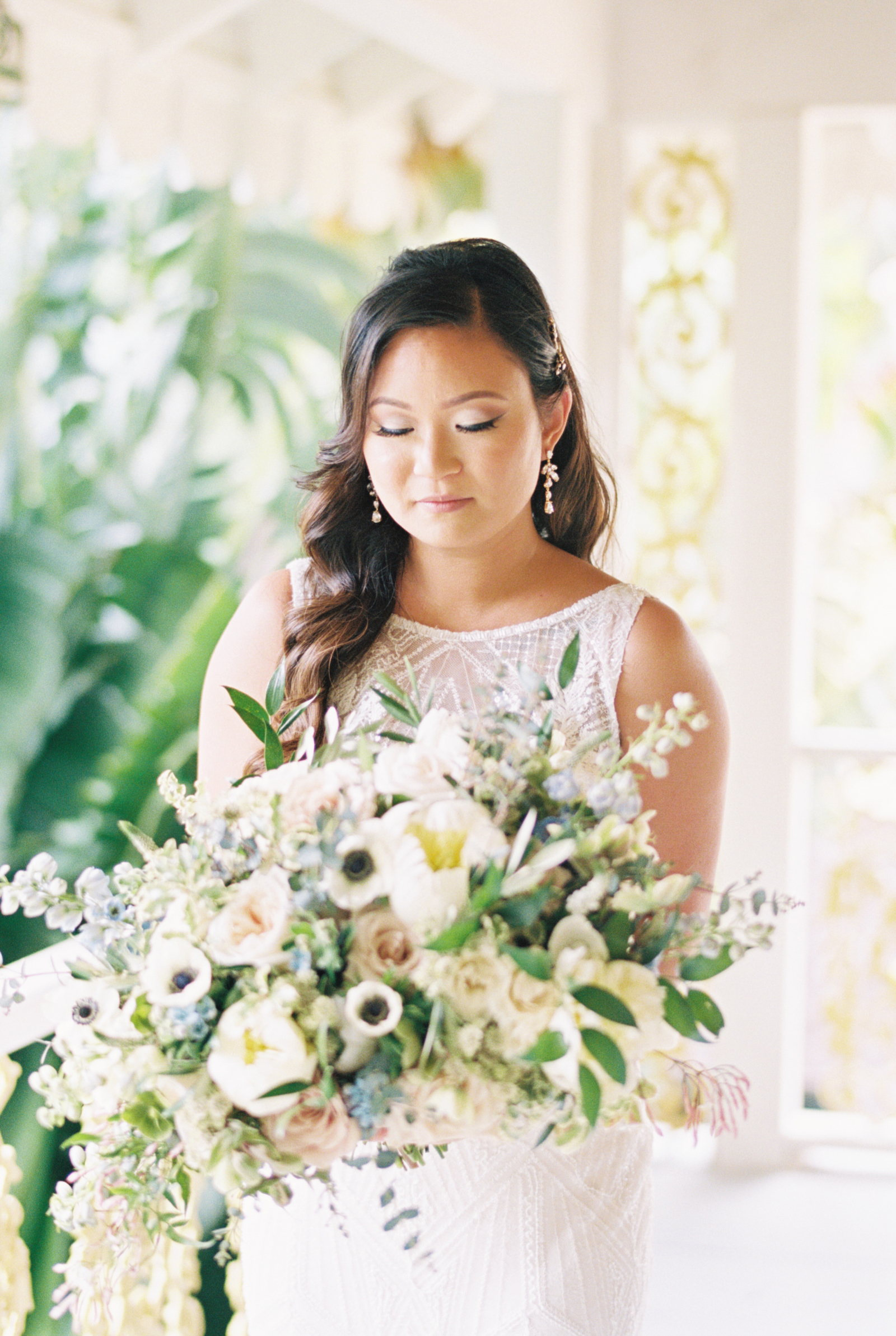 FAVOURITE DETAIL OF THE DAY: Our dogs! We have three boys, Sunny our golden retriever, Rudy the beagle, and Biggie Smalls the pug. As any crazy dog mom, It was so important that we were able to incorporate them into the wedding somehow. Sunny was the ring bearer and we worked with a dog trainer for a few months before the wedding specifically on making sure he was able to follow the "come" command and make it down the aisle. We were so fortunate to be able to fly them down and have them attend the ceremony and take photos. It felt so complete with them there especially since we incorporated them in our save the date cards. All thanks to Monika at Fureverus Wedding Pet Care for making it possible and helping take care of them during all the chaos.
WHAT ADVICE WOULD YOU GIVE OUT TO A COUPLE PLANNING THEIR WEDDING? Don't get hung up on the small details. Don't expect things to be perfect! And if you can, try to stay focused on what you and the groom want and less on trying to please others. The day is about the happy couple and no one else. The day will flow by so fast and there will be small things that can go wrong and try not to get hung up on them and move forward. Everyone will be too busy having a good time and so should you. Trust the vendors and coordinators to do their jobs and handle things as they come.
MOST MEMORABLE MOMENT? Hands down the first look! I remember being so anxious and teary all morning. bailey stayed at our rental house and I stayed in a hotel and I remember the morning of talking to bailey over the phone and he seemed so "off" (apparently he was nervous.) I even made a joke "if you're getting cold feet, please tell me now" haha so when we had our first look it was one of those heart stopping moments and a lot of relief all at the same time.
Also With everything going on in the world, none of my family was able to make it to the wedding. We did not have any bridesmaids or groomsman in our wedding. My best friend Jessica who would have been my MOH did the honours of walking me down the isle and giving me away. This was a very memorable moment of the wedding day because it was such a special moment in our friendship. It was very different and untraditional but it felt so right!
ANY OTHER DETAILS THAT HELP TELL THE STORY OF YOUR DAY? If it were entirely up to us, we both would have eloped somewhere and called it a day haha. But we felt we had obligations to family and friends so we decided if we were going to do it, it was going to be very small. Bailey has family that could have easily made it a 250+ guest list and I have a very small family, most who live over seas. I think we did a good job "sticking to the plan" and keeping the setting very intimate.
TELL US A LITTLE ABOUT YOUR HONEYMOON: With everything going on in the world, we are hesitant to plan anything. Ideally we are considering Hawaii, somewhere in the Caribbean islands or my pick would be the Maldives!
IS THERE ANYTHING YOU WOULD CHANGE OR DO DIFFERENTLY? If there's anything I'd do differently, it was probably to fix my posture when walking because it definitely shows in pictures when you're slouched or not standing tall… and maybe my hair haha. I also hear that pretty much every bride kinda ends up hating her hair so I'm glad I'm not the only one.
A big thank you to Florida wedding photographer RENEE LEMAIRE for sharing this beautiful wedding with us. Renee specialises in capturing artful imagery of the celebration of love and connection. With an attention to detail and a passion for authentic moments, Renee can help you document the most meaningful moments of your story in the destination of your dreams. See more of her portfolio here.