Olivia and Richard took inspiration from a somewhat unusual source for their wedding day – the 1940's romantic comedy "The Egg and I", whose basic plot is about some newlyweds leaving the city to buy a farm. Enamoured with the idea of old Hollywood in a farm house setting they went about creating this vision for their day. FLYING CABALLOS RANCH – in San Luis Obispo – provided them with the ideal venue. KELSEA HOLDER captured the days festivities starting with an intimate ceremony which was held for about 30 of the couple's closest family and friends, followed by a larger reception. The gorgeous bride tells us, "While cocktail hour happened, we remained inside the main house at Flying Caballos. It wasn't until dinner when everyone sat down and we made out grand entrance. Richard and I both agree that very moment of stepping out of the house as husband and wife, and seeing all of our family and friends was just the best feeling in the world." You can also check out their incredible Big Sur engagement session HERE.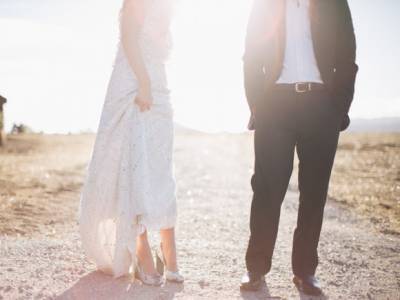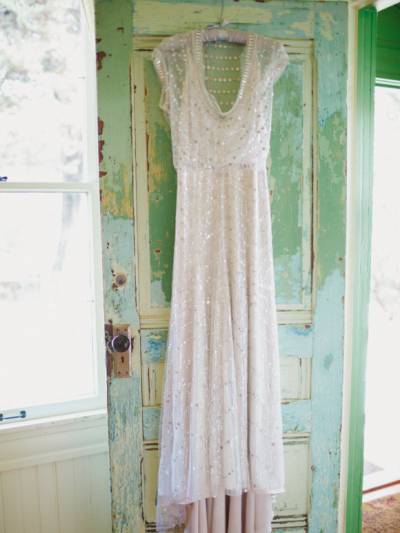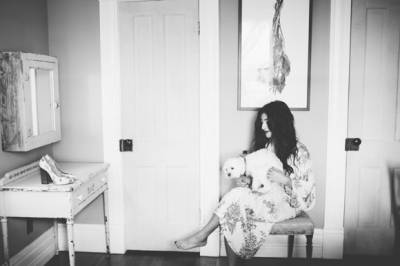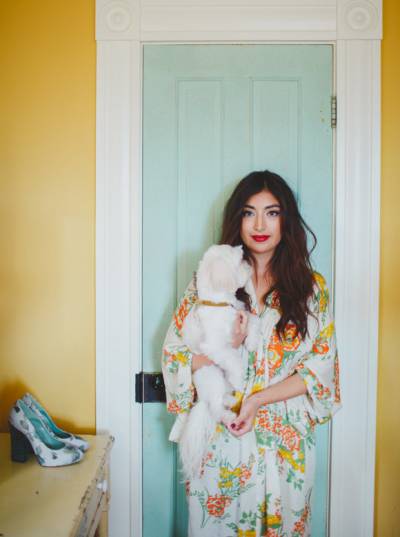 HOW DID YOU MEET? Richard and I were both playing music at the Porch in Santa Margarita back in 2005. It was love at first sight for me. As he was playing, I remember telling my mom, "I'm going to marry that man!" Our relationship was a slow and steady build, from playing music together (he plays guitar and I play violin) to becoming friends, into dating and now marriage.
TELL US ABOUT YOUR PROPOSAL: Richard and I are never good with keeping things a surprise. Two weeks before he proposed, he took me to dinner at our favorite Thai food restaurant. He had a child like excitement about him. Before we even ordered our food he blurted out, "I bought you a ring today!" I didn't believe him, so I asked him if I could see it. He had found a beautiful 1940's emerald cut aquamarine with a diamond set on each side. I absolutely loved it! So two weeks later (hand freshly manicured and all) he took me out to our favorite spot in Montana de Oro, and popped the question.
TELL US ABOUT FINDING YOUR WEDDING DRESS: I was convinced I wanted to find a non-traditional vintage dress. As I got deeper into the search, I realized options weren't abundant in this area for what I had in mind. With the help of my sisters and mom, we discovered Jenny Packham's gowns. They have a vintage feel about them, which I absolutely love. So we found a bridal salon in Santa Barbara that carried her gowns. It was the first dress I tried on out of three, and I knew that was the one.
ANY DIY ELEMENTS? I wanted there to be a real sense of two families coming together, so I asked family to participate in different ways. My uncle officiated the ceremony. For dessert we had a buffet, where my aunt made our wedding cake, my grandmother made pie, and Richard's mother made Basque cake. Our toasting glasses that were on the family table belonged to my great grandmother. Those little elements made our wedding that much more special.
DESCRIBE YOUR WEDDING FLOWERS: I wanted a very dark and moody feel with the flowers. So we had all dark shades of red, with lots of dark greenery. We gave Nikki, our most amazing floral designer, our vision and she ran with it.

FAVOURITE DETAIL OF THE DAY: We spent a lot of time thinking about little details, but one of my favorite things was our signature cocktails. Richard chose a Dark and Stormy (dark spiced rum, ginger beer, a lime.) With my drink we were a little creative, and called it The Black Bird (champagne, thyme simple syrup, a blackberry.)
WHAT ADVICE WOULD YOU GIVE OUT TO A COUPLE PLANNING THEIR WEDDING? It is so easy to get caught up in the details of the wedding, but I would say take a deep breath and enjoy each and every moment of planning. I just constantly reminded myself that in the end I get to marry the man I love, and that's the only detail that really matters.
ANY OTHER DETAILS THAT HELP TELL THE STORY OF YOUR DAY: On the eve of our wedding, we were greeted by stormy weather, which carried on through the next morning and early afternoon. We wanted a moody feel to the day, but this was a bit nerve wracking considering we had no indoor option. But a few hours before the ceremony the rain stopped, and we were left with the most beautiful, dramatic sky. Family and close friends jumped in to help bring the day together. I wouldn't have changed a single thing about it.