When Sarah Kate and Joshua pictured their wedding (having attended many in their roles as wedding photographers), it was as an elopement, somewhere beautiful, exotic... and far away. But after Joshua popped the question, in a surprise penthouse proposal, the couple realised that they couldn't imagine getting married without their close friends and family in attendance. Focus shifted to the Banff National Park area, with its milky blue waters and dramatic mountain scapes, and once they found a private, modern home to act as a venue, their destination wedding vision really started to take shape. "Our home and style are on the modern/minimalist side, so that definitely bled into our wedding inspiration," says Sarah Kate. "My favourite colour is green, so we added little touches of that in places like the hand lettering on the invitations and the beautiful velvet table linens. Josh loves matte black, so we incorporated that into the design with the unique matte black flatware. We really wanted the grand landscape to be the star so we went minimal and neutral with most of the design elements, and softened up our more masculine style in all the right places! Our invitations were very angular and modern whereas my dress was very feminine and soft. The place settings were bold while the flowers had a more natural, fresh-picked vibe." STEFANIE MILES and BOWS & ARROWS combined their talents to bring the vision to life, foraging greenery from the surrounding wilderness and adding it to coral and burgundy blooms, which were paired with modern vessels. The triple ceremony arch was Sarah Kate's favourite: "It looked as though it might have grown out of the ground right there!" Magnolia Rouge favourite ERICH MCVEY was behind the camera on the day to capture these incredible images that also graced the cover of Issue 17 of MAGNOLIA ROUGE MAGAZINE.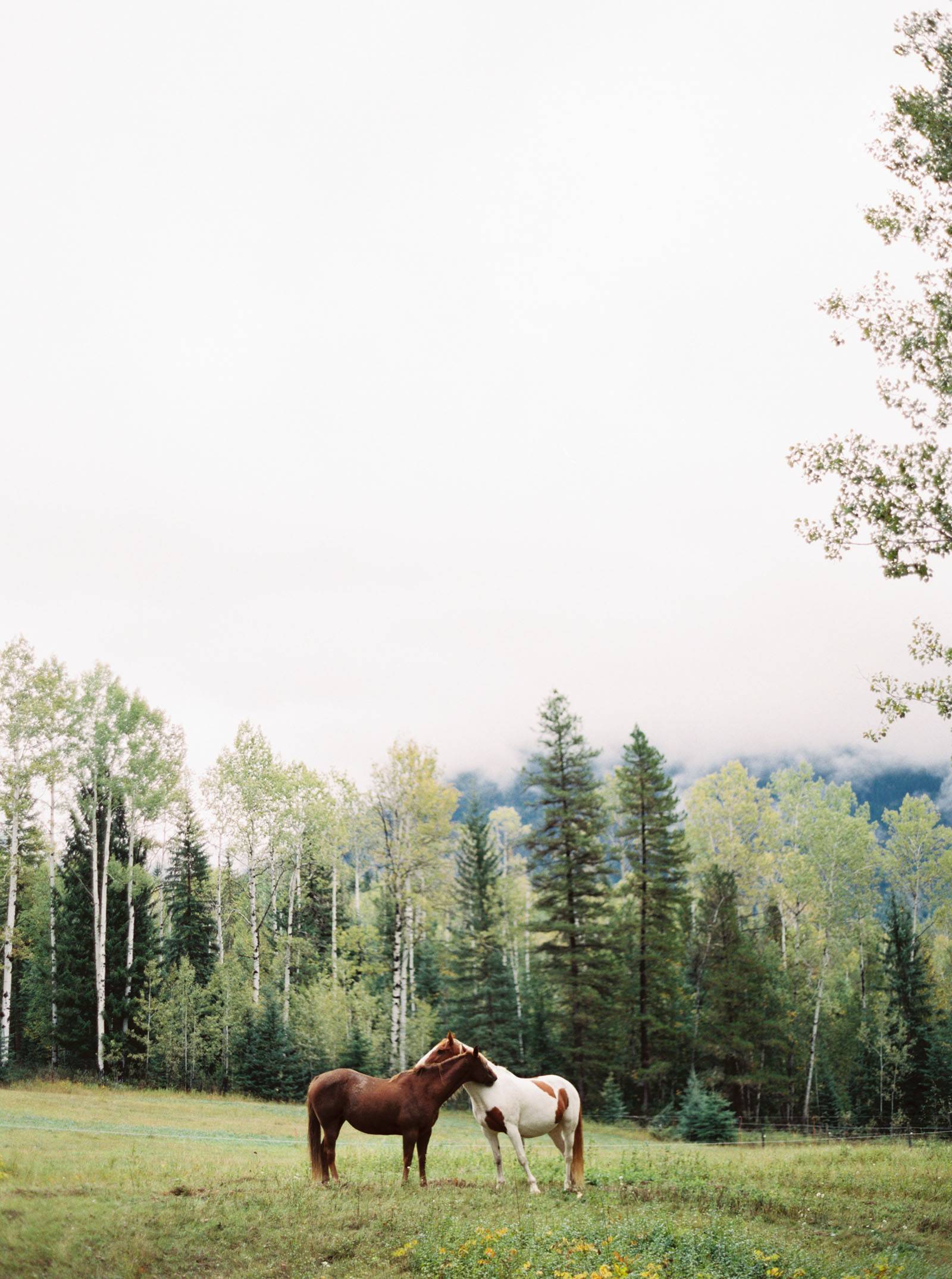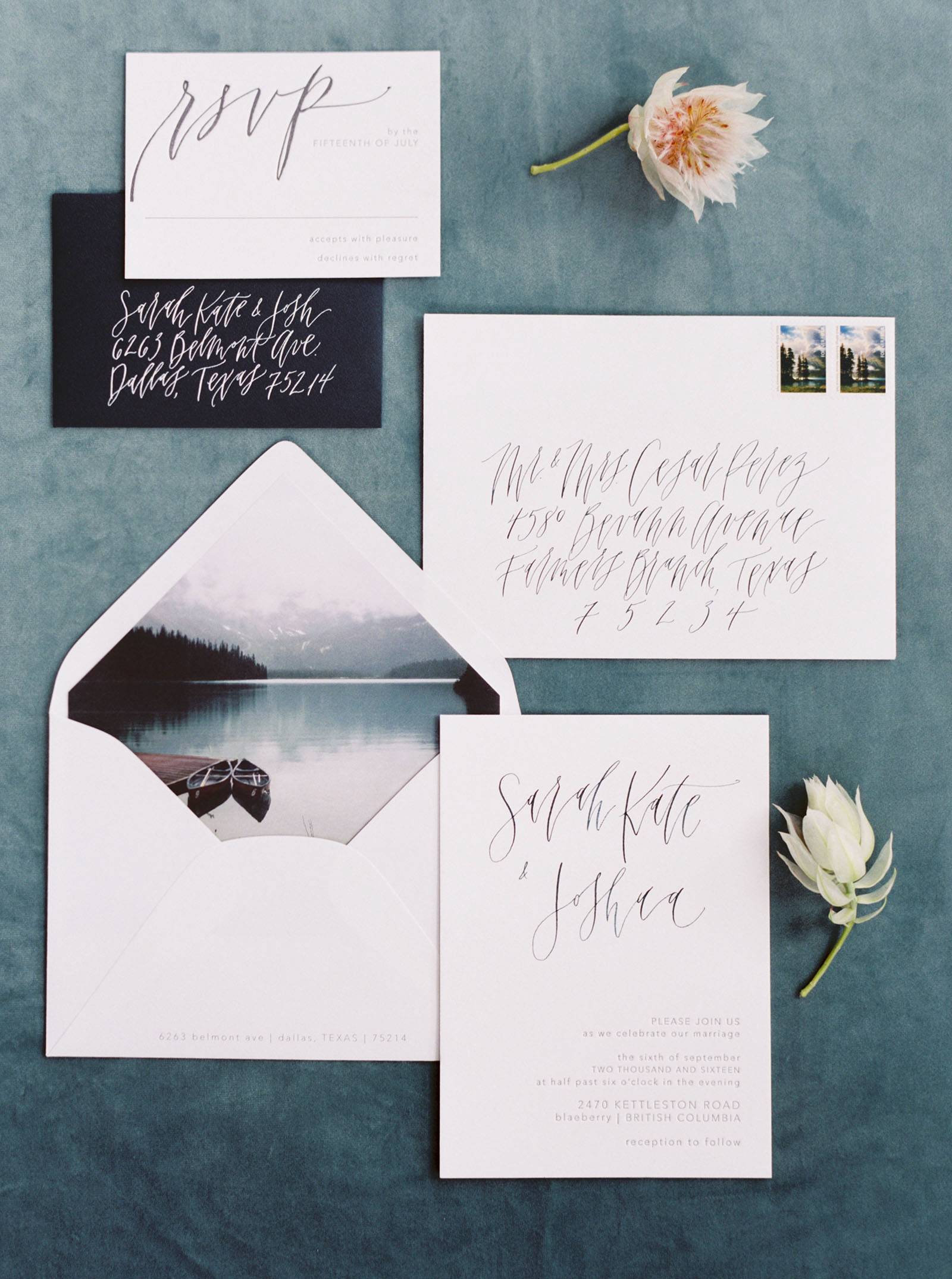 TELL US ABOUT YOUR PROPOSAL: My friend, who is also in the event industry, had asked me to go with her to a gala that her company was hosting. We got dressed up and even had our hair and make-up done for the occasion! We were running late so she asked me to check that everything was set for the after party in the penthouse, while she checked in with her boss. I was supposed to meet her downstairs in 5 minutes. I walked into the penthouse with my orders; I was looking for flowers and making sure the bar was set when Josh (who was supposed to be in San Diego) walked around the corner. Ugly crying ensued, there was NO gala. We did have a party though! Friends gathered and my family even drove in from out of town on a few hours notice!
TELL US ABOUT FINDING YOUR WEDDING DRESS: I was really nervous about the "big dress shopping trip" for good reason. I just took one friend with me and only tried on a few dresses. I bought the first one I tried on because I already knew the direction I wanted to go and it was right in line. My career as a wedding photographer made this part a little daunting. I've seen a little bit of EVERYTHING over my 11 year career and there was so much pressure to get this decision right! I had buyers remorse for about 5 minutes and then I just went with it.
DESCRIBE YOUR WEDDING FLOWERS: We trusted Alicia and Adam at Bows & Arrows to do what they do. We had a couple meetings about colours and placement but ultimately, we wanted them to use the floral they thought was best for the environment. We cared more about the "feel" of the floral and didn't get caught up in the actual types or colours of flowers as much. A lot of the greenery was foraged from the surrounding wilderness and added to the coral and burgundy blooms. I love the unexpected textures and "fresh-picked" look of all the arrangements and installations! The arrangements were paired with modern vessels which gave it that compromise we were looking for. The triple arch at the head of the ceremony was probably my favourite piece. It looked as though it might have grown out of the ground right there!
FAVOURITE DETAIL OF THE DAY: I wasn't going to have a wedding band so I was planning on using my grandmothers wedding band, that she wore for 70 years, during our ceremony. One of Josh's wedding gifts to me was the most beautiful wedding band that we had looked at before (and decided to get later). They were both so special so we used them BOTH and I still wear both every day. Mine is a scalloped white gold + diamond band and my grandmothers is a wide yellow gold band that I wear on my right hand.
WHAT ADVICE WOULD YOU GIVE OUT TO A COUPLE PLANNING THEIR WEDDING? Hire great vendors and trust them. We know that it's not an option for some, but we really enjoyed having a small guest list and enjoying time with each and every person.
MOST MEMORABLE MOMENT? The most memorable moment for me was walking down the aisle with my dad. It was raining outside but somehow I didn't notice it on the very long walk from the house. I had so much time to stare at my husband-to-be and also appreciate every face in the seats. It was pure bliss! Ironically, from the other side of the aisle, Josh said that was the most memorable moment for him as well!
TELL US A LITTLE ABOUT YOUR HONEYMOON: I had always said that I would love a surprise honeymoon location but I didn't actually think it would happen the way it did. As a wedding gift, Josh bought us tickets to South Africa, departing a couple months after our wedding. I am and always will be in love with Africa so the fact that he surprised me with this specific location absolutely blew me away! I opened the envelope only ten minutes before walking down the aisle so I literally had every emotion right then and there! We were in Capetown for about a week. We hiked Table Mountain and laid by the pool at our modern hotel and were LUCKY enough to score a reservation at the No.1 restaurant in all of Africa called Test Kitchen. We drove to South Africa's wine country which completely surpassed my expectations. The history, views, hotels, food and especially the wine were outstanding. After plenty of wine, we took off for Kruger National Park and went on safari. We have actually been on safari before in a different part of Africa so it was especially fun to get to re-live that experience as a married couple in a different African landscape. I would encourage anyone to forgo the beach and visit Africa on their honeymoon! I only wish we could have stayed longer.