Lemons into lemonade, anyone? Covid has really shook the wedding industry, and derailed couples' wedding plans. However, Colleen and Tim chose to take the most graceful pivot imaginable. What was supposed to be a larger wedding was downsized to just a handful of the couple's closest friends and family and was beautifully captured by Chicago wedding photographer BONPHOTAGE. DUNHAM WOODS RIDING CLUB provided the perfect outdoor setting for an organic style ceremony drenched in golden light and the ballroom was converted into an intimate and elegant dinner party in the beautiful space. Colleen looked elegant in a blush LAZARO wedding gown. Lynzie from BONPHOTAGE tells us, "Words cannot express how truly lovely this couple is, how they pivoted their plans in stride, and accomplished the most beautiful intimate wedding. Had I not been speaking with them for months leading up to this, I honestly would have thought their day was exactly how it was supposed to be. And wasn't it, though?"
The couple envisioned a gorgeous and understated outdoor ceremony followed up by an elegant and intimate reception, with elements of blush, gold, and greenery. With the help of their wedding planner, Bambi Rogers of BCR EVENTS their dream wedding was bought to life!
WHY DID YOU CHOOSE THIS LOCATION? We chose Dunham Woods because we went there while we were celebrating our first dating anniversary in 2019, and absolutely fell in love with the club. i used to work there as a teenager, but It was so fun to come back to the location and see it as an adult and a guest. Tim had not seen the club before and suggested exploring it over our anniversary weekend. At that point, we were not yet engaged, but knew we wanted to marry each other. While we were there enjoying a brunch over our anniversary weekend, a guest approached us, got to know us, and gushed about how much she loved her own wedding at the club. Next thing we knew, we were talking with a wedding coordinator at the club! We loved the idea of getting married in such An elegant and unique location, With beautiful natural elements, close to where colleen grew up, and near our families in the Chicago suburbs. Our dream of a stunning outdoor ceremony, with an exquisite reception, seemed to fit perfectly at the club.
HOW DID YOU MEET? We were 'introduced' on hinge, a dating app, and first met in person for our first date at the parliament of the university club of Chicago on September 11, 2018. We knew right away we were meant to be!
TELL US ABOUT YOUR PROPOSAL: In November 2019, Tim suggested that he make a reservation at the university club of Chicago, where we had our first date, for a Sunday holiday brunch on November 11, 2019. I had absolutely no idea he was planning to propose that day! When we arrived at the threshold of the stunning cathedral hall of the club, and I saw that it seemed to be empty with no brunch event happening, I assumed we had the wrong day and began turning around to leave. Tim then brought me into the room, saying that he saw our table on the side, up against the magnificent fireplace. I then saw the table covered in beautiful pink- my favourite colour -flowers and petals, with framed photos of us taken throughout our relationship, and a bottle of our favourite champagne. I immediately began crying tears of joy, and so did he! He took my breath away with an intimate, meaningful proposal with a stunning ring. We then enjoyed that moment, just the two of us, with a glass of champagne In Cathedral Hall. Tim then brought me upstairs in the club, surprising me with our families waiting, who came to celebrate over brunch. Up until our wedding, it was the best day ever!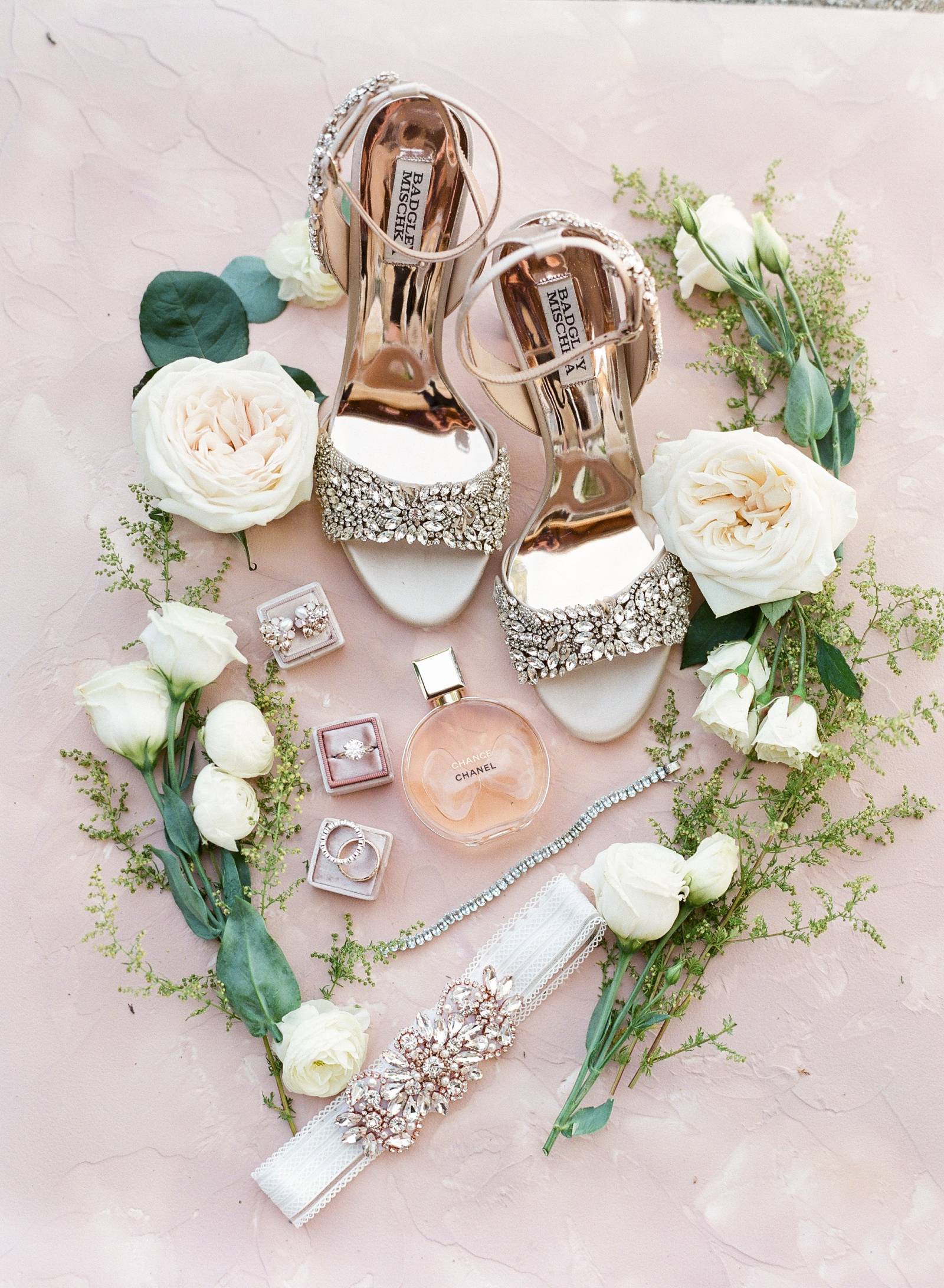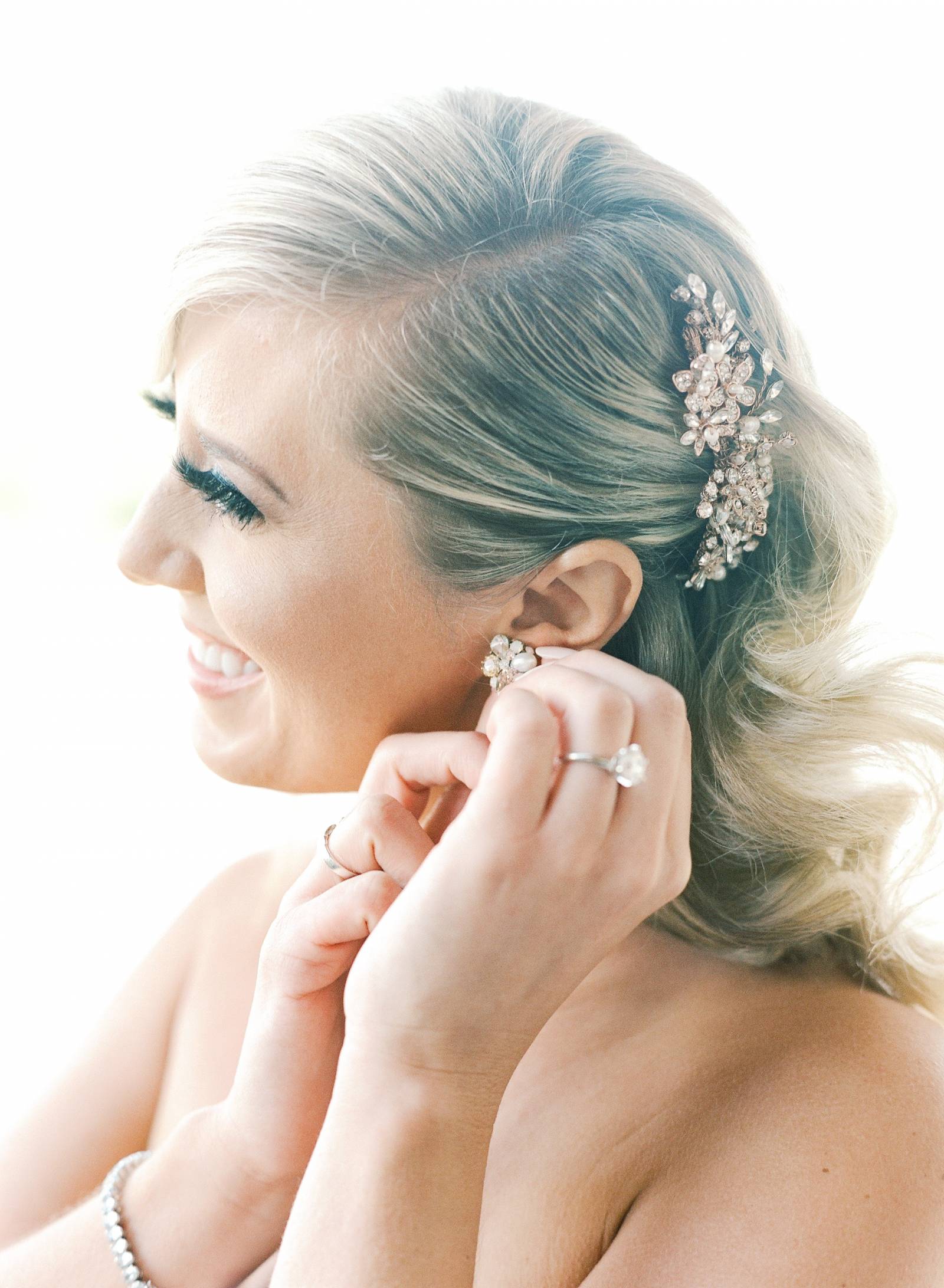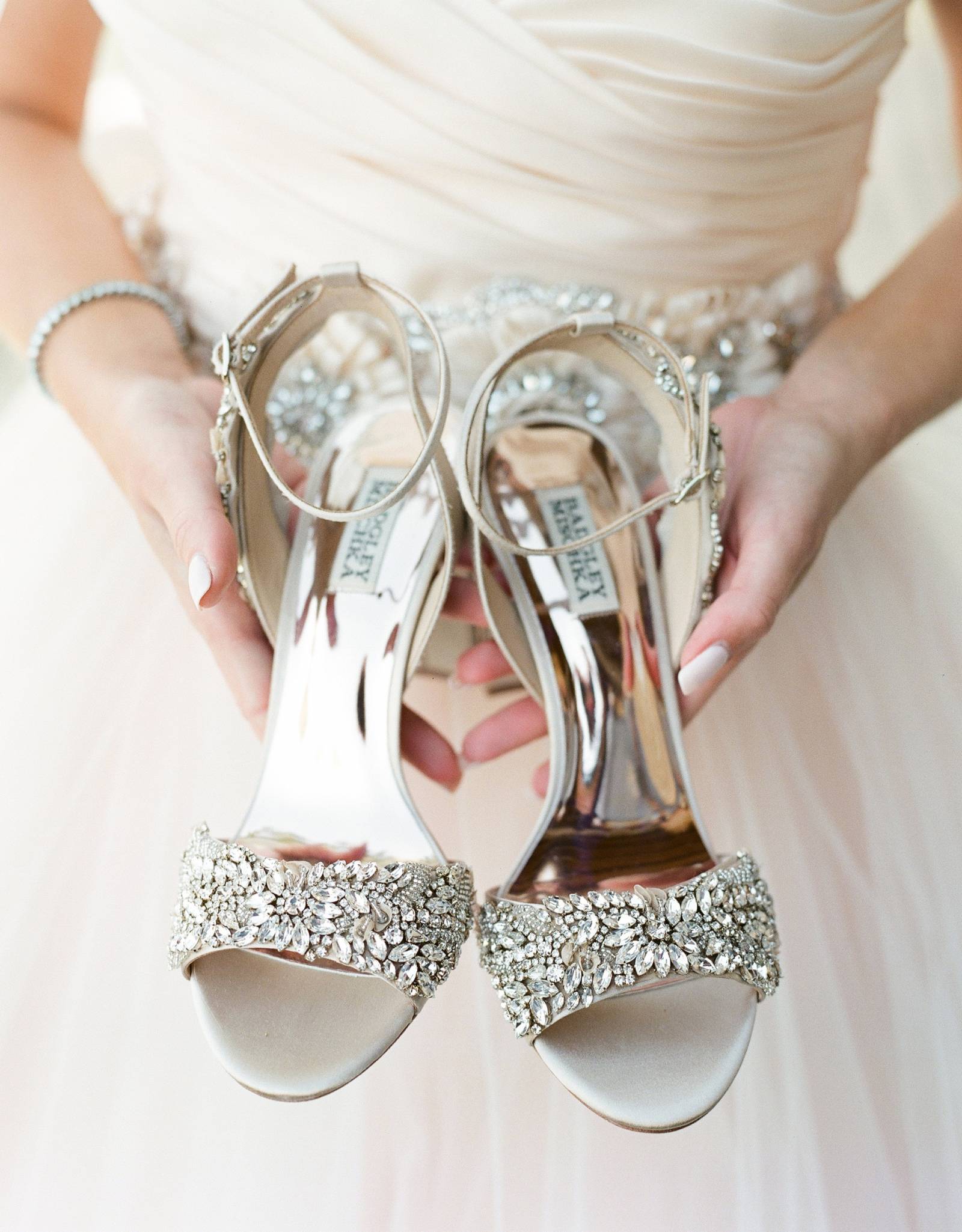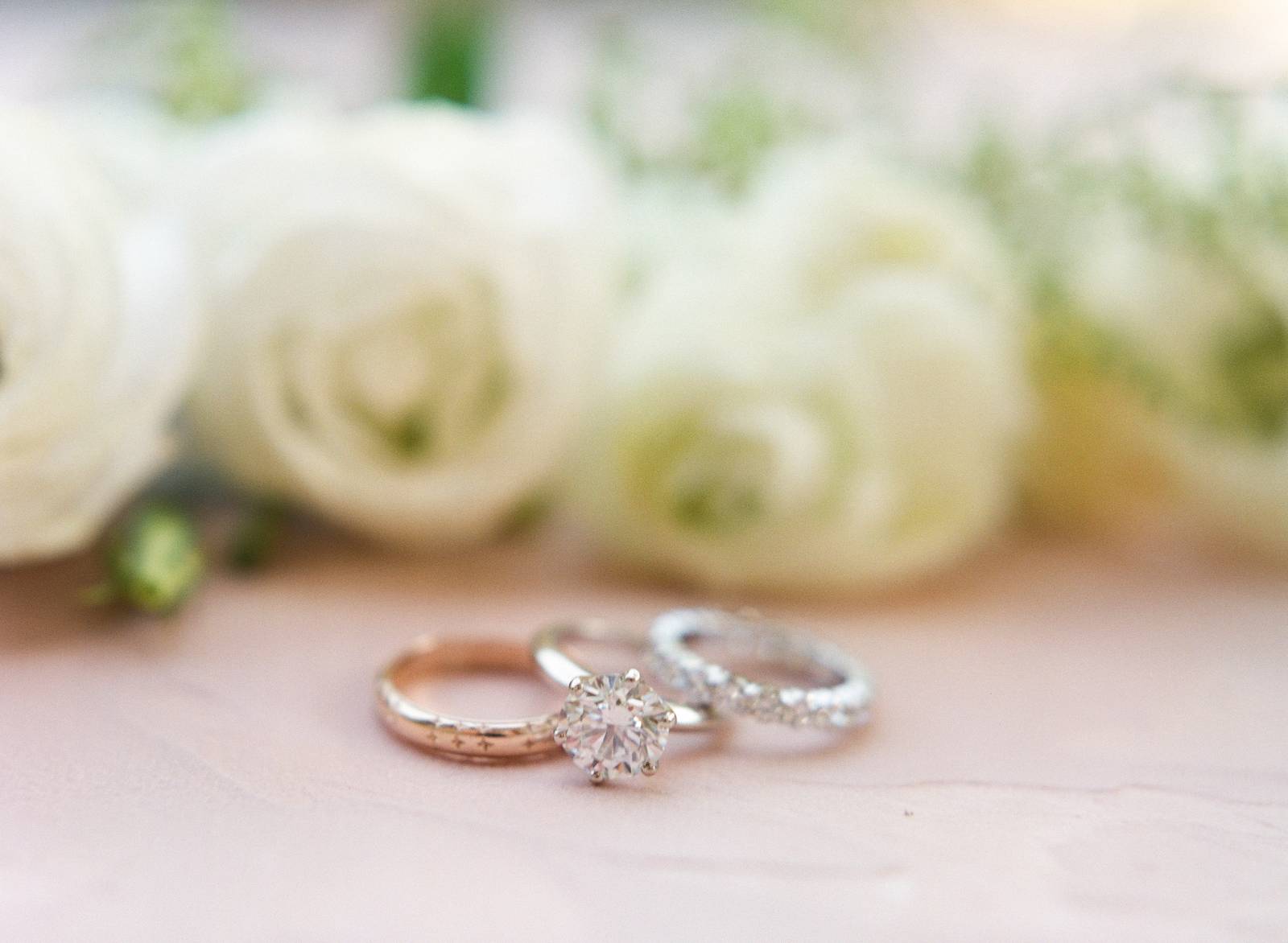 TELL US ABOUT FINDING YOUR WEDDING DRESS: After becoming engaged, i began collecting photos of wedding dresses I was interested in, and when i shared them with Tim, he zeroed in on a beautiful blush Lazaro gown that he loved. I had my first (and only!) wedding dress shopping appointment at Bella Bianca in Oakbrook Terrace, il in December 2019, and my consultant pulled that dress as the second dress i would try on. I fell in love with it and knew it was the one immediately—i didn't try on another dress, and spent the rest of the appointment enjoying wearing the dress and drinking celebratory champagne with my mom. I felt just about as certain about the dress as i did about my fiancé—both felt like love at first sight.
The wedding dress shopping appointment was especially meaningful, as a couple of weeks before that appointment, we learned that my mom had been diagnosed with cancer. I wasn't sure how my mom would be feeling and if we would get to share that special moment together. We were so lucky that she was feeling well enough to attend the appointment (she was adamant about it and made the appointment herself!) and that we could share that moment, just the two of us. It was a perfect and intimate mother-daughter moment, one which I will treasure forever, especially after the heartbreaking passing of my mom about three months after our wedding in December 2020.
Once Covid-19 hit, I was concerned about the chance that my wedding dress would not be able to come in in time for our wedding date, but my consultant at Bella Bianca worked tirelessly to make sure that it happened, even calling Lazaro personally. When I got the call that it was happening, I was grateful to the point of tears! Bella Bianca is truly wonderful and I will always be thankful to them. They knew how important the dress was to me – it was the one detail I hoped to keep the same as originally envisioned, in light of Covid-19.
I just couldn't wait to show Tim that the dress I was to wear on our wedding day was, in the end, one that he picked. He was so surprised when he first saw it, and loved it just as much as I did!
DESCRIBE YOUR WEDDING FLOWERS: Our flowers included lush greenery and beautiful white blooms. The bridal bouquet was elegant and understated, comprised of white tea roses and greenery.
FAVOURITE DETAIL OF THE DAY: Our favourite detail of the day was our surprise virtual toasts our friends had pre-recorded for us, as they could not be there due to our wedding being scaled back to a micro wedding, due to Covid-19. We had no idea they had done that! It was so special to have our friends still be a part of our day In that way, and they even surprised us with a cameo of chris Harrison of the bachelor franchise give the last toast – that was such a fun surprise!
WHAT ADVICE WOULD YOU GIVE OUT TO A COUPLE PLANNING THEIR WEDDING? Soak in every moment of being engaged – it is such a special time in life, and it goes so fast! Also, do your best to focus on making it an event that is special for the two of you as a couple. Our wedding planner, Bambi, organised a private, quiet moment for just the two of us post-ceremony, and pre-cocktail hour. That was such a special moment to soak in being newlyweds together, before we celebrated with our family. We would highly recommend that couples build that into their day if they can.
MOST MEMORABLE MOMENT? Our first look, which took place in the courtyard, overlooking the Fox River and the Herrington Inn & Spa in Geneva, Illinois. I gre up in Geneva and the Fox River has always been a special place to me since I was a little girl. Getting to see each other for the first time, quietly and in such a meaningful setting, was unforgettable.
WHAT ASPECT OF THE WEDDING WAS THE MOST IMPORTANT TO YOU BOTH? Having our families there to celebrate with us, while keeping the event as safe as possible for everyone, in light of Covid-19. We especially wanted to be as safe and careful as possible, as my mom had just undergone several rounds of chemotherapy and was immunocompromised. We originally planned to have a much larger wedding, but due to Covid-19 and my mom's illness, we scaled the guest list back to just our immediate families. While we were disappointed we could not celebrate the day with all of our loved ones, as we originally envisioned, it was so special and intimate to get to enjoy the day with just each other and our families. We think it happened exactly the way it was supposed to.
ANY OTHER DETAILS THAT HELP TELL THE STORY OF YOUR DAY? One of the most meaningful parts of the wedding was having my mom serve as my maid of honour. She is my best friend, and so it seemed just fitting to honour her in that role.
TELL US A LITTLE ABOUT YOUR HONEYMOON: Tim planned the honeymoon, which took place at the Rosewood Mayakoba in Riviera Maya. It was an absolutely perfect, luxurious trip filled with beach time and relaxation.
IS THERE ANYTHING YOU WOULD CHANGE OR DO DIFFERENTLY? There isn't anything we would do differently! While it was not the wedding we initially envisioned pre Covid-19 and before my mom's diagnosis, we think it ended up being perfect and just the way it was meant to be.
A huge thank you to Chicago wedding photographer BONPHOTAGE for sharing this beautiful wedding with us. Having travelled extensively and captured weddings in some of the most beautiful locations in the world, Lynzie continues to be inspired by art, different cultures, and faraway places. I have photographed weddings and engagements around the world, including Paris, Positano, Istanbul and the Caribbean. "My style is soft, romantic and elegant and my preferred medium is film. I love the creamy skin tones, richness and texture it provides." You can see more of their work in our vendor collective here and be sure to check out this High-end fashion bridal gowns in this Low-country Bridal shoot at Lowndes Grove.