There's no denying that Banff would have to be one of the most picturesque places in the world. To get married there would be an absolute dream, however it was a beautiful reality for Tamika & Chris. It was the spot they enjoyed their first trip together and also where he proposed. With their incredible love for the mountains and nature it made perfect sense that this was their wedding location and these gorgeous images by MINTED PHOTOGRAPHY prove it even further. Tamika tells us, "I wanted our family and friends at our wedding to really be connected in the moment with us. I kept it simple and wanted to have neutral colours. I really love dusty purples, light mauves, and creamy pinks! We didn't need all the 'extras' because we knew the mountains and scenery of the beautiful Rockies spoke for itself."
HOW DID YOU MEET? We met online, Tinder of all places.
TELL US ABOUT YOUR PROPOSAL: Our first getaway together was to Banff, as Chris had never seen the beautiful Rocky Mountains. Fast forward to a few years later at Christmas, Chris had got me an amazing gift - a weekend getaway to the Fairmont Lake Louise... The catch, I had to wait until February. (Time went by so incredibly slow….) But finally the weekend had come and it was something out of a fairytale! At night we skated on Lake Louise, sat around an outdoor bonfire and admired the ice sculptures and stars and we ate the most extravagant meals I've ever tasted! The day of, we woke up and Chris had already planned breakfast to be delivered. I noticed there was a little card on my plate, when I opened it, he had the EXACT same words in this card, as the first time he sent me flowers after our first date. (At this point I knew something was up!) After breakfast we went to Johnston Canyon and hiked the "Ice Walk" (I'm not sure why they call it a walk, it was definitely a hike) Once we came to the end of the trail there was this beautiful frozen waterfall, it was gorgeous. That night we got all fancied up and went to the Mount Fairview restaurant and enjoyed champagne and a delicious meal. Chris had been acting weird all day, super romantic, and I'd catch him multiple times just gazing at me. I thought it was weird. After dinner we were causally walking back to our room, and Chris was making small talk and walking slower and slower until he stopped in the middle of the lobby. He told me "wait here" as he ran up this beautiful grand staircase to the second floor. A few minutes go by, which felt like forever, and I see him coming back down with the biggest smile on his face. He grabs my hand and starts walking me up the stairs, I'm confused and kept asking him what's going on until I'm halfway up the stairs and I started to hear our song (Yours (wedding version) by Russel Dickerson). Everything after that was a blur, I remember him sitting me down in an oversized chair and him getting down on one knee asking me "to make him the happiest man alive". I nodded my head because I couldn't get any words out.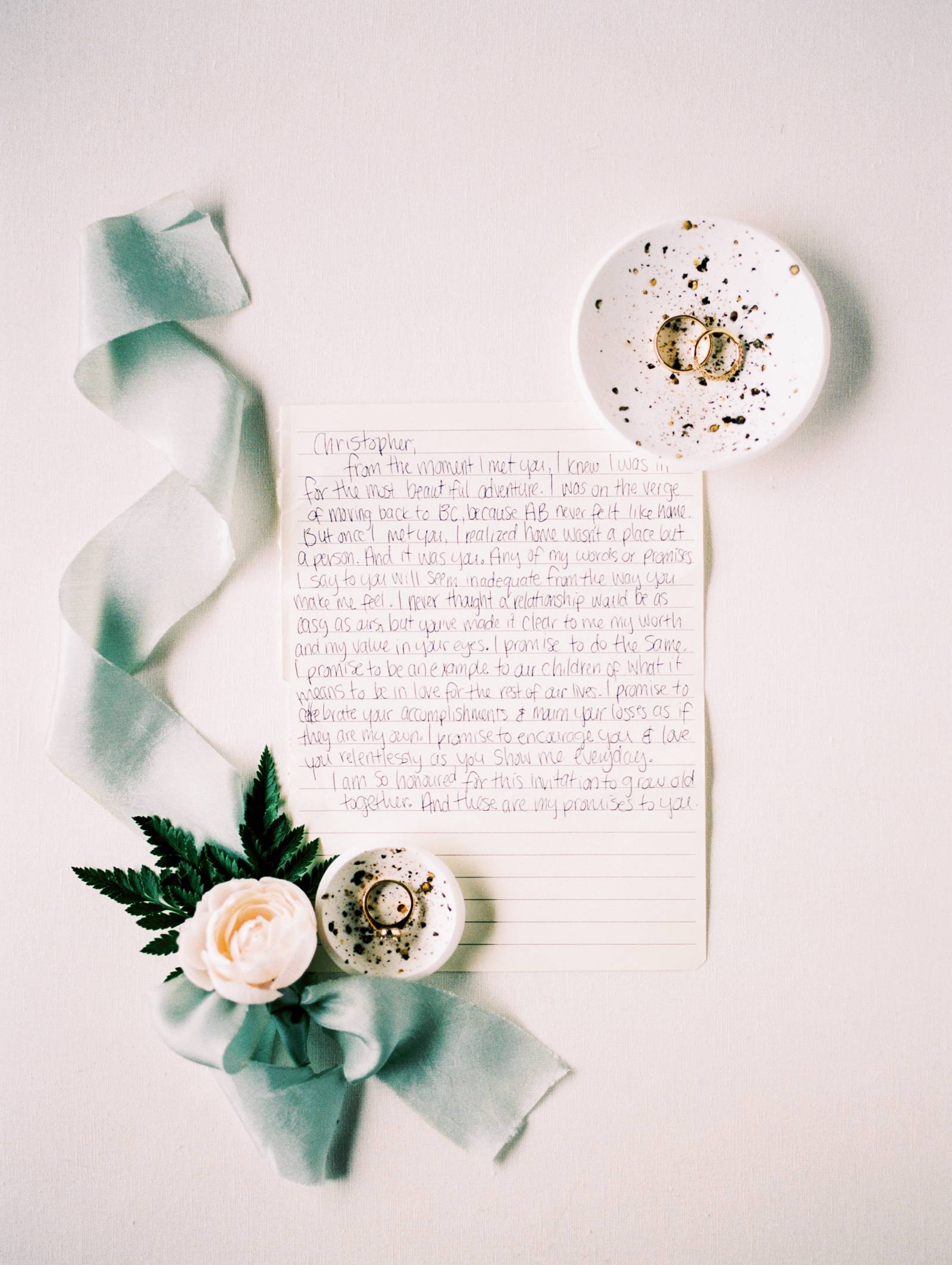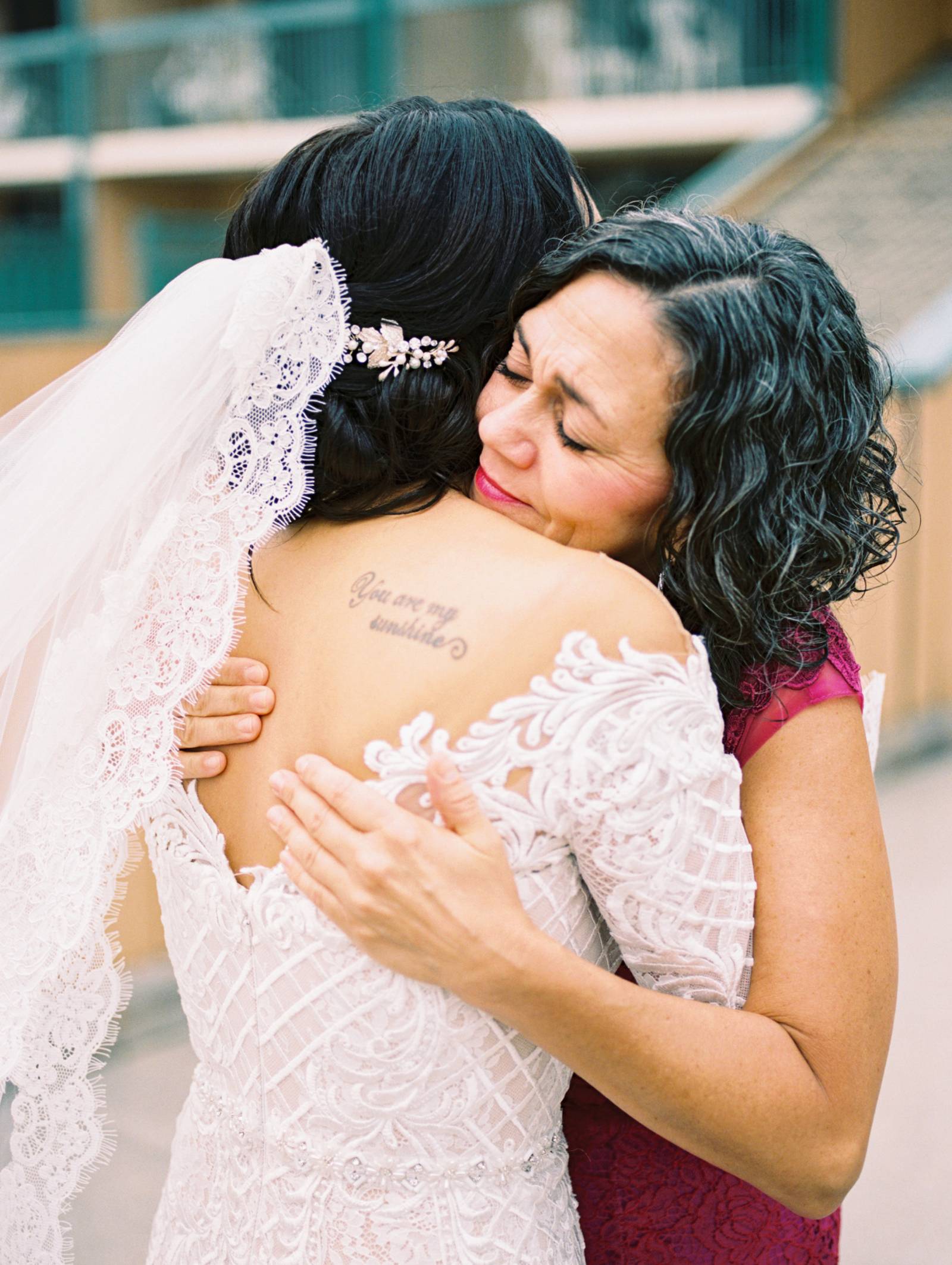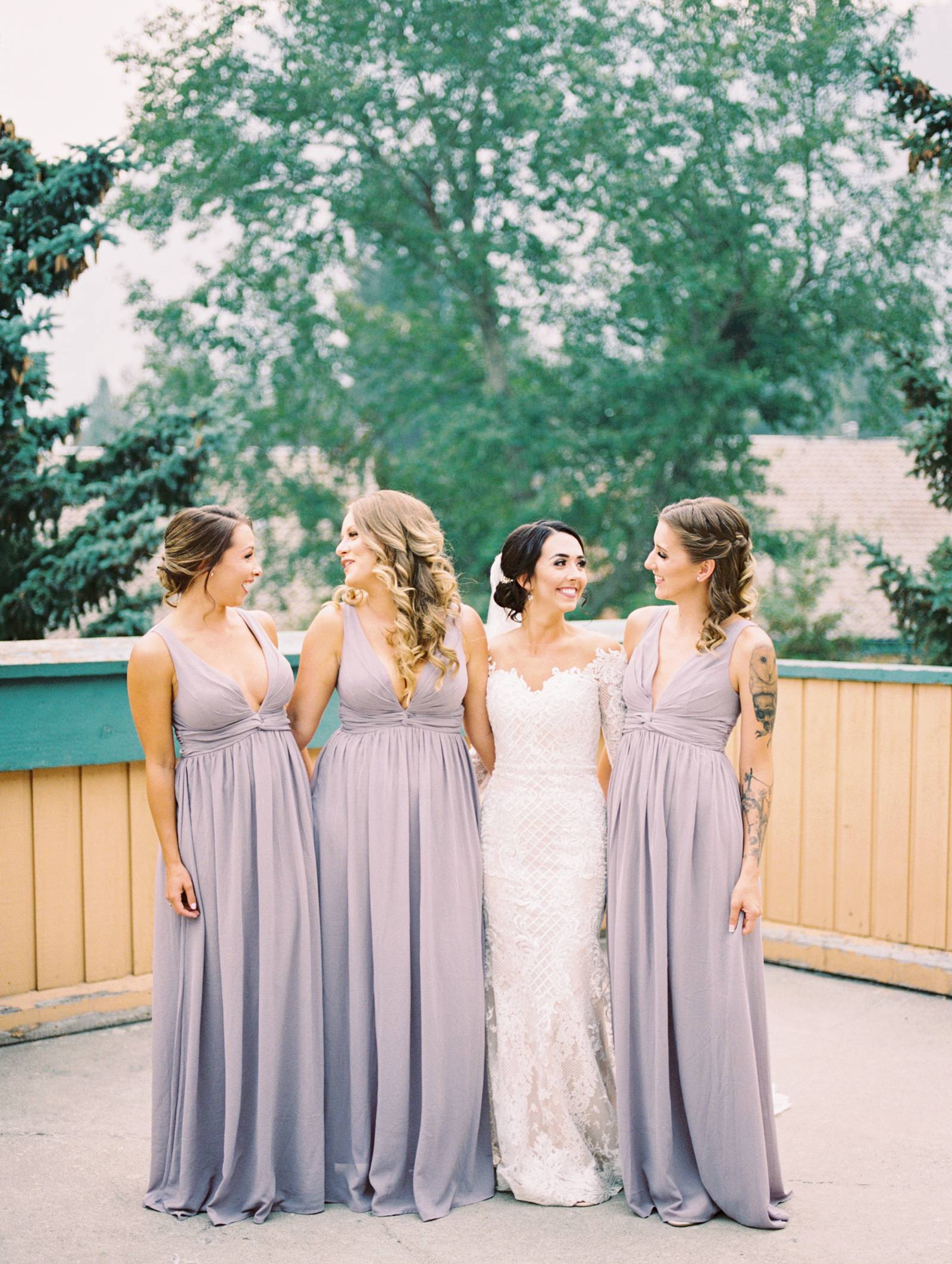 TELL US ABOUT FINDING YOUR WEDDING DRESS: It was my 25th birthday and I wanted to do something special for me, so why not go look at dresses! After going to a very large department store, I thought I would never have the "this is it" feeling, until I went into The Bridal Boutique in Edmonton. It was a cute boutique with so many beautiful dresses! I had gone alone to look at dresses, never thinking I'd find THE ONE! I was helped by the owner, Lillian and her daughter, Dorothy. I remember exactly what I wanted; lace, long sleeves, and form fitting. I had glanced at the Calla Blanche collection, but thought that I wanted more of a 'simple' dress. Until I tried on THE dress. I lost my breathe and couldn't stop staring at myself. I had that feeling!! That was the first time I truly felt like a bride to be.

DID YOU HAVE ANY DIY ELEMENTS? Our bouquets were the DIY. My Matron of Honour has a green thumb, and I had full confidence in her that she would be able to make them perfect! All the flowers were silk, but the greenery was real, and NO ONE KNEW! She did such an amazing job!

DESCRIBE YOUR WEDDING FLOWERS: Pale pinks, mauves, and rich creamy roses, with silver dollar eucalyptus. To me, they had the romantic feel.

FAVOURITE DETAIL OF THE DAY: My favourite detail would've been my flowers and how my Matron of Honour really changed them. The bouquets, boutonnieres and corsages were not what I had wanted, but after she was done with them I was so in love, it was like she knew what I had envisioned the whole time.

WHAT ADVICE WOULD YOU GIVE OUT TO A COUPLE PLANNING THEIR WEDDING? Spend the money to get an amazing photographer AND videographer. This is really the only physical pieces you have to look back on, on the smallest moments you may have missed while it was all happening. I am so happy to be able to look back at both pictures and videos.
MOST MEMORABLE MOMENT? My favourite moment would've been our first look. Our photographer planned for us to meet at the Bow Valley Falls, Chris ended up meeting us there. This was my most favourite moment because the day/morning goes by so incredibly fast and it was hard to stop, and take a minute, and take it all in. Until this moment. I was able to have a few minutes and breathe while I stared at the man that was soon to be my husband. Hearing the falls in the background and having an intimate moment with Chris really calmed my nerves. This will forever be memorable.
ANY OTHER DETAILS THAT HELP TELL THE STORY OF YOUR DAY? Unfortunately, the smoke from the BC wildfires has rolled in the day prior and blocked most of the breath-taking views of the mountains, but our lovely photographer was able to find ways to make our photos look more original and elegant. The smoke ended up making a beautiful haze in the photos, that I absolutely love!
TELL US A LITTLE ABOUT YOUR HONEYMOON: We haven't had one yet, we moved 10 days after our wedding to a new city. It's been an adventure!
IS THERE ANYTHING YOU WOULD CHANGE OR DO DIFFERENTLY? I would've liked to have a traditional reception. We had decided to cut costs and have a non-traditional dinner at the Iron Goat Pub & Grill. We didn't have a dance, or speeches as it was a semi-private area. Fortunately, Iron Goat has a loft, and that's where our group was reserved for and it happened to be empty, so we did have a first dance and father daughter dance. I would've like to have the night go on longer than it did, just because everything went by so incredibly fast, but most of our guests either had small children or were older, so everyone was ready for bed at 10pm!