It's not hard to see why you wouldn't need any further inspiration than the venue itself looking at these beautiful images by RYAN FLYNN. Big Sur is renown for it's beauty and KIRSTEN & EVAN wanted to be surrounded by nature on their wedding day, and ensure it was relaxing. Kirsten says, "It turned out perfectly with gorgeous weather, delicious food, and of course the amazing company of our family and friends." Wearing a beautiful CLAIRE PETTIBONE gown, they had Ryan capture some stunning images in the nearby river and forest.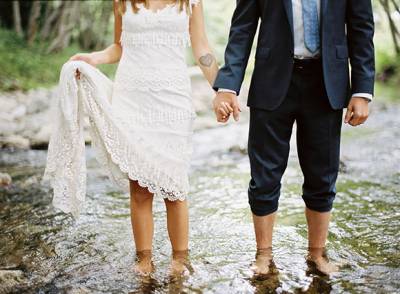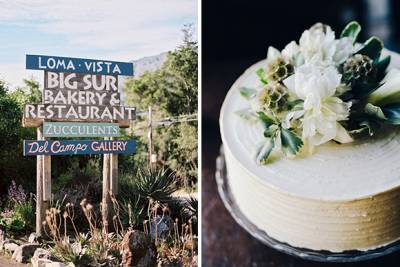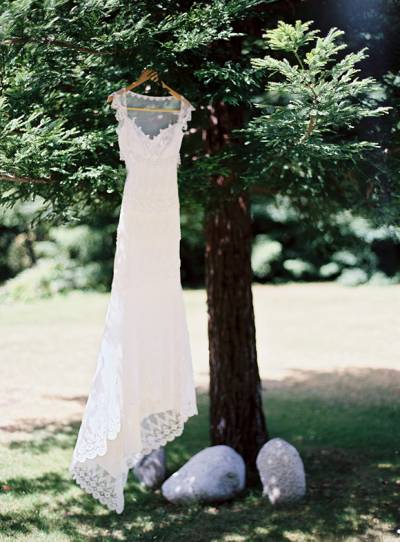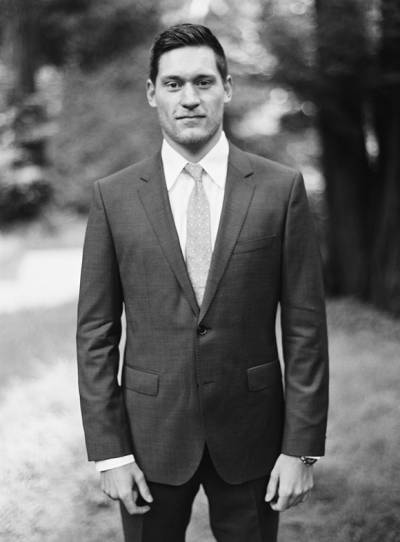 HOW DID YOU MEET? Well we are high school sweethearts. I was at my friends house and saw Evan's school photo and asked who he was. She told me about him and that he was new to town and for some reason I just felt drawn to meet him and I hassled her for weeks to stage a "run in". Finally I got to meet him in the school parking lot and then with some of our friends headed to Tim Hortons for lunch and an Ice Capp.
TELL US ABOUT YOUR PROPOSAL: We love going to the mountains and camping so one weekend Evan told me to pack my bags for a surprise. I of course was asking a million questions trying to get a clue but once we started heading west I figured we were going to Banff. We often camp there so I just figured that was the plan but when we got into town he started heading towards a beautiful hotel there that is an old castle and told me the surprise was we were spending the weekend there. We had a beautiful dinner and then the next morning he woke me up super early for a day at the spa, but before we had our treatments he suggested we have coffee outside, enjoy the views and go in the hot tub. As we watched the sun come up over the mountains he said some beautiful words and asked me to marry him.
TELL US ABOUT FINDING YOUR WEDDING DRESS: Well I had a very specific idea in my mind but wasn't really finding what I wanted anywhere. I was in Arizona with my mom and she suggested we go to a shop that we had been to previously again and that's where I found the dress and new instantly before I tried it on that it was the dress!
DESCRIBE YOUR WEDDING FLOWERS: They were from a local florist who grows the flowers herself she did an amazing job I wanted to keep them simple since we were in such a beautiful place already.
FAVOURITE DETAIL OF THE DAY: I really enjoyed the photos of just my husband and I. It was so fun and special to be just the two of us after the ceremony.
WHAT ADVICE WOULD YOU GIVE TO A COUPLE PLANNING THEIR WEDDING? Trust your instincts. Don't get too caught up in all the little details things always seem to work out and in the end and the day will be perfect no matter what does or doesn't happen.
MOST MEMORABLE MOMENT? The ceremony was magical and very powerful it is a moment in time I will never forget.
Photographer RYAN FLYNN / Videographer AQUA VIVUS / Cake BIG SUR BAKERY / Ceremony Venue BIG SUR GRANGE / Reception Venue BIG SUR BAKERY / Dress Designer CLAIRE PETTIBONE / Shoes SAM EDELMAN / Bridesmaids Dresses NORDSTROMS / Grooms Attire HUGO BOSS / Planner KATE HEALY BIG SUR FLOWERS