Wowsa have I got a stunning wedding for you today! JEREMIAH & RACHEL never fail to delight me with their beautiful photography and they've knocked it out of the park with this gorgeous celebration - of a fellow photographer - at THE NORLAND HISTORIC ESTATE in Alberta. With such an historic and timeless venue, beautiful bride Kristyn wanted to keep the overall look of their wedding classic and elegant. An outdoor wedding is something of a rarity in Alberta so the fact that they could hold it on the lawn in front of the mansion was of enormous appeal.
Kristyn tells us, "I believe we assembled a "dream team" of vendors. Everyone truly went above and beyond for us, and we couldn't be more appreciative. I look back on our wedding day and have no regrets, which is the best feeling. I look at photos of Sean and I and feel incredibly happy, not only did our day come together beautifully, but it felt so good. When planning a wedding, it can be hard to balance wanting it to be "Pinterest pretty" and making sure it is meaningful, and focused on the most important things. When looking through our photos, I really feel that we accomplished both goals. It was emotional, sincere, and beautiful too. At the end of the day, we were husband and wife, regardless of the fact our ceremony started almost half an hour late, or our "sunset first dance" turned into a pitch black first dance, among other little bumps along the way. That's what I would want every bride and groom to remember. Your day may not go exactly as you planned, but it'll be perfect, because it was the day you married your best friend."
HOW DID YOU MEET? Sean and I always joke that we met the "new old-fashioned way" on Tinder! After weeks of texting through the app, I persuaded him to go on a date with me (he was new at the whole online dating thing) and we fell for each other over ice cream and our love of music.

TELL US ABOUT YOUR PROPOSAL: On the second anniversary of the day we met, Sean and I were in Pigeon Lake with close friends. I had driven out late the night prior, as I was photographing a wedding hours away, and ended up getting barely any sleep when I arrived at the cabin with the rest of our fiends. I was apparently quite out of it seeing as I did not catch on to any clues or signs that something was coming. Now that I look back, we had a lovely breakfast, there were sweet love songs playing, and Sean and I even shared an emotional moment cuddling together in a hammock. When Sean suggested we take a walk to the water, I agreed, and as I pulled his arm to continue on down to the actual lake, he stopped. I turned around to see him trying to get something out of his pocket, getting down on one knee, and it's a blur from there on! I know he said something cute, I said yes, cried a lot, and spent the rest of the day together with our friends, champagne and huge smiles. Sean also had planned for one of our friends to capture the moment with her professional camera, which I was grateful for.

TELL US ABOUT FINDING YOUR WEDDING DRESS: Finding a dress was one of the most difficult parts of wedding planning. I had two obstacles in my way. The first was the fact that I myself am a wedding photographer and have photographed well over 100 brides in different gowns. I was determined to find a gown that was unique to me and that was unlike anything I had photographed in the past. The second obstacle was that I am tall, and a lot of gowns just didn't feel good when I put them on. I wanted a "wow!" moment, and when I went to Pearl and Dot Bridal Boutique, I finally had my wow moment. My Mom pointed out this LAUDAE GOWN and I was not impressed at first. It had a velvet top and didn't catch my eye. But, Moms always know best, I tried it on and absolutely fell in love with it. It was unique, flattering and made me feel so beautiful. I hope that every bride has that moment (even if it takes six appointments like it did for me!)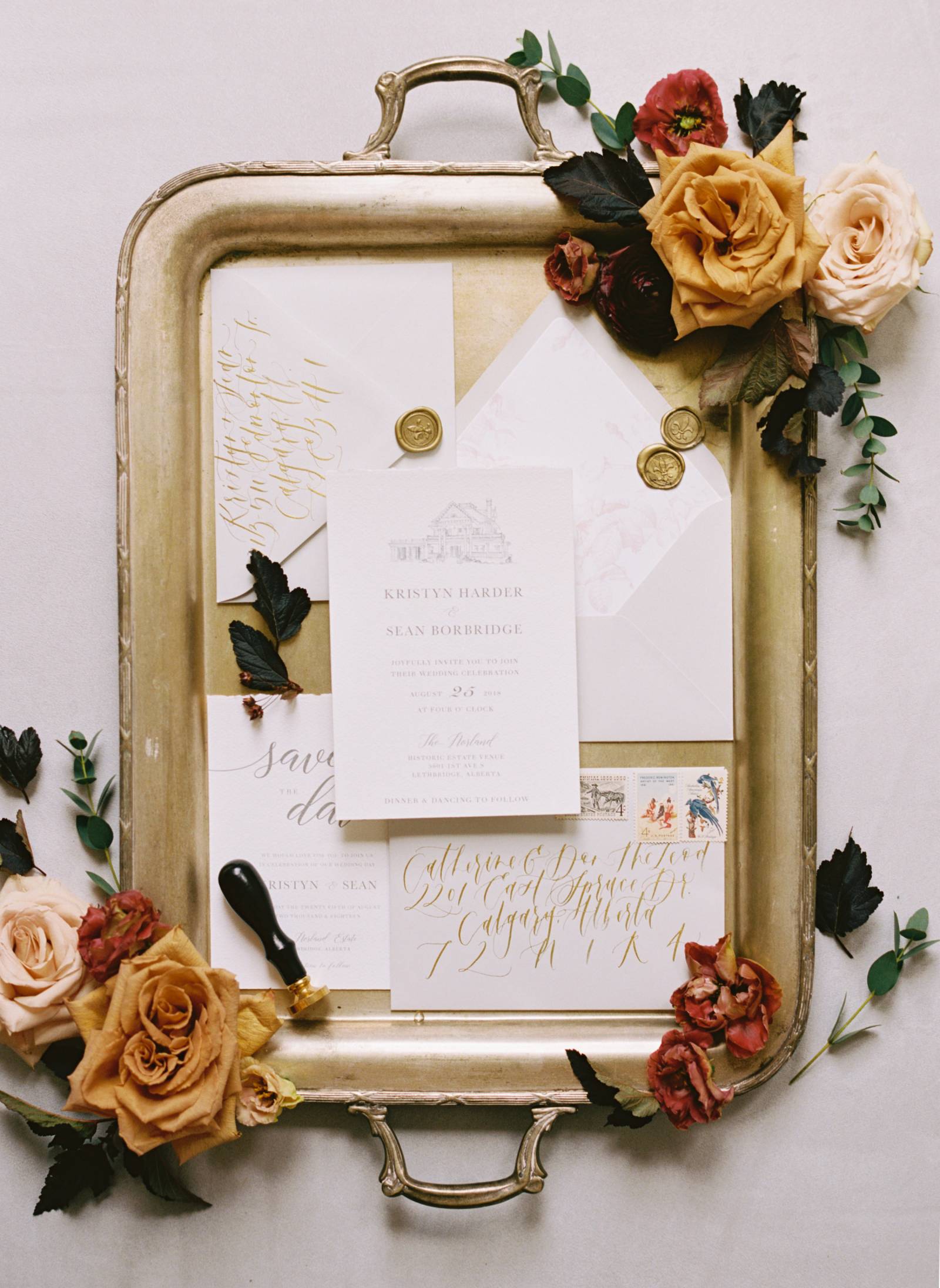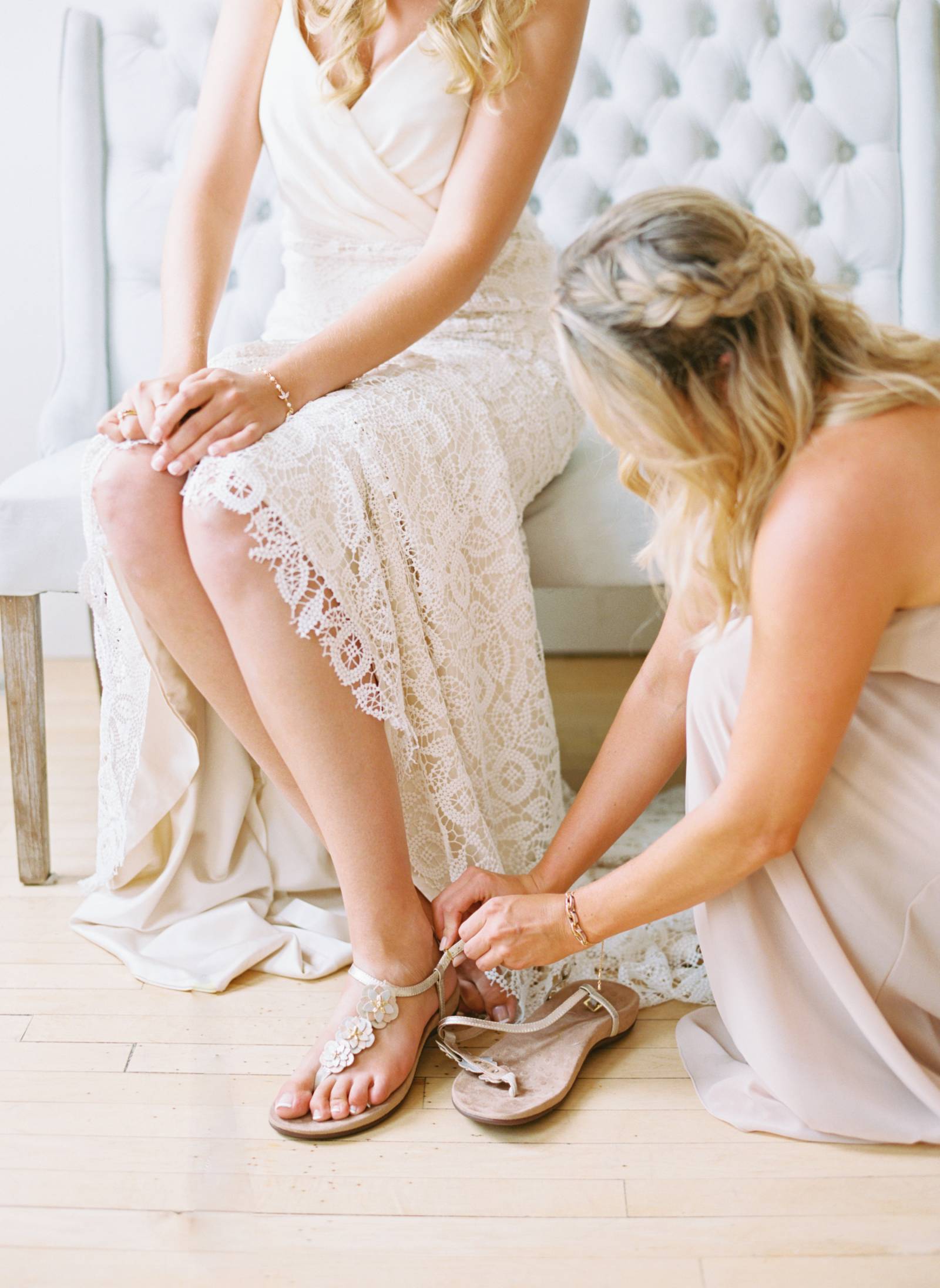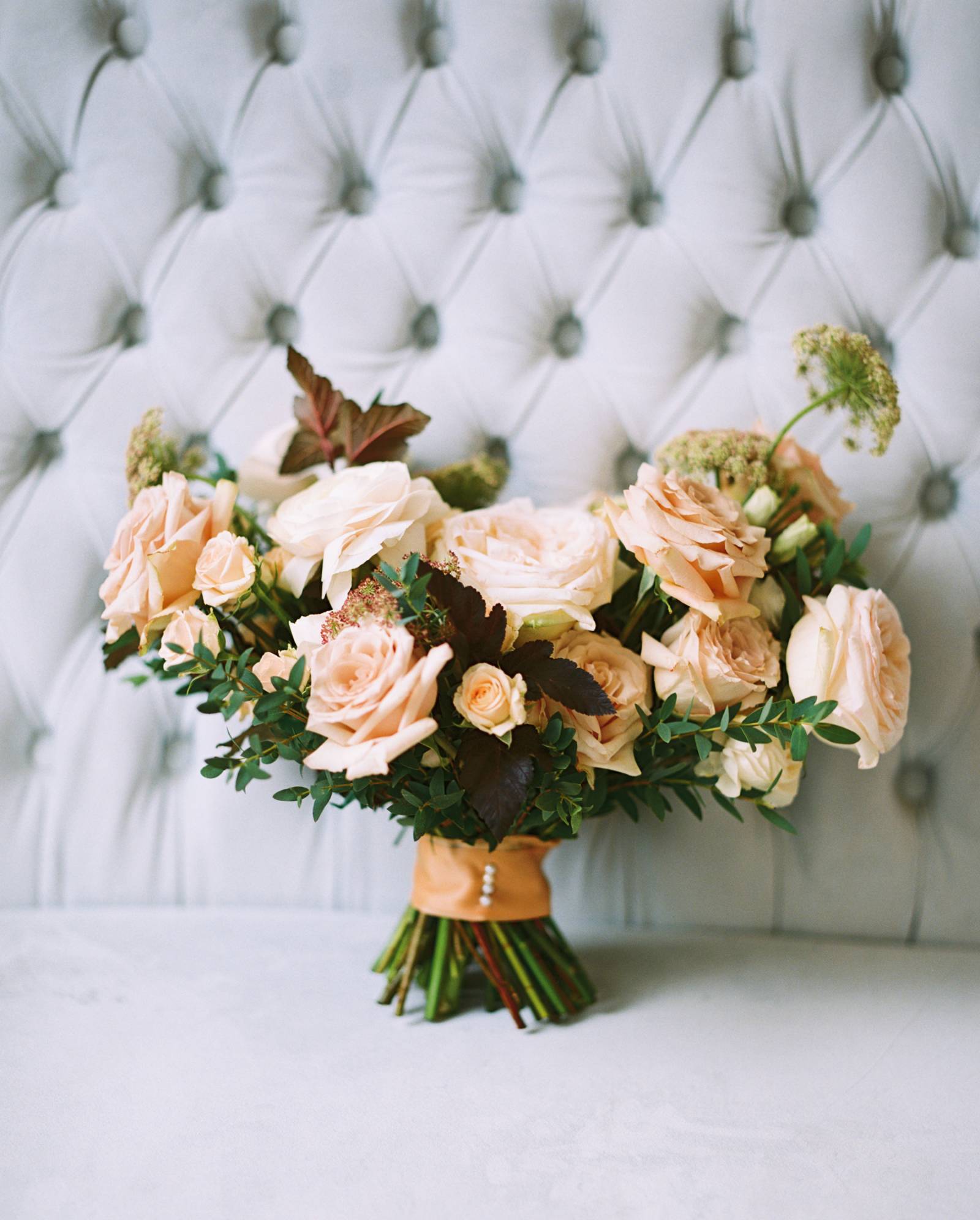 DID YOU HAVE ANY DIY ELEMENTS? Sean's mother made home-made Saskatoon berry jam as our wedding favours, which meant so much to us. Our guests absolutely loved the jam, and it's now a treat each year that reminds me of our special day. We were also incredibly fortunate to have the help of Kristyn's Aunt Jennifer who is a wonderful event planner. Without her help, there would have been many more things DIY-ed at the last minute.

DESCRIBE YOUR WEDDING FLOWERS: Lyn of Flower Artistry is a dream to work with. We have been friends for years and I knew I had to have her on my vendor team. She did a wonderful job, the bouquets and arrangements were romantic, lush and also felt unique with the pops of red and some special greenery she added in. I loved the mostly muted tones with some beautiful pops of color! I think florals really set the tone when it comes to the style of the day, and they're always worth the investment!

FAVOURITE DETAIL OF THE DAY: This is a tough one, there are so many things I loved about our special day. One cute little detail was the way the men's pocket squares matched our dog Millie's bow! We were so happy to have her join us for photos, they were the first ones we printed and framed.

WHAT ADVICE WOULD YOU GIVE OUT TO A COUPLE PLANNING THEIR WEDDING? As a wedding photographer, I have so much advice to share. Hire an amazing team of vendors that you admire and trust, leave lots of time for photos, etc. As a couple, we would advise couples to make sure they take the time on the wedding day to truly take in the moment. Look around at your family and friends and realiAe that everyone you love most is together, celebrating you on that day. It's okay if things run late, it's okay if something doesn't go to plan. Remember the meaning of the day, it's about the two of you, your relationship and celebrating the special day with loved ones.
MOST MEMORABLE MOMENT? We loved doing a first look, not only was it best for our timeline, but that was one of our favourite parts of our day. I remember the anticipation and excitement as I was walking up to Sean, and the look on his face when he saw me. We both burst into tears and loved having a moment to ourselves (captured wonderfully by our photographers Jeremiah and Rachel of course!) It was the right decision for us, and those photos bring us so much joy.

ANY OTHER DETAILS THAT HELP TELL THE STORY OF YOUR DAY? Our ceremony was officiated by Kristyn's step-father Don, which made it so personal. There wasn't a dry eye in the house, the whole ceremony felt special, connected and full of love. Kristyn's Mom and Sean's Aunt did readings, and we wrote our own vows to one another. Hearing each other's vows and having the vow books as keepsake is something we will always treasure.

TELL US A LITTLE ABOUT YOUR HONEYMOON: Our honeymoon took place once wedding season was over, in October! We enjoyed Ireland, Greece and Spain. Kristyn's favourite spot was Paros, a small, romantic, picturesque island in Greece. Sean's favourite spot was bustling Barcelona, where he enjoyed the delicious tapas and architecture.

IS THERE ANYTHING YOU WOULD CHANGE OR DO DIFFERENTLY? The only thing I wish we would have done was left more time in between events. Things happen - the morning runs late, the ceremony is stalled due to late guests, etc etc. It's better to leave too much time in the schedule than not enough time. Since we were behind schedule, we ended up doing our "sunset first dance" in the dark, but it's something we laugh about now! Our guests say it was romantic… haha.