The MONTAGE KAPALUA BAY is known for its incredibly picturesque oceanfront setting and warm, welcoming trade winds; so holding their Maui destination wedding at this luxurious oceanfront resort was an easy choice for Lauren and Ben to make. With the help of Kristin of OPIHI LOVE WEDDINGS & EVENTS, this stunning Maui wedding venue was transformed into an elegant, modern tropical wedding dream. Every detail was vibrant and visually stunning, and a perfect representation of the two of them as a couple and best of all it was all beautifully captured by Hawaii Wedding photographers DMITRI & SANDRA.
With friends and family all over the world, this active, high-energy couple knew that Maui was the perfect place to bring everyone together to celebrate. Their wedding week was just as much about the fun, sun-soaked romance of Maui as it was about creating an enjoyable experience that their family and friends would always remember.
They promised forever underneath a canopy of opulent tropical flowers by LOIS HIRANAGA FLORAL DESIGN which including king protea, anthurium, roses and orchids in rich shades of peach, blush, ivory and greenery as guests, seated in rustic, bamboo folding chairs, looked on. After a heartfelt ceremony performed by one of the bride's best friends, the couple was pronounced husband and wife and the party officially began!
Guests enjoyed a leisurely cocktail hour complete with fresh, local fare and craft cocktails served from a lavishly appointed bar. Their tented reception took place just steps away from the ceremony venue, decorated flawlessly in sumptuous linens and lavish floral arrangements. After a delicious dinner, guests danced the night away to Soulville, a fantastic live wedding band and then The Knocks had everyone at the afterparty on the dance floor for the rest of the night.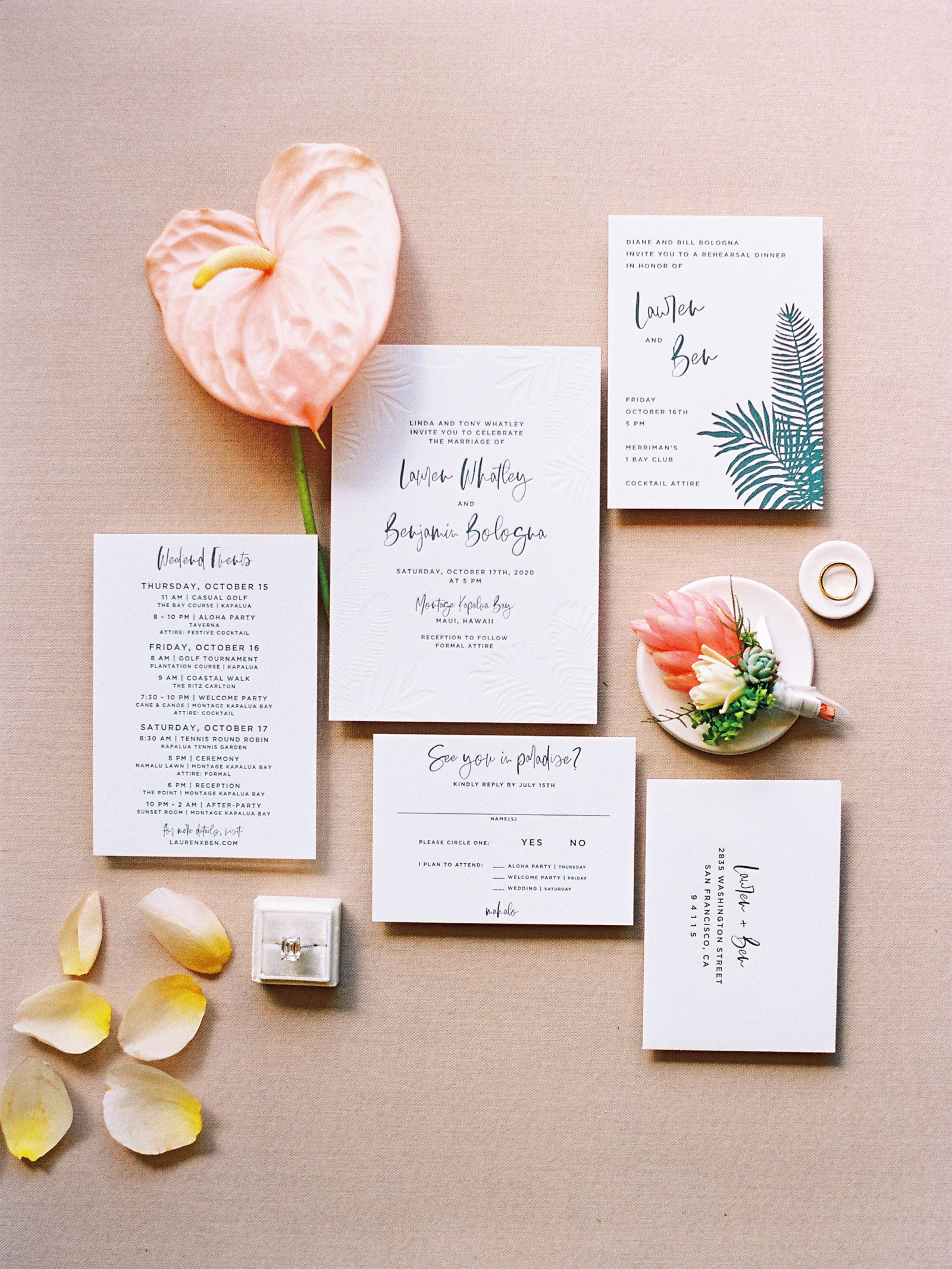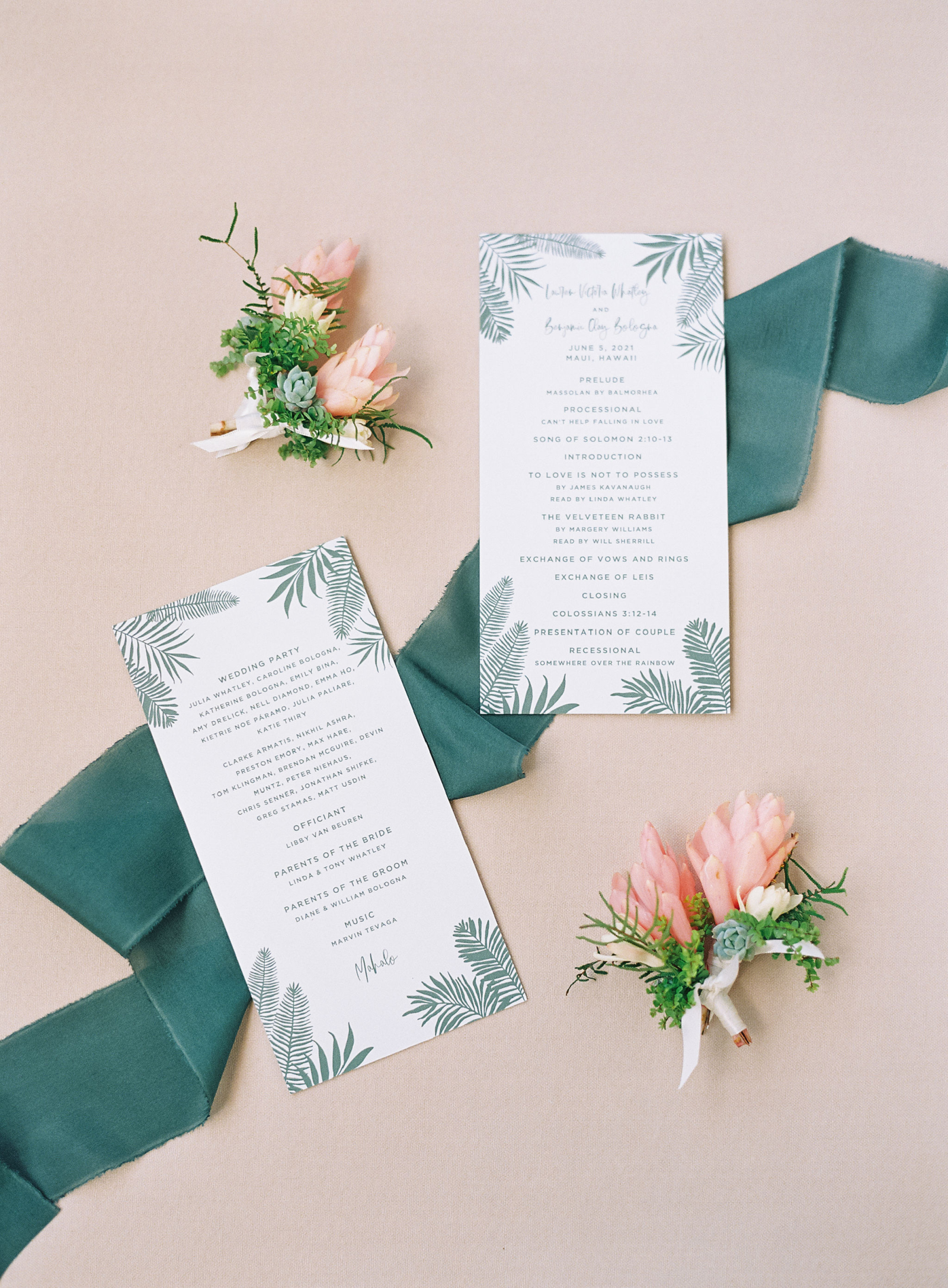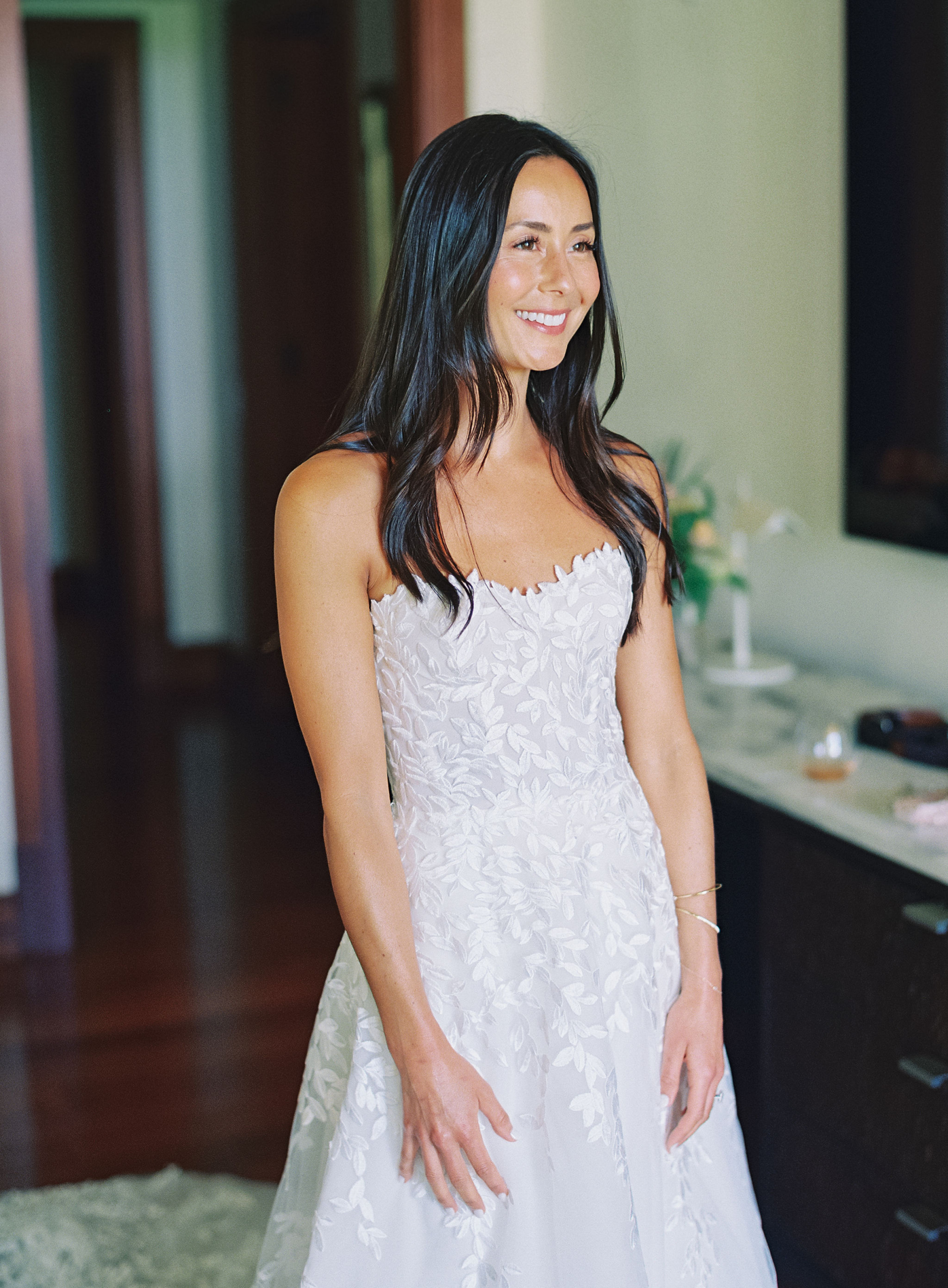 WHY DID YOU CHOOSE THIS LOCATION? I grew up spending a month or two each summer in Kapalua, and it has always been such a special place to me and my family. When my husband Ben visited Maui for the first time, we sat out on the point next to the Montage after a run, and when we looked to the ocean there was a family of whales breaching. It felt like a sign.
TELL US ABOUT FINDING YOUR WEDDING DRESS/ATTIRE: I wish I could say I tried on one dress and immediately knew it was the one, but in reality, I tried on about a hundred dresses before making a decision. I tried to incorporate a subtle element of the natural environment into each outfit - from leaves to palm trees to Hawaiian flowers.
FAVOURITE DETAIL OF THE DAY: I loved the way the ocean served as a backdrop to the cocktail bar during cocktail hour as well as the floral accents in the cocktails.
WHAT ADVICE WOULD YOU GIVE OUT TO A COUPLE PLANNING THEIR WEDDING: If you're going to get married in a scenic place, no need to prioritise florals and decor. You don't need them! And those items are sadly discarded the next day.
MOST MEMORABLE MOMENT: Hearing the beautiful, poetic words from my best friend when she officiated the ceremony, when my husband and I looked around at our friends dancing at the after party and he told me it was the best day of his life, and when the two of us jumped in the ocean after everyone else had gone to sleep and laid on the middle of the dance floor under our tent recapping the day.
WHAT ASPECT OF THE WEDDING WAS THE MOST IMPORTANT TO YOU BOTH? Being with our favourite people in our favourite place... and also the music and dance floor!
TELL US A LITTLE ABOUT YOUR HONEYMOON: We went to the Maldives and Sri Lanka. We were actually planning to go to Bhutan, but the borders were still closed when our honeymoon rolled around. The Maldives was the most idyllic beach vacation destination - would highly recommend to other honeymooners!
A big thank you to Maui Wedding photographers DMITRI & SANDRA for sharing this truly gorgeous Maui wedding with us. Based on the island of Maui, this husband and wife team have spent the past decade capturing beautiful weddings across the breadth of the Hawaiian Islands and beyond. With an innate sense of what's important and driven by a mission to create organic, timeless imagery, they put their heart and soul into each wedding to create authentic and soulful memories. Check out more of their portfolio here and you should also see this Day after adventure session amongst Maui's spectacular scenery.