If you're after the ultimate in French elegance then look no further. Believing that the mood for a destination wedding is largely dictated by the venue, photographers Italy wedding photographer KRISTINE GRINVALDE and SORYA PEDOUSSAUT set about creating this stunning and luxurious wedding inspiration at CHÂTEAU DE VILLETTE just outside of Paris. Working with wedding planner Tatiana Henric of BEFORE THE MOON EVENTS they envisioned their couple being whisked away to an exquisite château to exchange their vows in the most elegant of settings, with the venue and surrounding grounds adding an element of storybook grandeur. This set the tone for the remainder of the design.
About the venue, KRISTINE GRINVALDE tells us, "The most beautiful photos just do not do justice to this luxury estate, it has to be seen, experienced, felt and I assure you, you will fall in love just as we did! This 17th century chateau has been completely restored to its former glory and the highest standards of comfort and luxury by the renowned French decorator Jacques Garcia. It has also recently opened its doors to host weddings and exclusive private events. The elegance of the classic garden design by Andre Lenôtre, who also created the gardens at Versailles, earned Château de Villette the designation of "Le Petit Versailles".
For SORYA PEDOUSSAUT it was the château itself that inspired her. "The refinement and luxury of the different rooms are the perfect representation of the French "art de vivre". Her favourite part of the shoot took place in the dining room where the sumptuous woodwork has been restored to the original blue and white along with the majestic chandelier.
"An important component of luxurious elopement was incorporating both fashion and beauty that matched the regal elegance of the chateau itself. Talented beauty artist ONORINA JOMIR styled the bride in four unique looks - from boudoir to pre-ceremony, ceremony, and reception.
The couple exchanged vows on the garden terrace with a beautiful yet entirely personal ceremony. To celebrate this unforgettable occasion, the couple later enjoyed their own intimate reception set inside the chateau, followed with champagne and cake created by renowned Parisian cake designer SYNIE. The dining room tones served as inspiration for the colour palette - shades of baby blue, muted greens, browns, and a soft touch of burgundy were masterfully incorporated by LILY PALOMA into intricate floral arrangements for the ceremony and reception table. Delicate place settings featuring custom-designed menus ensured the dining experience felt entirely special.
Looking back at this luxurious experience, Tatiana of BEFORE THE MOON EVENTS adds that, "we are thrilled to share our work with couples planning their own intimate celebrations and hope this inspirational shoot reflects how a small elopement can be designed with just as much intention, beauty, and style."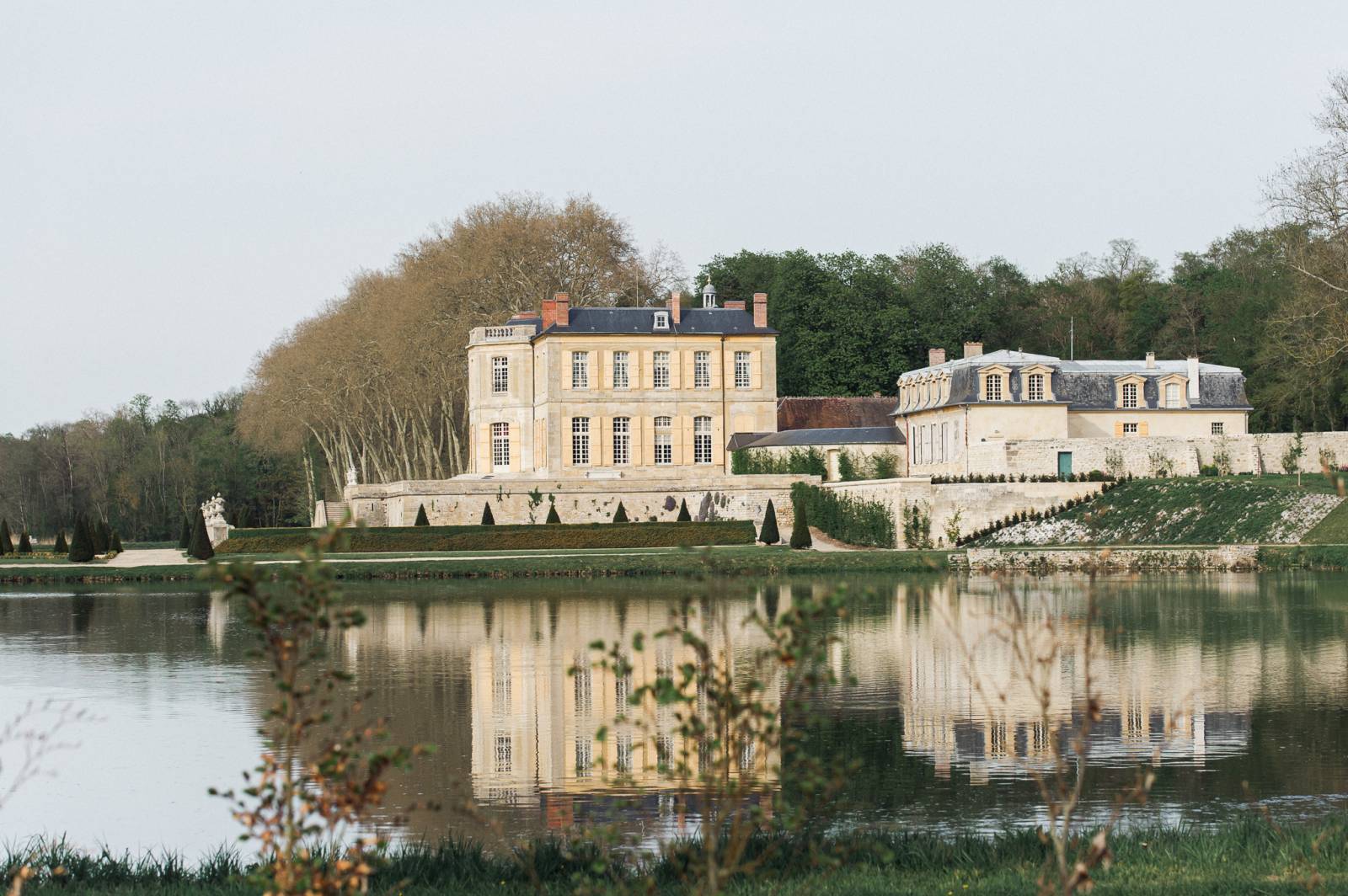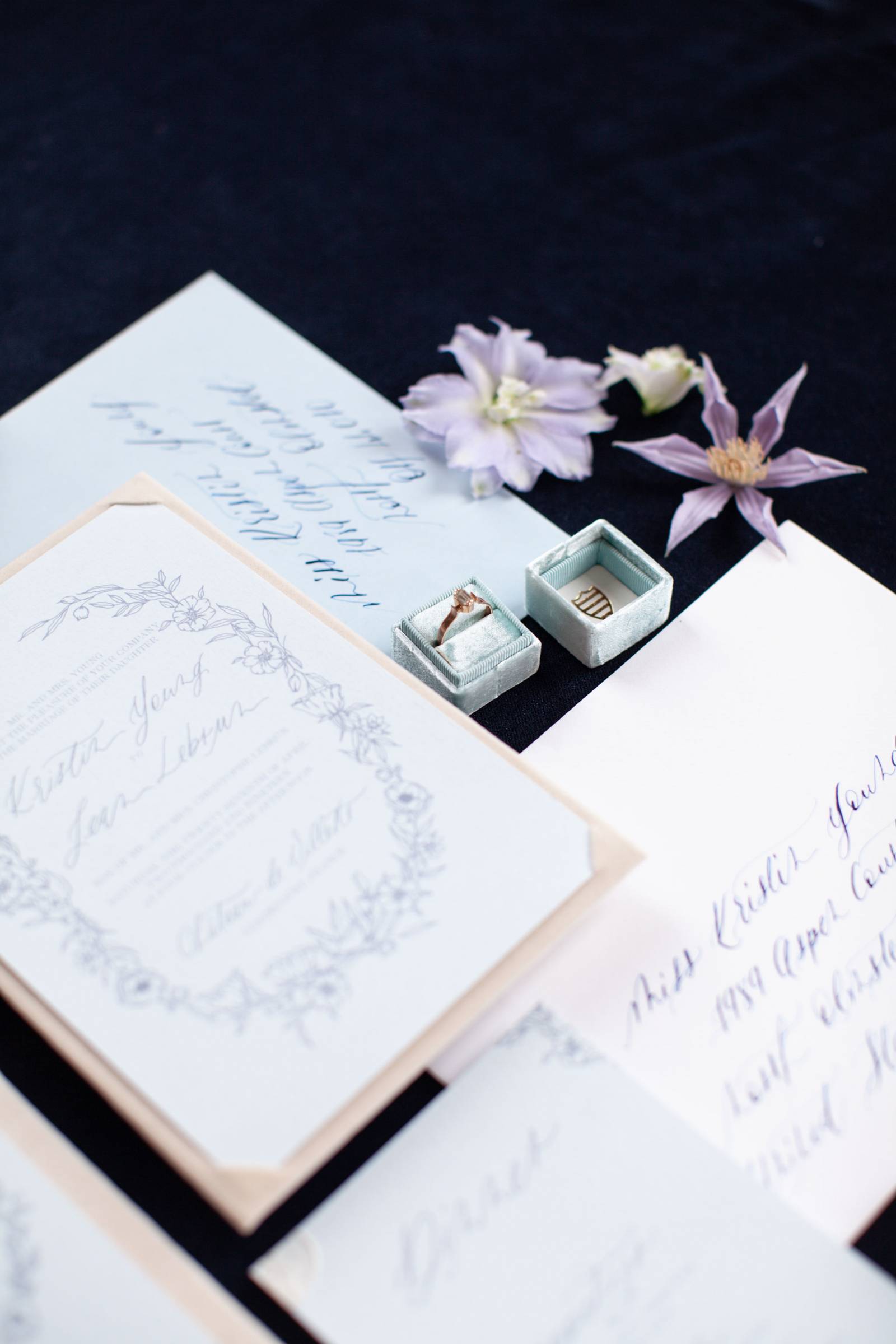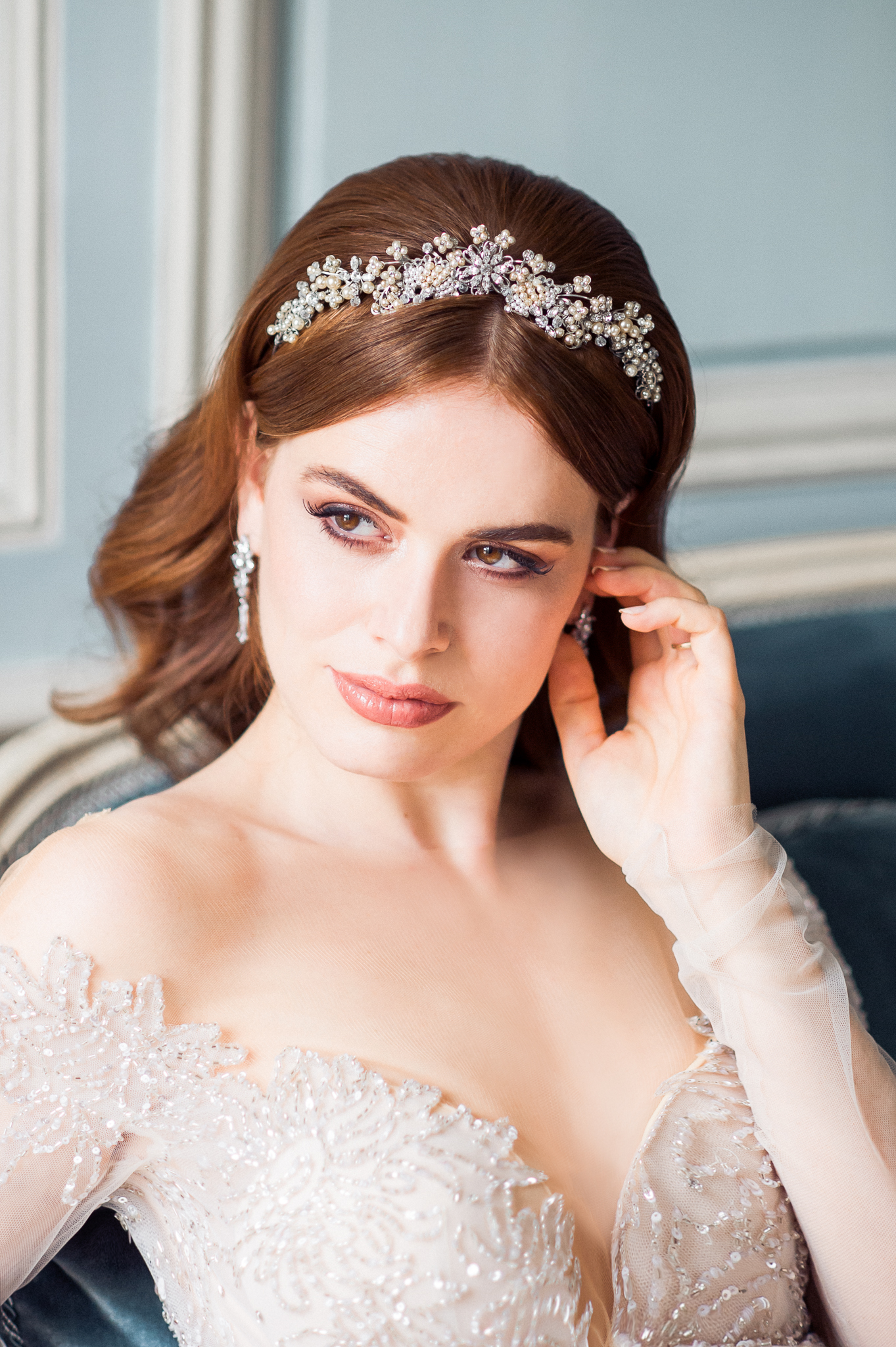 A huge thank you to Italy wedding photographer KRISTINE GRINVALDE for sharing this stunning luxury wedding inspiration with us. Spreading her time amongst several European locations, Kristine's style is a blend of fine art and editorial with a focus on elegance, tenderness and timeless moments, channeling light and airy look with fashion flair. "Above all I am committed to document candid emotions and the very soul of your celebration while delivering a seamless experience and gently guiding you to savour most precious moments while looking your best." You can see more of her work in our vendor guide.