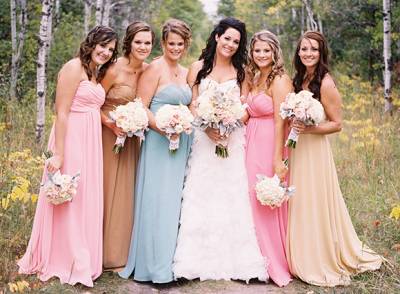 How gorgeous are the colours of these bridesmaids dresses? I was instantly smitten with them when I looked through this stunning Manitoba wedding from BLF Studios. Beautiful bride Kaely manages the weddings at Pineridge Hollow (doesn't that name alone just sound like the perfect place to get married?), a beautiful outdoor wedding venue nestled just outside of Manitoba's scenic Bird's Hill Provincial Park. Having seen so many weddings there over the years it was always going to be a challenge for her to have something different to the many she'd witnessed. In keeping with the venue's rustic elegant look, she styled a stunning celebration and installed lots of fun elements for their guests to enjoy.
"We attended college together at the Hospitality Management program at Red River College. We clicked instantly and became great friends, but we were both in other relationships at the time, and so anything more than friends wasn't something that we considered. About 2 years after graduation, I noticed Karl changed his Facebook status to single and I extended my regrets about his relationship ending, saying I understood because mine recently had as well. For the next 14 months we talked basically every day – via text message. We texted morning noon and night, occasionally trying to set up times to actually hang out, but our plans always fell through. Then finally after over a year, we met up for a Harry potter marathon. 9 months later, he proposed!"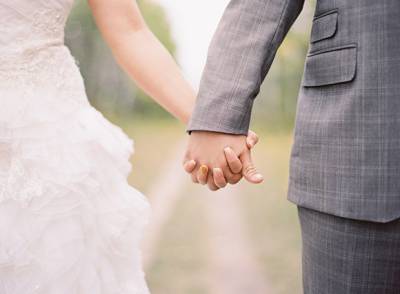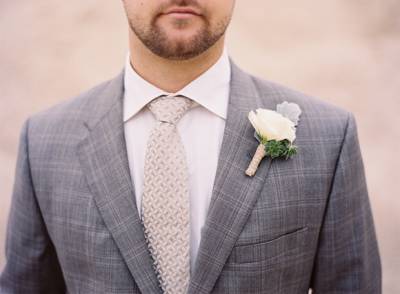 Any DIY/Budget elements? Oh, lots! We decided to have guests seated at long tables, and I love the look of an assortment of different bottles and vases down the tables all with different types and heights of flowers. To get the whimsical rustic look, we had a colour palatte of mint, peach, coral, and different shades of gold. Since flowers don't really come in those hues, I had the idea of making the bottles in that colour scheme, and then doing neutral coloured flowers in the vases. So, myself, with some help from friends and family (and a handy brother-in-law who showed us how we could use a drill to do this with only 20 bottles left), wrapped an assortment of 360 cans and bottles with different colours of yarn to put down the tables, and in other areas around the ceremony and reception. My mom sewed the lace and muslin panels for behind the ceremony, as well as the lace runners for the tables and the giant lace tablecloth for over the head table. I also made 2 large boards for the dessert buffet back-drop that featured pictures of Karl and I throughout our relationship, as well as chalkboard quotes and framed art in our colour scheme.
Anything other details that help tell the story of your day: We made a special effort to really honour our family and friends, and made it a huge priority to speak to everyone throughout the reception and personally thanking them for joining us, which I think is something that is often missed. Another detail that was loved was that during the Father Daughter Dance, we played a slideshow I had made of picture of him and I while I was growing up, which was a complete surprise to everyone except myself and my mom, and was a beautiful emotional surprise for him.
Photographer | BLF Studios, Cake | Family & friends, Florist | Katrina Klassen, Pineridge Hollow, Stationery | Bride + Lizette Grivicic from In So Many Words, Venue & Caterer | Pineridge Hollow, Shoes | Miu Miu, Jewellery | Appelts, Hair | Rhandi Delvecchio, Make-up | Rhandi Delvecchio, Bridesmaids Dresses | VP Online, Grooms Attire | Vittorio Rossi Clothiers