We're all over the idea of a small and intimate wedding, especially when it looks as pretty as this Western Australia affair by the fabulously talented KATIE GRANT. The south-western part of the state is very special to Sara & Edwin and having spent many weekends there they couldn't imagine getting married anywhere else. The held the ceremony in a sweet little church - the oldest in Western Australia in fact - which was full of character with its stained glass windows and old stone work. It was followed up with a reception at WILLS DOMAIN, a beautiful winery in the Margaret River wine region of Yallingup. "We both wanted a small and intimate wedding. Wills Domain was also an easy choice for us. We shortlisted a few wineries but nothing compared to Wills - it was airy, bright, modern and had a stunning sunset view across the vineyard. The wedding function coordinator Rachael made us feel relaxed from the start and the made the whole process as easy and stress free as possible. In terms of style, we both wanted to keep it modern, elegant and simple. I love neutral colours and I've never been one for chair covers or diamantés."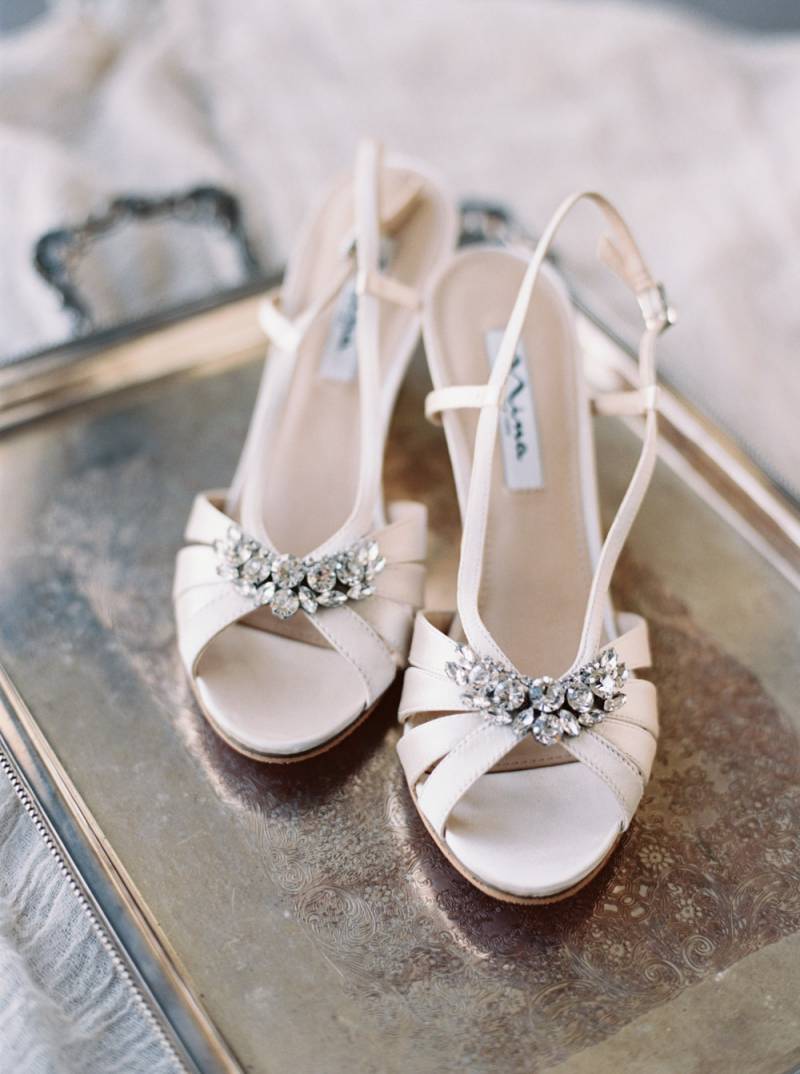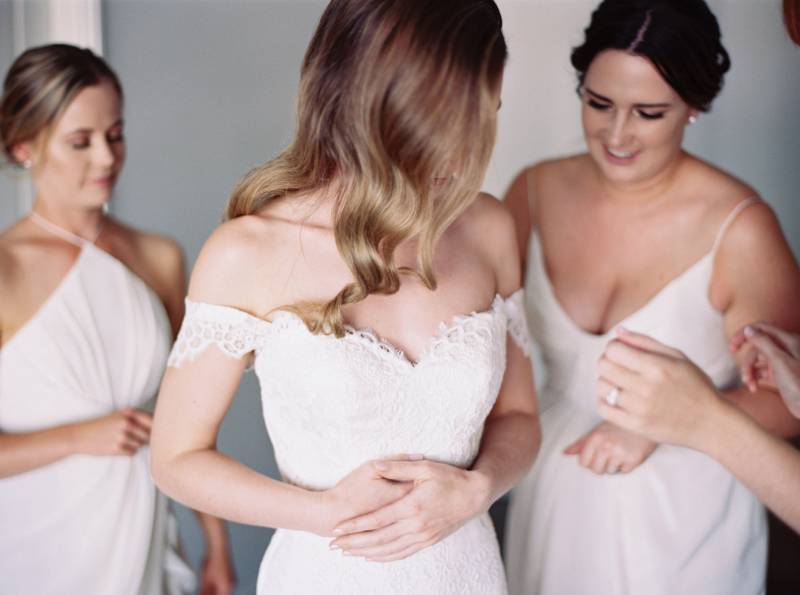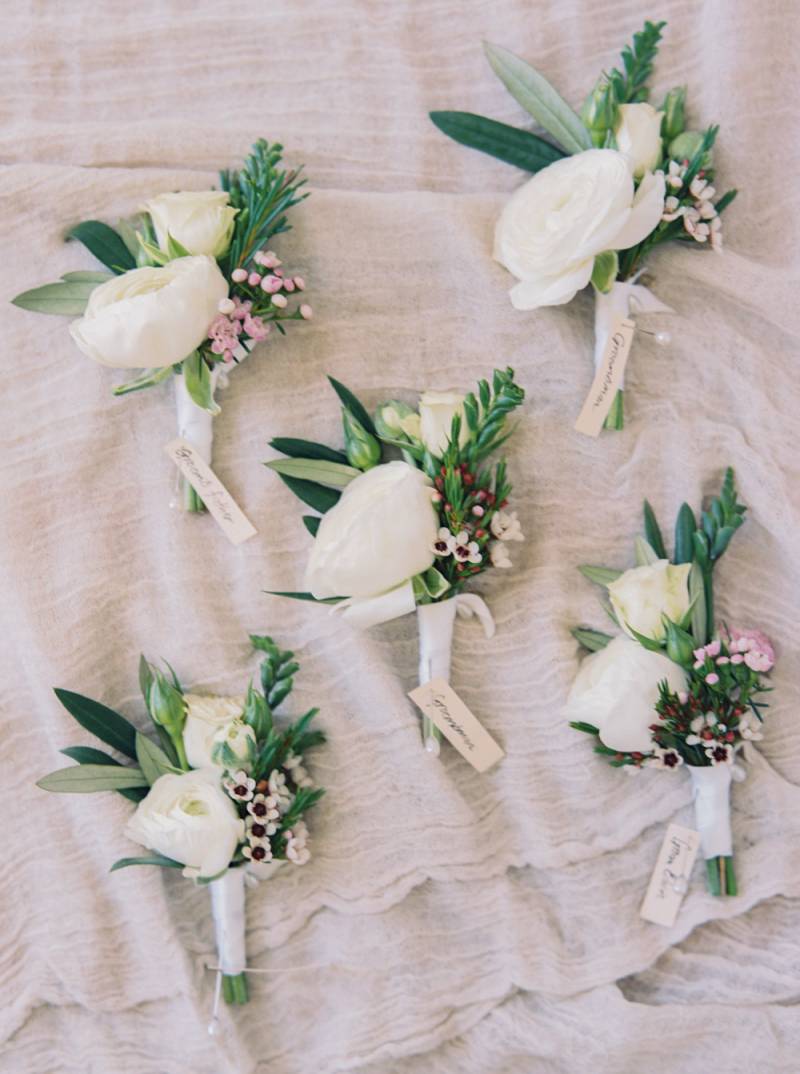 HOW DID YOU MEET? We met in 2012 at The George in West Perth. It was a Friday night and I was meant to be going to to a professional development course for work that evening. My girlfriends managed to talk me out of going to the course last minute (I'm now very glad that they did) and I went out with them instead. Ed was out that night with one of his friends (who turned out to be my colleague at the time) and we bumped into each other and started talking. He claims I gave him a "look" which is when he knew. He asked for my number and we went on our first date the following week. He formally asked me to be his girlfriend on the third date (a very South African thing I'm told) and the rest is history.
TELL US ABOUT YOUR PROPOSAL: We have always loved the south west region of Western Australia and have spent many weekends there over the past few years, so it was a very fitting location for Ed to propose. We were staying one weekend at our favourite Bed and Breakfast in Dunsborough and Ed suggested we should go for a run. We went down to the Cape to Cape track and went for a 10km run and went for a 10km run through mostly soft sand. He tells me now that it was so I couldn't run away if I said no! Just before we got back to the Leeuwin Lighthouse, Ed suggested that we have a quick break on the boardwalk. It was a beautiful afternoon and nobody was around. I turned to look at the sunset and when I turned back he was on one knee with the ring. Turns out he had run 10km with the ring box in his back pocket! He proposed exactly 8 years to the day since moving to Perth from South Africa so it was a very special and significant date. When we got back to our B&B we popped open and bottle of champagne and celebrated.
TELL US ABOUT FINDING YOUR WEDDING DRESS: My wedding dress was almost not my wedding dress. I loved my dress from the minute I first tried it on - it was simple, elegant and light. I loved the fine lace and dropped waist. My mum thought it wasn't detailed enough so I ended up being swayed and putting a deposit on another dress. After a few weeks I was having huge regrets and ended up going back to the original dress I loved. I had always said I wouldn't wear a strapless dress but that's exactly what I ended up having!
ANY DIY ELEMENTS? Having a down south wedding, we tried to keep DIY to a minimum as we are based in Perth and didn't want to have to do too many things last minute. My sister hand painted some cans for us to tie to the back of our wedding car which were very cute. I designed the stationary and had it printed professionally but cut it myself as it was a lot less expensive that way. We also made our wedding invites online. We had four guests unable to attend last minute due to work and health reasons and it was too late to have a large seating plan printed so I drew one up myself on a large board I bought from Officeworks- it looked a bit like a school project but there wasn't really time to get anything else made! I felt that the less I did myself, the whole process would be less stressful.
DESCRIBE YOUR WEDDING FLOWERS: I wanted to keep the colours light and soft as it was a spring wedding. As the bridesmaids were also in ivory I didn't want any overpowering colours. As a surprise for Ed, I had a large light pink King Protea in my bouquet- luckily they were in season by October. Proteas are a South African flower so I thought it was a nice personal touch to the floral arrangement. Our florist Stacey made beautiful table runners for our long tables which also featured King Proteas. Pew flowers in the church were little bunches of baby's breath flowers.
FAVOURITE DETAIL OF THE DAY: Everyone always says that you don't notice the details on the day because you are so caught up in the moment and it's true. However the one thing I had always wanted at the reception was to have an open air dance floor under the stars. In the weeks leading up to the wedding, it was pouring with rain most weekends so I resigned myself not to get my hopes up and that we would have to move the dance floor inside. When it came to the day of our wedding, the sky wathe sky was perfect and clear and blue. Locals told us it was the best weather they had there in 6 months! We had festoon lighting strung up over the outdoor deck at Wills Domain and we spent the night dancing under the stars.
WHAT ADVICE WOULD YOU GIVE OUT TO A COUPLE PLANNING THEIR WEDDING? Stick to what you want, don't be influenced by what friends or family think is better. Focus on the marriage not the wedding day, we limited ourselves to only talking about wedding planning a maximum of two days a week which stopped it from becoming all consuming. We planned our wedding in 8 months which was easy if you are flexible with suppliers. At the end of the day, your wedding will be the most amazing and special day and if something goes wrong or is different to what you planned, as long as you get married the other details don't really matter!
MOST MEMORABLE MOMENT? My most memorable moment was during our ceremony when Ed was reading his personal vows and he bawled his eyes out. I've never seen him cry like that before and it was beautiful because I knew how heartfelt and sincere his words were. I think quite a few guests had to hold back tears too! Ed's most memorable moment was driving down to Canal Rocks (close to where Ed proposed), just the two of us in the car, to have our wedding portraits taken. It was so nice to have time away from everyone and take a moment as a couple.
ANY OTHER DETAILS THAT HELP TELL THE STORY OF YOUR DAY? You may notice that in the photos from the reception, Ed is wearing a blue bow tie which was different to the bow tie he wore at the wedding ceremony. It was our "something blue" and it belonged to his much loved grandfather "Oakie" who passed away when Ed was young. He loved his grandfather very much and told me that it was his way of having his grandfather close to him. It brought a tear to my eye and I know it meant a lot to his grandmother.
The night of the wedding we were staying in an amazing dome Eco tent in Yelverton called Mile End Glamping. We woke up in the middle of the night to loud banging sounds outside. At first we thought it was gunshots or a bomb. When Ed went to check what was going on there were bright flashes of light in the sky- we were woken up by a meteorite shower! The next day at Bunker Bay we also saw three whales breaching and a pod of dolphins, it was incredible.