When Dallas wedding photographer ALLEN TSAI had the chance to collaborate with Seattle wedding planner CALLISTA & CO. and Amy from GATHER DESIGN COMPANY, they wanted to create a contemporary design with a strong sense of seasonality. With spring trees blooming all over the Seattle landscape at the time, they were drawn to the idea of using a single type of blooming branch. Once they had settle on the Magnolia the other elements of our editorial came together seamlessly. GREY & CAKE crafted an incredible custom invitation suite, and the Wilder gown from ALEXANDRA GRECCO feels as if it were custom made for the design.
Seattle wedding florist GATHER DESIGN COMPANY tells us more about the floral design process: "When Callista sent me her idea of using a single type of blooming branch for the design inspiration, I jumped at the idea! Magnolia are large, stately blooms, but they also carry with them an air of elegance and refinement. When used alone, their beautiful shape and subtle colour variations shine. To feature magnolias at their best, we designed both low and taller centerpieces, some with open flowers and some with buds. The bridal bouquet echoed this design and was finished with a soft silk ribbon bow."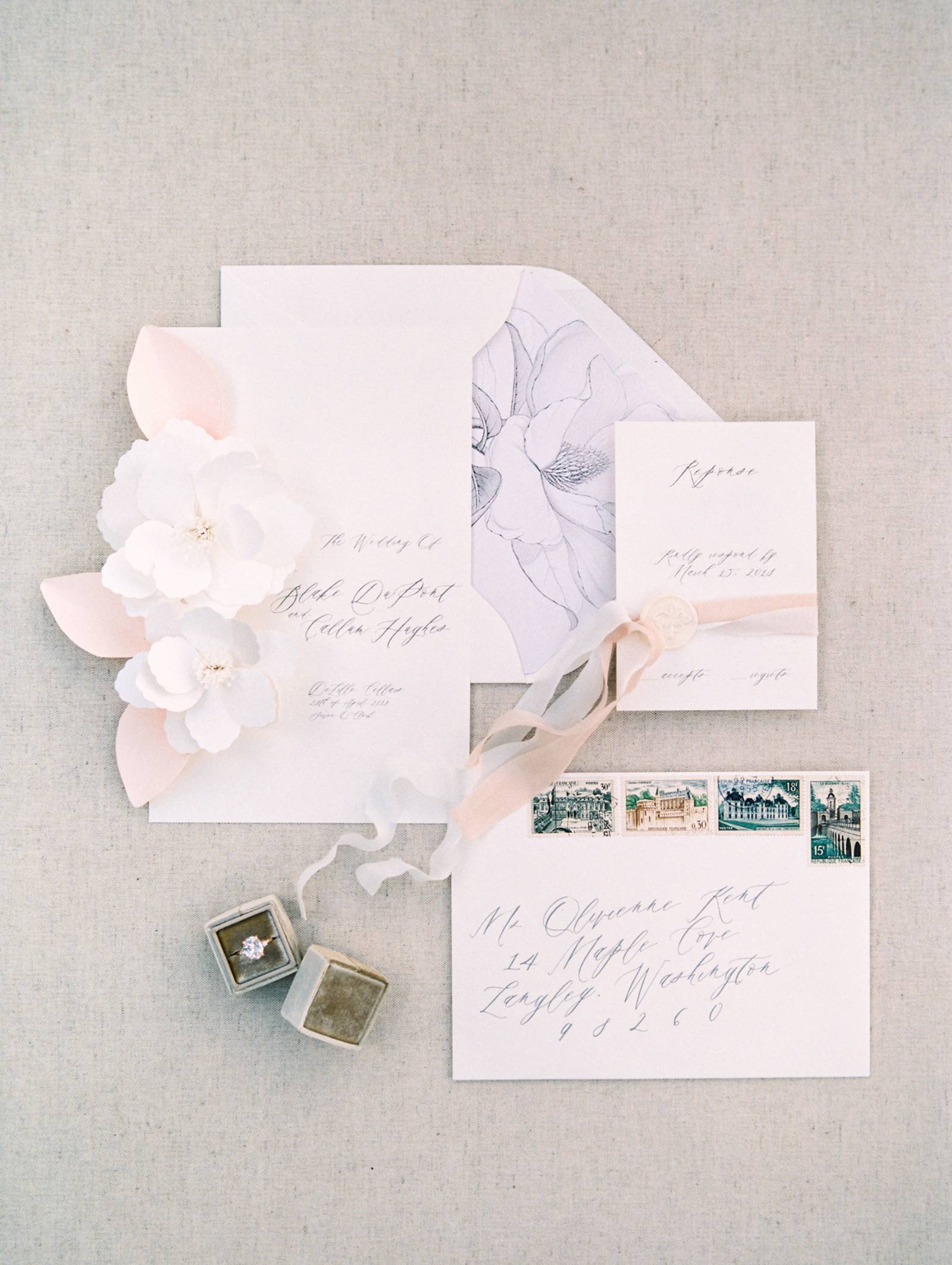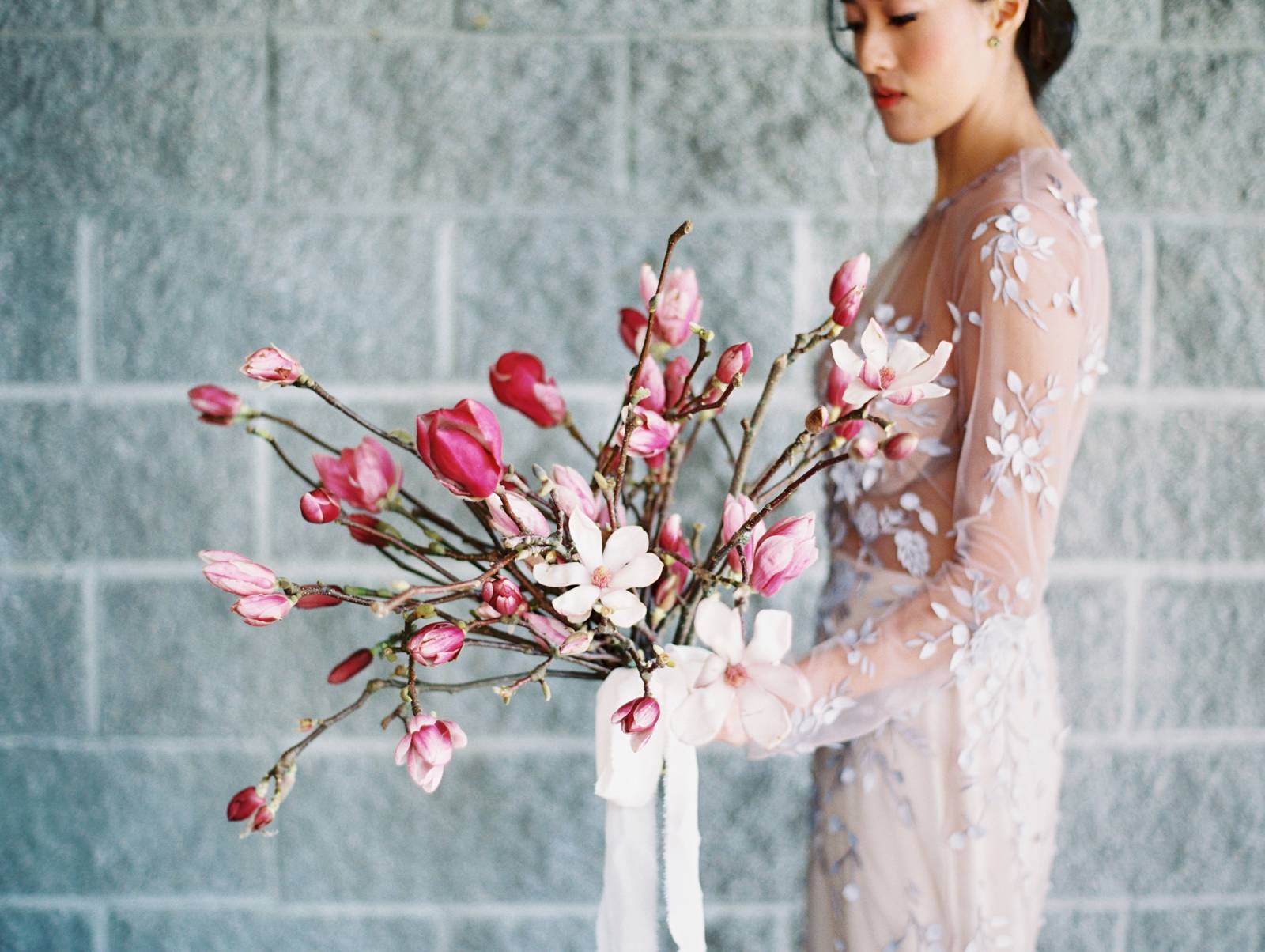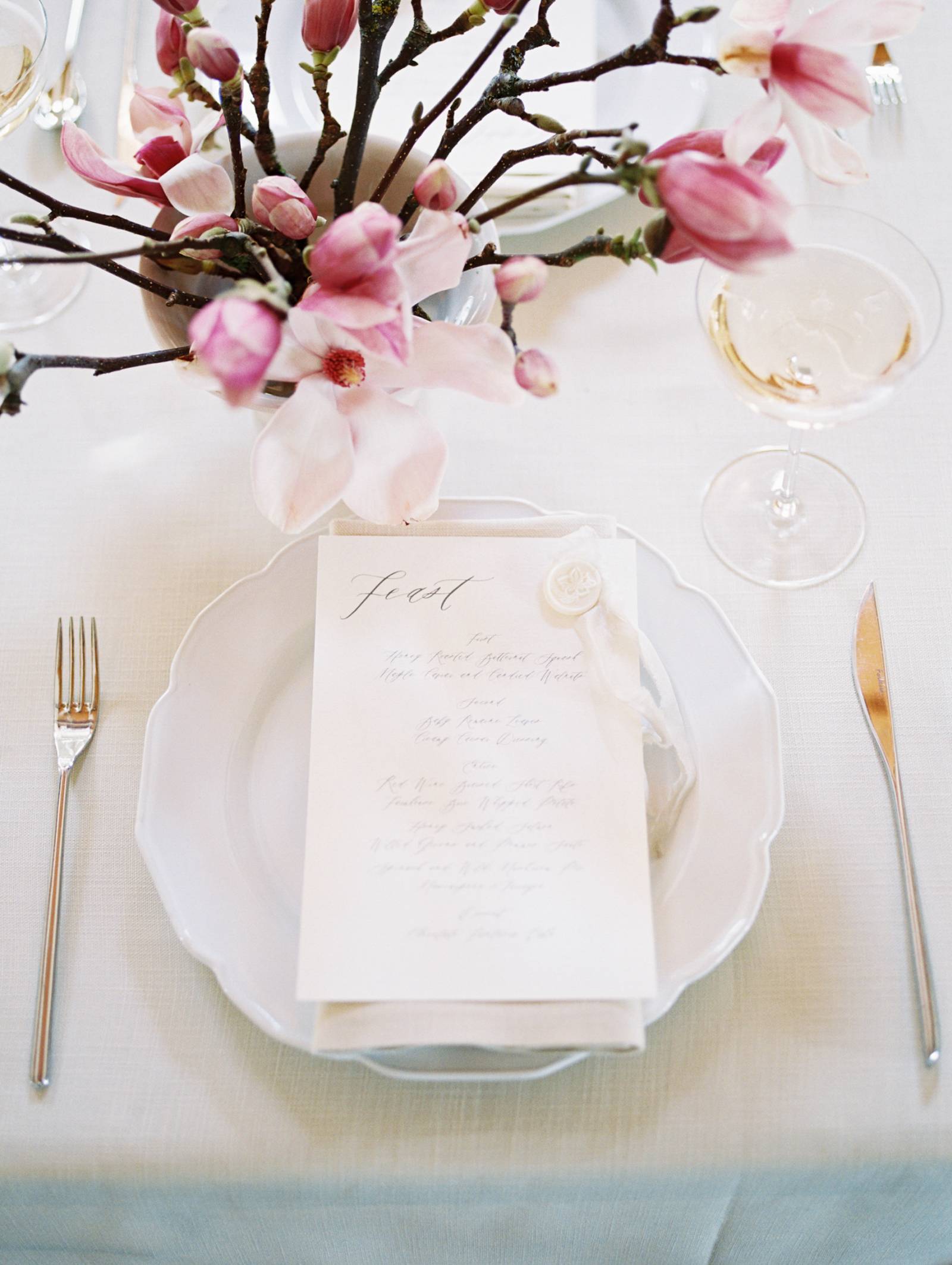 A big thanks to Dallas wedding photographer ALLEN TSAI for sharing this beautiful inspiration with us! Allen has turned his passion for the art of photography and documenting poignant memories into a business. Whilst he is based in Dallas, TX, he has covered destination weddings all over the world including Mexico, Europe, and Asia. He brings a warm personality and professional spirit to his work with an airy, romantic, and dreamy aesthetic. If you're looking for a rare balance of technical, aesthetic, and emotional skills in a photographer, you will find it in this Dallas wedding photographer. Check out this Modern minimalist wedding ideas at the Modern Art Museum of Fort Worth that he captured.
Seattle wedding florist GATHER DESIGN CO. is a valued member of the Magnolia Rouge Vendor Guide. They approach wedding flowers as an artful medium to tell your love story. Your flowers will be beautiful, seasonal, and fresh, but more importantly, they will mirror the graceful way your gown flows, or the organic movement of the long grass surrounding your ceremony site. Their designs are at once ethereal and timeless, organic and architectural, and are always created with the intention of telling your story. Be sure to see this Colourful and Vibrant Spring Wedding Inspiration she did the florals for.
Seattle wedding planner CALLISTA & CO. offers personalised planning and design services for beautiful weddings and events around the world. With meticulous and organised coordination, warm and attentive support, as well as custom and creative design guidance, they create stress-free events that showcase your unique vision. You can see more of their work in our Vendor Guide and if you're a bride looking for a Seattle wedding planner make sure you check them out.