Auckland-based couple Allie and James took a 'less is more' approach when it came to planning their Waiheke Island, Auckland, wedding. Focusing on good music, food and wine in order for their guests to have a great experience became a priority.
Taking advantage of the stunning scenery surrounding their venue, MUDBRICK RESTAURANT & VINEYARD, they kept the decor simple. Beautiful florals by FLORAL STYLIST CO. and elegant paper goods by HARLAN CREATIVE was all they needed to make their elegant vision a reality. Having a ceremony and reception in one venue made it all easier from a planning perspective and more enjoyable for their guests, who didn't need to travel anywhere in between and could simply relax and enjoy a wonderful summer's day at a truly premium spot. Beautiful images by JONNY SCOTT captured the day perfectly. This also features in Issue 18 of MAGNOLIA ROUGE MAGAZINE.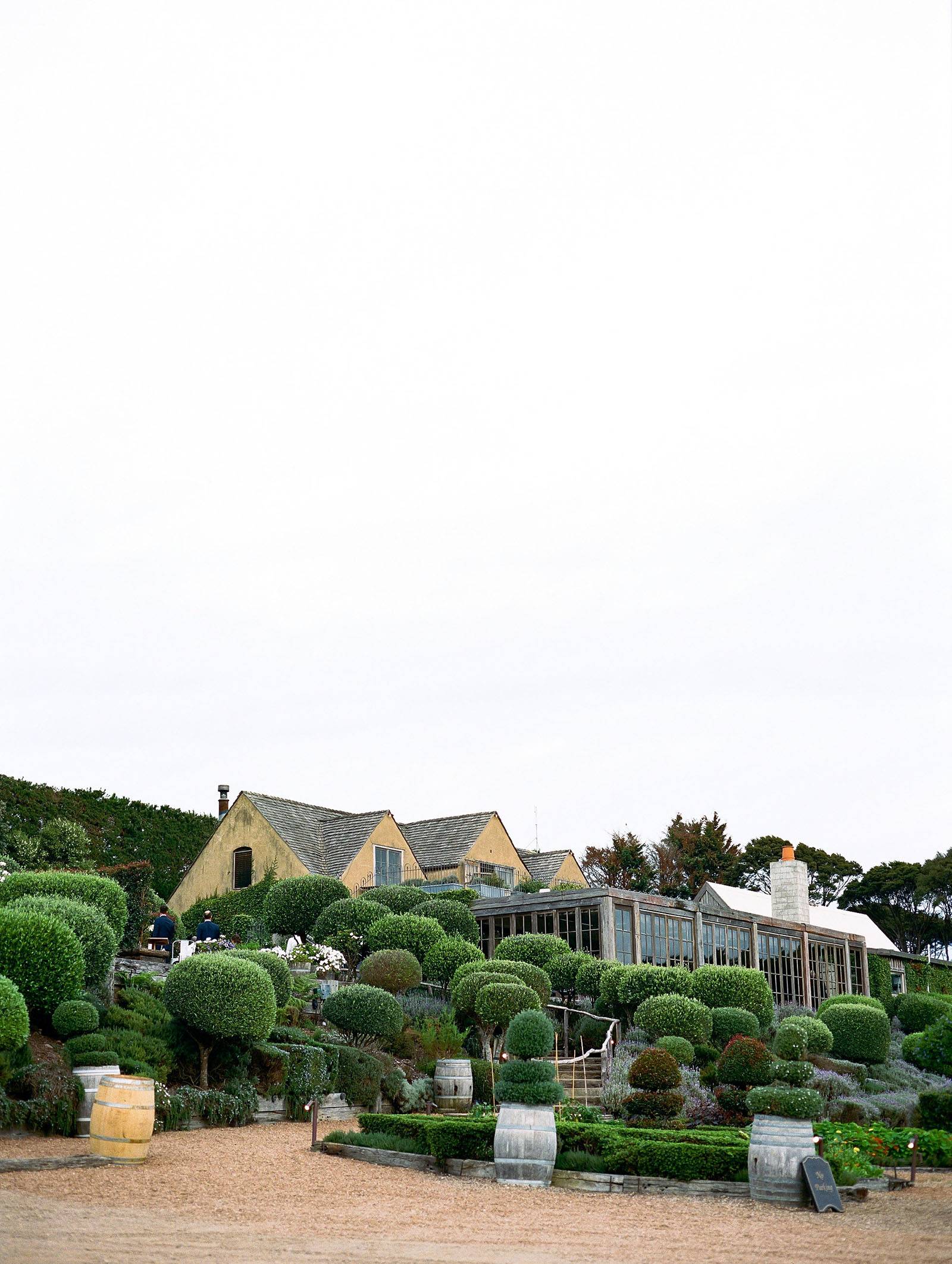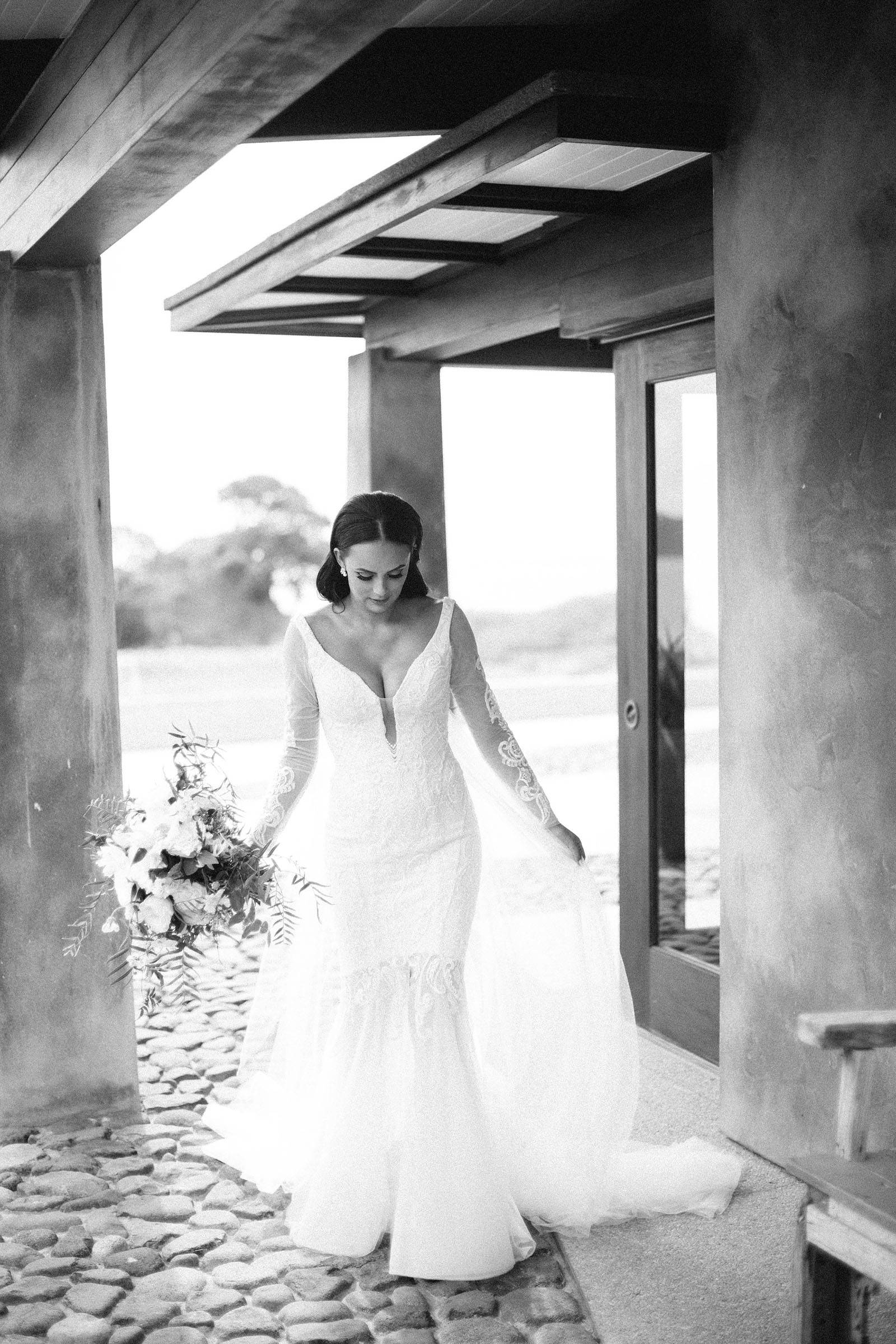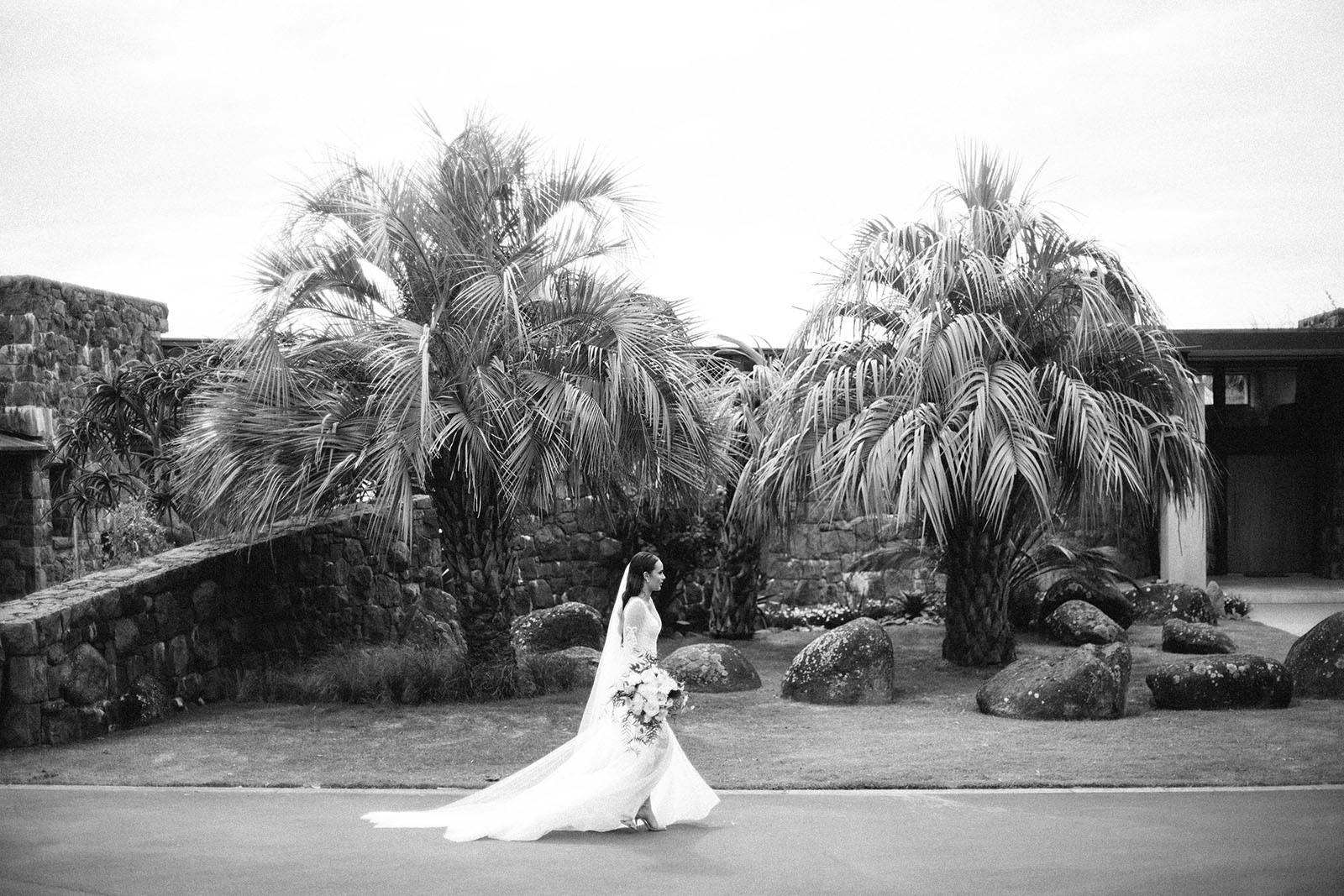 HOW DID YOU MEET? We met at a mutual friends Halloween party. We hung out all night, exchanged numbers and a few days later James took me on our first date.
TELL US ABOUT YOUR PROPOSAL: I was going to Queenstown for work. James sneakily caught an earlier flight there and surprised me at the airport. He took me to one of our favourite places for lunch and then a helicopter ride to the top of The Remarkables. While the pilot was taking a photo of us, James proposed. It was such a surreal and special moment and to top it off, in one of the most beautiful places in the world. He did well.
TELL US ABOUT FINDING YOUR WEDDING DRESS: I have always adored so many Australian based wedding dress designers and was fortunate enough to be based in Sydney for work during our engagement. The first place I visited was PALLAS COUTURE. My Mum and bestie had flown over for what they thought would be a long day of dress shopping but Pallas Couture was our first and last stop. Their team listened to everything I wanted but also advised me on what shapes and styles would be best for my body shape. I tried on what I thought I wanted and then what they suggested would be best for me. Sure enough, the experts were right. It was that true 'wow' moment. From there, my dress was custom designed and made. The team were incredible throughout the entire dress making process.
WHAT WAS THE INSPIRATION BEHIND YOUR WEDDING STYLE? We wanted something elegant and timeless, yet with a still relaxed, slightly boho feel to it. Rather than having lots of little aspects to our day, we focused on keeping it simple and big ticket items. Which to us were scenery, music, food and wine.
We had been to so many weddings where there was so much going on that for our own we really felt that 'less is more' would be our basis. For décor on the day we had beautiful florals, simple stationery and a good party atmosphere. Done.
WHY DID YOU CHOOSE THIS LOCATION? As if Waiheke Island isn't beautiful enough. The first time we visited Mudbrick Restaurant & Vineyard, we felt like we were in the South of France again. We just loved it. When we got engaged we shortlisted a few venues with Mudbrick being at the top. Hoping to get married the following summer, I knew we were pushing it to get in but as fate would have it they had one booking available. Yes please.
We loved the idea of being able to have the ceremony and reception in one place. Made it easier for us from a planning perspective but also more enjoyable for our guests so they didn't have to move during the day.
With Mudbrick's newly opened Lodge we were fortunate enough to be one of the first weddings to be held there and James and I got to spend our wedding night there also. It is divine and I would recommend it to anyone wanting a romantic weekend getaway.
DID YOU HAVE ANY DIY ELEMENTS? During our engagement we went to New York and I managed to haul 12kgs of personalised M&M's all the way home. I found these cute corked jars and used these and the M&M's as our wedding favours.
I also made up bathroom baskets to keep the party fresh throughout the night. I had everything in there from mints, hairspray, deodorant, hairpins, ties... even painkillers and floss etc. They were a real hit and basically empty at the end of the night.
DESCRIBE YOUR WEDDING FLOWERS: I am a sucker for fresh blooms so our wedding day was no exception. We went for natural tones with lots of greenery and whites for the wedding florals. My bouquet was filled with fluffy dahlias, cream David Austin's and Columbian white roses. I had green foliage cascading down to give it a less rounded appearance. We had a beautiful full floral wedding arch and on the reception tables we had thick table garlands running the entire length with the same greenery and white florals. You could say we had a bit of a boho-luxe floral theme.
WHAT ADVICE WOULD YOU GIVE OUT TO A COUPLE PLANNING THEIR WEDDING? Don't stress the small stuff. Keep it simple. No one notices the personalised napkins but they do notice a stressed bride. Don't let yourself lose focus on what the day is actually about.
Best money we spent was hiring someone to co-ordinate on the day. For the little things that you can't plan for and just to oversee everything. She was worth her weight in gold.
MOST MEMORABLE MOMENT? Hands down, seeing James for the first time. It gave me all the feels. Tapping him on the shoulder for that first look was a moment I will never forget and a moment I can't even find the words to explain. Being able to see him first calmed my nerves, let me get out all my happy tears (that would have otherwise taken place in front of 150 people) and let us truly just have that time for us and no one else.
TELL US A LITTLE ABOUT YOUR HONEYMOON: We are both sun chasers. As we got married in March we decided on a mini-moon to Bali. We relaxed, ate, drank (yay no dress fitting fear) and sunbathed for a week of villa bliss. A few months later we escaped for our European summer honeymoon. Amalfi Coast, Santorini, Barcelona, and Amsterdam. The best thing about our honeymoon was the amount of quality time you have with one another. No work, no distractions, just you and me and a bowl of gnocchi.
IS THERE ANYTHING YOU WOULD CHANGE OR DO DIFFERENTLY? No. I mean sure, trends and styles change but I still wouldn't change anything. Instead, I've just started planning the vow renewal.