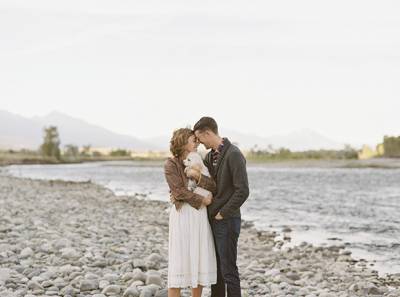 I'm delighted to feature this beautiful couples session by SIMPLY SARAH PHOTOGRAPHY captured on the beautiful Yellowstone River in Paradise Valley, Montana at first morning's light. Samantha & Reid of ORANGE PHOTOGRAPHIE are just about the cutest couple you'll ever meet – throw in puppy Oliver and they're the complete package!
Samantha tells us a little of their story: "We met dancing on a Friday night in August of 2009 in Bozeman, Montana. It was an instant connection; one of those moments that feels life changing. Something special was about to happen. Soon we were building a relationship, a business, and a life together.
We were married on May 29, 2013 in a small village in North Wales surrounded by 12 of our closest family and friends. It was an absolutely romantic, magical, perfect day we will cherish and dream about forever.
As Emily Bronte says, "Whatever our souls are made of, his and mine are the same." It's more the feeling of soul mates rather than the fact. And that feeling is why Reid and I got married. We love each other madly and we just… fit. Our souls are made of the same stuff."