Today we're kicking off with this incredible wedding that Seattle wedding photographer JORDAN VOTH travelled to Wisconsin to capture. You'll have to forgive me for the overload of images for this one - there were simply too many good ones to be frugal! This wedding has a perfect blend of feminine touches - in the colours and details - combined with a heavier masculine feel with a lot of texture in the use of wood and iron. Stunning bride Karrah has a slight - or strange as she herself puts it - obsession with figs so they became a huge source of inspiration for the day and they made for the perfect decor for their tables. I'm obsessed with the stormy pictures of the two of them out in the fields!
Karrah tells us, "Our venue was a total random find, which we made everyone drive 4.5 hours to get to, but as soon as I saw it I knew it was perfect. The building itself had that nice & textured brick exterior, while the creek flowing through the surrounding yard added the perfect amount of serenity. We loved that the whole little town became a getaway for all of our guests & even heard some felt like they had traveled to another country (definitely had an old Italy sort of vibe which was spectacular)! At the end of the day, we didn't want to add in too many trendy items, but still wanted to create something lovely. We also didn't want to go overboard and made sure to keep the focus on our relationship and our guests. I absolutely am in love with the idea of dinner time - spending a day working and preparing a meal, bringing people together and nourishing their bodies & souls... I love setting a dinner table... this is what largely inspired the way we structured the day in general."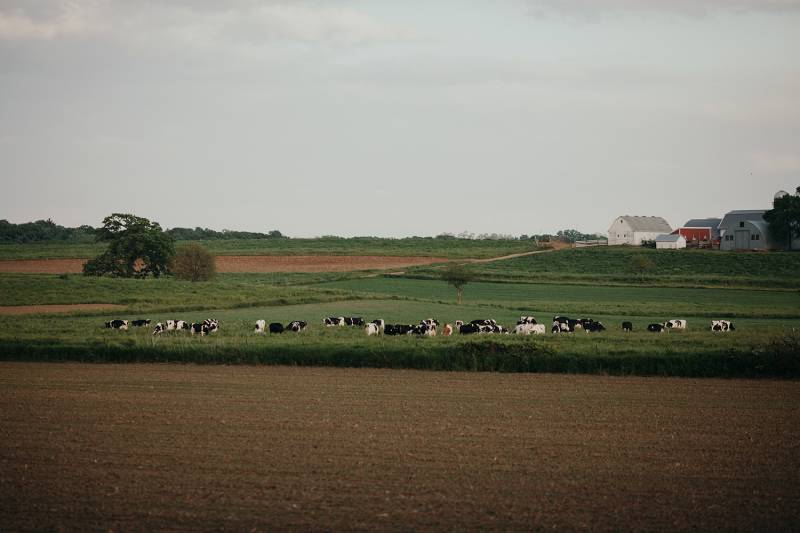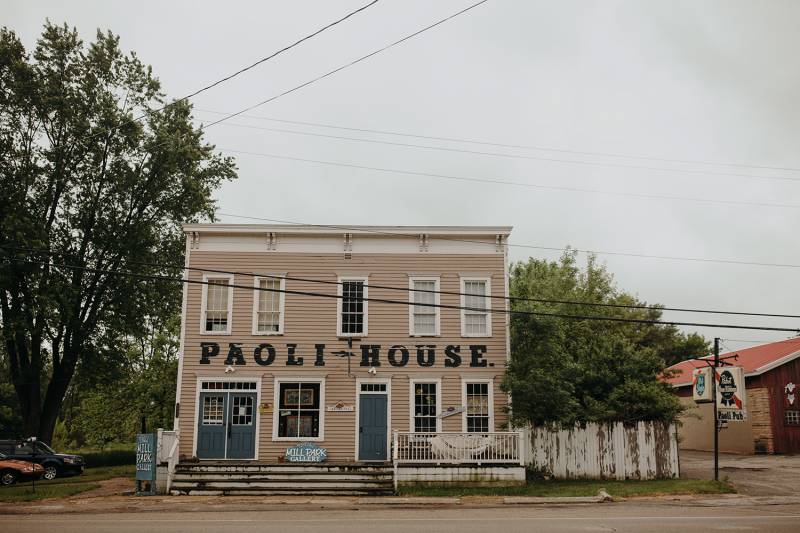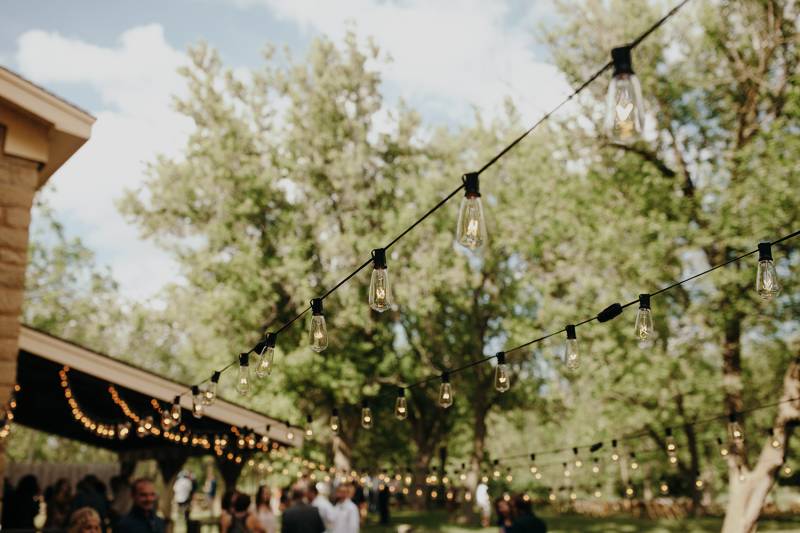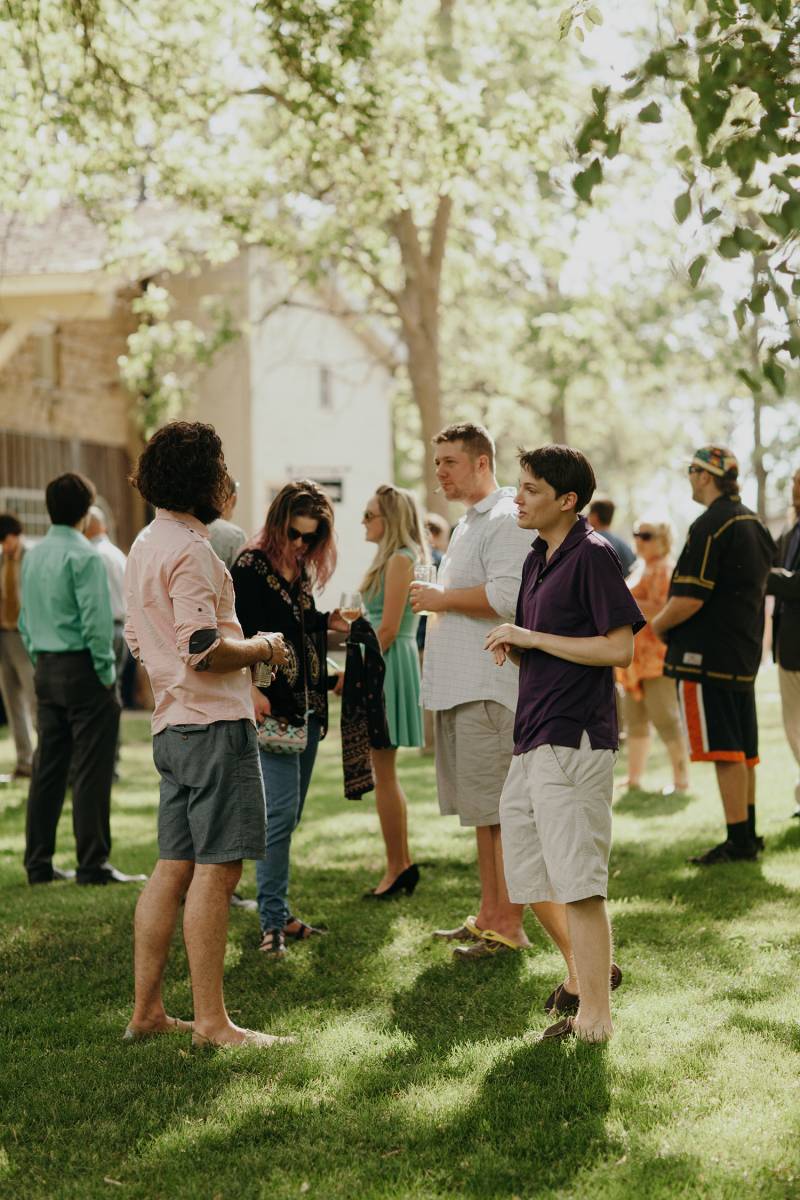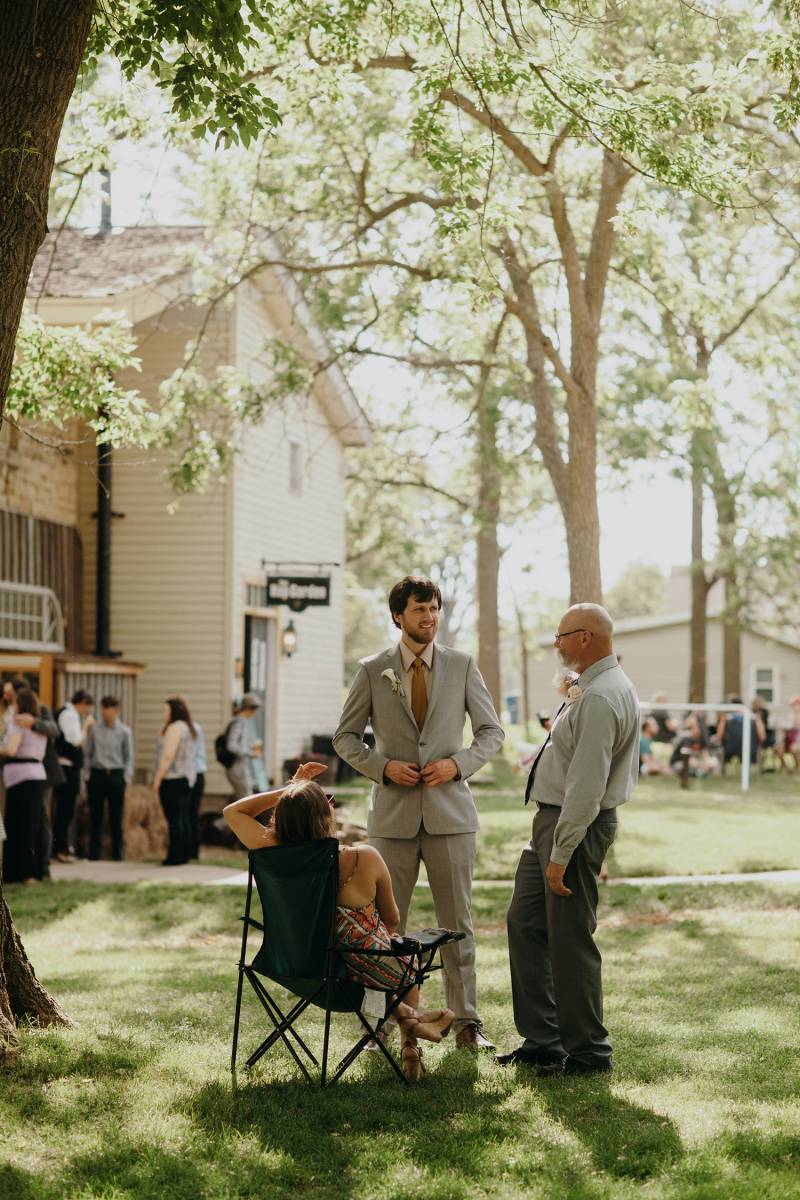 HOW DID YOU MEET? Raleigh and I met in high school chemistry class. I loved him from the moment I first saw him and I will swear forever that we've known & loved in lifetimes before.
TELL US ABOUT YOUR PROPOSAL: We have the kind of relationship that is so laid back, and I was never really proposed to! After 9 years, we had talked about marriage more times than I can count and eventually one of those conversations about the future suddenly turned into "it's time." I love that it was more of a decision we naturally arrived at together. I've never wanted an engagement ring, but I have been wearing my grandmother's ring for years, which fits my ring finger perfectly - so despite my desire to be untraditional, ever since I have to admit it's been given that extra sentiment. :)
TELL US ABOUT FINDING YOUR WEDDING DRESS: I struggled A LOT with the dress situation. I've always had a few key factors involved, but I've also always had a low budget for such a dress! My number #1 requirement was long sleeves. #2 was absolutely no rhinestones, sequins, or beading of any kind (not a huge girly-girl in most senses of the phrase). #3 was a timeless quality. #4 was comfort!!!! I wanted something sleek, sophisticated, and just a little bit sexy of course. I searched high & low through all of the wedding stores & brands & sites, with no luck for months & months. I was about to give up on finding something I really loved until I decided to just try searching "white long sleeve silk gown" and completely leave out the word "wedding." Then, like magic, a link popped up to my dress! It ended up coming from a site called shopbop.com which I had never heard of before. I ordered it immediately. My favourite part is that I can & will totally wear this dress again.
ANY DIY ELEMENTS? So many!! I designed the full invitation suite, and printed/assembled the various pieces with help from several friends. I painted the figs, which was my proudest moment ha! My grandmother handmade the linen napkins, my friends sang & played while we all walked the aisle, and we did even prepare the dinner ourselves (which I only recommend to the very brave & dedicated lol). We kind of made it a point as well to have no strangers at our wedding. Everyone who worked or prepared anything in any way, was a friend or family member. It was a very communal event which was important to us.
DESCRIBE YOUR WEDDING FLOWERS: I love greenery more than I love flowers, honestly. I wanted something simple, as per usual, and very muted in color with lots of green. Without the budget to hire a florist either we had intended to do flowers ourselves as well but at the last minute Raleigh's uncles (who own a floral shop) stepped in to save the day! They created the loveliest green garlands for our tables and a perfect pastel bouquet which I literally never wanted to set down (I can be seen holding it nearly the entire day). I only wish we could have had more!
FAVOURITE DETAIL OF THE DAY: It's a tie - firstly, the figs!!! I love figs oh so much. They were the main thing I really wanted, as silly as it sounds. I searched so long and so hard for a way to acquire them pre-fig season! A local shop ended up custom ordering them somehow, which was an absolute dream come true. We used them, cut in half, to hold place cards. They were also implemented in several recipes, from slices inside fig & ricotta cheesecake popsicles at social hour, to the tops of tarts at dessert. I also walked down the aisle to Eleanor Rigby as performed by my friends. Only a couple of weeks after we first met, just 16 years old, Raleigh told me he'd marry me if I walked down the aisle to that song. I agreed without pause. While I'm sure he thought he was being funny somehow, I knew I could never break that promise & this was specifically a moment I looked forward to ever since.
WHAT ADVICE WOULD YOU GIVE OUT TO A COUPLE PLANNING THEIR WEDDING? Don't get too caught up in the details, honestly, which is such a common but hard piece of advice. My original vision for our wedding was quite different, but it was difficult and time consuming to acquire so many specifics. It came down to the wire, and I had held off on purchasing so many things because I was simply waiting to somehow still find that perfect piece... the last 2 weeks were such a scramble because at that point we just really needed to get what we needed. Only a handful of days before the wedding, our guests still had no chairs to sit in! I had to accept that life gets in the way of that perfect mood board you made and no matter how strong your vision, logistics & finances are both very, very real. The way I looked at it for a while felt like "settling" when everything should have been exciting! Visually, our day had several key elements that remained but I never could have expected the way it turned out in the end. It would have been nice to be able to take a step back those last few weeks because no matter what it was all going to be perfect.
MOST MEMORABLE MOMENT? Most memorable was definitely the storm! We all still talk about the craziness that happened in those few minutes. My Dad led a scramble to save our beautiful wooden dinner tables from the rain.. one of my best friends tripped, sprained her ankle, and was covered in a tarp by my grandmother who told her she'd "come back for her..." just the beginning! Meanwhile, Raleigh and I had run off for photos and him holding me close while the wind grew stronger and the world around us quieter, rain droplets slowly collecting on us... I could live in those moments forever. I always wanted it to rain on my wedding day, and while the timing could have been a little better, I'm so happy it happened.
IS THERE ANYTHING YOU WOULD CHANGE OR DO DIFFERENTLY? Honestly, I wish we would have stayed in the rain. Once the downpour started, we high-tailed it back to the car. I wish we would have stood still for those moments. I wish I would have gotten soaked and not thought twice, not taken my gaze away from my husband's eyes. In retrospect, I could have let my hair down, brushed it out, and threw on one of the extra dresses I had along as options for our rehearsal dinner. I absolutely love the rain, and on any other day, I would have stayed. I did at least get to splash in the puddles barefoot after we returned to our reception. ;)
A huge thank you to JORDAN VOTH for sharing his incredible work with us today! We love the beautiful imagery in this wedding and we hope you do too!
Jordan Voth is a member of the MAGNOLIA ROUGE VENDOR GUIDE and you can see his Seattlle wedding photographer portfolio here.