When it came to finding the perfect spot to hold their wedding Lindsey & Chris wanted to find a location where their guests could step away from their typically busy day to day lives and immerse themselves in another - slower - environment. Both being passionate about wine and everything that goes along with it, it was obvious that a vineyard was a must and being surrounded by nature would be a bonus. Gorgeous bride Lindsey tells us, "It was important for us to find not only a venue, but an area that we could visit for years to come. When we found out about SALTWATER FARM VINEYARD through research, we thought it was too good to be true. It is a vineyard and winery set on the Long Island Sound in Northern Connecticut. Once we stepped foot onto the property, the silence, chirps of birds and smell of the ocean calmed our nerves. We were inspired by the simplicity and history of Saltwater and Stonington, which helped draw all of our ideas into the reality of our day. Stonington was the perfect backdrop. Between our venue, the Lighthouse and a local farm that we discovered, we had endless adventure filled photo opportunities." And photographer VERONICA LOLA PHOTO took advantage of those opportunities to capture these gorgeous images.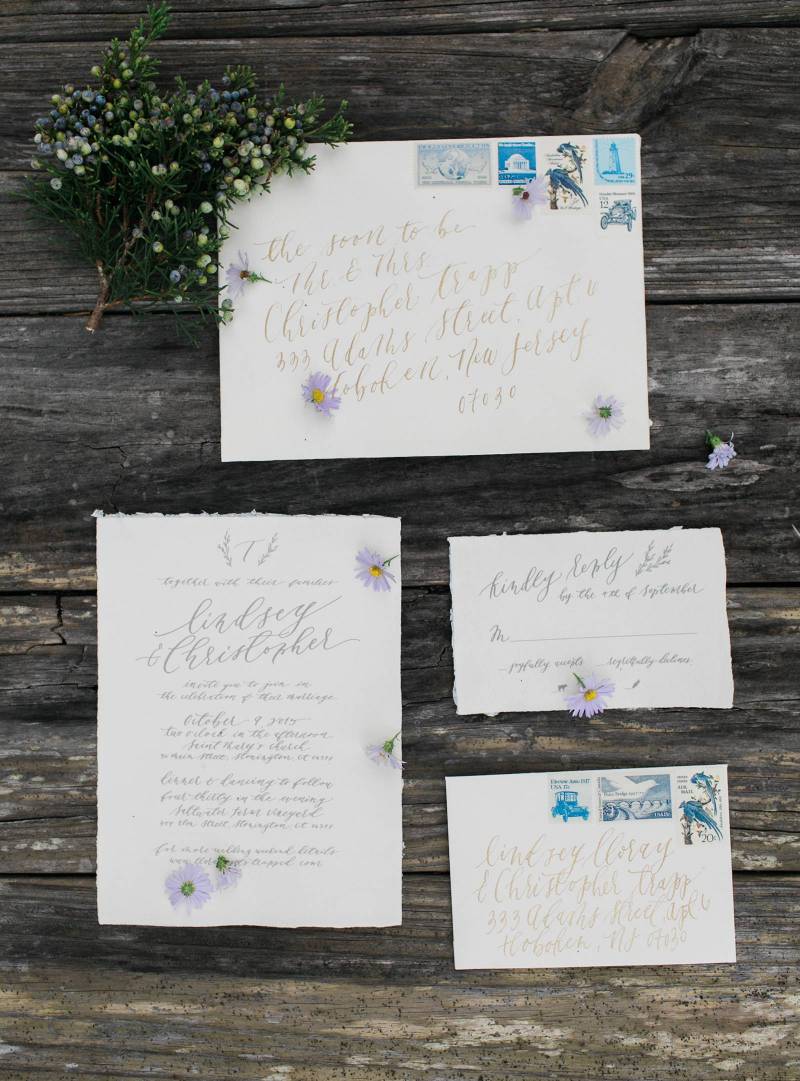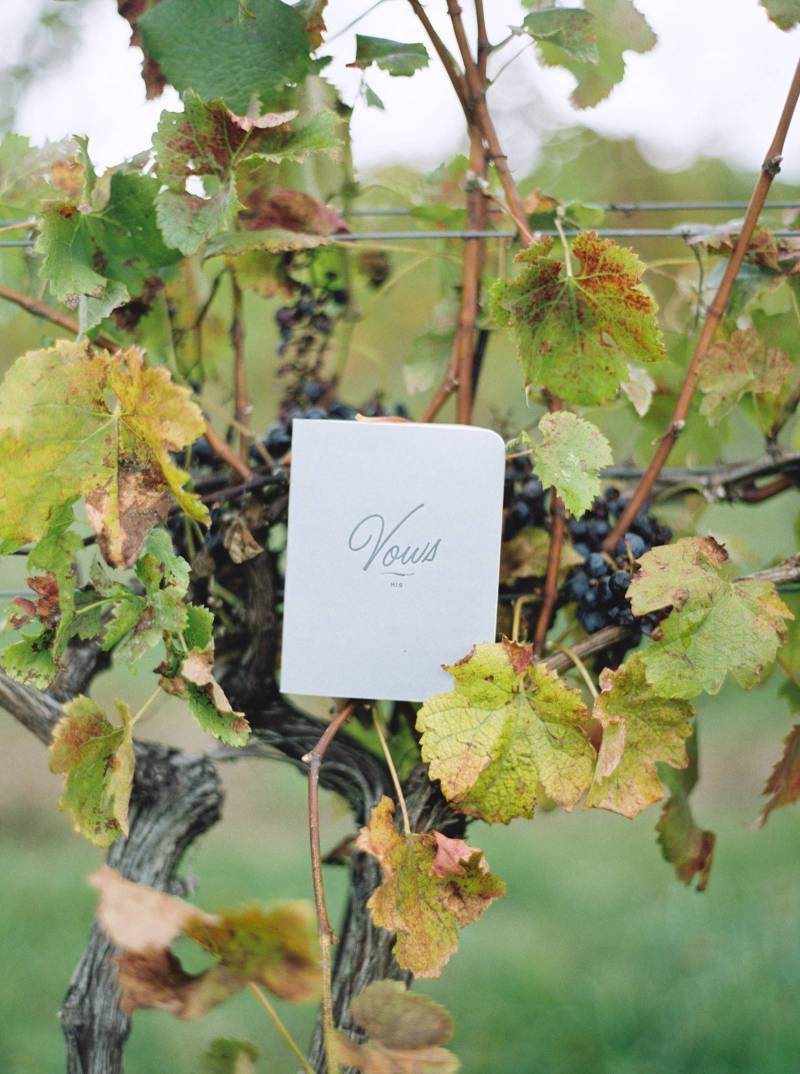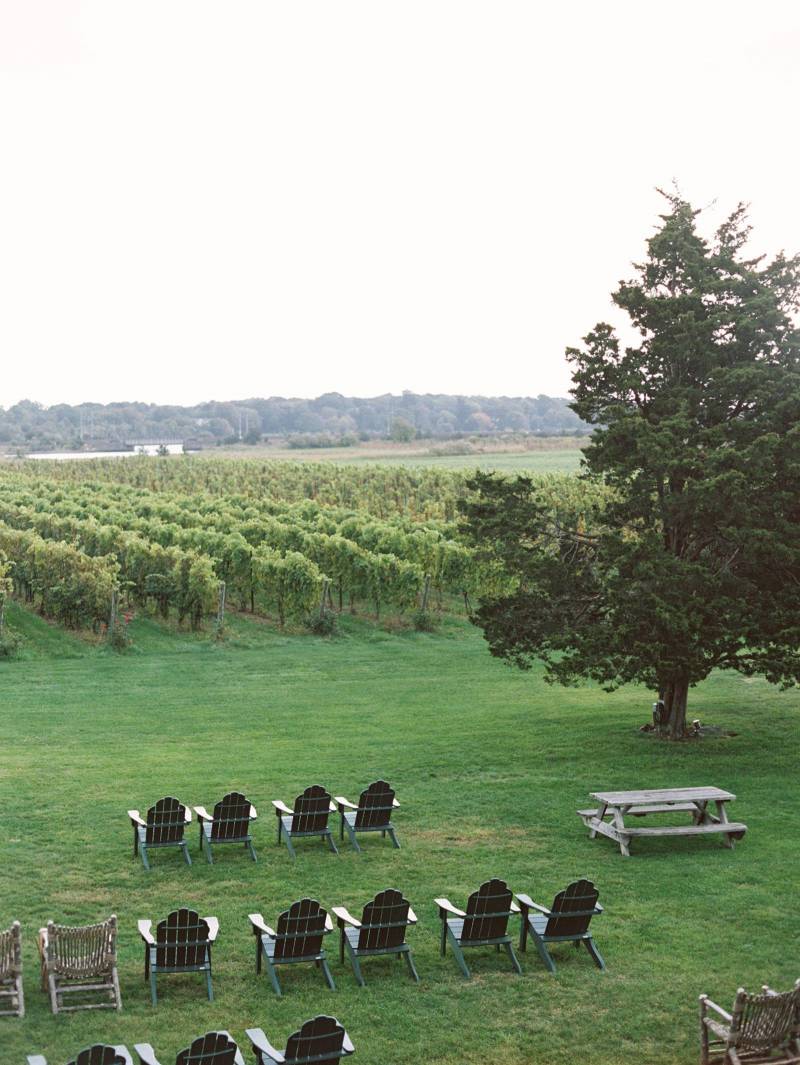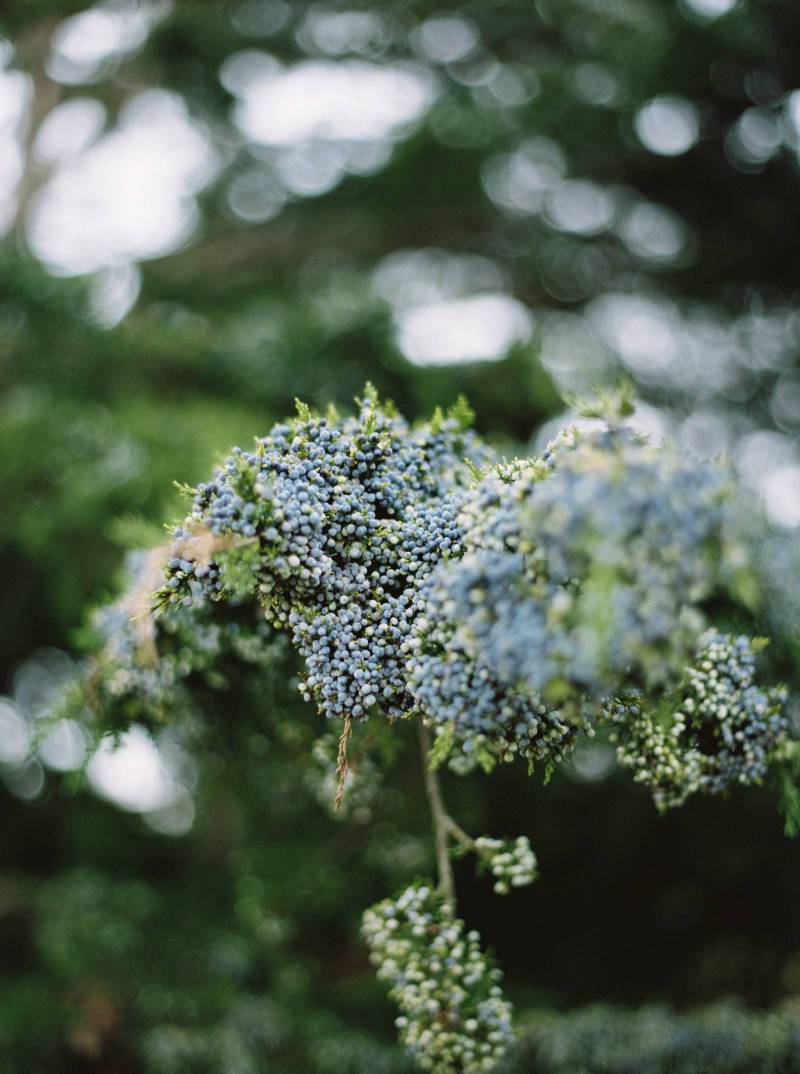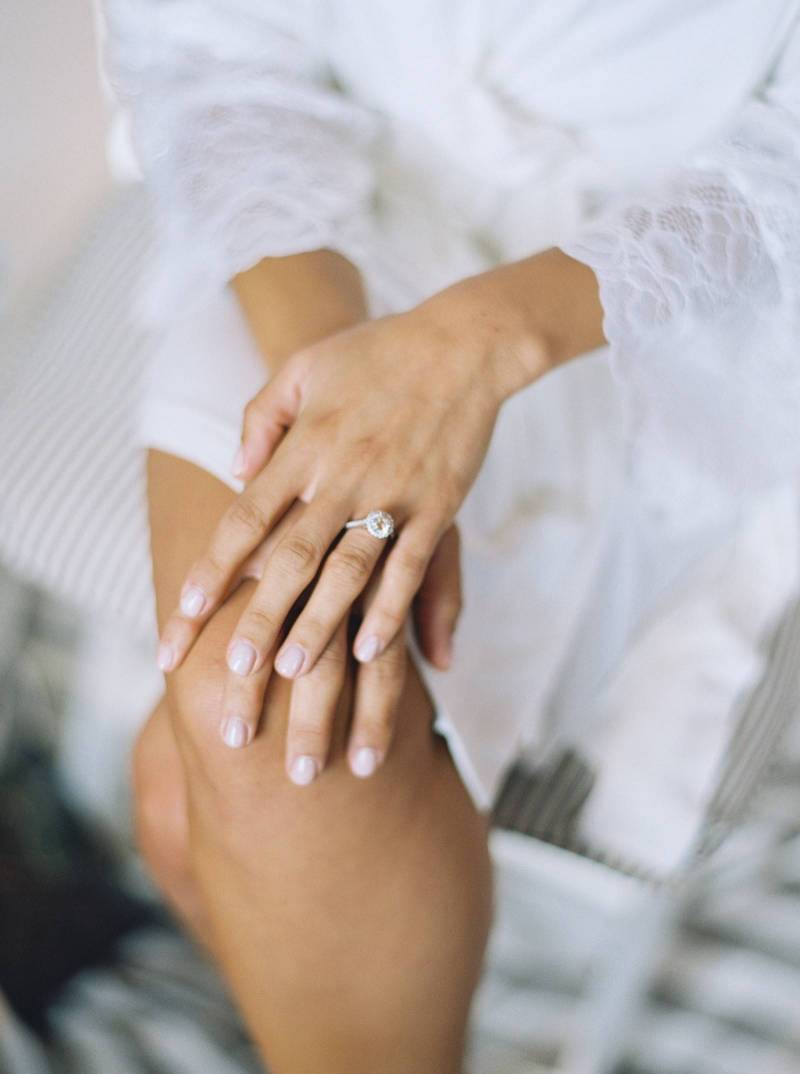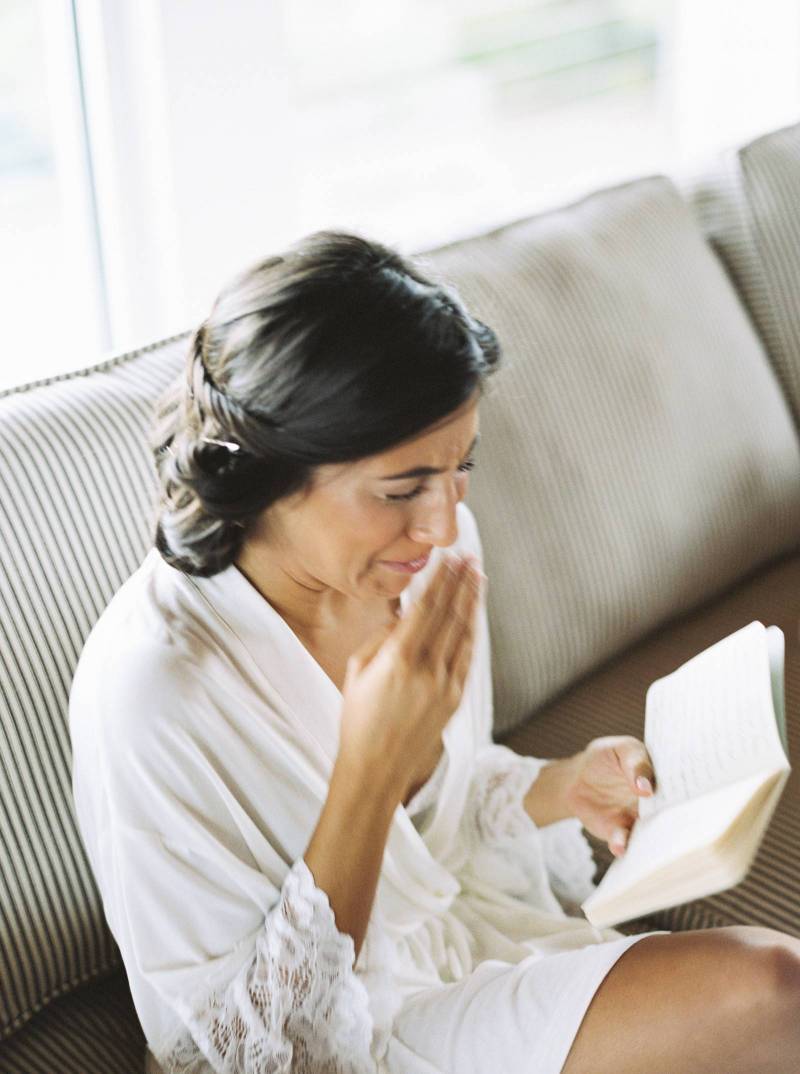 HOW DID YOU MEET? We met in 2012 in Ocean City, Maryland when I was on my best friends bachelorette party and he was there for a friend's bachelor party. Our groups had met on the first night and chatted the night away. Amongst the group I met Robb, a kind hilarious guy who was married and expecting his first baby. We left that night and all of us girls raved how nice of a group of guys they were. It was not until the next day at a beach party where our groups collided again that I met Chris. He had missed the first night from eating too many all you can eat crabs. While standing out in the water, Robb came walking in with this cute, tall freckled guy who turned out to be his brother. The moment I saw Chris, I needed to know everything about him and he came right up to me as if we were expecting each other. Little did I know, Robb had told Chris all about me when he got back the night before. We didn't leave each others side amongst a huge group of people for the entire day. The minute we left, I told my friend that there was something about that guy I literally just met that made my stomach full with butterflies. He was so shy and I was too worried he would not ask for my number, so I awkwardly told him "I want to talk to you again". We have been inseparable since!

TELL US ABOUT YOUR PROPOSAL: Chris and I always talk about since the day we met how everything has just been so simple and easy. We knew from only knowing each other for a few weeks that there was something about one another that was just so certain. It was a year and a half into our relationship where I came back to his apartment after work on a rainy Friday. In my heavy rain boots I lugged my overnight bag up the three flights and bolted into the door. Exhausted from the week, I was ready to decompress, but there was Chris sitting on the edge of the couch with something else in mind. He had champagne and flowers on the counter. When I barely even got out the words to ask what they were doing there he lunged forward onto one knee. With all of the plans he played out in his head for the very moment, he realised all was needed was to be simple. Being alone in what was soon to become our first home together was the perfect way to let out such raw emotion between only the two of us.
TELL US ABOUT FINDING YOUR WEDDING DRESS: I would be lying if I said the journey to finding my wedding dress was stress free. I knew exactly what I wanted and how I wanted to feel, so much so that I was trying to design something that almost did not exist. I dreamt of a lace bodice with an ethereal flowing silhouette. I fell in love Leanne Marshall's flowing designs when I first went to Lovely Bride in NYC with my mom who was visiting from Florida. After thinking I had found the one, which was missing a few details that I had hoped for, it was months more of continued searching. I kept coming back to Lovely Bride, because it was the exact type of Bride experience that made me feel comfortable and myself. Once one of the managers realised I needed a little bit of extra help, she became my personal stylist, friend, and voice of reason. She made an appointment for us to visit Leanne Marshall's studio, so I could view pieces from her new collection that were not yet available. We ended up customising my dress with all of the details I adored from a few of her different dresses in order to create the dream that I was envisioning since the beginning. I am still so in love with my dress that if I didn't dream of having a daughter to wear it to her wedding one day, then I would wear it every night just lounging around the house!
ANY DIY ELEMENTS? My mother in law handmade our ring pillow out of lace from both her and my mother's wedding dresses. It was the perfect handmade gift to symbolise the joining of our families.
DESCRIBE YOUR WEDDING FLOWERS: I wanted a neutral and soft colour palette abundant of flowers that were in season from our local florist who owns her own flower farm with her husband. Once we met Polly on her farm we knew we wanted to work with her immediately. Being able to stroll her flower fields made it all the more special to support her farm and trust her with our vision of natural and ethereal florals. The only florals imported for the day were olive branches, which were inspired from our recent trip to Napa, CA. Our flowers were the perfect touch of romantic bohemian charm for our vineyard wedding day.
FAVOURITE DETAIL OF THE DAY: Our sister in law's brother is a Catholic Priest in Fairfield County, Connecticut. We grew so close to him in the year leading up to our wedding through our sessions with him. We were blessed that he was able to officiate our marriage in Stonington at Saint Mary's Church. He gave such a memorable and personalised touch to our ceremony that made the joining of our family truly so special.
WHAT ADVICE WOULD YOU GIVE OUT TO A COUPLE PLANNING THEIR WEDDING? The planning process leading up to your wedding day is also part of your story! Enjoy and savour every second leading up! In the end, it is just about the two of you becoming a family, not just a production.
MOST MEMORABLE MOMENT? Our first dance! We fell in love with the artist Nick Howard when we saw him live the summer before our wedding. Somehow we were fortunate enough to get in touch with him and he agreed to play at our cocktail hour and first dance. He played one of his originals for our first dance, "No Ordinary Angel". We promised each other not to sing out loud, so we could listen to his every word in awe of the day. Instead, we sung our hearts out as we danced and laughed the entire time.