Despite it being late October, Rachel & David were treated to a very warm day for their New Jersey wedding at UNIONVILLE VINEYARD as seen here in these gorgeous images by HASEOK CHUNG STUDIO. Having owned her own event planning company Rachel had seen weddings of every style imaginable, so she knew that their wedding needed to embody who they were as a couple rather than be dictated to by a particular theme or style. "One of our first dates was to a vineyard near where we both grew up; that day was something truly special to us, so we used that as the inspiration and looked for an outdoor space that spoke for itself. We aren't a high maintenance couple, so it was also important for it to be understated and comfortable. I was able to weave our personal style, life experiences and the natural charm of the venue to create something that truly felt like ours.
Again with Rachel's vast knowledge of wedding venues they managed to avoid a lengthy search for the perfect place and went straight to their short-list. "We rented a car to drive out to the country to the vineyard - only about 20 minutes from where we both grew up. UNIONVILLE hit the mark on everything we were looking for – something that felt remote yet was relatively convenient for us and our guests, not a "typical" wedding venue and something that would feel like an experience for our guests.
We were greeted by friendly staff that really seemed connected to the property and their product. After taking a tour with the event planner, who completely put us at ease, we did a tasting which was the cherry on top. It didn't hurt that it was a picture-perfect day, and we joked we would be lucky to have the same weather on our wedding day (fortunately that ended up being the case!). We meandered up to the vineyard, stood in yard of the farmhouse and spent some time walking under their event tent and barn to take it all in before hoping in the car to head out to the next venue on our list. As soon as we were about to pull away we both turned to each other wondering if we even needed to look any further!
As day turned into night, the celebration continued with a dinner and dancing under the tent.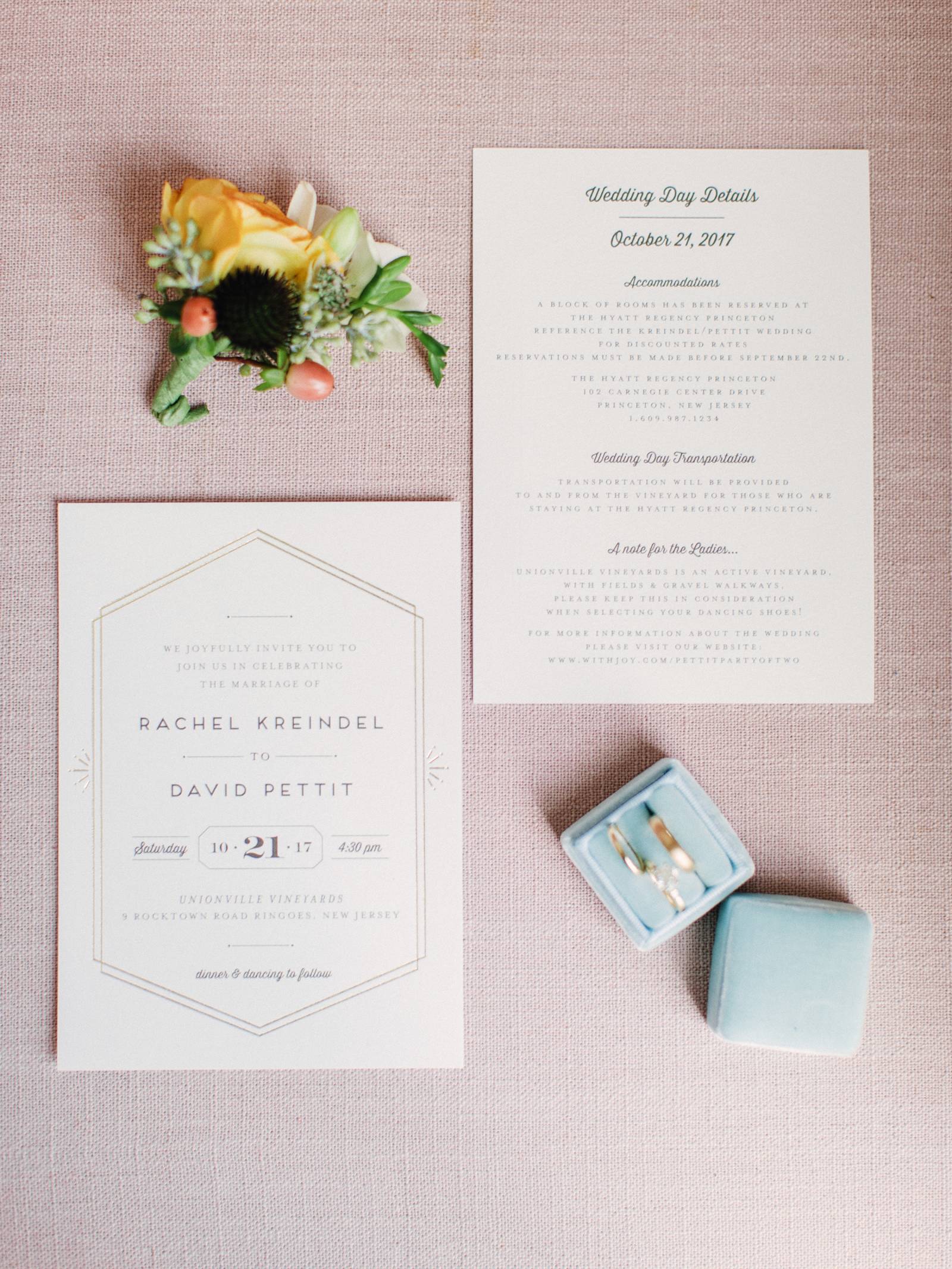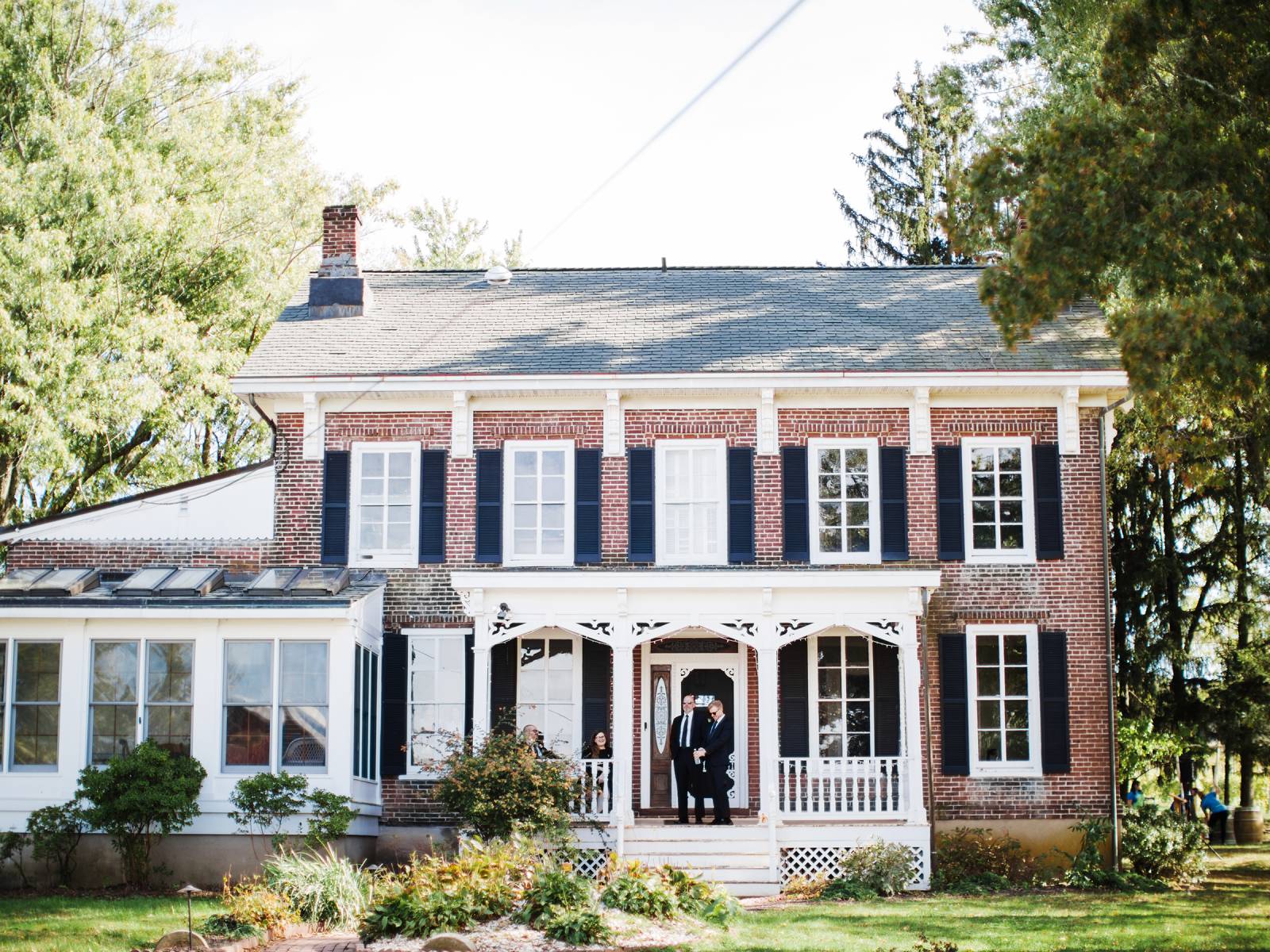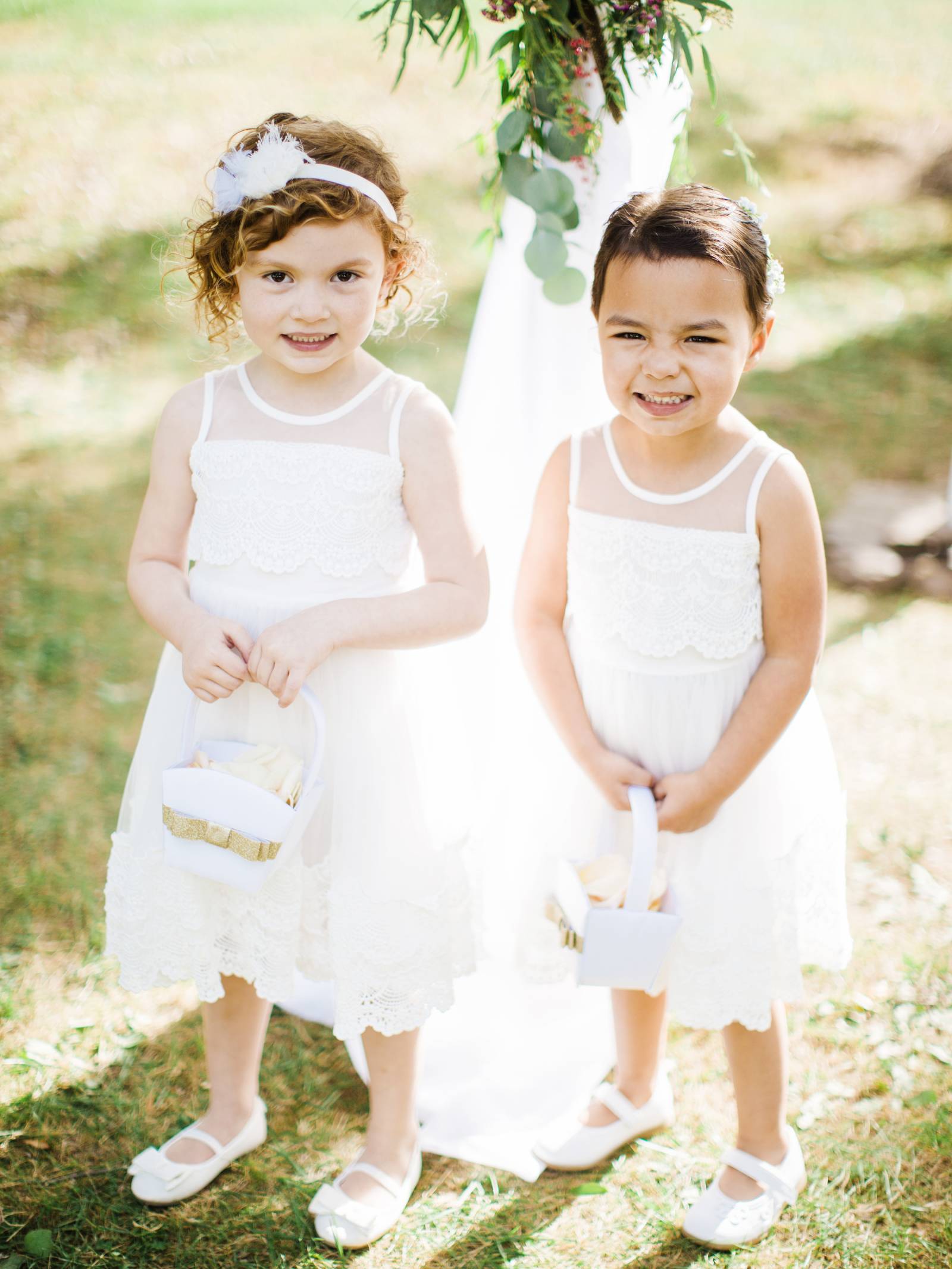 HOW DID YOU MEET? Despite having spent our childhood and adolescent years living in neighbouring towns, sharing movie theatres, restaurants and parks, our paths never crossed until years after we both had moved from our hometowns in central New Jersey. Thanks to an invite from Danielle (an excellent MOH from the start) to the Pettit Family Beach Week in Sea Isle City I decided to head down for the weekend, despite having just started a new job. Little did I know, I would meet my future husband and in-laws all in one shot.
We spent the weekend going to the beach, drinking, soaking up the sun and dancing. Dave felt enough of a spark and made sure to snag my number before leaving for the weekend. Not even a week later, splitting the difference between Philly and NYC, we met for our first official date in Princeton, where we had both spent so much time in growing up and as adults. Meeting in Princeton weekly quickly became a tradition, and we were able to build new memories there together.
TELL US ABOUT YOUR PROPOSAL: Over a year and a half of too much time spent on public transportation - we decided that New York City would be better together. After a couple weeks of settling into our studio apartment on the Upper West Side, we headed for the fresh air, beautiful scenery, camping, cheese and beer of Vermont. Day 2 of the perfectly planned trip we would summit Killington Mountain (their first hike to the peak of a "real" mountain – and MUCH more difficult than anticipated!!) where Dave would ask Rachel to marry her, and of course she said "yes". We were fortunate enough to be able to spend a few more relaxing days to celebrate as a couple before heading back to reality.
TELL US ABOUT FINDING YOUR WEDDING DRESS: I had been tracking Sarah Seven, a west coast designer since there was a small feature in Martha Stewart magazine as a "designer to watch". At the time, nearly 10 years ago if my memory serves me right, (I always loved bridal fashion) she was selling her dresses on Etsy. So of course, as soon as it came time to begin the search for my dress, I knew I needed to get into one of her dresses.
My first stop was at Lovely Bridal in downtown NYC, who carried her line, amongst other designers. My mother and maids met me for a wonderful brunch (with Mimosas to calm my nerves) and headed to the salon. I tried on all kinds of dresses to help narrow down the overall silhouette I was going for. I didn't know it at that exact moment, but I would slip into the dress that would be THE dress.
After leaving Lovely, I knew I needed to get into more of Sarah's gowns before making the call, so I booked an appointment for the private show room in SOHO where I would try on 7 or so more of her designs and would leave there with selecting one of the dresses I had originally tried on.
Working with the women at Sarah Seven felt so special, they really went above and beyond to tailor my body hugging corset and fitted skirt down to the smallest measurement. On top of the great workmanship, they took their customer service (and therapist skills) to a whole other level when I found out 2 months before our wedding we would be relocating to Southern Florida and needed to get the dress fitted in a rush. They did everything they could to accommodate our crazy travel schedules and didn't forgo any detail in tailoring. I never once wavered in knowing I made the right decision in my selection.
DID YOU HAVE ANY DIY ELEMENTS? I am the DIY queen when it comes to weddings and events – I've built cake stands and custom card boxes, designed stationary and signage, meticulously created centre pieces for my former clients and friend's weddings. That being said, when it came to DIY for my wedding I decided to give my self the luxury of having others handle all the small details for me (plus the size of our then 1-bedroom Brooklyn apartment was not conducive to crafting and storage!) I stuck to Etsy to piece together specialty crafted items that would add a DIY essence, without the stress and hard work I know is involved.
DESCRIBE YOUR WEDDING FLOWERS: They were absolute perfection. I had the best florist I could have hoped for with great vision and could not be happier with the outcome. Flowers can be a big expense, and I've never really been a flower type of girl, so I was hesitant to go too big with the flowers, so with the help of my amazing florist, we used colour and unique flower selections to make impact without overdoing it. It was important to me that the flowers worked well with the various shades of my bridesmaid's dresses, while complimenting the stunning natural backdrop of the fall foliage.
My bouquet was a focal point and on the larger side (which gave my arms a workout!). My dress was very simple, as were my accessories and hair, so I really treated my bouquet as an accent piece that gave a wow factor to our pictures and ceremony.
The centerpieces and accent arrangements utilized the same warm tones as the bouquets and boutineers, To add to the rustic and more organic feel we were going for, the florist integrated understated, rustic glassware and votives.

FAVOURITE DETAIL OF THE DAY: Totally out of our control, but the weather!! We were so blessed to have sunshine and warm weather throughout the day and despite the fear I had of rain from the moment we decided on an outdoor wedding, it was worth the gamble.
WHAT ADVICE WOULD YOU GIVE OUT TO A COUPLE PLANNING THEIR WEDDING? This day should embody you and your partner and tell the story of you as a couple. It will add a level of intimacy to the day that will bring all your guests together and really make you feel like it is your day. My other advice would be to make sure you spend time together on your wedding day – sounds like a no brainer, I know, but we had to make a conscious effort at times to not have friends and family pulling us in different directions for hugs, pictures and dancing! You'd hate to look back and feel like you didn't spend all the time you could with the reason you're there.
MOST MEMORABLE MOMENT? Gosh, what a difficult question! There are so many special moments we both had through the day that it's bringing tears to my eyes! A moment that comes immediately to mind is after our first look, which was of course special, and before our ceremony we gathered in the farmhouse living room with our bridal parties, parents and siblings to pop a bottle of champagne and share a small toast in thanks for everyone being there to support us. The warmth we felt from having all the people we love in one room, getting ready to celebrate our love (and all our hard work planning!) was overwhelming – it was also memorable because I managed to rocket the cork across the room, sending it ricocheting off the ceiling as people ducked out of the way. I've never been known to be graceful, so it was a fitting moment.
ANY OTHER DETAILS THAT HELP TELL THE STORY OF YOUR DAY? We were fortunate enough to be able to host our afterparty where we had our first date in Princeton, which was another fun part of our history that we chose to share with our guests.
TELL US A LITTLE ABOUT YOUR HONEYMOON: Our honeymoon reflected our wedding vibe, for sure – a rustic, historic and outdoor adventure touring around England. We had made a deal early on that if I took on a majority of the wedding planning, Dave would handle the honeymoon planning (he's a wonderful travel planner, so I knew it would be perfection). I let him be my tour guide and allowed myself to be surprised (which can be difficult for me) as we traveled through quaint villages, bustling medieval town centers and along the cliff edges with wild horses and a castle off in the distance. We soaked up so much history, art, culture, and of course Gin, over the 60 miles we managed to walk over our 8 days.
IS THERE ANYTHING YOU WOULD CHANGE OR DO DIFFERENTLY? Fortunately, there was no glaring "uh-oh" or "whoops" moments. After giving it some thought I would say I would have preferred a professional MC to handle the introductions, first dances, etc. Because we had our close friends handling our ceremony and reception music, we found we didn't want to have to pull them away from enjoying the day to handle the announcements and introductions and therefore adding a little bit more logistics handling than what I wanted to be worrying about in those moments.