When asked if there was anything they would do differently for their New Zealand beach wedding Janelle told us, "No I think your wedding day is your special day not only for the things that went according to plan but also for the imperfections." We love that attitude! There are some things that you simply have no control over at times, so by embracing the process as a whole and seeing it for the bigger picture it really is, you don't set yourself up to be disappointed when little things go wrong.
Currently living in Hong Kong and missing the New Zealand summers at the beach, for Janelle & Ryan it was this that inspired their location. Photographed by CAPTURED BY KERYN, it was held at a holiday home (available for rentals) at the top of a cliff overlooking the iconic Hot Water Beach in the Coromandel. It gave them access to a private beach where they held the ceremony. Janelle says, "The location and surroundings were so beautiful that we decided to go with a very minimalist style and let the venue speak for itself. It's easy to get wrapped up in wedding prep and go over board with the decorations but I kept reminding myself that our wedding isn't how many candles are on the tables."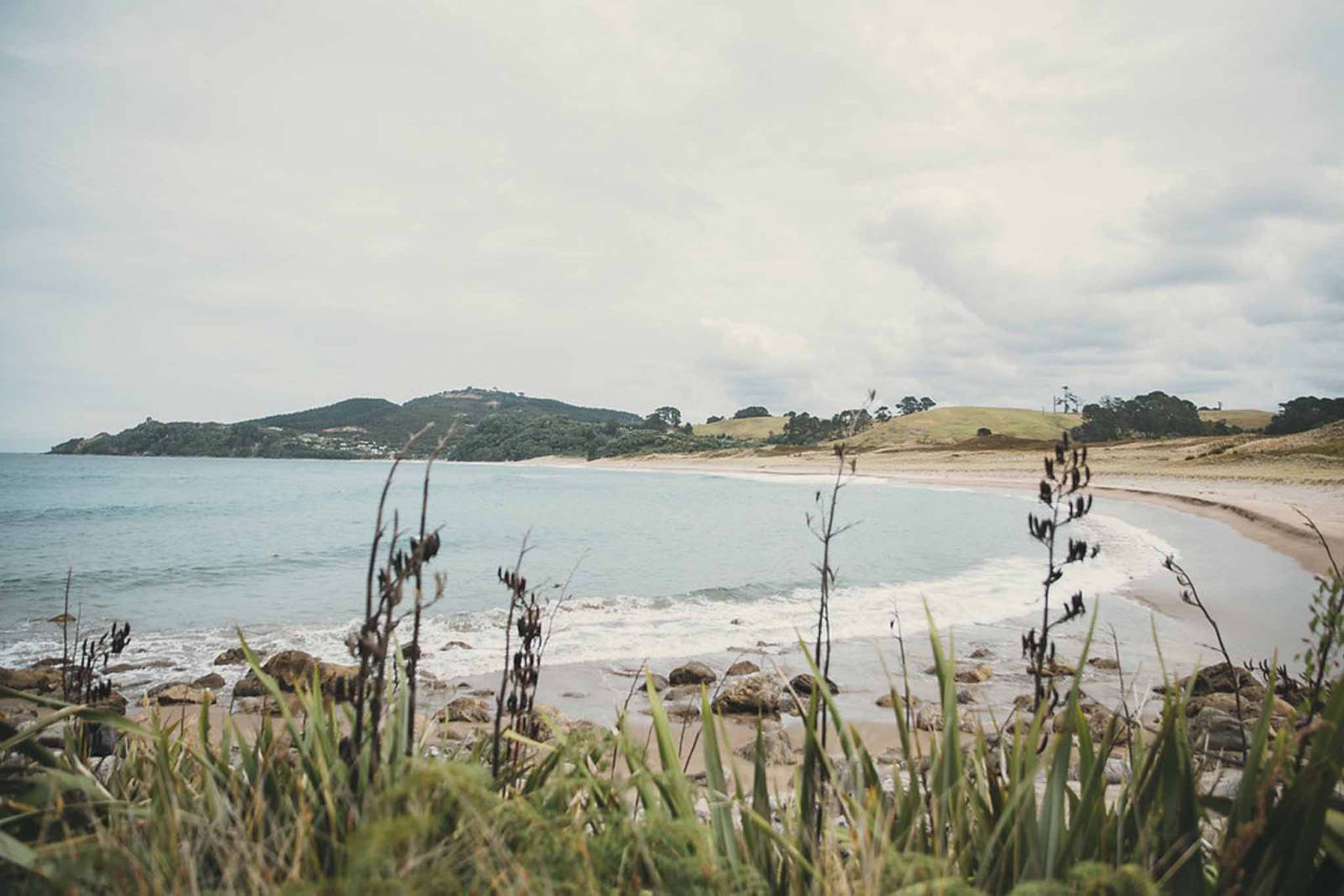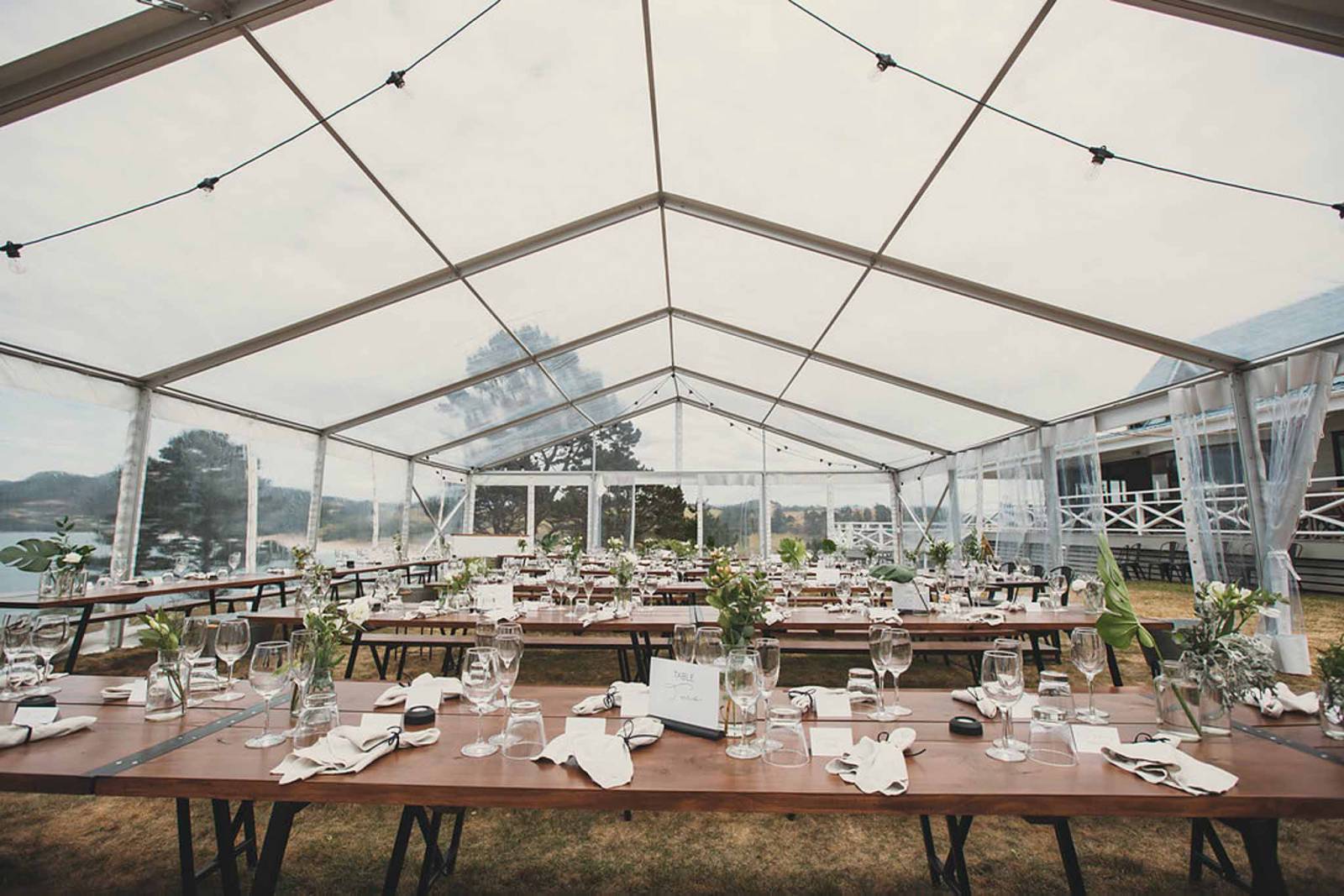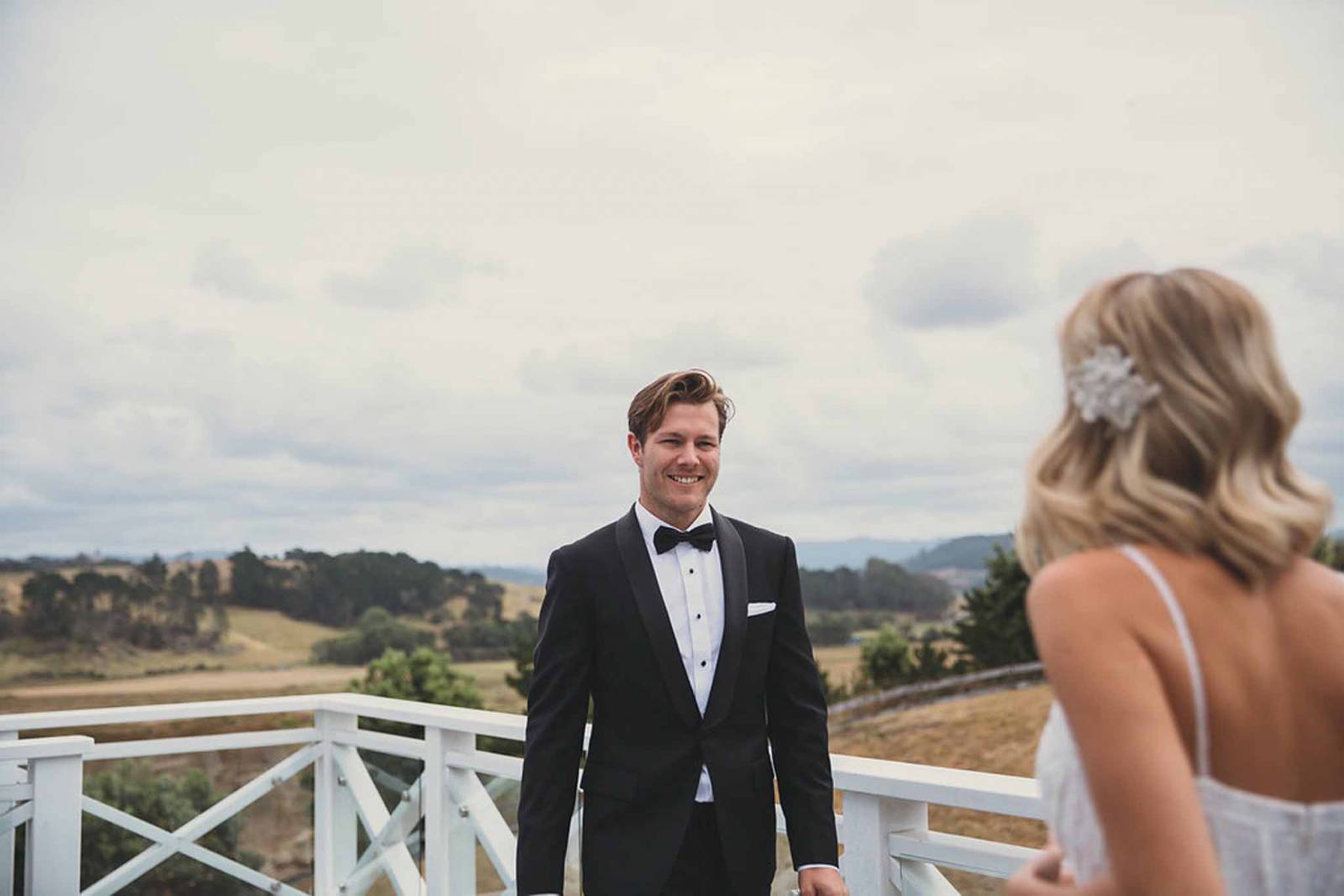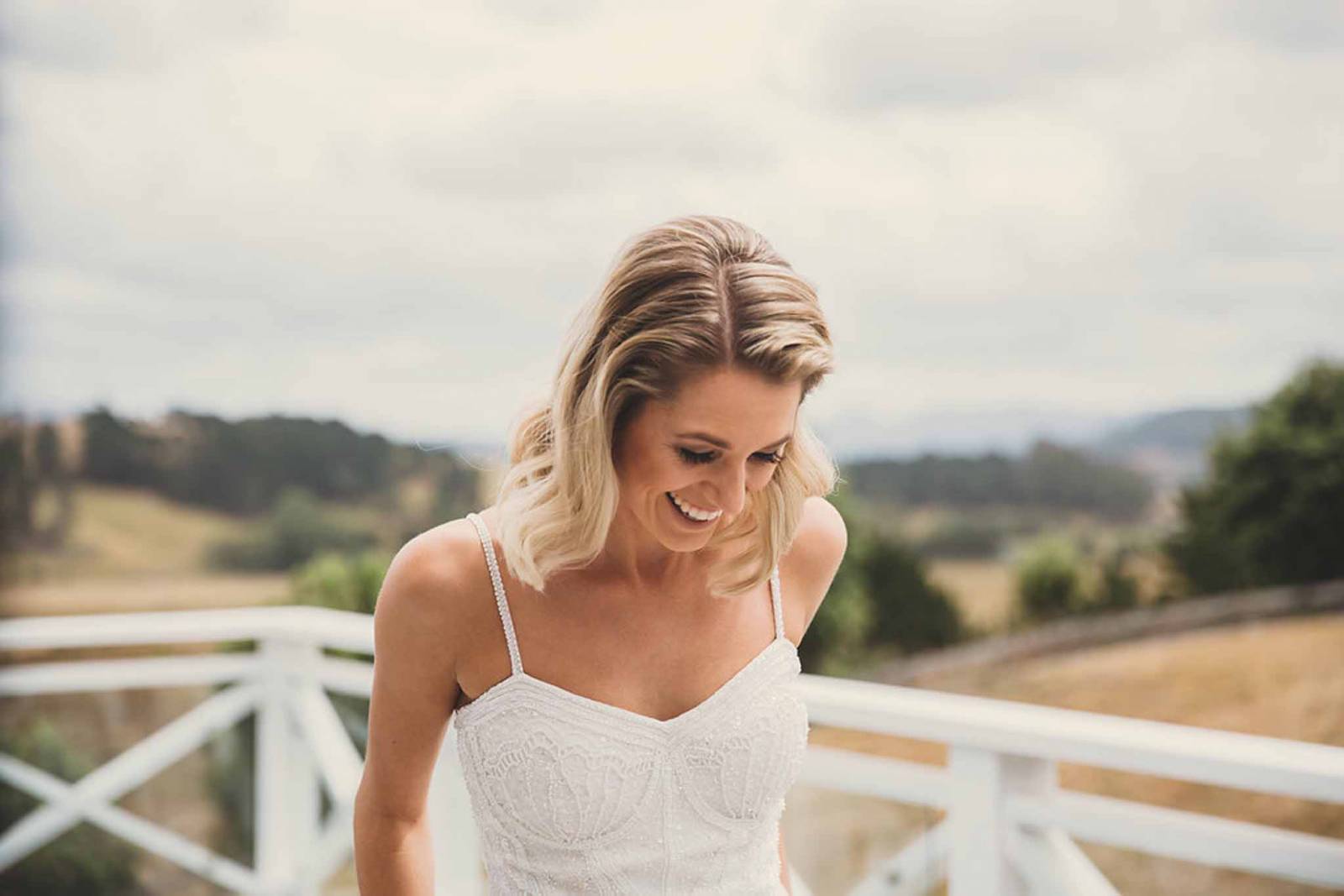 HOW DID YOU MEET? It was a classic university love story. We were at the same bar in Hamilton and one of Ryan's friends was getting a bit handsy. Ryan swooped in to resolve the situation, apologising for his friend and giving me his business card (him and said friend had a shoddy business selling second hand goods). I messaged him the following day enquiring about some white ware and six months later found myself moving to Hong Kong with him.
TELL US ABOUT YOUR PROPOSAL: I had taken a skiing trip with the family I work for, to Aspen. After multiple lectures from Ryan about wearing wrist guards, which I ignored, I ended up breaking my wrist on day three. I had just got home after a very tiring long haul flight and was vegetating on the couch when Ryan asked if he could write on my cast. When I looked down, written in gold was 'Marry Me?'. The hospital staff gave me strange looks when I asked to keep the stinky cast once it was removed, but it's a nice reminder of that day.
TELL US ABOUT FINDING YOUR WEDDING DRESS: We were a bit limited when it came to choosing the dress. The style over here in Hong Kong, is either big and poufy princess or traditional Chinese red dresses, however there are a few boutiques that cater to the more western styles. My parents were visiting for a week so I decided this was going to be when I found my dress. Planning things from overseas meant my parents missed out on some of the traditional wedding planning aspects, but this was a special moment we could share together. We had a few days booked up with trials, which was brutal traipsing around the city in the heat. On our second day I tried on my dress and both my parents agreed it was stunning. There were no tears or overwhelming emotions, it was just an easy choice.
ANY DIY ELEMENTS? Pretty much the entire wedding was a DIY affair. From the engagement ring, which we brought the sapphire and designed ourselves, to the set up which was a mammoth effort from all our family and friends. I designed the invites, place cards, seating plan etc and bought the linens and festoon lights. It definitely was a team effort as everyone pitched in setting up the marque, tables and benches, arranging the tables etc., which was incredible. Our guests definitely deserved their drinks on the day!
DESCRIBE YOUR WEDDING FLOWERS: Ryan's cousin, Shannon, organised and arranged the flowers for us. She did a fantastic job on them, I really couldn't have wished for anything more. We went with an unstructured style, keeping my bouquet simple with white florals and greenery. For the bridesmaids, Shannon added a touch of coloured berries to differentiate them.
FAVOURITE DETAIL OF THE DAY: Our favourite detail of the day had to be the location. It was such a stunning setting, offering beautiful views of the beach and a gorgeous drive through native New Zealand bush. Having the Twelve Tables clear marque allowed our guests to appreciate the view while still being sheltered (which was a blessing when the storm kicked in at 10pm). Coming in a close second were the tables and benches, also from Twelve Tables. They were simple and matched our minimalistic theme really well. We ended up not having to put too much on the tables as they were beautiful enough on their own.
WHAT ADVICE WOULD YOU GIVE OUT TO A COUPLE PLANNING THEIR WEDDING? Try not to get overwhelmed with the planning process. Take each step as it comes, tick it off your list and move on. Being indecisive causes more stress than it's worth. Choose your wedding theme, create a mood board for it and refer back to it when making decisions. It may seem an impossible task to organise everything but on the day things just seem to come together.
MOST MEMORABLE MOMENT? My most memorable moment was Ryan's vows. I had been very skeptical that he'd manage to put together something, considering I'd snapped him googling 'mens wedding vows' the day before the wedding. Standing at the alter though, I was in for a surprise. His vows were so honest and heartfelt and embodied all the reasons that I love him. I had initially thought that my vows were a hit but his definitely stole the show.
ANY OTHER DETAILS THAT HELP TELL THE STORY OF YOUR DAY? I was lucky enough to share our wedding planning with Ryan's two sisters; all three of us were getting married within months of each other. Ryan's younger sister had been married in December, we were in January and his other sister was married only weeks after us in March so it's fair to say it was a busy time for the Meacheams!
We were also very lucky as Ryan's sister Sara and her husband Jean are the duo behind Twelve Tables so the set up of the marquee and tables was a family affair with a lot of laughs! They're both very hard working and were an amazing help to us so we are very grateful to them!
The day we had was a stunner, the weather really put it on for us however come 10pm mid reception dance a storm had hit bringing with it relentless rain and a power cut! Luckily my dad, who plans for every contingency, had a generator at the ready and cars were driven up to the marque for lighting. The party continued into the storm and the rain on the clear roof actually added a touch of romance.