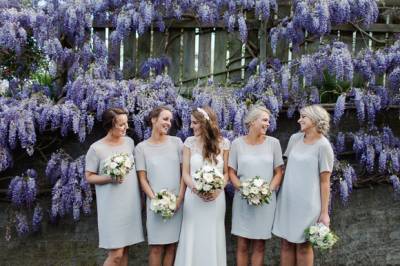 This gorgeous wedding by local favourites BEN & ELISE features a number of our fabulous directory members, like SALLY EAGLE BRIDAL who designed the bride's gown and cinematographers FIRETALE WEDDINGS who captured the day on film. Holly & Nathan wanted to find an industrial space for their wedding so when they stumbled upon the Old Fire Station in the bride's home town of Wanganui, they knew it was the perfect spot for their reception. The key word with the styling was 'simple' and they executed it perfectly.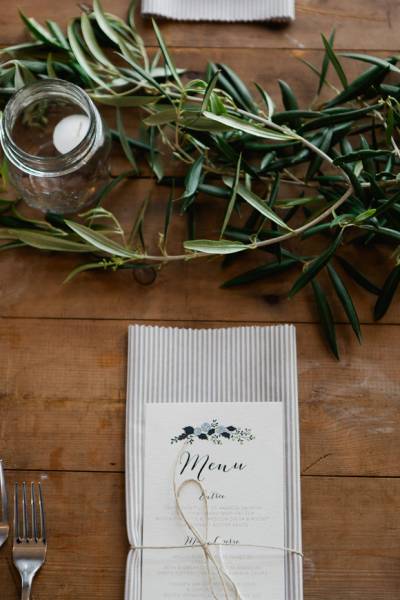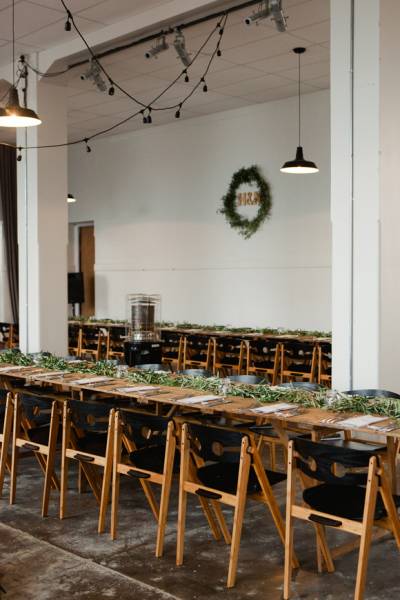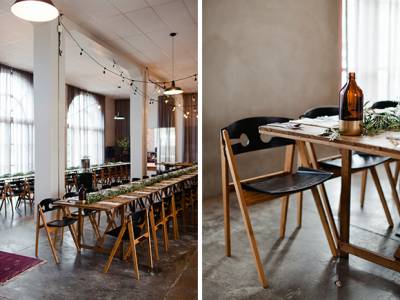 HOW DID YOU MEET? After spending five years at university in New York I had just moved back to New Zealand and started going to the same church as Nathan. We were first introduced as each other's salsa partner for a five week salsa class that mutual friends at our church had signed up to in the city. We had a blast being hopeless salsa dancers together and becoming friends over dinner and group hangouts after salsa class. When the class finished five weeks later we kept spending time together and Nathan eventually asked me to be his girlfriend.
TELL US ABOUT YOUR PROPOSAL: We had been going out for one year and one week when Nathan asked me to marry him. I had no idea that he was going to propose on this particular day, as I was supposed to be hanging out with some girlfriends but plans were cancelled at the last minute (all in his master plan). Nathan called me in the morning and said we had been invited for dinner with his sister and her husband who were staying at Muriwai, a beach out of the city. We drove out in the late afternoon and got to the bach at sunset. As we walked into the quaint bach there was beautiful music playing and bunches of flowers all around the house as well as sprinkled on the floor leading out to an amazing deck. Nathan led me out to the deck which had a breathtaking view as far as the eye could see. As sunrays streamed onto the deck, Nathan got down on one knee and asked me to marry him. Then five minutes later our families and close friends came around the corner for a big surprise celebration. It was perfect!
TELL US ABOUT FINDING YOUR WEDDING DRESS: Soon after Nathan proposed I contacted Sally Eagle Bridal to ask if Sally would design my wedding dress. I have always loved lace and had admired Sally's beautiful vintage inspired wedding dresses. As soon as I tried a dress on in her studio, I knew that she would make my dream dress and she did. Sally is an incredible designer and such an amazing person to work with. I absolutely love my wedding dress!
ANY DIY ELEMENTS? We had so many DIY elements to our wedding. We transformed the Old Fire Station into our vision, so every part of that was planned out and then put together the day before our wedding which was such fun. Just to name a few DIY elements...we made all of the fabric napkins, picked olive leaf branches from a tree in my parent's backyard to decorate the tables and wreath, cut up an old fur jacket to sew together warm shawls for the bridesmaids, and made confetti for a fun exit out of the chapel after our wedding ceremony.
FAVOURITE DETAIL OF THE DAY: There are so many details that I loved and we put so much time, effort and love into them all. But, for me, on the day my favourite detail was the bridal party's outfits/attire. This is something you do not fully see together until the day but I loved how the blue-grey and navy colours all came together.
WHAT ADVISE WOULD YOU GIVE OUT TO A COUPLE PLANNING THEIR WEDDING? I can honestly say that I loved every moment of planning our wedding and I think it was because I had such great support from a small group of people who made all my dreams come true. My mum was the biggest help...we loved planning little details together over the phone in the late evenings and spent hours looking for unique finds in antique stores and scrolling through blogs. I also had four incredibly creative bridesmaids who helped me create things, plan the details, and laugh lots throughout the planning stages. So, I think it is really important to share the jobs around and have a small group of support to make your vision come alive.
MOST MEMORABLE MOMENT? As a young girl I had grown up going to church and singing hymns in the chapel that we were married in. So, on our wedding day, for me to be walking down the aisle with my Father to the love of my life was a very special moment for me. I had always dreamed of getting married in the chapel and so it meant a lot to me.
Photographer BENJAMIN & ELISE PHOTOGRAPHY / Videographer FIRETALE WEDDINGS / Cake RIVERCITY CAKES / Florist THE FLOWER ROOM / Stationery CLARE CATO / Ceremony Venue WANGANUI COLLEGIATE SCHOOL CHAPEL / Reception Venue THE OLD FIRE STATION, WANGANUI / Dress Designer SALLY EAGLE BRIDAL / Shoes RACHEL SIMPSON SHOES / Jewellery SWAROVSKI EARRINGS / Hairpiece SALLY EAGLE BRIDAL / Hair HANNAH GORDON / Make-up SIMPLY SKIN / Bridesmaids Dresses MADE BY SUE SPENCE / Grooms Attire AS COLOUR, HALLENSTEINS, COUNTRY ROAD & HANNAHS / Caterer ESSENCE CATERING BY JOE POWER