It was on a spring evening in Rome, right in front of the Trevi Fountain, that Joe Lee went down on one knee and proposed to Aimee Lam. "It really was unforgettable!" Aimee says. Following that trip, the couple share a great love for Italy, especially the peaceful, beautiful Tuscan countryside, so it was inevitable that they would return to the country of amore for their wedding. "Enjoying a gorgeous sunset hand in hand with Joe in Tuscany was one of the best moments of my life," says Aimee. Southern California wedding photographer JEREMY CHOU was on hand to capture their gorgeous celebration!
"In my heart, I wanted Tuscany to be our wedding location." The following year, they made that dream a reality with a beautiful destination wedding at the VILLA MONTANARE in Cortona. With the details in the hands of their friend and wedding planner, Frances of CHARMED EVENTS, the couple were able to relax and take in every moment. "We truly had such an amazingly fun and love-filled day, surrounded by the beauty of Tuscany and so much love from our dearest family and friends.
Our inspiration for the wedding was romantic old world Tuscan charm with a modern twist. We wanted the day to reflect who we are: fun and passionate. We pictured a cozy and charming atmosphere, interesting details and beautiful lighting. In the open garden, surrounded by olive trees, guests would overlook the Tuscan hills and witness the spring sunset. And that was what we had!"
The groom, Joe, shared his memory of the emotional moment he first saw his bride: "I will always remember the moment I stood in front of our friends and family under the peaceful Tuscan sky, waiting for my bride. When Aimee turned the corner and was walking up the hill full of olive trees to where the officiant and I were standing, it hit me that 'this is the moment'. I could see first her dad, then her, and then her beautiful dress. I became emotional and thought to myself: 'wow, that is my bride and I'm about to marry her!' It was a surreal moment!"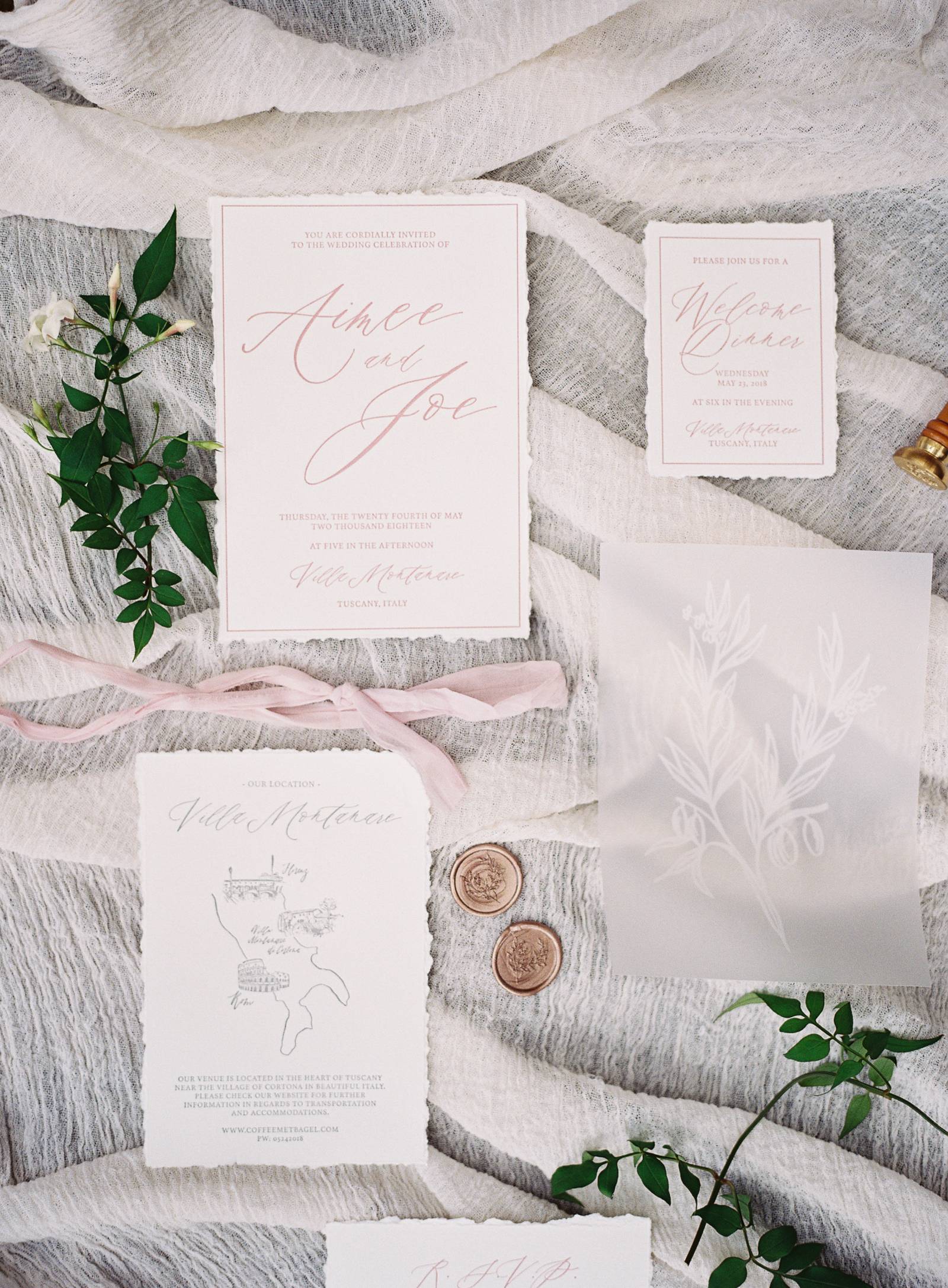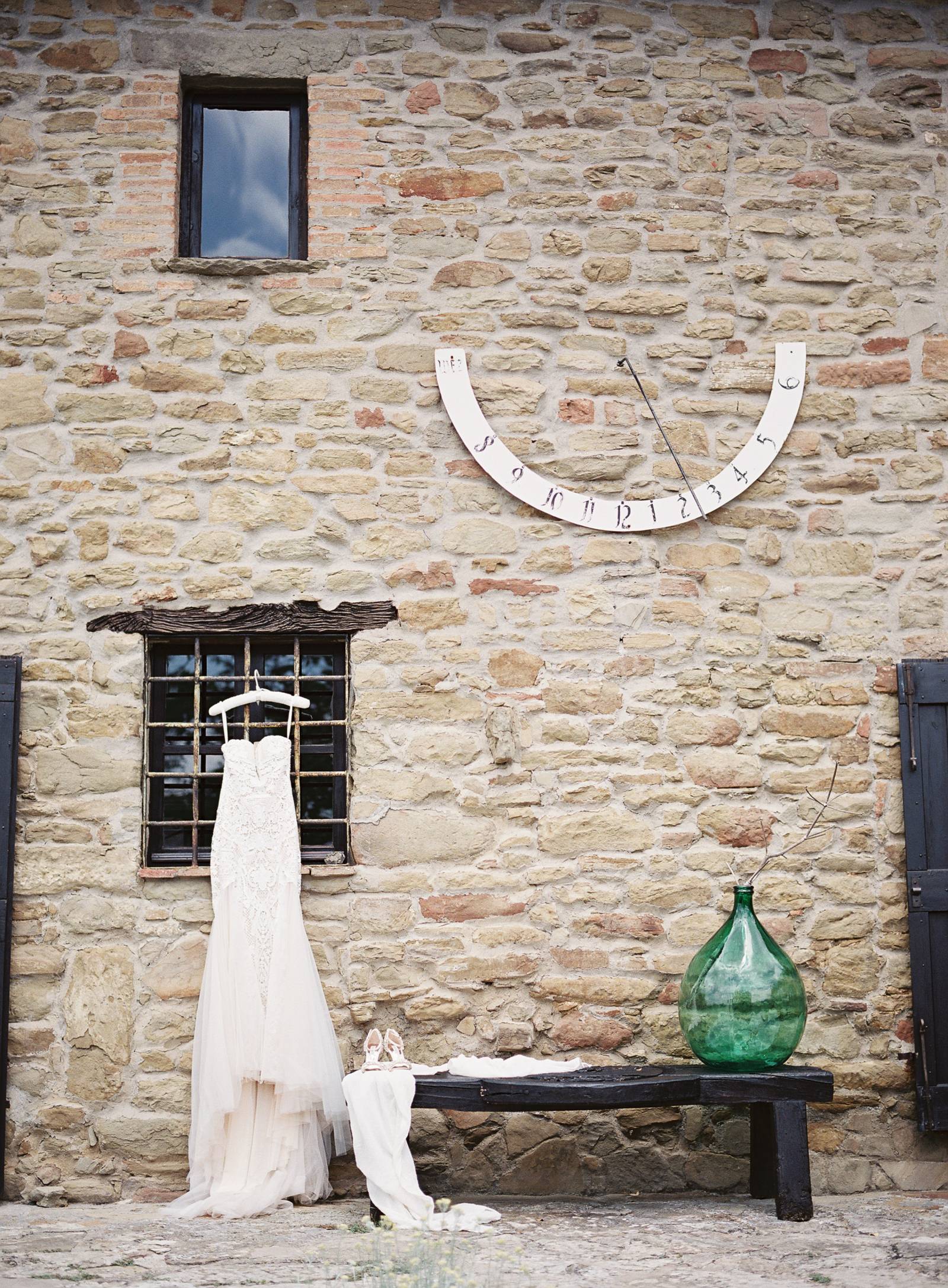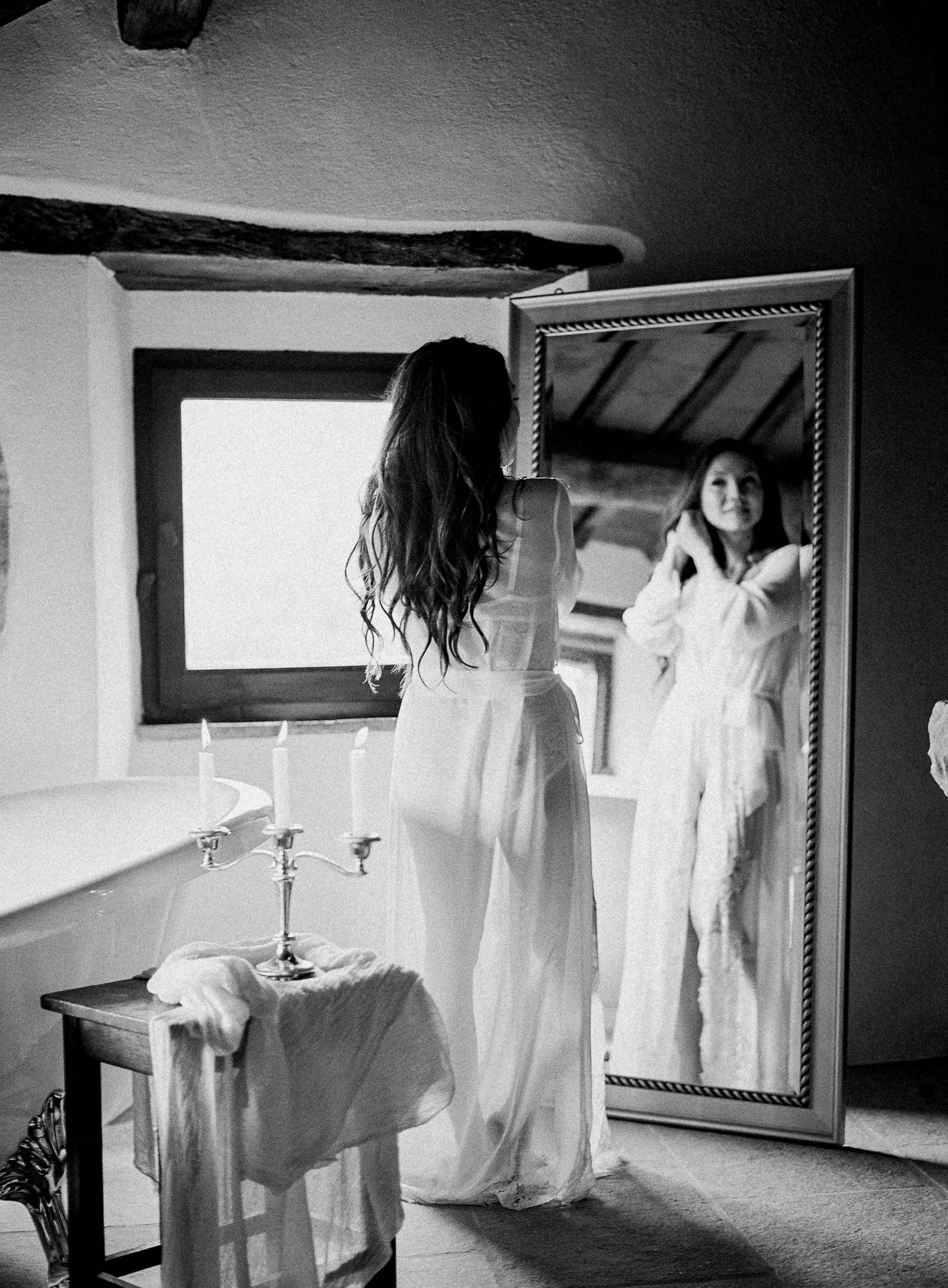 HOW DID YOU MEET? We met on Coffee Meets Bagel. It was Joe's thoughtful well written messages and his sense of humour that got me interested. Our first date was a simple coffee date at Starbucks and that was how it all started.
TELL US ABOUT YOUR PROPOSAL: First of all, it was sweetest and most touching surprise I ever had, though normally I don't like surprises too much. We had planned a trip to Tuscany & Rome, Italy in the Spring of 2017 and it was his first time there. Our first stop was in Rome, and that night we landed we were exhausted already as it was late evening, just finished a tiring flight, and a bit of a fuss to get from the airport to the hotel. After we got settled, Joe urged me to get dressed and walk to Trevi Fountain with him yet I had no clue what was about to happen. I did look at what he was wearing and didn't see any signs of a ring box. Rome was quiet, and we had a nice romantic walk while Joe was reminiscing about how we met, how long we've dated, and how happy we were. When we finally arrived at Trevi Fountain, we spent some time just sitting there admiring the iconic work of art and took some selfies together. I was a little restless and wanted some roasted chestnuts and gelato from a nearby vendor, so I started pulling Joe in another direction. But he said "No" to me, and I was surprised at how fast he declined me. But then he said, "No, honey. Before that, let me do something else more important first." Before I know how to react to that "No", he was on his knee, carefully pulling out a diamond ring he hid in his suit in a tiny envelope, without the box. I can't quite recall everything he has said anymore, but one of his lines was, of course, "Will you marry me?" Italy will forever hold a special place in our hearts!
WHAT WAS THE INSPIRATION BEHIND YOUR WEDDING STYLE? Our inspiration was the peaceful and warm Tuscan sunset that we had experienced in San Quirico d'Orcia on a photoshoot during the trip when Joe proposed. The surrounding hills were green with patches of red from the poppies that were in full bloom. Enjoying that gorgeous sunset moment, hand in hand with Joe was one of the best moments I've ever felt in my life. Therefore, coming back to the Bay area after our engagement, I told Frances that it's got to be Tuscany. She did her research and sent me a list of venues and soon after, we chose another picturesque location, Villa Montanare.
WHY DID YOU CHOOSE THIS LOCATION? We chose Villa Montanare based on their Instagram feed, it was jaw droppingly gorgeous and inspiring. We felt this venue was a hidden gem, with a rustic charm yet had amenities and large enough for us to hold a wedding with all night dancing for about 40 people. Knowing that the venue's owner was an experienced wedding planner and stylist herself, we felt assured that all our needs would be taken care of. And yes, the owners Silke and Andreas were the warmest, kindest and most professional hosts ever. They really went above and beyond to ensure that we were happy and that our wedding was perfect.
DID YOU HAVE ANY DIY ELEMENTS? From the very beginning, I already knew I would not have the time for DIY elements because it would be a destination wedding and I wanted my bridal party, family and myself to just enjoy the day and leave the rest to the professionals. Also, my work schedule was relentless as I had weddings and other brides to take care of on my own up until 2 weeks before my own day of! I felt that I had spent the past 13 years taking care of other brides, and finally, it was my turn to be married and all I wished for was to be taken care of myself. With the exception for my own wedding day hair + makeup which I did myself.
DESCRIBE YOUR WEDDING FLOWERS: "When designing florals for Aimee and Joe, it was important to embrace the Tuscan atmosphere of Villa Montanare, and create whimsical floral elements. With the rolling hills of the Italian countryside in the distance, an ethereal arch composed of wild foliage, roses, peonies and smokebush posed as the ceremony backdrop. Aimee's bouquet was was brimming with mauve and blush toned blooms to compliment the soft pink underlay of her gown. The reception tables boasted large arrangements of untamed foliage and florals, interspersed with seasonal fruits and taper candles."
WHAT ADVICE WOULD YOU GIVE OUT TO A COUPLE PLANNING THEIR WEDDING? I'd strongly suggest that couples visit their wedding site and the surrounding area one year ahead, especially if it would be a destination wedding like ours. If possible, it would be best to visit the venue and meet your vendors around the same month as your wedding month. This is so you will have an idea of how the weather behaves and to familiarise yourself with all aspects of logistics. Things to consider would be the venue's floor plan, the transportation options, and of course any non-wedding activities or excursions in the area that you can suggest to your guests to do.
MOST MEMORABLE MOMENT? In the Groom's own words: "It couldn't have been more beautiful! Something that I will always remember was that moment I stood in front of our friends and family, under the peaceful Tuscan sky, waiting for my bride. When Aimee turned the corner and was walking up the hill full of olive trees to where the officiant and I were standing, it hit me that this is the moment! I could first see her dad, then her, and then her beautiful dress. I became emotional at that moment and thought to myself, Wow, that is my bride and I'm about to marry her. It was a surreal moment for me and I started to cry..."
TELL US A LITTLE ABOUT YOUR HONEYMOON: It was a familymoon actually! My parents and us flew to Paris soon after our wedding. However, we had the greatest time in the city of light as the newlyweds. We are planning a real honeymoon this year!
IS THERE ANYTHING YOU WOULD CHANGE OR DO DIFFERENTLY? We truly had such an amazingly fun and happy day, surrounded by the beauty of Tuscany and so much love from our dearest family and friends. We are so thankful we had the help of so many talented and top notch vendors who made our wedding day possible. But, for the sake of helping other couples to plan better, I would say if I could do it all over again, I would have visited the wedding site 8-12 months ahead at least. Secondly, I would not hire a vendor based on just Instagram or from a referral alone. I would look up real reviews and ask for references from past brides. I feel that there should be quite several google and yelp reviews dating back at least 3 years. The more experience one has, the better, because your wedding day success can't just be based on creativity alone. It requires that, and also the utmost professionalism, attention to details, and some in sync personability helps too!
Thanks to Southern California wedding photographer JEREMY CHOU for sharing this truly stunning Italian wedding with us. Jeremy is a fine art wedding photographer who has documented weddings worldwide. In Europe, South America, Asia, and all over United States. His work has been seen in many major publications and in addition he also teaches workshops and help to shape the next generation of wedding photographers. He has a beautiful way of capturing beauty and we're thrilled to have him as a value member of the VENDOR GUIDE. You should also check out this Stunning botanical wedding inspiration at Atlanta's Historic Swan House by Jeremy.